The Best Star Wars Quotes of All Time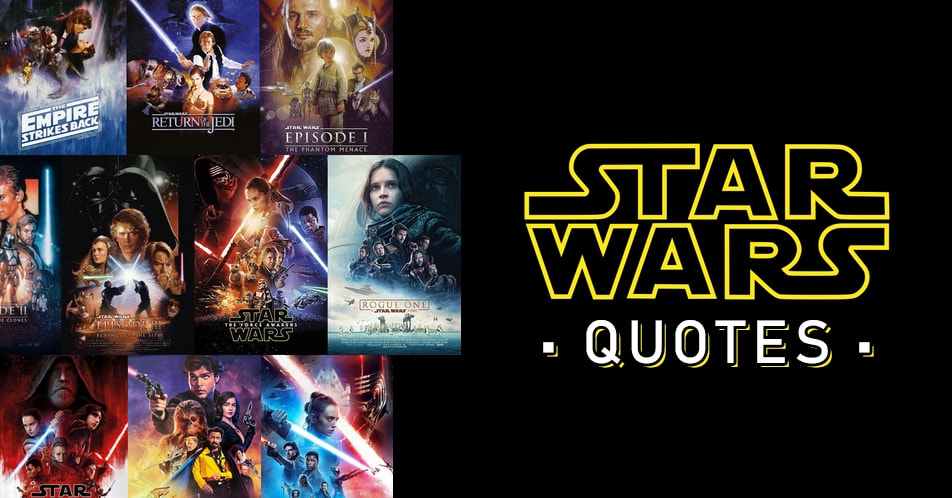 Star Wars saga already had a long run, and it doesn't look like it's gonna stop soon. It has captured the imagination of generations of Star Wars fans with new fans joining in every day. We're here to bring you the best quotes from the saga, sorted by categories.
Star Wars Universe never stopped expanding, and now under the wings of Disney, it has a chance to become endless. There are constantly new expansions coming out – movies, TV shows, games, and so much more. It keeps the saga not only alive, but it also expands the fan base. Star Wars has something for every generation, that is why it has become such a phenomenon.
Star Wars brings us many stories and many characters and with them a lot of quotes. Some characters might even be considered cultural icons, and they are here to make us laugh, cry, and inspire us with their words. Star Wars is packed with wisdom and teachings that can be applied to everyday life.
10 Most Iconic Star Wars Quotes
For this shortlist, we've picked ten most recognized quotes from the Star Wars universe. Everyone knows these quotes, even if they haven't seen any of the movies. These quotes spread like a wildfire as fans can work them into everyday conversation. Therefore you can consider these as the best Star Wars quotes of all time.
"May the Force be with you." – Multiple characters
"Try not. Do… or do not. There is no try." – Master Yoda
"A long time ago in a galaxy far, far away…" – Title card
"No. I am your father." – Darth Vader
"It's over, Anakin, I have the high ground." – Obi-Wan Kenobi
"Be careful not to choke on your aspirations." – Darth Vader
"Help me, Obi-Wan Kenobi. You're my only hope." – Leia Organa
"I don't like sand. It's coarse, and rough, and irritating, and it gets everywhere." – Anakin Skywalker
"Fear is the path to the dark side." – Master Yoda
"I am the one with the Force and the Force is with me." – Chirrut Îmwe / Ahsoka Tano
Not enough quotes for you? Continue your exploration of the endless word of Star Wars quotes and see if you can find your favorite ones.
Star Wars Movie Quotes
Find quotes sorted by the movie. After clicking on the movie title you'll be brought to a page with the best quotes from the particular movie.
Movies in chronological order:
Star Wars TV Show Quotes
Star Wars: Rebels

Resistance

Visions
Star Wars Game Quotes
List of Star Wars Characters
All Star Wars characters on this list have a number of quotes on this site. The character usually has to have more than five quotes to be searchable. Characters are sorted alphabetically by the first name. Clicking the name of character will bring up the best quotes every said by him/her.
A-Z List of Star Wars Characters
More from the blog:
» Star Wars: Valentines Funko Pop: All Figures You Can Collect [Checklist]