Top 10 Most Iconic Quotes by Emperor Palpatine from Star Wars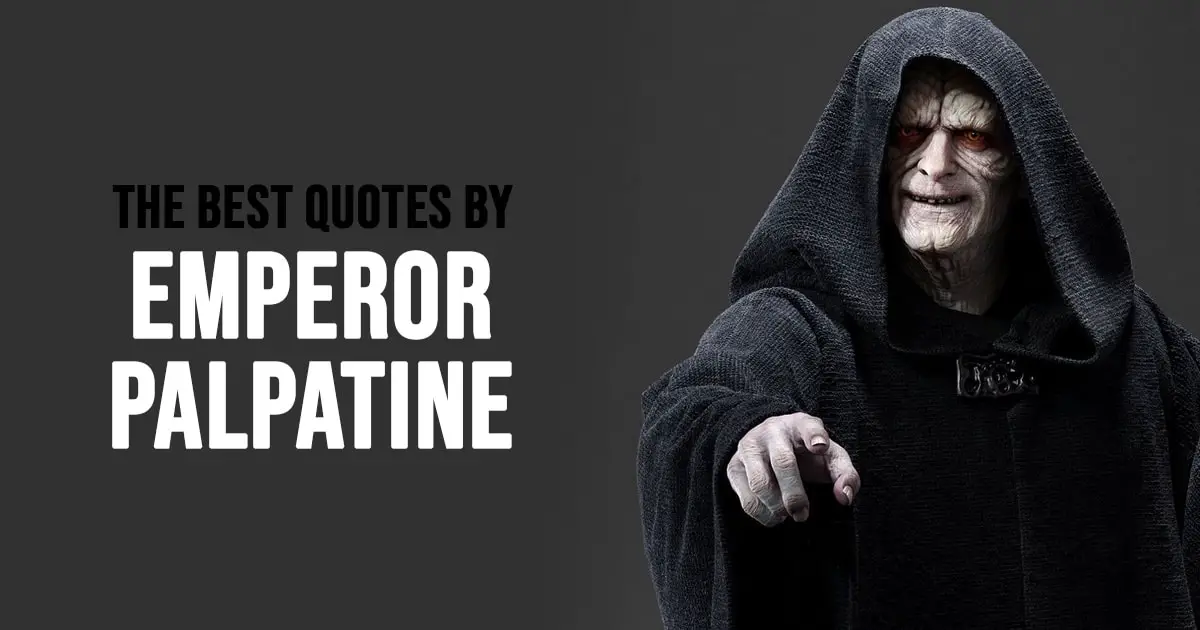 Above you'll find the best quotes, dialogues and phrases by Emperor Palpatine. The quotes there are sorted from the latest added.
Sheev Palpatine started out as a senator from Naboo. Later he was elected to Chancellor of the Galactic Republic. During his life he had a secret plan he carefully executed. He was a sith lord and achieved his goal in the end. He slowly overtook the Republic and turned it into a Galactic Empire and started calling himself The Emperor. He had different apprentices along the way starting with Darth Maul, Count Dooku, and in the end Anakin Skywalker, who became Darth Vader. He also tried to get Luke Skywalker to the dark side and secretly influenced Kylo Ren.
Emperor Palpatine is played by the actor Ian McDiarmid.
The pick of the top 10 famous one-liners and quotes ever said by Emperor Palpatine:
"I foresee an army of Force-talented spies in my service, trained in the dark side to peer into every corner of the galaxy from afar, and my enemies would be helpless against such vision." (Star Wars: The Clone Wars – Ep. 2×03)
"One shudders to think where the galaxy would be without the Jedi." (to Anakin, Star Wars: The Clone Wars – Ep. 4×18)
"I am the senate." (Star Wars: Episode III – Revenge of the Sith)
"Once more the Sith will rule the galaxy! And we shall have peace." (Star Wars: Episode III – Revenge of the Sith)
"Commander Cody… the time has come. Execute order 66." (Star Wars: Episode III – Revenge of the Sith)
"Use your aggressive feelings, boy. Let the hate flow through you. Good! Your hate has made you powerful. Now, fulfil your destiny and take your father's place at my side." (to Luke, Star Wars: Episode VI – Return of the Jedi)
"If you will not be turned, you will be destroyed. Young fool. Only now, at the end, do you understand. Your feeble skills are no match for the power of the dark side. You have paid the price for your lack of vision. Now, young Skywalker, you will die." (to Luke, Star Wars: Episode VI – Return of the Jedi)
"The ritual begins. She will strike me down… and pledge herself as a Sith. She will draw her weapon. She will come to me. She will take her revenge. And with a stroke of her saber… the Sith are reborn! The Jedi are dead! Do it! Make the sacrifice!" (to Rey, Star Wars: Episode IX – The Rise of Skywalker)
"Let your death be the final word in the story of rebellion." (to Rey, Star Wars: Episode IX – The Rise of Skywalker)
"You are nothing! A scavenger girl is no match for the power in me. I am all the Sith!" (to Rey, Star Wars: Episode IX – The Rise of Skywalker)
You might also like: