Top 10 Most Iconic Quotes by Cere Junda from Fallen Order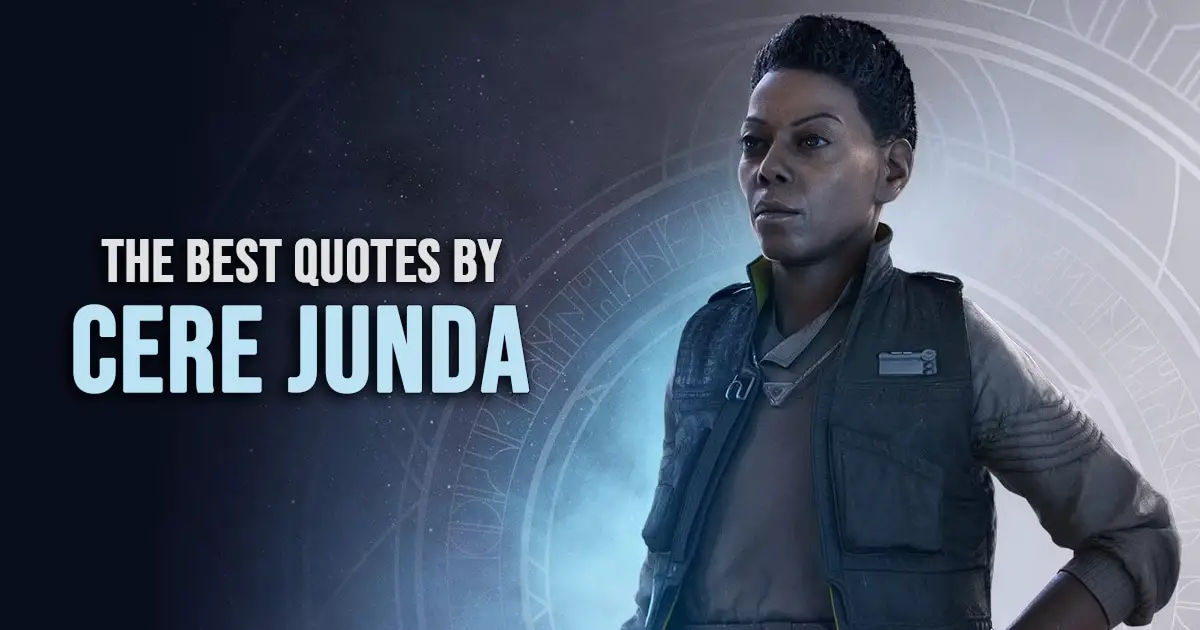 Above you'll find the best quotes, dialogues and phrases by Cere Junda. The quotes there are sorted from the latest added.
Cere Junda is a former Jedi master now on the run from the Empire. A while after the Order 66 were executed she cut herself from the Force and formed a rebel group with a mission to restore the Jedi Order.
Cere Junda is voiced by the actor Debra Wilson.
The pick of the top 10 famous one-liners ever said by Cere Junda:
"I had an experience that… Changed my perspective. So I… Cut myself off from the Force." (to Cal, Star Wars Jedi: Fallen Order)
"I believe that rebuilding the Order is the best chance we have against the Empire." (to Cal, Star Wars Jedi: Fallen Order)
"As long as you're alive you will always have a choice." (to Cal, Star Wars Jedi: Fallen Order)
"I like your optimism. We could all use a little of that now and then." (to Cal, Star Wars Jedi: Fallen Order)
"When I was captured by the Empire… I resisted. I swore to myself that I would die before I would talk. But then this… Dark shadow came. And he was worse than any… nightmare I could have imagined. And I still fought. But in the end I came apart. And I gave them Trilla. And I know there's nothing I can do to make that right. But Cal, there's still a chance we can save the others on the holocron." (to Cal, Star Wars Jedi: Fallen Order)
"Every Jedi faces the dark side. And it's very easy to fail." (to Cal, Star Wars Jedi: Fallen Order)
"We will always struggle. But that is the test. It's the choice to keep fighting that makes us who we are." (to Cal about the Dark side, Star Wars Jedi: Fallen Order)
"Failure's a part of the journey." (to Cal, Star Wars Jedi: Fallen Order)
"I'm responsible for the path that Trilla is on. And what she does next is the cost of all of my mistakes." (to Cal, Star Wars Jedi: Fallen Order)
"The lives of every child on that list will be forever changed." (Star Wars Jedi: Fallen Order)
You might also like: