Top 10 Most Iconic Quotes by Peli Motto from Star Wars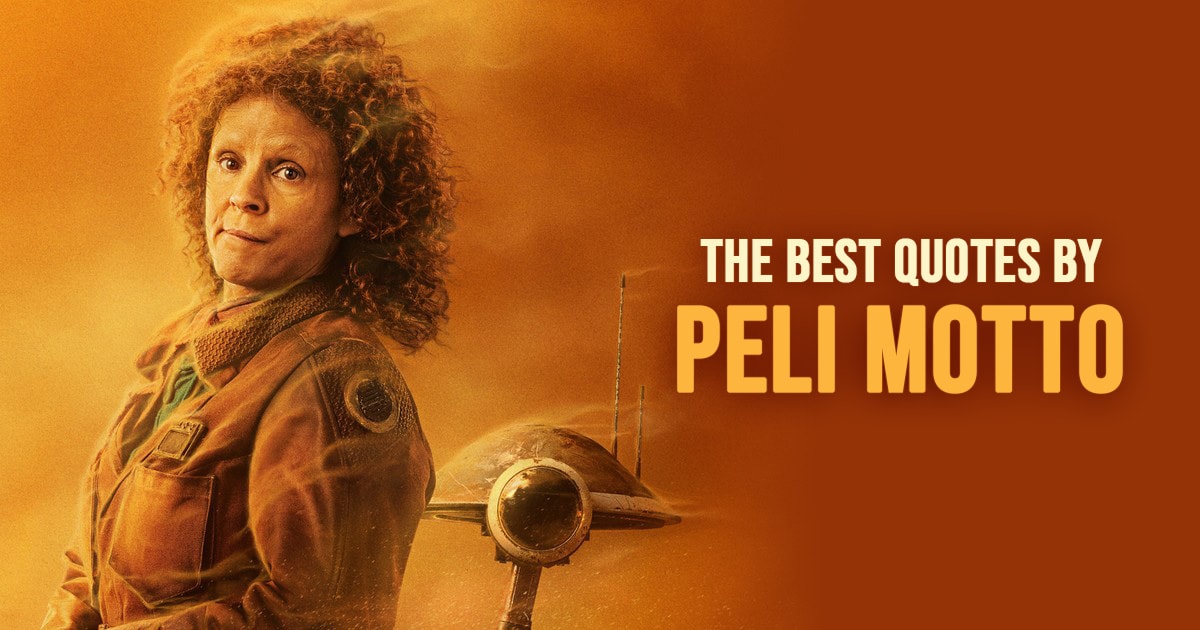 Above you'll find the best quotes, dialogues and phrases by Peli Motto. The quotes there are sorted from the latest added.
Peli Motto comes from the planet Tatooine. Peli is an engineer with her own hangar where she fixes and refuels ships. Living with Tatooine she has close relationship with the Jawas, who bring her ship parts. She suggested she has a very close relationship with some of them *wink*. Through her job she meets Din Djarin and Grogu.
Peli Motto is played by the actress Amy Sedaris.
The pick of the top 10 famous one-liners ever said by Peli Motto:
"Mind if I count it? Not that I don't trust you. I just wanna make sure you don't give me too much." (to Din, The Book of Boba Fett – Ep. 1×05)
"Where is your unlikely companion?" (to Din about Grogu, The Book of Boba Fett – Ep. 1×05)
"I could've made good money off that thing. Open a petting zoo." (to Din about Grogu, The Book of Boba Fett – Ep. 1×05)
"It's brand-new. Well, Jawa new." (to Din, The Book of Boba Fett – Ep. 1×05)
"Dated a Jawa for a while. They're quite furry. Very furry. Lot of issues." (to Din, The Book of Boba Fett – Ep. 1×05)
"You hit this button, you're gonna evacuate your exhaust manifold, if you know what I mean." (to Din, The Book of Boba Fett – Ep. 1×05)
"I can hear her! She's purring! Send her up!" (to Din about a ship, The Book of Boba Fett – Ep. 1×05)
"Well, look who it is! Aw! Did they teach you how to fly an X-wing already? (one of her droids speaks up) I know an astromech flew the ship." (to Grogu, The Book of Boba Fett – Ep. 1×07)
"Grogu? Whoa! That's a terrible name. Sorry about that, pal. No way am I calling you that." (to Grogu, The Book of Boba Fett – Ep. 1×07)
"The Force works in mysterious ways." (to Din about Grogu's return, The Book of Boba Fett – Ep. 1×07)
You might also like: