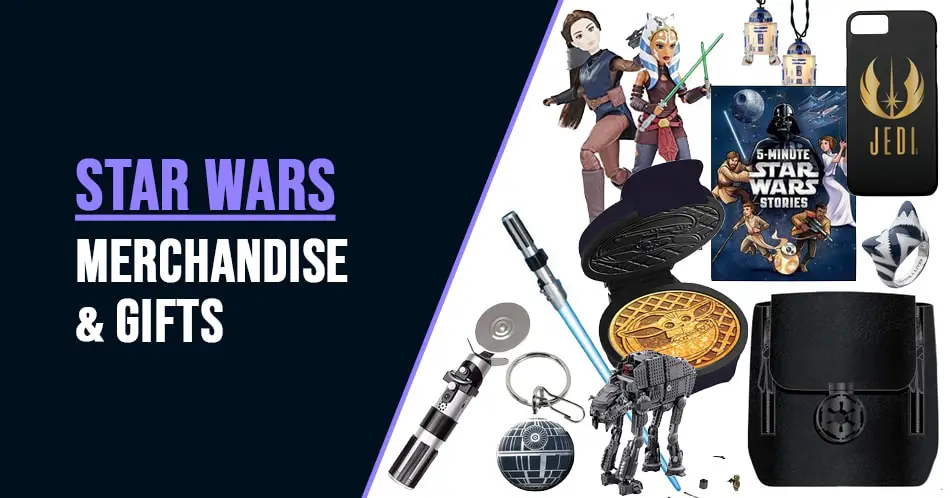 Looking for a gift for a Star Wars fan? Or to feed your own Star Wars obsession?
As a Star Wars fan myself I've wondered what is out there. It seems like they can put Star Wars on everything and it will sell. I can attest to it as I'm often trapped into buying things only because I see the Star Wars logo on it.
It seems there is no limit on people's creativity as new products show up every day. So here I'm giving you the guide to the main categories of merchandise and gifts you can find. And trust me, it's nowhere near completion.
It might be impossible to list every single piece of Star Wars products there is. But let's have fun trying to cover the best parts of Star Wars merchandise world or should I say galaxy?
Quickly navigate to a category you'd like to read on:
*Some of the links on this page are affiliate, that means they may result in a small commission for purchases, full details in our Affiliate disclaimer.*
In case you don't believe my credibility as an experienced Star Wars shopper: I'm giving myself an incentive to finish this post quicker. When I get it done, I'll order myself a new lightsaber.
Edit: Not even halfway through… I'm weak. I ordered the lightsaber. Like there was a sale timer, and it said 500 pieces left and you know… How could I resist?
Enough rambling, let's browse the goods!
Star Wars Quotes & Lines
Throw away your "Live, Love, Laugh" wall sticker and replace it with a Star Wars one!
As we are at the Scattered Quotes website, let's see where we could get some Star Wars Quotes inspired stuff. Quotes get usually put on clothes, framed pictures, and wall stickers. As you can see in the image above, there are some of the designs of the lines you can find on Teepublic. These designs can not only be on clothes but also mugs, stickers, wall art, pins, or pillows.
Often the quotes get a little bit of play on words for the shirts to make them more funny or relatable. Amazon has quite a bit of those for you to explore.
Our top 3 picks:
"This is the way" Mug
Black mug with the now famous line "This is the way" from the tv series The Mandalorian. The quotes is spoken by the main character – The Mandalorian and other Mandalorians.
Sticker with Yoda's quote
"Do or do not, there is no try" – Quote by Master Yoda. Small sticker you can put anywhere – your laptop, phone, wall,… so you can always see the quote and get motivated. Or you know, just to show you're a Star Wars fan.
Book: Be More Like Yoda
Star Wars: Be More Yoda: Mindful Thinking is a book full of images from movies with quotes from them. Meaning and the take away from the quotes is explained after every quote.
Star Wars Collectibles
Beginner Collectors
Funko Pops! – Some love them some hate them. But most people find them cute. These figures all share the same basic shape and stand at 4 inches tall. Based on the fandom, the figures get their characteristic hair, clothes, and various items. That is what makes them recognizable and unique. Funko releases new Pops every time there is a new movie, show, or game coming up. There are so many of them they must have started to number them.
I put these on top because they're favorite collectibles among people as they are very affordable and cover a large range of characters. Star Wars Pops get released when something new is coming up. At the moment they offer characters from the latest movie ("The Rise of Skywalker"), the anniversary of the release of Episode V ("Empire Strikes Back") and the newest TV show "The Mandalorian" (or as I like to call it "The Baby Yoda show").
You can get Funko Pops! in the original store Funko, which has the newest figurines available. Things from Another World and Fun.com hold stock of not only the latest, but also few releases back. And the biggest range of all-new Pops! has non-other than Amazon. If you're keen on getting a character from the earlier collections, you'll have to buy those from resellers like eBay. Be careful, some of the pops raise in value over time, so the prices then go way above the original release price. That is why some collectors keep them in boxes. Or even go above and beyond and buy a protective cover for the box.
Our top 3 picks:
Ahsoka Tano (Season 7)
Funko Pop! of Ahsoka Tano with her blue lightsaber as she appears in Season 7 from Star Wars: The Clone Wars.
The Mandalorian & The Child
This Funko Pop! is taller than the usual pops. It is 10 inches tall. The Mandalorian comes in the beskar armor and is holding little Baby Yoda – how cute!
Rey with two lightsabers
Rey as she looked like in the last movie. Armed with two lightsabers she's gotten along the way: Leia's and Luke's (Anakin's).
Star Wars Black Series figures are the most realistic depiction of beloved Star Wars characters while still at the affordable price tag. You can find them at several stores like Amazon, Hasbro, Target, Walmart, or Walgreens.
The Black series comes from Hasbro, which started making them in 2013. The action figures are 6 inches tall and have movable parts. They often come with a lot of accessories like weapons, droids, helmets, masks, or even heads. The small parts make them more suitable for adult collectors than as a toys for children.
Around one-third of them gets released as an exclusive. That means the only way to get those is from resellers (eBay). But don't worry, most of the fan favorites are still purchasable in stores mentioned above.
Our top 3 picks:
Din Djarin and The Child
Set of the main characters from the tv show The Mandalorian: Din Djarin & Baby Yoda. Our little Child even comes with his "floating" pod.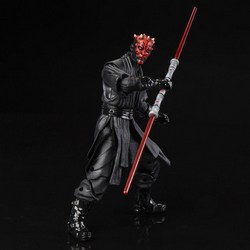 Darth Maul
There are more version of Darth Maul figures in the Black Series. This one is from the Archive series depicting Darth Maul from Episode I.
Ahsoka Tano
Ahsoka Tano – The Clone Wars Season 7 version with the two blue lightsabers and her cool robes in Mandalorian style.
The Ultimate Collection
The dream come through for all Star Wars fans and collectors. These figures are highly accurate, like if you shrank the actual character down.
These are sixth-scale figures by Sideshow. The ultimate fan favorites of figurines. All the serious collectors have 1/6 figures in their priced collections. They are made of plastic and include many different interchangeable parts. Some figures come with different costumes. You can even get many body parts making more poses possible.
For example, Luke Skywalker comes with 11 hands, 6 costumes, and two weapons. Luke's figure is 12 inches (30 cm) tall and weighs 3 lbs (1,36 kg).
Our top 3 picks:
Luke Skywalker

This sixth scale figure of Luke Skywalker is as he looks in Episode VI: Return of the Jedi. He comes with many costumes and accessories.
Darth Vader

This deluxe figure of Darth Vader can't be missing from your collection. This majestic figure comes apart from the expected bits even with a light up chest and belt boxes.
Obi-Wan Kenobi

This is Sideshow artist's take on Obi-Wan living on Tatooine. Seems pretty accurate for the transition from a jedi to hermit he becomes later on in the movies.
Oppose to action figures, which are usually somewhat poseable, these are statues. And very detailed ones. They can either stand on their own or come with a platform. The best statues come again from Sideshow, and Things From Another World offers quite a few too. The common materials are PVC, resin, and ABS.
Star Wars Lightsabers
Lightsabers! Now we're talking… With lightsabers, you need to consider the use of it…
Toy? Toy lightsabers can too be somewhat accurate in their appearance. For example, Hasbro is making very good looking and also cheap toy lightsabers. There are several variations: with a retractable blade, light up ones, and some with sounds.
Decoration? For decoration purposes you need a light-up sword, but with no need to look for resiliency. These lightsabers come with stands, but some fans are also hanging them on the wall. The new Galaxy Edge's lightsabers get often displayed in the crate with the blade taken off. You can find a mix of these types of lightsabers on Amazon, Fun.com, or Sears.
Cosplay or combat? This is where it gets interesting. We're looking for sabers that can withstand a duel. Or let's be honest: Occasional accidental hit on the wall when you're spinning the lightsaber at home. Been there, done that… So for those, we need to up our game and search for the best lightsaber makers. There are the major lightsaber building stores: Ultrasabers, Saber Forge, and Vader's Vault. Note these lightsabers can get very pricy quick, but so worth it. Like if you're a fan, you'll be drooling. They make very accurate copies of the lightsabers from Star Wars Universe. And you can actually use them as they're making them with that in mind. You can always buy more blades for them and change them easily. And the best part? You can not only customize but build your own with many different parts to choose from.
Remember: This weapon is your life. Choose wisely.
Star Wars Clothing
Clothes are the most common way of expressing our beliefs, stands, or current fan obsessions. We're very used to wearing our favorite things on our clothes to show off to the world. And with Star Wars you can go in many directions…
As Star Wars is such a beloved franchise, there are a lot of designers. They put out many concepts for us to look through. The range of graphics they make… Characters, quotes, logos, funny designs, cool designs – anything you can think of. I included some of my favorites in the image above. These designs come from various artists. OnceUponaTee, TeePublic, and Zazzle designs are even cooler with the fact you chose what it is being put on. You can get them on T-shirts, hoodies, stickers, pillows, mugs, and many other items.
On Amazon and Fun.com you get the design already put on the clothing piece. You will find many graphic T-shirts as those get sold the most.
Even if it looks like Star Wars clothing is mostly T-shirts there are many more clothing items and accessories. As you can see, there are pieces with prints, other products are even made to look like a character. You can literally get Star Wars clothing for any occasion. Baby? Check. Formal wear? Check. Comfortable clothes to wear at home? Check.
Accessories depicted above comes from these stores: Fun.com, Sears, and TVStoreOnline. And it's only a small fraction of what they offer.
What I like the most is, if the design on the clothing is made that people not knowing Star Wars still find it pretty. Like going undetected by the normal folk and only getting recognized by the fans. Like the ties in the image above, you won't notice there is something geeky on them.
Star Wars Accessories
Aren't these adorable? Star Wars jewelry is another fan favorite of showing your love for Star Wars. Like who hasn't seen the "I love you. – I know." necklace?
You can get all the types of jewelry. Cheap or expensive. Cute or classy. Characters, logos, ships, lightsabers… Anything you can think of when it comes to the Star Wars universe.
Buy the inexpensive stuff from Aliexpress. The mix of everything from Amazon. And some cool detailed ones from Sideshow. Rock that Star Wars fashion!
Star Wars everything, get the accessories you deserve. You never make a mistake with a gift like a keychain. It might be a small thing, but when it's Star Wars themed, it makes it so much more meaningful. So don't be afraid to choose the smaller gifts. We fans love anything Star Wars to an unhealthy level.
If you want to go with more of original and unique designs, head over to Zazzle and OnceUponaTee as the designs are mostly made by independent artists. They make mousepads, mugs, phone covers, laptop sleeves, notebooks, and so much more.
As always Amazon has everything, and you can also go to Sears to find more of the items from the image above like Han Solo's dice.
And for out last group of items from the Fashion category, we're getting to Star Wars purses, wallets and bags.
Everyone can find a piece to fit their aesthetic. Travel suitcases, backpacks to school or hike, purses to work or party – bag for every occassion. You can get these from Amazon, Fun.com and Sideshow. Go and shove your credits into your new Star Wars wallet!
Now we have a complete Star Wars look finished. Or haven't we?
Star Wars Costumes
Yeah, the inflatable T-Rex is fun, but what about Jabba the Hut! I couldn't believe my eyes we need to make that a thing.
Star Wars costumes are one of the most favorite on Halloween. You can get as sexy or as movie accurate as you'd like. You can even dress up your pets. You can get some of the best cost-effective costumes from HalloweenCostumes, TVStoreOnline, or from Sears.
If you're more into cosplay, you should check more personalized options, like Etsy sellers that sew the costumes as you'd like it. And often can get more accurate resemblance then the mass-produced costumes.
Star Wars will never go out of style for Halloween, so you can be wearing it every year.
Star Wars Electronics
I called this set the Star Wars little electronics. Or if you'd like also could be the smart gadgets.
Smart-watches and headphones, holograms… And a lot of Death Stars? Death Star popcorn maker, Death Star floating, Death Star light, and projects. People really like the Death Star, don't they? I don't think this is what the Emperor had in mind when he had it built. Twice. Like "Oh, you're Death Star blow up again? Here you have a little one. It floats!"
You can get these and more of other smart things and gadgets from Amazon, Fun.com, and Sideshow.
When it comes to more expensive electronics, there is a lot of limited electronics products coming out. They often get released when there is a new game, movie, or series coming up. So you'll need to be watching out for those.
There is not much at the moment, but you can still get some remaining ones from Amazon. The most recent ones that are still purchasable would be the Star Wars Jedi: Fallen Order Xbox skin and sets coming up with Star Wars: The Battlefront game.
Star Wars Toys
Who wouldn't like Legos? With Star Wars, you can get legos with more than 1000 pieces, which for sure aren't meant for children. That way you have a wide range of types of legos you can get for anyone of any age.
The most desirable are the Death Star and Millenium Falcon, which both are thousands of pieces and overall big end product. It does come with a quite high price tag, but it is the dream of any Star Wars fan and collector.
You can get Lego sets from Amazon and Fun.com, examples are on the image above. The possibilities go from one single lego character person to the mentioned thousand pieces sets. You can get Lego based on location, characters, ships, droids, and sets for reenacting of whole scenes.
Our top 3 picks:
Millennium Falcon
This giant set of Millenium Falcon comes with 7541 pieces. It is an ultimate LEGO bulding set every fan wishes to own.
Bobba Fett Helmet
LEGO lately started releasing statue like LEGO sets. This one is a collectible of Bobba Fett's Helmet you can build from 625 pieces.
TIE Fighter
You can build your own Imperial TIE fighter that can shoot missiles on the rebel scum. It comes in 432 pieces.
Star Wars toys
must be the biggest variety of any category of products you can get. With every release of new Star Wars, there are tons and tons of toys.
In the picture above you can see random plushies of varying levels of accuracy and cuteness. You can get branded toys like nerf guns – with Star Wars that would be Nerf blasters. Barbies also got the Star Wars treatment, whenever it's recreating the character or Star Wars inspired fashion for Barbies. Find them at Amazon, Fun.com and Things From Another World.
There are also Star Wars brands like the Forces of Destiny dolls, that were released not too long ago. As of now, you can get Ahsoka Tano, Padmé Amidala, Rey, Kylo Ren, Jyn Erso, Sabine Wren, Leia Organa, Chewbacca, and Luke Skywalker.
But this is nowhere near where the toys end, there are drones, robots, ships, action figures, board games and I'm sure I'm forgetting so many others.
You must have at least suspect it there is Star Wars Monopoly, like what theme haven't they done?
Star Wars board games are made a lot, even with the brands you know. You can get Star Wars Clue, Operation, Risk, puzzles, and so many more. Sideshow even came up with a fancy chess set. You can get these games on Amazon and Fun.com.
With Star Wars, there is plenty of never-ending fun.
Let's get creative! I called this next section the Star Wars crafts. For these, you'll need a little bit of skill.
Cross stitch sets are from Thing From Another World. Zazzle offers a wide array of different patterns of fabric, which you can use to make anything you can think of.
And lastly, I put the models here. Because let's be honest, those can be frustrating to put together, so they require a bit of skill. Some of the more intricate models can be bought from Sideshow and many more with different levels of difficulty from Amazon.
Star Wars books, there is many of canon and non-canon. But for this guide I picked books that are not the usual story telling books. More of book that fit this toys category. Books for children and fun books for everyone. Like 5-minute stories for bedtime, "where is waldo" type books but Star Wars. Various coloring books and books that teach you to doodle Star Wars characters. A lot of interesting fun activity books you can find on Book Depository and as always on Amazon.
I own a version of the Coloring by numbers book. I called it my antistress coloring book. 'Cause it is really antistress opposed to other coloring books by that name. You get the colors already pre-picked and end up with a Star Wars pic, isn't that neat?
Star Wars Office & Stationary
The office is another great place to decorate with fan items. Imagine handing someone a pencil with a "Come to the Dark side" line on it to a colleague. Or level your school file folder with lots of different stickers.
Does your home office need some decor too? No problem, you can get book holders, tape dispensers, and pen holders in lots of styles coming from Star Wars. Like how imaginative is the space slug with a Millenium Falcon? That's funny and kind of adorable at the same time. And speaking adorable, how about a Baby Yoda on a notebook cover?
Visit Sideshow for the cool office stuff (pen holder, tape dispenser and book holders), Zazzle, or RedBubble for the stationary and stickers and Amazon for anything else you can think of.
Star Wars Home & Decor
Only the best food in the galaxy! Spruce up your kitchen with a little bit of Star Wars. Not only kids will enjoy these.
You can buy little things like silverware set, chopsticks that look like lightsabers, pizza cutter with a lightsaber hilt, bowls, mugs, and glasses. Get them from Amazon or Sears.
Or go the more functional way and get a tea kettle, toaster, waffle maker, and even coffee maker from Fun.com and Sideshow. That coffee better give us force boast, or I'm going Dark side.
Give the gift of the best sleep in a whole Galaxy. From pillows and blankets to full bedding sets. Lots of options from stores like Amazon, Fun.com, OnceUponaTee, and Sears. Every little fan wanted a Star Wars bedroom at some point, and I'm sure we could find a version for the adults too.
You can find something for anyone, you'll never make a mistake with a throw pillow or a cool wearable throw blanket.
Did you think there is no way there is stuff for the bathroom? Wrong! There is plenty. And fun ones too.
Visit Amazon, Fun.com and OnceuponaTee to browse the bathroom category.
As you can see from the image above you can get robes, art work, shower curtains, electronic toothbrush, toothbrush holder, hanger and light switch sticker.
Let's decorate! Sneak some Star Wars decor to any home.
Blankets, posters and pillows from OnceUponaTee and Fun.com. Lights, lamps, art prints from Amazon, Sears and Sideshow.
Star Wars Party Supplies
Throw the best party in a Galaxy!
Let the Force take the lead and guide you through planning the best Star Wars themed party ever! You can get a wide variety of party supplies from Amazon and Sears. And the cool T-shirts and 3D birthday cards from Kohls.
It's amazing how at every category I can point and say "I have that!". Or at least "I need that!". I think I might have a problem. I'm gonna have to send this guide to my friends and family, so they can buy some for me. Or I'm gonna be broke. No toasts from Star Wars toaster when there is no money for the toast…
Hope you enjoyed the guide, I sure did enjoy going through all the stores and items. I'd like to hear more from you:
What is the best gift you've bought to a fan?
What is your favorite Star Wars item you own?