The Best Marvel Quotes of All Time
For more than ten years, Marvel fills our lives with movies full of lovable heroes and hilarious moments. The action-packed scenes often have sprinkled in moments of wisdom and pop-cultural references. With so many movies, there are many one-liners, dialogues, and moments that make us laugh, cry, or get inspired.
Enjoy these compilations of quotes sorted by movies, tv shows, and characters.
10 Most Iconic Quotes from Marvel Cinematic Universe
For this shortlist, we've picked ten most recognized quotes from the Marvel Cinematic Universe. The inspiration and wisdom of Marvel Universe with a sprinkle of fun one-liners.
"Avengers, assemble!" – Steve Rogers
"Whatever happens tomorrow, you must promise me one thing. That you will stay who you are, not a perfect soldier, but a good man." – Dr. Abraham Erskine
"My armor was never a distraction or a hobby, it was a cocoon, and now I'm a changed man. You can take away my house, all my tricks and toys, but one thing you can't take away – I am Iron Man." – Tony Stark
"I can't control their fear, only my own." – Wanda Maximoff
"I'm Mary Poppins, y'all!" – Yondu Udonta
"You never know. You hope for the best and make do with what you get." – Nick Fury
"I choose to run towards my problems, and not away from them. Because that's what– because that's what heroes do." – Thor
"The hardest choices require the strongest wills." – Thanos
"Just because something works, doesn't mean it can't be improved." – Shuri
"I am Groot." – Groot
Not enough quotes for you? Continue your exploration of the word of Marvel quotes and see if you can find your favorite ones.
Marvel Movies Quotes
Marvel Cinematic Universe is where all the movies in it share the same universe. The X-Men franchise and movies like Daredevil and Fantastic Four were produced by different studios making them not part of the official Marvel Cinematic Universe. Because of that, we will sort them individually into sections of X-Men movies and Other Marvel movies. With the production companies being bought by Disney, this might in the future change, and all these "universes" might join into one.
After clicking on the movie title you'll be brought to a page with the best quotes from the particular movie.
Marvel Cinematic Universe
Marvel sorts their movies by phases of which they were released. It's a very common way to sort the movies like this, so we're going to use it as it is very familiar for the fans. Every phase so far had always at least one big collaboration movie with characters from other movies (the Avengers movies). Phase 4 starts in the fall of 2020 with the movie Black Widow.
This list of movies is sorted by release order.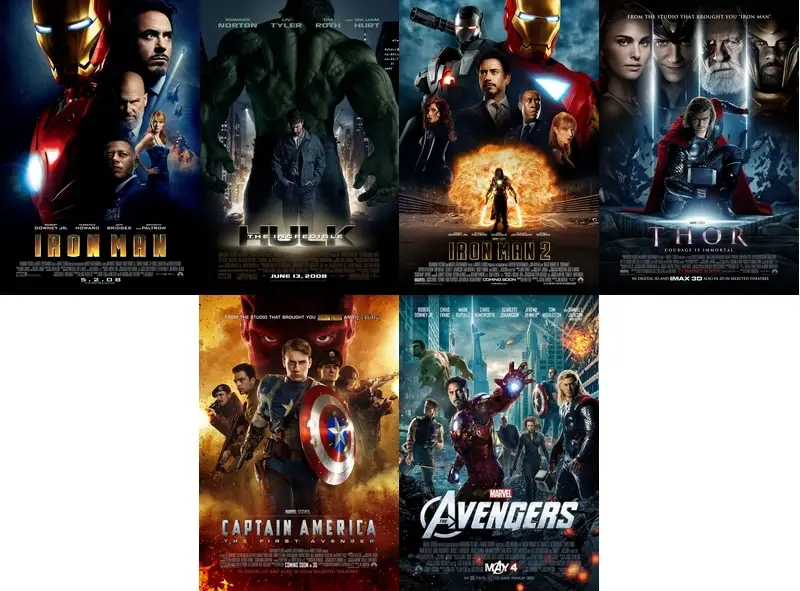 Phase 1
Phase 2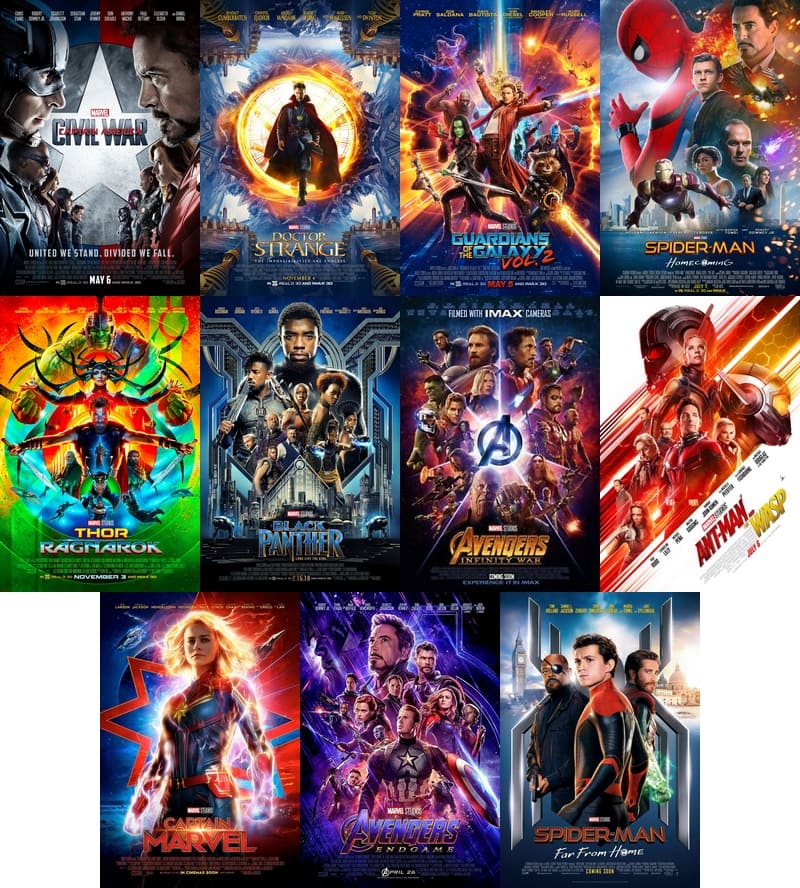 Phase 3
Doctor Strange

Guardians of the Galaxy Vol. 2

Ant-Man and the Wasp
The Multiverse Saga (Phase 4-6)
Phase 4
Shang-Chi and the Legend of the Ten Rings

Eternals

Spider-Man: No Way Home

Doctor Strange in the Multiverse of Madness

Thor: Love and Thunder

Black Panther: Wakanda Forever

Phase 5

Ant-Man and the Wasp: Quantumania

Guardians of the Galaxy Vol. 3

The Marvels


Blade

Captain America: New World Order

Thunderbolts
Phase 6 (Upcoming)
Fantastic Four

Avengers: The Kang Dynasty

Avengers: Secret Wars
Other Marvel Movies
Deadpool

Deadpool 2

Venom 2

Deadpool 3
Marvel TV Show Quotes
Agent Carter

Inhumans

Jessica Jones

Luke Cage

Iron Fist

Cloak and Dagger

WandaVision

What if?

Moon Knight

Ms. Marvel

She-Hulk: Attorney at Law
Upcoming TV series (2023)
Echo

Ironheart

Agatha: Coven of Chaos

Daredevil: Born Again
Marvel Characters
All Marvel characters on this list have a number of quotes on this site. The character usually has to have more than five quotes to be searchable. Characters are sorted alphabetically by the first name. Clicking the name of character will bring up the best quotes every said by him/her.
A-Z List of Characters