Enjoy the best quotes / moments from Game of Thrones' episode 'The Dragon and the Wolf'.
'The Dragon and the Wolf' is the 7th and finale episode of season seven. (s07e07)

In case you don't remember what was this episode about or you're not sure you've seen it, here is summary.
Plot summary
Everyone meets in King's Landing to discuss the fate of the realm, but Cersei may have a plan of her own. In Winterfell, Sansa and Arya join forces. Bran and Sam discover a shocking secret about Jon Snow. (IMDb)

Top 30 Game of Thrones Quotes from 7×07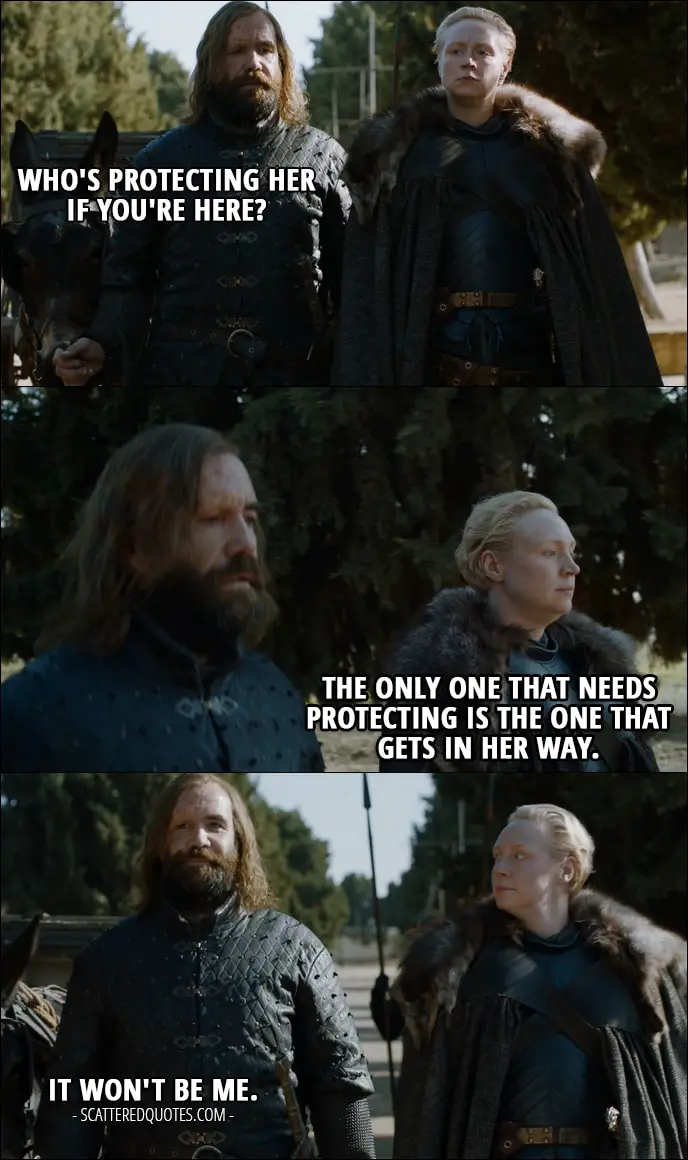 Ordered chronologically as they appear in the episode.
Bronn: Men without cocks. You wouldn't find me fighting in an army if I had no cock. What's left to fight for?
Jaime Lannister: Gold?
Bronn: I spent my life around soldiers. What do you think they spend that gold on?
Jaime Lannister: Family.
Bronn: Not without a cock, you don't.
Jaime Lannister: Maybe it really is all cocks in the end.
Bronn: Yet, your brother has chosen to side with the cockless.
Jaime Lannister: Yes, he's always been a champion of the downtrodden.
(Dothraki join the party)
Bronn: I think we're about to be the downtrodden. 
Tyrion Lannister: A pleasant surprise in an unpleasant situation.
Podrick Payne: I never thought I'd see you again, my lord.
Tyrion Lannister: Supporting the enemy, no less.
Podrick Payne: Hard to blame you.
Tyrion Lannister: Cersei will anyway.
Podrick Payne: I'm glad you're alive.
Bronn (to Podrick): Come on! You can suck his magic cock later. 
Sandor Clegane (about Arya): Who's protecting her if you're here?
Brienne of Tarth: The only one that needs protecting is the one that gets in her way.
Sandor Clegane: It won't be me. 
Sandor Clegane: Seems every bad idea has some Lannister cunt behind it.
Tyrion Lannister: And some Clegane cunt to help them see it through. 
Sandor Clegane (to his brother): Remember me? Yeah, you do. You're even fucking uglier than I am now. What did they do to you? Doesn't matter. That's not how it ends for you, brother. You know who's coming for you. You've always known. 
Tyrion Lannister: I think we ought to begin with larger concerns.
Euron Greyjoy: Then why are you talking? You're the smallest concern here.
Tyrion Lannister: Do you remember when we discussed dwarf jokes?
Theon Greyjoy: His wasn't even good.
Tyrion Lannister: He explained it at the end. Never explain. It always ruins it. 
Tyrion Lannister: We are a group of people who do not like one another, as this recent demonstration has shown. We have suffered at each other's hands. We have lost people we love at each other's hands. If all we wanted was more of the same, there would be no need for this gathering. We are entirely capable of waging war against each other without meeting face-to-face.
Cersei Lannister: So instead, we should settle our differences and live together in harmony for the rest of our days?
Tyrion Lannister: We all know that will never happen.
Cersei Lannister: Then why are we here?
Jon Snow: This isn't about living in harmony. It's just about living. 
Jon Snow: If we don't win this fight, then that (points to wight) is the fate of every person in the world. There is only one war that matters… the Great War. And it is here. 
Euron Greyjoy: I've been around the world. I've seen everything, things you couldn't imagine, and this… this is the only thing I've ever seen that terrifies me. 
Cersei Lannister: If those things come for us, there will be no kingdoms to rule. Everything we suffered will have been for nothing. Everything we lost will have been for nothing.
The crown accepts your truce. Until the dead are defeated, they are the true enemy. In return, the King in the North will extend this truce. He will remain in the North where he belongs. He will not take up arms against the Lannisters. He will not choose sides. 
Jon Snow (to Cersei): I am true to my word. Or I try to be. That is why I cannot give you what you ask. I cannot serve two queens. And I have already pledged myself to Queen Daenerys of House Targaryen. 
Tyrion Lannister: I'm pleased you bent the knee to our queen. I would have advised it, had you asked. But have you ever considered learning how to lie every now and then? Just a bit?
Jon Snow: I'm not going to swear an oath I can't uphold. 
Tyrion Lannister: You spoke with her?
Jaime Lannister: At her until she kicked me out. She thinks I was an idiot to trust you. A lot of people seem to think that, actually.
Tyrion Lannister: I'm about to step into a room with the most murderous woman in the world who's already tried to kill me twice, that I know of. Who's an idiot?
Jaime Lannister: I suppose we should say goodbye, one idiot to another. 
Tyrion Lannister (to Cersei): You love your family, and I have destroyed it. I will always be a threat. So put an end to me… If it weren't for me, you'd have a mother. If it weren't for me, you'd have a father. If it weren't for me, you'd have two beautiful children. I've thought about killing you more times than I can count. Do it! Say the word. 
Tyrion Lannister: I think she will make the world a better place.
Cersei Lannister: You said she'd destroy King's Landing.
Tyrion Lannister: She knows herself. She chose an advisor who would check her worst impulses instead of feeding them. That's the difference between you. 
Daenerys Targaryen: This place was the beginning of the end for my family. A dragon is not a slave. They were terrifying. Extraordinary. They filled people with wonder and awe, and we locked them in here. They wasted away. They grew small. And we grew small as well. We weren't extraordinary without them. We were just like everyone else. 
Daenerys Targaryen: I can't forget what I saw north of the Wall. And I can't pretend that Cersei won't take back half the country the moment I march north.
Jon Snow: It appears Tyrion's assessment was correct. We're fucked. 
Petyr Baelish: Sometimes when I try to understand a person's motives, I play a little game. I assume the worst. What's the worst reason they could possibly have for saying what they say and doing what they do? Then I ask myself, "How well does that reason explain what they say and what they do?" 
Theon Greyjoy: But the things I've done…
Jon Snow: It's not my place to forgive you for all of it. But what I can forgive, I do. You don't need to choose. You're a Greyjoy… and you're a Stark.
Theon Greyjoy: When I was Ramsay's prisoner, Yara tried to save me. She's the only one who tried to save me. She needs me now.
Jon Snow: So, why are you still talking to me? 

Arya Stark: Are you sure you want to do this?
Sansa Stark: It's not what I want. It's what honor demands.
Arya Stark: And what does honor demand?
Sansa Stark: That I defend my family from those who would harm us. That I defend the North from those who would betray us.
Arya Stark: All right, then. Get on with it.
Sansa Stark: You stand accused of murder. You stand accused of treason. How do you answer these charges… Lord Baelish? 
Sansa Stark (to Baelish): Sometimes when I'm trying to understand a person's motives, I play a little game. I assume the worst. What's the worst reason you have for turning me against my sister? That's what you do, isn't it? That's what you've always done… turn family against family, turn sister against sister. That's what you did to our mother and Aunt Lysa, and that's what you tried to do to us. 
Petyr Baelish: Sansa, I beg you!
Sansa Stark: Thank you for all your many lessons, Lord Baelish. I will never forget them. 
Cersei Lannister: I always knew you were the stupidest Lannister. The Starks and Targaryens have united against us, and you want to fight alongside them? Are you a traitor or an idiot?
Jaime Lannister: You pledged our forces to fight our common enemy…
Cersei Lannister: I'll say whatever I need to say to ensure the survival of our house. 
Cersei Lannister (to Jaime): Do you really think Euron Greyjoy turned tail and sailed back to the Iron Islands? Do you think he abandoned the chance to marry the queen? No one walks away from me. He's sailing with his fleet to Essos. He's going to ferry the Golden Company back here to help us win the war for Westeros. 
Jaime Lannister: I pledged to ride north. I intend to honor that pledge.
Cersei Lannister: And that will be treason.
Jaime Lannister: Treason?
Cersei Lannister: Disobeying your queen's command, fighting with her enemies. What would you call it?
Jaime Lannister: Doesn't matter what I'd call it.
Cersei Lannister: I told you no one walks away from me.
Jaime Lannister: Are you going to order him to kill me? I'm the only one you have left. Our children are gone, our father is gone. It's just me and you now.
Cersei Lannister: There's one more yet to come.
Jaime Lannister: Give the order, then. (Cersei nods and The Mountain pulls his sword) I don't believe you. (Jaime leaves)

Samwell Tarly: What happened to you beyond the Wall?
Bran Stark: I became the Three-Eyed Raven.
Samwell Tarly: Oh! I don't know what that means.
Bran Stark: He needs to know the truth.
Samwell Tarly: The truth about what?
Bran Stark: About himself. No one knows. No one but me. Jon isn't really my father's son. He's the son of Rhaegar Targaryen and my aunt, Lyanna Stark. He was born in a tower in Dorne. His last name isn't really Snow, it's Sand.
Samwell Tarly: It's not.
Bran Stark: Dornish bastards are named Sand.
Samwell Tarly: At the Citadel, I transcribed a High Septon's diary. He annulled Rhaegar's marriage to Elia. He wed Rhaegar and Lyanna in a secret ceremony. 
Bran Stark: Robert's Rebellion was built on a lie. Rhaegar didn't kidnap my aunt or rape her. He loved her. And she loved him. And Jon… Jon's real name…
Lyanna Stark (in flashback): His name is Aegon Targaryen. You have to protect him. Promise me, Ned.
Bran Stark: He's never been a bastard. He's the heir to the Iron Throne. He needs to know. We need to tell him. 
Arya Stark: I was never going to be as good a lady as you. So I had to be something else. I never could have survived what you survived.
Sansa Stark: You would have. You're the strongest person I know.
Arya Stark: I believe that's the nicest thing you've ever said to me.
Sansa Stark: Well, don't get used to it. You're still very strange and annoying. 

Arya Stark: "In winter, we must protect ourselves. Look after one another."
Sansa Stark: Father. "When the snows fall and the white winds blow, the lone wolf dies, but the pack survives."
More quotes from Game of Thrones:
» All quotes from Game of Thrones
Previous list:
» 18 Best Game of Thrones Quotes from 'Beyond the Wall' (7×06)
» 19 Best Game of Thrones Quotes from 'Eastwatch' (7×05)
» 16 Best Game of Thrones Quotes from 'The Spoils of War' (7×04)
» 26 Best Game of Thrones Quotes from 'The Queen's Justice' (7×03)
» 16 Best Game of Thrones Quotes from 'Stormborn' (7×02)
» 19 Best Game of Thrones Quotes from 'Dragonstone' (7×01)