Enjoy the best quotes / moments from Shadowhunters' episode 'On Infernal Ground'.
'On Infernal Ground' is the first episode of season 3. (s03e01)

If you're in need of refreshing your memory before jumping in the quotes, here is a short summary of the plot.
Plot summary
Secrets abound as the Shadowhunters and Downworlders try to get back to normal after Valentine's death. Clary struggles with keeping her secret about Raziel's wish, while Alec pushes Jace to come clean about whatever Jace and Clary are hiding. Luke must use tough love to keep his secret hidden from Ollie who is on a war path for answers. And Magnus hides his true feelings about his new position in the Warlock community from Alec. Meanwhile, Lilith sets a plan in motion in New York City as Simon spend stime in the Seelie Court. (
IMDb
)
Top 10 Shadowhunters Quotes from 3×01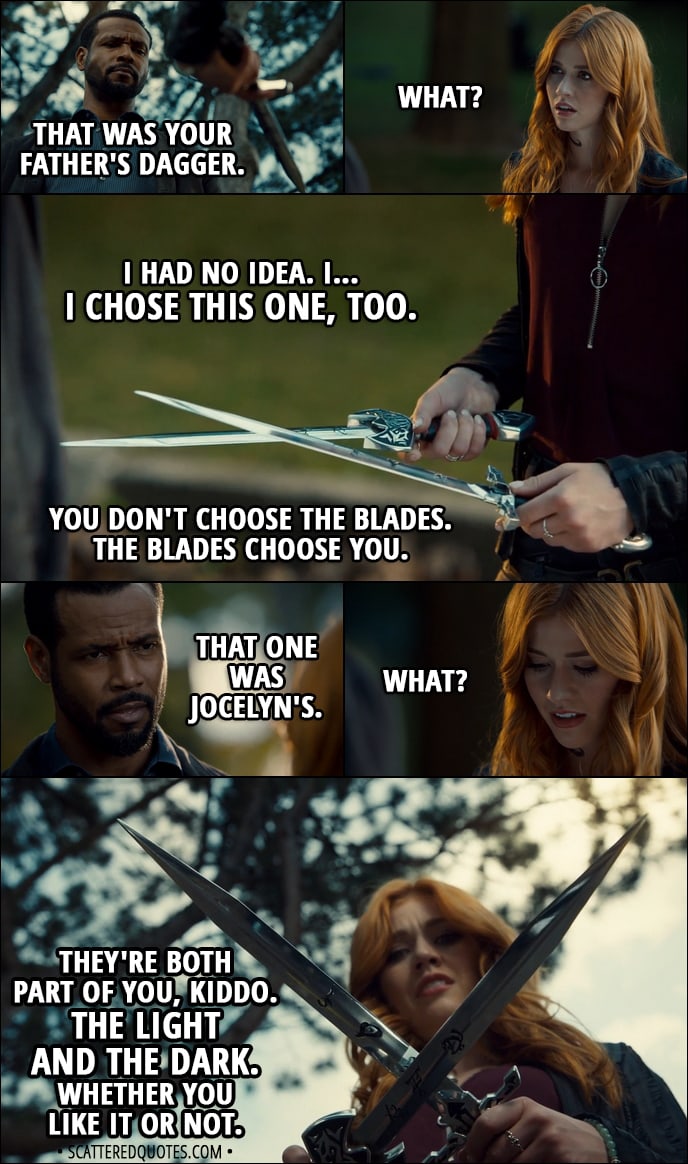 Sorted chronologically as quotes appear in the episode.
Imogen Herondale (to Clary): This rune of Angelic Power is well-deserved and long overdue. You are no longer a Shadowhunter in training. You have defeated our greatest enemy. Valentine may have used the Mortal Instruments to raise the Angel Raziel, but you prevented a wish from being granted. Clarissa Fairchild, may your heroism be a shining example to Shadowhunters across the world. Congratulations. 
Magnus Bane (to Alec): Whether you're in Idris or in New York, I'm not going anywhere. I'm here for you. 
Simon Lewis (to Seelie Queen): Why are you gonna hurt me? I've done everything you asked. I'm a good guy. I sang you a song about nature!

Ollie: The pack is your motorcycle gang?
Luke Garroway: That's right.
Ollie: You don't even own a motorcycle. 
Alec Lightwood: If anyone knows about living healthy, it's Jace. He miraculously came back to life.
Jace Herondale: We've been through this. I did not come back to life.
Alec Lightwood: Jace, I'm your parabatai. I know when you're lying. 
Luke Garroway: That was your father's dagger.
Clary Fairchild: What?
Luke Garroway: You didn't know?
Clary Fairchild: I had no idea. I… I chose this one, too.
Luke Garroway: You don't choose the blades. The blades choose you. That one was Jocelyn's.
Clary Fairchild: What?
Luke Garroway: They're both part of you, kiddo. The light and the dark. Whether you like it or not. 
Luke Garroway (to Ollie): Everything you saw was real. I'm sorry I lied to you. All the legends are true. 
Maia Roberts: What did she want with you? (she = Seelie Queen)
Simon Lewis: I'm not sure, really. But I need you to know, the only reason I did it was because I couldn't live knowing you were in danger.
Maia Roberts: Simon, you brave, stupid idiot. 
Alec Lightwood: You never have to pretend how you feel. Especially not with me.
Magnus Bane: You're right. As far as we've come, I… I suppose the art of communication is still a work in progress.

Alec Lightwood: Magnus, all I care about is how you feel. I didn't want to go to Alicante without you, but when I brought it up, you acted like you wanted me to go.
Magnus Bane: Guess I'm a better actor than I thought.
Alec Lightwood: I'm not going anywhere.
See all quotes from the series:
Your turn
• What did you think about this episode?
• What is your favorite quote from it?
If you enjoyed this list, please consider sharing it. We'd appreciate it, thank you!