Enjoy the best quotes / moments from Shadowhunters' episode 'Bound by Blood'.
'Bound by Blood' is the 9th episode of season 2. (s02e09)

In case you don't remember what was this episode about or you're not sure you've seen it, here is summary.
Plot summary
With word getting out that Clary is a key part of Valentine's plan, the Downworlders are at odds on how to handle the issue. But when Iris activates her blood oath, Clary has more to worry about than hiding from Valentine and the Downworlders.
Meanwhile, Isabelle and Raphael get closer as Alec tries to figure out what's going on with his sister. (
MuseLed
)
Top 10 Shadowhunters Quotes from 2×09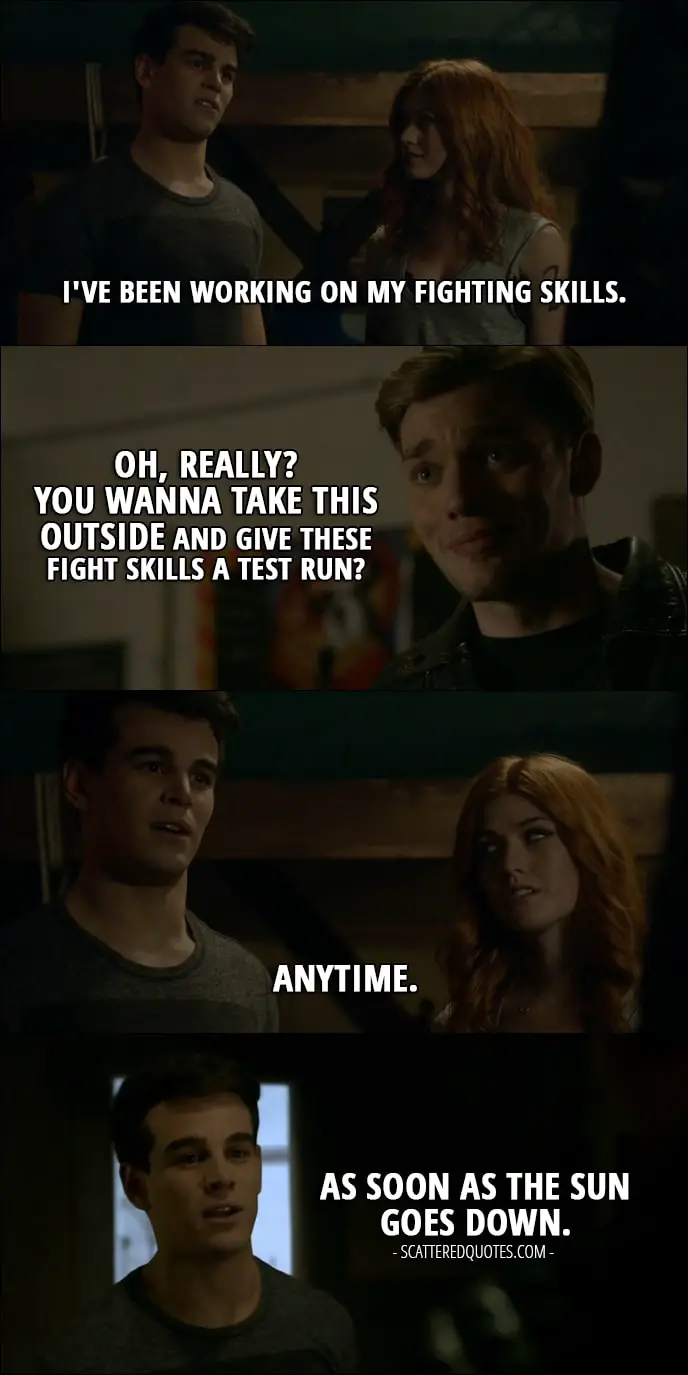 Ordered chronologically as they appear in the episode.
Simon Lewis: I've been working on my fighting skills.
Jace Wayland: Oh, really? You wanna take this outside and give these fight skills a test run?
Simon Lewis: Anytime. (walks toward the door and then turns back) As soon as the sun goes down.
Magnus Bane: La Chair Brulee.
Clary Fray: I'm guessing that's not a dessert.
Magnus Bane: It means "the burnt flesh." It's an old blood oath spell.
Clary Fray (to Luke): Luke, this has nothing to do with you. You always told me to read the fine print. Well, I guess, uh, now I know why.
Simon Lewis (to a homeless man): Do you wanna make a trade? (points at Jace's jacket)
Jace Wayland: What?
(Later in a car…)
Jace Wayland: It's too easy. (talking about getting the scarf to track Madzie)
Simon Lewis: It wasn't easy. That jacket's at least two sizes small on that guy. I'm just a great salesman.
Luke Garroway: Well, it's good to see you.
Meliorn: I'd say the same, but, sadly, I'm incapable of lying.
Meliorn: This council is biased. You've all allowed yourselves to become too involved with the Shadowhunters. Jocelyn Fairchild. (looks at Luke) Alec Lightwood. (looks at Magnus) And you. (looks at Raphael) You've been seeing Isabelle, haven't you?
Raphael Santiago: What are you talking about?
Meliorn: I'd recognize that perfume anywhere.
Jace Wayland: I need someone protecting Clary while I'm gone.
Simon Lewis: That's easy for you to say. You're the guy with the sword. What am I gonna do? Protect her with my teeth?
Raphael Santiago (about Izzy): There's something about her… I haven't felt this way in a long time.
Magnus Bane: You're so hooked on her blood, you can't separate your feelings from your addiction.
Raphael Santiago: Isabelle and I are no different from you and Alec. And I thought you of all people would understand.
Magnus Bane: If you truly believe that… see if you still feel the same when you're not getting high.
Valentine Morgenstern: If the angels designed the Sword to rid the world of demons, I'm just ensuring it fulfills its true purpose.
Alec Lightwood: Supplying yin fen to a subordinate… An ex-field medic should know better.
Victor Aldertree: And you expect anyone to actually believe this ridiculous accusation?
Alec Lightwood: Who knows? Idris loves gossip. And you're one Clave investigation away from treating frostbite on Wrangel Island. From now on, I'm calling the shots. Don't ever threaten my family again.
More Shadowhunters Quotes:
» All quotes from Shadowhunters
Previous episodes:
» 10 Best Shadowhunters Quotes from 'Love Is a Devil' (2×08)
» 12 Best Shadowhunters Quotes from 'How Are Thou Fallen' (2×07)
» 14 Best Shadowhunters Quotes from 'Iron Sisters' (2×06)
» 10 Best Shadowhunters Quotes from 'Dust and Shadows' (2×05)
» 10 Best Shadowhunters Quotes from 'Day of Wrath' (2×04)