Enjoy the best quotes / moments from Supernatural's episode 'Good Intentions'.
'Good Intentions' is the 14th episode of season 13. (s13e14)

If you're in need of refreshing your memory before jumping in the quotes, here is a short summary of the plot.
Plot summary
Jack and Mary escape Michael's clutches and end up finding an ally in Bobby Singer; Sam, Dean, and Castiel continue to search for a way to open a breach; one of their own may be working against them and costing them precious time. (IMDb)

Top 10 Supernatural Quotes from 13×14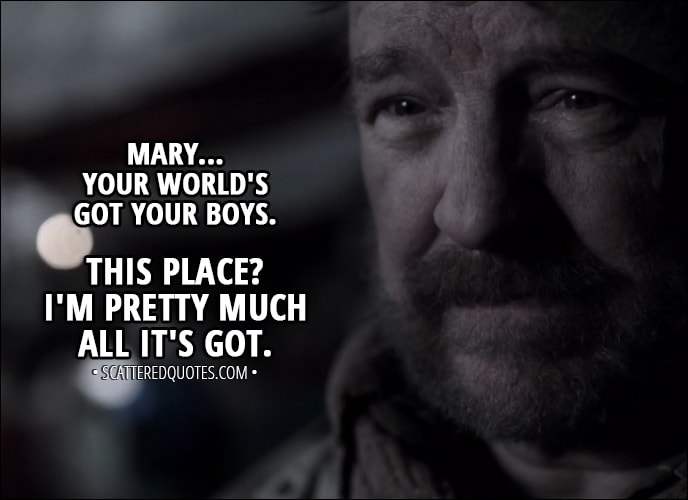 Sorted chronologically as quotes appear in the episode.

Sam Winchester: Don't you think you should, uh, take it a little easy on the nitrates?
Dean Winchester: Dude, if bacon's what kills me, then I win. 
Dean Winchester: Jack brought you back because we needed you back.
Castiel: Right. And how have I repaid him? I promised his mother that I would protect him, but now he's trapped in that place while Lucifer is here, who's… I mean, he's getting stronger and more powerful by the day. And if Michael really is coming, maybe I was brought back to help prepare.
Dean Winchester: Prepare for what?
Castiel: War. War is what Michael does.
Dean Winchester: Well, then we do what we do. Whatever it takes. 
Dean Winchester: Well, Enochian's kind of tough. Maybe you got a word wrong.
Castiel: I don't get "words wrong." 
(Dean is laughing)
Castiel: This is serious.
Dean Winchester: Yeah, no, no, I-I-I know. But… They're wearing… they're wearing loincloths.
Castiel: Dean.
Dean Winchester: Ask 'em where they got their loincloths.
Castiel: Dean.
Dean Winchester: It's like a flurry diaper. 
Gog: Which shall we kill first? (talking about Dean and Cas)
Magog: I will kill the pretty one.
Gog: They are equally pretty.
Magog: The small one then… Enough! You! Embrace your beautiful death! 
Mary Winchester: Let me guess… she made a bad demon deal?
Bobby Singer: Opposite. She didn't make one. Lost the love of her life. Never moved on.
Mary Winchester: And Dean and Sam were never born. Bobby, I made that deal. And it- I… brought my boys a… lot of pain. But… What happened here, in your world? Sam and Dean stopped that war in mine.
Bobby Singer: Then I'd say you made the right choice. 
Bobby Singer: Well, I don't know much, but… I do know you done good by your boys. They hadn't been here five minutes when they were trying to convince me to come back with them to their world.
Mary Winchester: But you said "no."
Bobby Singer: Mary… your world's got your boys. This place? I'm pretty much all it's got.

Castiel (to Donatello): I'm sorry, but I'm not going to let you or anyone hurt the people I love. Not again. 
Jack: I had to come back. Sam and Dean, they wouldn't run. They'd stay and fight. These angels, what they're doing, they're not gonna stop. As long as Michael's out there, this war will never be over.
Bobby Singer: So what are you saying?
Jack: I have to kill him. 
Castiel: I told you, war is coming. War. And I did what soldiers do. Now we needed the spell to open the rift, and I got it. We need four major ingredients… the grace of an archangel… a fruit from the Tree of Life… the Seal of Solomon… and the blood of "a most holy man." We find those things, we can bring everybody home. And together, we can beat Lucifer and Michael. This is the only way we win, and this is the only way we survive. It's like you said, Dean. Whatever it takes.
See all quotes from the series:
Your turn
• What did you think about this episode?
• What is your favorite quote?
If you enjoyed this list, please consider sharing it. We'd appreciate it, thank you!