Enjoy the best quotes / moments from Supernatural's episode 'Various & Sundry Villans'.
'Various & Sundry Villans' is the 12th episode of season 13. (s13e12)

If you're in need of refreshing your memory before jumping in the quotes, here is a short summary of the plot.
Plot summary
Dean falls victim to a couple of witches, sisters Jamie and Jennie Plum who manage to steal a powerful book of spells from the Winchesters. When Dean and Sam go after the book, they get help from a powerful and surprising ally when Rowena, back from the dead, intervenes to assist them. (IMDb)

Top 10 Supernatural Quotes from 13×12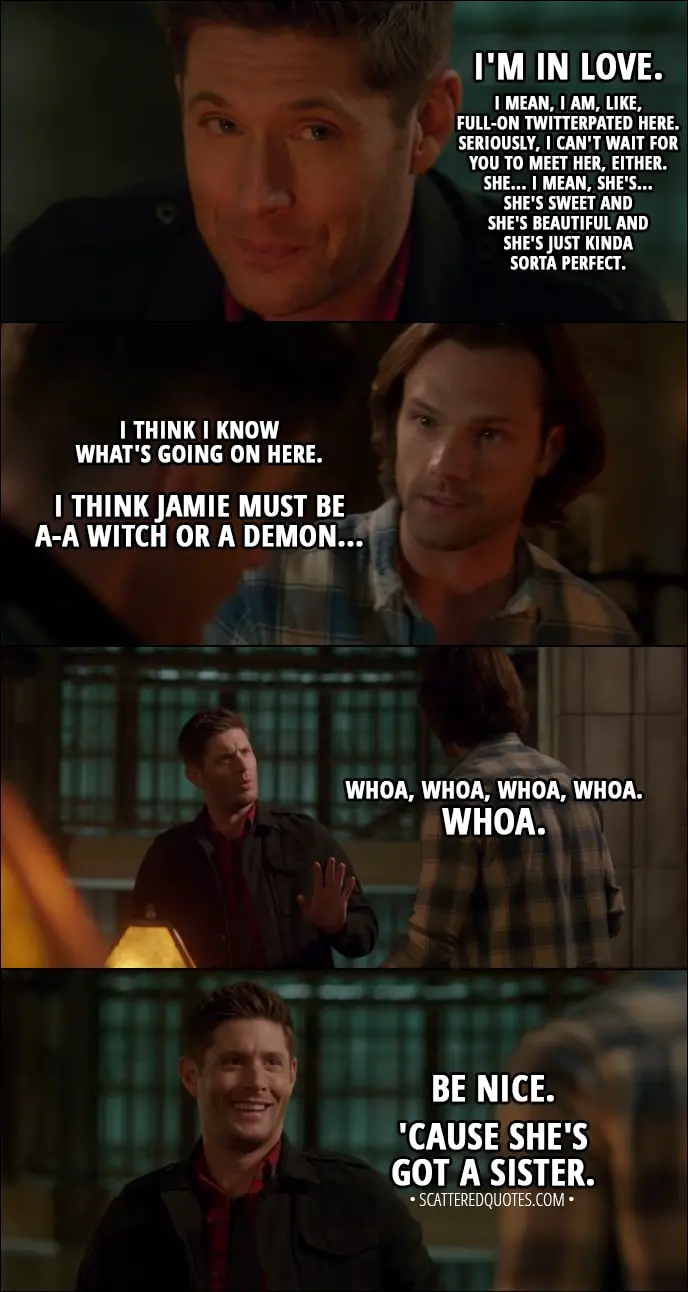 Sorted chronologically as quotes appear in the episode.
Jamie Plum: Our mom taught us three really important steps to looking out for ourselves.
Jennie Plum: Always look your best, never get attached to a man.
Jamie Plum: And always make the death look non-magical, so you don't attract Hunters. 
Lucifer: Well, if somebody would be a pal and let me eat a little of his grace, I would have enough strength to get out of here and butcher that son of a b*tch!
Castiel: Well, that's a nice, horrifying plan. Little cannibalism.
Lucifer: Really? I seem to remember a somebody snacking on angel grace once upon a time. There is no "I" in "team", Castiel. I want you to remember that.

Lucifer: Asmodeus was my weakest creation.
Castiel: Doesn't seem that weak to me.
Lucifer: Yeah, yeah, that… that whole shape-shifty thing he does? I-I didn't give him that. But so what? The old dog's learned some new tricks. Eventually, he's gonna mess up. Then he's mine. Okay?
Castiel: Excuses aside, you're saying that you're too weak to overcome even your weakest creation.
Lucifer: Shut up.
Dean Winchester: I'm in love. I mean, I am, like, full-on twitterpated here. Seriously, I can't wait for you to meet her, either. She… I mean, she's… She's sweet and she's beautiful and she's just kinda sorta perfect. Anyway, I'm thinking of asking her to move in with me here… if that's cool, 'cause this is big-time.
Sam Winchester: I think I know what's going on here. Do you remember, uh, uh, Becky in Vegas? The love spell and…
Dean Winchester: No.
Sam Winchester: Okay, I think Jamie must be a-a witch or a demon…
Dean Winchester: Whoa, whoa, whoa, whoa. Whoa. Be nice. 'Cause she's got a sister. And if you play your cards right, you know, you guys might fall for each other. You know, the less attractive siblings, they fall in love. That's kind of cute, right?

Dean Winchester: I'll walk 'cause it is… ♪ gorgeous outside ♪
Sam Winchester: Wait a second. Dean, listen, honestly…
Dean Winchester: Ooh. Right on the button. Listen, when I get back from my date, I'm gonna help you ice that, okay? All right, thanks. Good talk, pal! Good talk! 
Castiel (about Jack): You… you know, he, uh, he resurrected me just out of instinct. Isn't that a beautiful gesture?
Lucifer: Yeah, that's, uh, that's beautiful.
Castiel: Jack would rather kill you than hug you. 
Rowena: One more thing. Where's my son? (A moment later…) Fergus is dead?
Sam Winchester: Yep.
Dean Winchester: Killed himself for us.
Rowena: That doesn't sound like him.
Sam Winchester: Right, well, Fergus, uh, uh… Crowley, um, he had changed a lot. You'd have been proud of him.
Rowena: Is that so? Fergus was my only child. And I promise you, I'd much rather have a living son, even one that hated me, than a dead hero.

Rowena: Tell me… did they get to fifth base?
Dean Winchester: There's no such thing as fifth base.
Rowena: Oh, you poor, sheltered boy.

Demon Dipper: How did you…
Lucifer: Turns out rage is a good motivator. And I think you forgot something. I'm Lucifer. Told you size didn't matter. Whoops.
Castiel: Someone got mad and broke his warding. 
Sam Winchester: I had a plan, you know. I, uh… Help Jack, um, bring Mom back. It wasn't much, but it was something. It… it kept me from spinning off the rails. A-and now… Jack is gone, Mom is still in hell, basically, a-and I-I-I just…
Dean Winchester: We'll figure it out.
Sam Winchester: Dean, we don't have a plan. We don't know what to do. So… so… how?
Dean Winchester: I don't know. But we will, you and me.
See all quotes from the series:
Your turn
• What did you think about this episode?
• What is your favorite quote?
If you enjoyed this list, please consider sharing it. We'd appreciate it, thank you!