Enjoy going through the collection of best quotes from Avengers: Infinity War (2018).
Avengers: Infinity War is a movie set in Marvel Universe and the 3rd Avengers movie.
If you're in need of refreshing your memory before jumping in the quotes, here is a short summary of the plot.
Plot summary
As the Avengers and their allies have continued to protect the world from threats too large for any one hero to handle, a new danger has emerged from the cosmic shadows: Thanos. A despot of intergalactic infamy, his goal is to collect all six Infinity Stones, artifacts of unimaginable power, and use them to inflict his twisted will on all of reality. Everything the Avengers have fought for has led up to this moment – the fate of Earth and existence itself has never been more uncertain. (IMDb)
Top 20 Quotes from 'Avengers: Infinity War' (2018)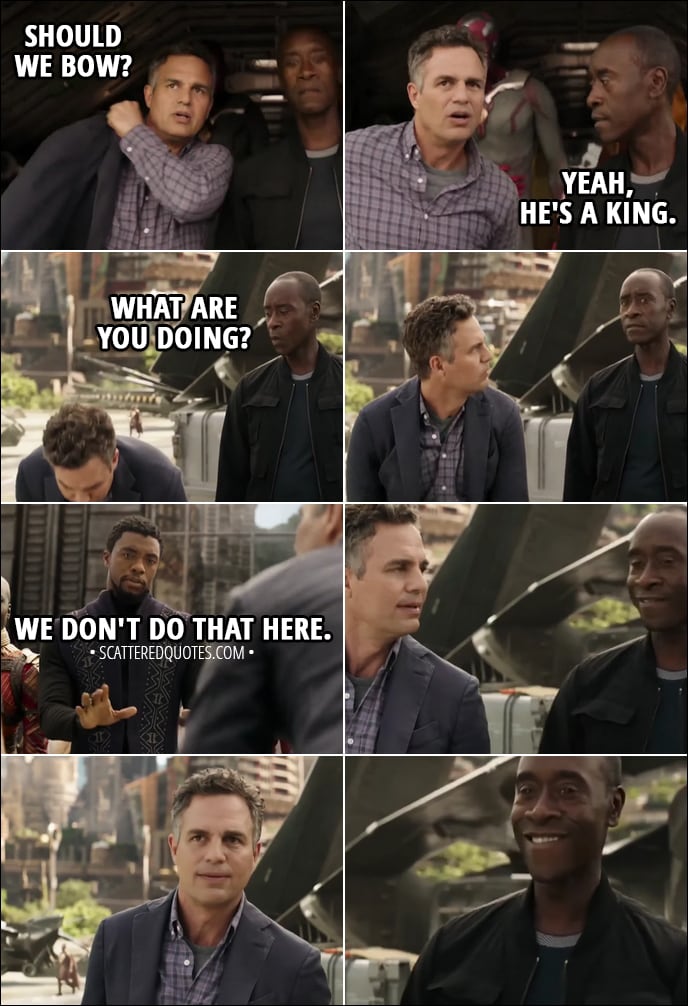 Sorted chronologically as quotes appear in the movie.
Ebony Maw: Hear me… and rejoice. You have had the privilege, of being saved by the Great Titan. You may think this is suffering. No. It is salvation. Universal scales, tipped toward balance because of your sacrifice. Smile, for even in death, you have become Children of Thanos.
Thanos: I know what it's like to lose. To feel so desperately that you're right, yet to fail nonetheless. As lightning turns the legs to jelly. I ask you, to what end? Dread it, run from it… Destiny arrives all the same. And now, it's here. Or should I say… I am.
Thor: You talk too much. 
Loki: Almighty Thanos, I, Loki, Prince of Asgard… Odinson… The rightful king of Jotunheim, God of Mischief… Do hereby pledge to you, my undying fidelity. (Loki tries to stab Thanos)
Thanos: "Undying"? You should choose your words more carefully.
Loki: You… will never be…. a god. (Thanos chokes him and eventually snaps his neck)
Thanos: No resurrections this time. 

Wong: We swore an oath to protect the Time Stone with our lives.
Tony Stark: And I swore off dairy, but Ben & Jerry's named a flavor after me, so…
Stephen Strange: Stark Raving Hazelnuts.
Tony Stark: It's not bad.
Stephen Strange: A bit chalky.
Wong: "A Hunka-Hulka Burning Fudge" is our favorite.
Bruce Banner: That's a thing? 
Tony Stark: Two weeks ago, Vision turned off his transponder. He's offline.
Bruce Banner: What? Tony, you lost another superbot? 
Peter Parker: Ned, hey. I need you to cause a distraction.
Ned Leeds: Holy shit! We're all gonna die! There's a spaceship!
The Watcher Informant (as bus driver): What's the matter with you kids? You never seen a spaceship before? 
Tony Stark: Where's your guy?
Bruce Banner: I don't know. We've sorta been having a thing.
Tony Stark: It's no time for a thing. That's the thing right there. Let's go. (Bruce tries to change into Hulk unsuccessfully) Dude, you're embarrassing me in front of the wizards.

Peter Quill: Groot, put that thing away. Now. I don't wanna tell you again. Groot.
Groot: I am Groot!
Everyone: Whoa! hey! Language! Wow!
Peter Quill: You got some acorns on you, kid.
Rocket: Ever since you got little sap, you're a total d-hole. Keep it up, and I'm gonna smash that thing to pieces! 
Peter Quill: How the hell is this dude still alive?
Drax: He is not a dude. You're a dude. This… This is a man. A handsome, muscular man.
Peter Quill: I'm muscular.
Rocket: But who are you kidding, Quill? You're one sandwich away from fat.

Peter Quill: You'll not, be taking our pod today, sir.
Rocket: Quill. Are you making your voice deeper?
Peter Quill: No.
Drax: You are. You're imitating the god-man. It's weird.
Peter Quill: No I'm not.
Mantis: He just did it again!
Peter Quill: This is my voice!
Thor: Are you mocking me?
Peter Quill: Are you mocking me?
Thor: You just did it again.
Peter Quill: He's trying to copy me. 
(Gamora and Peter kiss, crunching sound is heard in background – Drax eating nuts)
Peter Quill: Dude! How long have you been standing there?
Drax: An hour.
Peter Quill: An hour?
Gamora: Are you serious?
Drax: I've mastered the ability of standing so incredibly still… That I become invisible to the eye. Watch.
Peter Quill: You're eating a zarg-nut.
Drax: But my movement… was so slow… that it's imperceptible.
Peter Quill: Mmm, no.
Drax: I'm sure I'm invisible.
Mantis: Hi, Drax.
Drax: Damn it. 

Peter Parker: I'm Peter, by the way.
Stephen Strange: Doctor Strange.
Peter Parker: Oh, we're using our made-up names. Um… I'm Spider-Man, then. 
Peter Quill (about Mantis and Drax): See, "not winging it" isn't really what they do.
Peter Parker: Uh, what exactly is it that they do?
Mantis: Kick names, take ass.
Drax: Yeah, that's right.
Stephen Strange: I went forward in time, to view alternate futures… To see all the possible outcomes of the coming conflict.
Peter Quill: How many did you see?
Stephen Strange: 14,000,605.
Tony Stark: How many did we win?
Stephen Strange: One.

Okoye: When you said we were going to open Wakanda to the rest of the world, this is not what I imagined.
T'Challa: What did you imagine?
Okoye: The Olympics. Maybe even a Starbucks.
Bruce Banner: Should we bow?
Rhodey: Yeah, he's a king. (Bruce bows to T'Challa) What are you doing?
T'Challa: We don't do that here. 
M'Baku: This will be the end of Wakanda.
Okoye: Then it will be the noblest ending in history. Wakanda forever!
T'Challa: Wakanda forever! 
Rocket: How much for the gun?
Bucky Barnes: Not for sale.
Rocket: Okay, how much for the arm? (Bucky gives him a look and leaves) Oh, I'll get that arm. 
Steve Rogers: New haircut?
Thor: Noticed you've copied my beard. By the way, this is a friend of mine, Tree.
Groot: I am Groot!
Steve Rogers: I am Steve Rogers. 
Peter Parker: I got you. I got you. I'm sorry I can't remember anybody's names. (Spider-man catching falling Mantis, Drax and Quill) 
Peter Parker: Mr. Stark? I don't feel so good…
Tony Stark: You're all right.
Peter Parker: I don't… I don't know what's happening. I don't know… I don't want to go. I don't want to go, sir. Please. Please, I don't want to go. I don't want to go. I'm sorry. (Peter disappears)
See all quotes from the movie:
Your turn
• What did you think about Avengers: Infinity War – Part1 (sorry, couldn't help it😂)? Was it worth the hype?
• And as always: What is your favorite quote from the movie?
If you enjoyed this list, please consider sharing it. I'd appreciate it, thank you!