Enjoy the best quotes / moments from Lucifer's episode 'City Of Angels?'.
'City Of Angels?' is the 11th episode of season 3. (s03e11)

In case you don't remember what was this episode about or you're not sure you've seen it, here is summary.
Plot summary
In a flashback episode that takes place when Lucifer first came to LA, Amenadiel comes to retrieve his fallen brother, but is shocked when he is mugged. Amenadiel enlists Lucifer's help to track down the mugger and Lucifer, in turn, offers his assistance – but only in exchange for a favor. Meanwhile, Chloe and Dan – who are still married – investigate the murder of an MMA fighter, Aidan Scott, at the hands of the same killer who mugged Amenadiel. (
Wikia
)
Top 10 'Lucifer' Quotes from 3×11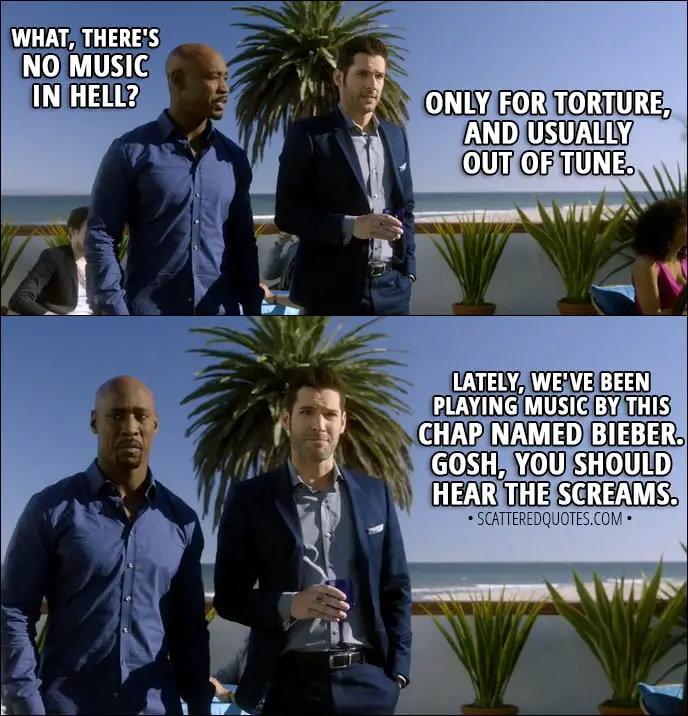 Sorted chronologically as the quotes appear in the episode.
Lucifer Morningstar: Why are there holes in your dress?
Amenadiel: It's a robe.
Lucifer Morningstar: Oh, I apologize. Why are there holes in your dress? 
Amenadiel: What, there's no music in Hell?
Lucifer Morningstar: Only for torture, and usually out of tune. Lately, we've been playing music by this chap named Bieber. Gosh, you should hear the screams. 

Amenadiel: Don't you need some sort of key to start it?
Lucifer Morningstar: You know me, Brother. I can turn anything on. 
Lucifer Morningstar: Obviously, "R" is for reverse, not "really fast." 
Amenadiel: There must be hundreds of porn stars in Hell.
Lucifer Morningstar: Sadly, no, on account of all the good work they do here on Earth, I assume. 
Misty: Well, they told me to do what I love, and turns out I love sex.
Lucifer Morningstar: Oh, so you're a rebel.
Misty: I guess so. And if you really want to rebel, move to L.A., right? All I know is that I have never been happier, freer. 

Tio: Where are you two from?
Lucifer Morningstar: Down south.
Amenadiel: Up north. 
Amenadiel: I suppose it's time to torture him. So, you're up.
Lucifer Morningstar: Look, just because I am the King of Hell doesn't mean I actually do the torturing. I'm more of a delegator. 
Lucifer Morningstar: Of course it'll work, Brother. That's why you asked me, remember? Someone crafty, smart…
Amenadiel: And evil.
Lucifer Morningstar: Evil?
Amenadiel: Well, if you want to find a deplorable criminal, you just ask a… well, you know what I mean, Luci. Come on. You are the Devil, after all. 
Amenadiel: Father will be furious. And you will suffer His wrath.
Lucifer Morningstar: Well… then He knows where to find me.
More 'Lucifer' Quotes:
Previous lists:
» 14 Best 'Lucifer' Quotes from 'They're Back, Aren't They?' (3×01)
» 18 Best Lucifer Quotes from Liar, Liar, Slutty Dress on Fire (2×02)
» 13 Best Lucifer Quotes from Everything's Coming Up Lucifer (2×01)
» 16 Best Lucifer Quotes from Wingman (1×07)
» 16 Best Lucifer Quotes from Favorite Son (1×06)