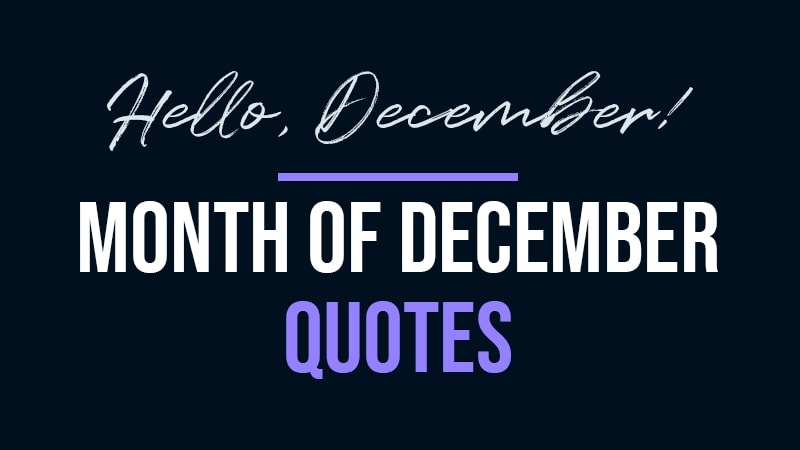 December is often picked as a favorite month because of its loveliness. It brings us the Christmas time with holiday decorations and beautiful lights everywhere. December brings people together to celebrate the joyful time of gift giving, tasty food and loving athmosphere. Even though December can be rather cold month, it brings warmth to our hearts.
To celebrate the awesome month December is, let's read and share some quotes, saying and poems together.
December Quotes and Sayings by famous Authors
Quotes about the month of December by famous authors of many genres like inspirational and motivational.
No matter what my fortune may be, or where I may roam, in December, I'll be going home.
– Floyd Huddleston
December's wintery breath is already clouding the pond, frosting the pane, obscuring summer's memory…
– John Geddes
Yet my heart loves December's smile as much as July's golden beam; then let us sit and watch the while the blue ice curdling on the stream.
– Emily Jane Brontë
May you have the gladness of Christmas which is hope; The spirit of Christmas which is peace; The heart of Christmas which is love.
– Ada V. Hendricks
December – The month of joy, happiness and to finish what you started.
– Unknown
Remember this December, that love weighs more than gold!
– Josephine Dodge Daskam Bacon
Christmas begins about the first of December with an office party and ends when you finally realize what you spent, around April fifteenth of the next year.
– P.J. O'Rourke
December, being the last month of the year, cannot help but make us think of what is to come.
– Fennel Hudson
December is the new January – Don't put your goals on hold.
– Unknown
December is the toughest month of the year. Others are July, January, September, April, November, May, March, June, October, August, and February.
– Mark Twain
There's something super special about December.
– Charmaine J. Forde
It is December, and nobody asked if I was ready.
– Sarah Kay
Short Quotes for the month of December
Short quotes perfect to use on social media as captions or to spruse up your journals. Bunch of little saying to brighten your days in December.
Hello, December!
I love December!
Hello, December! Suprise me.
Goodbye, November! Hello, December!
Happy December!
December is here!
Welcome December!
December – Chapter 12 of 12
Happy first day of December!
Well hello there, December!
Hello, December! Be kind to me.
Hello, December! Be good to me.
Hello, December! Please be awesome.
Hello, December! Make my dreams come true.
Keep calm and say hello to December!
Queens are born in December.
Awesome people are born in December.
Special people are born in December.
Genius people are born in December.
Attractive people are born in December.
Legends are born in December.
Intelligent people are born in December.
Someone I love was born in December.
Dare to be different this month. Dare to stand out. Dare to be the one with a voice. Dare to shine! A happy new month!
Poems about December
Snow was falling,
So much like stars
Filling the dark trees
That one could easily imagine
Its reason for being was nothing more
Than prettiness.
– Mary Oliver (Snowy Night)
I heard the bells on Christmas Day
Their old, familiar carols play,
And wild and sweet
The words repeat
Of peace on earth, good-will to men!
– Henry Wadsworth Longfellow (Christmas Bells)
December drops no weak, relenting tear,
By our fond summer sympathies ensnared;
Nor from the perfect circle of the year
Can even winter's crystal gems be spared.
– Christopher Pearce Cranch (December)
…And then, in a twinkling, I heard on the roof
The prancing and pawing of each little hoof.
As I drew in my head, and was turning around,
Down the chimney St. Nicholas came with a bound.
He was dressed all in fur, from his head to his foot,
And his clothes were all tarnished with ashes and soot.
A bundle of Toys he had flung on his back,
And he looked like a peddler, just opening his pack.
His eyes-how they twinkled! his dimples how merry!
His cheeks were like roses, his nose like a cherry!
His droll little mouth was drawn up like a bow,
And the beard of his chin was as white as the snow…
– Clement C. Moore ('Twas the Night Before Christmas)
Ruthless winter's rude career
Comes to close the parting year;
Fleecy flakes of snow descend,
Boreal winds the welkin rend.
Reflect, oh man! and well remember
That dull old age is dark December;
For soon the year of life is gone,
When hoary hairs like snow come on.
– Caleb Prentiss (December Days)
Quotes for Important days in December
You can find even more quotes that relate to December on this website, continue your journey through December quotes:
Related to these important days that are recognized and celebrated in December:
Christmas Eve
Christmas Day
Boxing Day
New Year's Eve