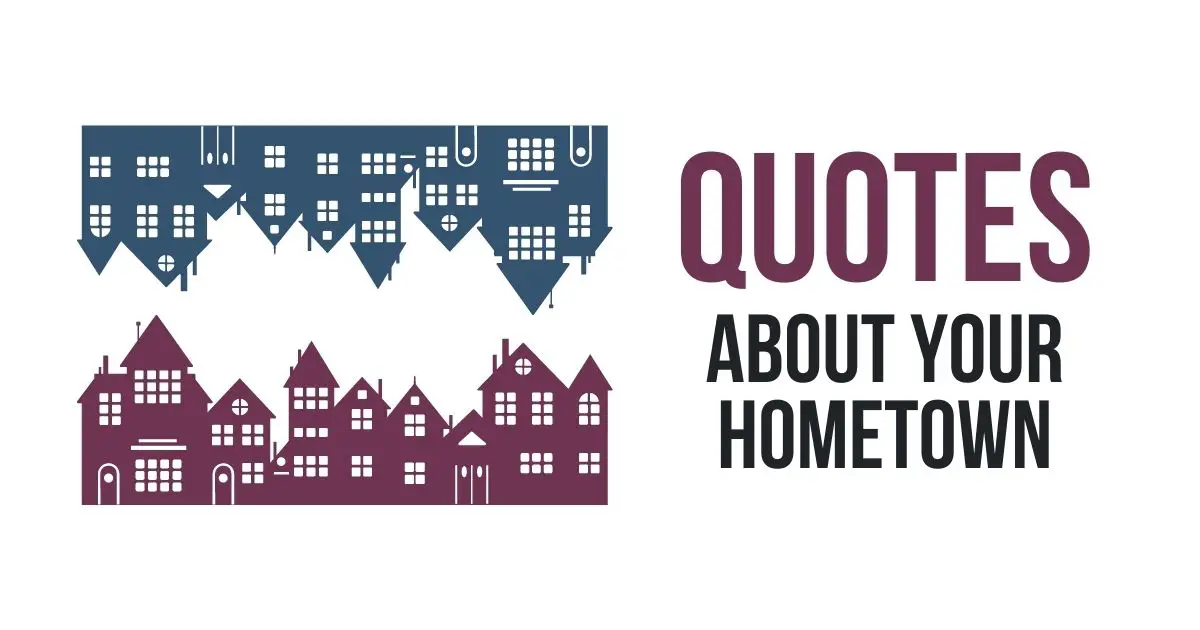 There's no place like home, and no place is more special than our hometowns.
Our birthplace is where we grew up, where we learned the important lessons of life, it is where our earliest memories reside.
The nostalgia and sentimental feelings that we have for our home cities never really go away, even when we're far away.
Today, we've collected the best quotes and sayings about hometowns, for those who love where they come from, miss their roots, or have left and feel the pull to return.
The Best Sayings and Quotes about Hometown
Hometowns hold a special place in our hearts. They are where we come from and where we feel a sense of belonging.
The happiness and inspiration that we get from our hometowns can never be replaced.
That's why we've compiled a list of the best quotes and sayings about hometowns.
These quotes will remind you of the beauty of where you come from and inspire you to always cherish your roots.
"Towns change; they grow or diminish, but hometowns remain as we left them." – Jayne Anne Phillips
"Performing in my hometown reminds me where I came from and that I am so grateful for my childhood. It also means being with family members. Then I'm also reminded of the unbelievable places God has taken me around the world." – Tommy Walker
"It's my hometown, but it's also a great town. There's a lot of stories here when you peel back the layers." – Joel Vetsch
"I don't hate my hometown, I hate the mindsets of people in it."
"It's not necessary to go far and wide. I mean, you can really find exciting and inspiring things within your hometown." – Daryl Hannah
"You never get away from that thing in your hometown that it has over you. You don't outgrow where you come from." – Brian Fallon
"Be proud of your hometown. It's a big part of what makes you the person you are."
"People are not homeless if they're sleeping on the streets of their own hometowns." – Dan Quayle
"Round my hometown, memories are fresh." – Adele
"There's something that happens to you when you come back to your hometown." – Joseph Dougherty
"I do love traveling all over the world, but it's true: there's no place like home." – Dolly Parton
"Keep going until your efforts start to make things better in your hometown." – Yoko Ono.
"There's a certain vibe in my hometown; Buffalo is a city that has no illusions." – John Rzeznik
"A small town is a place where there's no place to go where you shouldn't." – Burt Bacharach
"I do love my hometown. It really forged who I am in a major way." – Dave Filoni.
"You always want to do things in your hometown. The kids feel more a part of the community when they do." – Brian Perkins
"I am realising this now more as I grow up: that I never really felt connected to locations. In some sense, I always kind of felt a little lost in that I never had any hometown pride. While I experience a lot of different places and experiences, I always felt a little detached." – Lauv
"There may be no secrets in small towns, but there are no strangers either." – R.A. Mathis
"In my hometown, the sky seemed endless… but there was nothing to see." – Ryohgo Narita
Short Quotes about Hometown for Instagram Captions
Looking for the perfect Instagram caption to show your love for your hometown? Look no further!
These short and sweet hometown quotes are just perfect for your posts.
Whether you're posting a throwback photo or a current snapshot of your hometown, these quotes will capture your love for your roots and help you express your gratitude for the place that shaped you.
"Hometown is where my story begins."
"I love my hometown."
"I can't love you more than my hometown."
"My hometown is my happiness."
"Never forget where you come from."
"Hometown pride runs deep."
"I miss my hometown."
"Feeling homesick for my Hometown."
"It's so good to be back in my hometown."
"Hometown sweet hometown."
"My hometown will always have a special place in my heart."
"I love visiting my hometown. So many memories around every corner."
"Missing the sense of belonging that only hometown can bring."
"My hometown will always be special to me."
Leaving Your Hometown Quotes
Leaving your hometown can be bittersweet.
It's exciting to embark on new adventures and explore new places, but it can also be tough to leave behind the place where you grew up.
These quotes about moving out of your hometown will help you remember that leaving doesn't mean forgetting.
Your hometown will always hold a special place in your heart, no matter where life takes you.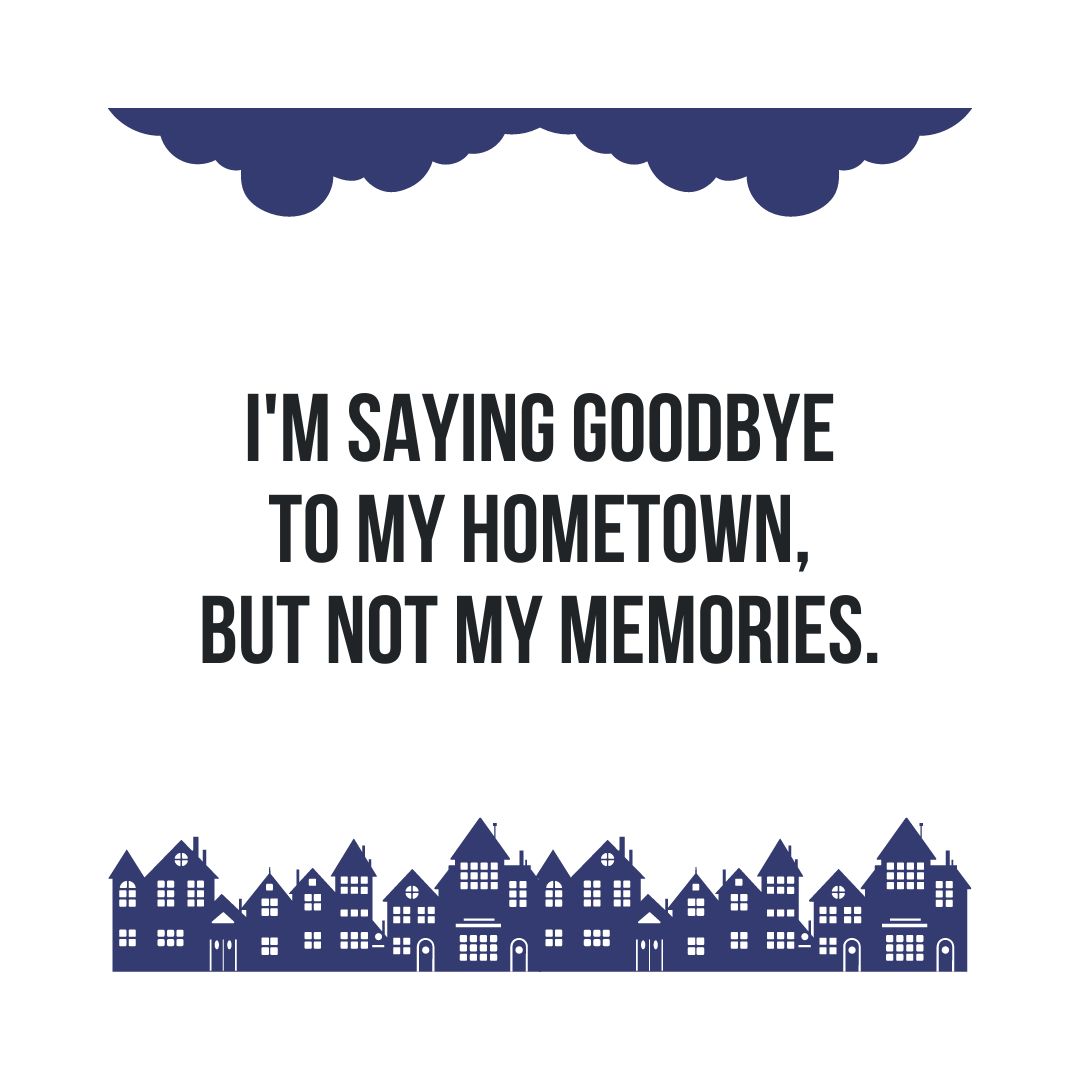 "I'm saying goodbye to my hometown, but not my memories."
"Hometown, thank you for the memories, but it's time for me to go."
"Once I had put enough distance between myself and where I grew up, I started to see its beauty. I started to see it the way outsiders do – maybe because I had become an outsider." – Taylor Jenkins Reid
"Moving out of your hometown is a life hack." – Will Smith
"The sweetest part of leaving home is knowing, beyond the shadow of a doubt, that you'll always carry it with you."
"It is a bitter-sweet thing, knowing two cultures. Once you leave your birthplace, nothing is ever the same." – Sarah Turnbull
"The next chapter awaits, but I'll always cherish my hometown."
"Leave home with a big, bright dream. Nurture it into a bigger, brighter reality."
"Leaving home in a sense involves a sort of second birth in which we give birth to ourselves." – Robert Neely Bellah
"I'm leaving my hometown, but I'm taking the memories with me."
"After you leave home, you may find yourself feeling homesick, even if you have a new home that has nicer wallpaper and a more efficient dishwasher than the home in which you grew." – Lemony Snicket.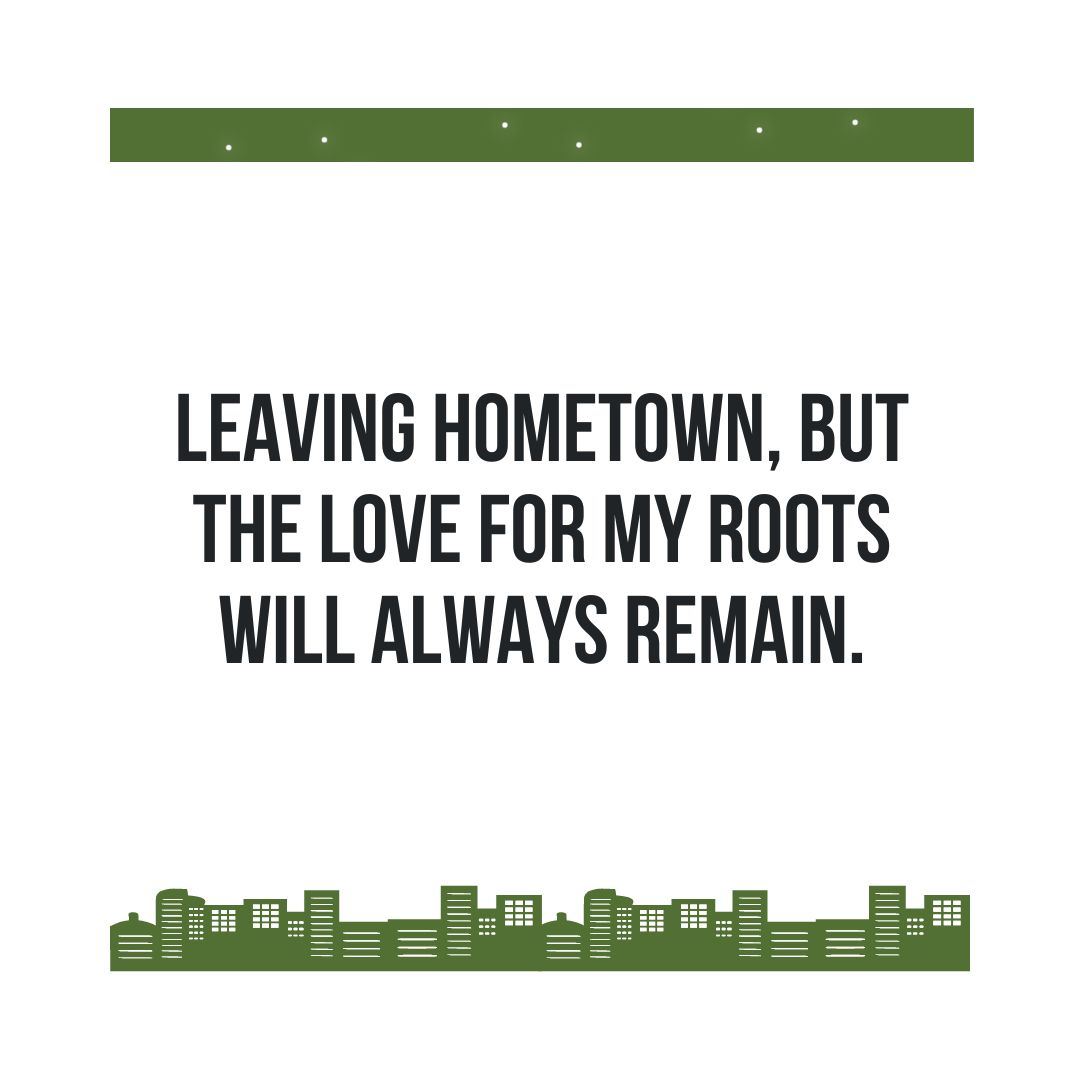 "Leaving hometown, but the love for my roots will always remain."
"Moving out of your hometown feels like you're stepping into another world."
"Once I was brave enough to leave home, I discovered splendid parts of me I had no clue existed. I, then, realized where they came from and hurried home."
"Saying farewell to my hometown, but excited for what's ahead."
"Respect yourself enough to walk away from anything that no longer serves you, grows you, or makes you happy." – Robert Tew
"Goodbye hometown, hello new adventures!"
Missing Your Hometown Quotes for the Homesick
If you're feeling homesick and missing your hometown, you're not alone.
There's nothing quite like the feeling of longing for the place where you grew up, and these quotes capture that sentiment perfectly.
From reminding you of the things you love most about your hometown to giving you hope for the future, these quotes will help you stay connected to your roots.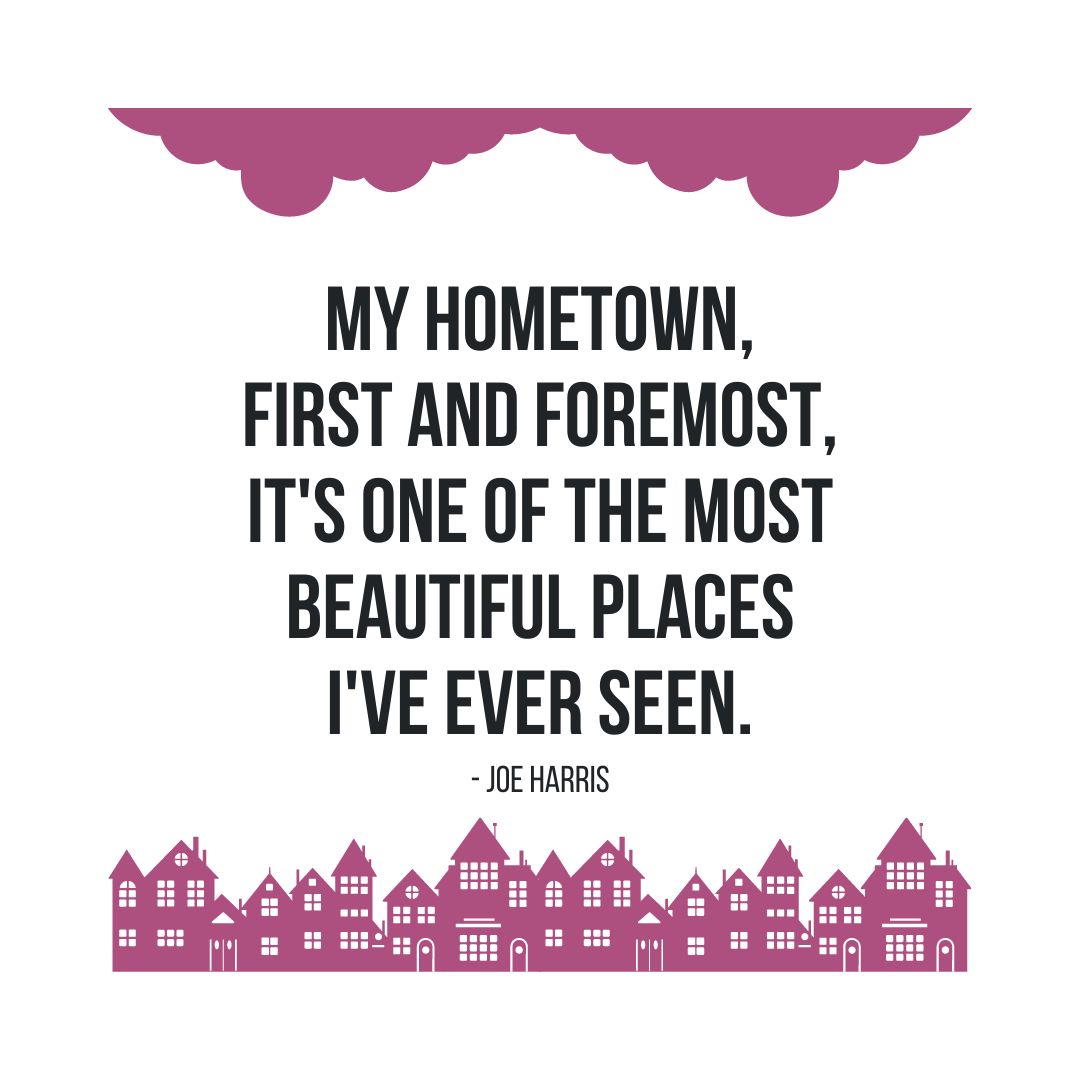 "My hometown, first and foremost, it's one of the most beautiful places I've ever seen." – Joe Harris
"Where we love is home – home that our feet may leave, but not our hearts." – Oliver Wendell Holmes Sr
"There's no shame in feeling homesick. It means you come from a happy home." – Mrs. Hughes
"Once I left home, I finally understood how to define nostalgia."
"I long, as does every human being, to be at home wherever I find myself." – Maya Angelou
"I really love my hometown. I carry that with me." – Madeline Brewer
"Home is wherever you leave everything you love and never question that it will be there when you return." – Leo Christopher
"Wishing I could be back in my Hometown right now."
"The ache for home lives in all of us. The place where we can go as we are and not be questioned." – Maya Angelou
"If you go anywhere, even paradise, you will miss your home." – Malala Yousafzai
"I just want my hometown talking about where I'm going – like, 'He's killin' it right now,' and, 'I'm so glad he's doin' well,' and I want them to know I'll always come back, every chance I get." – Kane Brown
"When you finally go back to your old home, you find it wasn't the old home you missed but your childhood." – Sam Ewing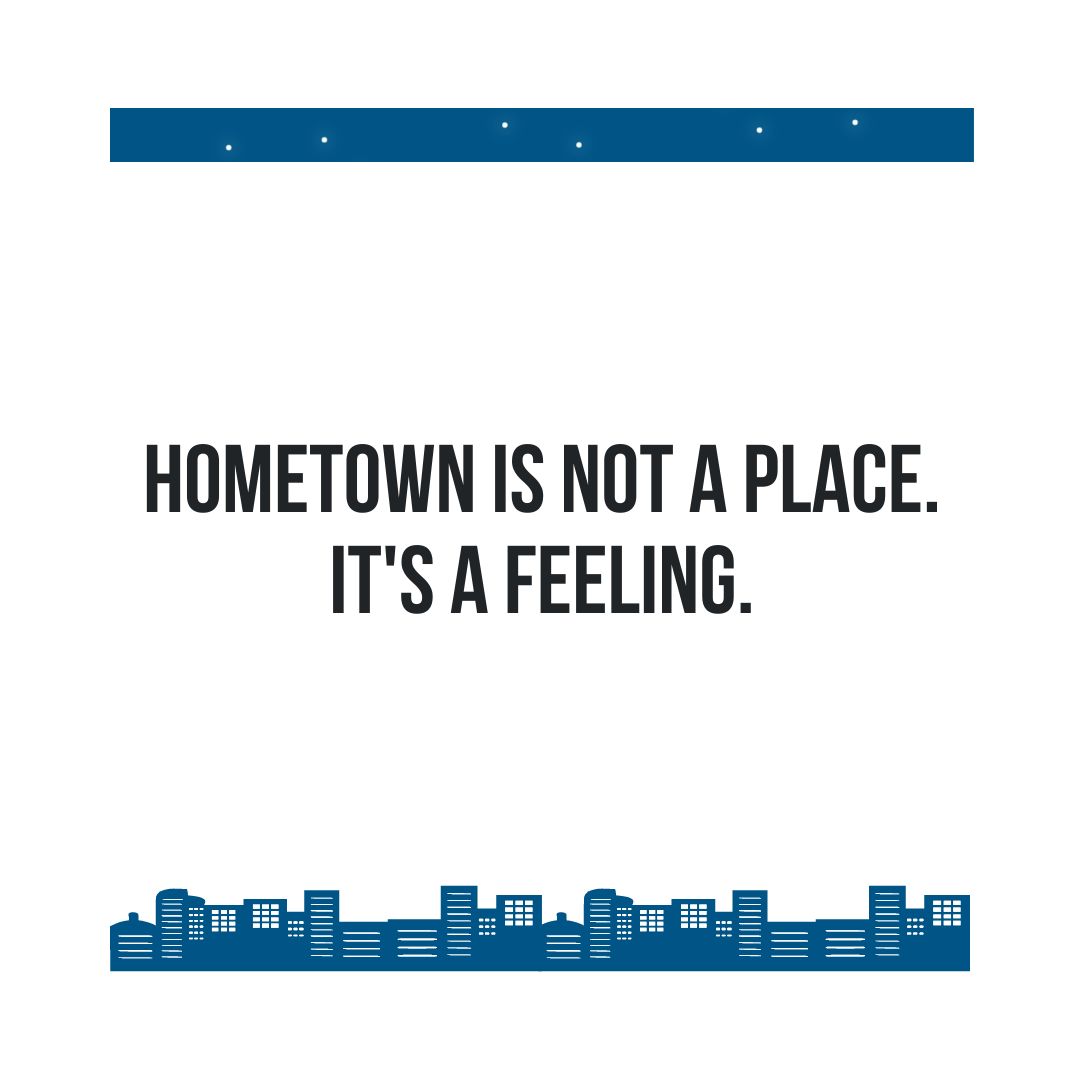 "Hometown is not a place. It's a feeling"
"Hometown, I miss you more than words can say."
We hope these quotes and sayings about hometowns have reminded you of the special place your birthplace holds in your heart.
Whether you love where you come from, miss your roots, or have left your hometown and feel the pull to return, there's no denying the power that our hometowns have over us.
So, what do you love about your hometown? And what is your favorite quote about it? We'd love to hear from you.