Welcome, winter enthusiasts! As we embrace the chill in the air and the cozy vibes that this season brings, we've curated a collection of winter quotes tailor-made for your letter boards.
Whether you're seeking positive affirmations, a touch of sarcasm, or simply looking to welcome winter in style, you're in for a treat.
These quotes are not only perfect for adding a seasonal touch to your home but are also Instagram-worthy.
You can find out what our absolute favorite winter quotes are, if you check out the illustrational images in this article. We always pick the quotes we think are the best, when making the images. And also short enough to fit on the letter board.
The Perfect Short Winter Quotes for Your Message Board
We've handpicked short and sweet quotes that pack a punch of happiness, making them ideal for your message board.
Whether you're aiming for a cheerful atmosphere or simply want to express the joy of winter, these concise and delightful phrases are sure to make your board the beacon of seasonal positivity.
Get ready to spread the winter cheer with these perfect bites of happiness!
"Goodbye Fall, Hello Winter!"
"Hello Winter!"
"Hello snow!"
"Hello sweater weather!"
"I love winter!"
"Baby, it's cold outside." – Frank Loesser
"When life gives you snow, build a snowman."
"Let's get cozy."
"A good book + a warm fireplace = the perfect winter day."
"For people who had warm memories, winter is never cold to them." – Unknown
"Keep calm and wait for snow."
"Let it snow, let it snow, let it snow." – Sammy Cahn
"Bundled up and loving it."
"I love the silent, snowy world of winter mornings." – Ursula Dubosarsky
"Embracing the frosty beauty of winter."
"Cold weather, warm hearts."
"Finding magic in the coldest of days."
"Ice, Ice Baby" – Vanilla Ice
"Keep calm and winter on!"
"Come in and cozy up."
"The first winter snow is always so magical." – Unknown
"Thanks for keeping me warm."
"Jack Frost nipping at my nose" – Nat King Cole
"Crisp air and cozy sweaters."
"When life gives you snow, make snow angels!"
"Eat, drink, and be cozy."
"Kindness is like snow. It beautifies everything it covers." – Kahlil Gibran
"Sweater weather is better together!"
"Hot cocoa + fuzzy socks = a cozy winter night."
"Embracing the chill."
"Kiss me on this cold December night." – Michael Bublé
"The snow must go on."
"Chasing snowflakes and dreams."
"Tis the season to be freezing"
"To appreciate the beauty of a snowflake, it is necessary to stand in the cold." – Aristotle"
"Hot cocoa and Christmas movies."
"Winter is not a season, it's a celebration." – Anamika Mishra
"The temperature can only go up from here!"
"If you listen carefully, the silence of snow falling is beautiful."
"With luck, it might even snow for us." – Haruki Murakami
"Hot chocolate, ice, and everything nice."
"Time for scented candles."
"Chasing winter vibes."
"Just remember: Every cold day is one step closer to summer."
"Tis the season to sparkle."
"Life is better in the snow."
"Nothing beats a good snuggle on a cold winter's night."
"Let's go sit by the fire."
"Officially sweater weather."
"Stay cozy, my friends."
Cute Winter Letter Board Quotes to Put on Your Sign
For our readers with a soft spot for all things cute, especially those with kids or classrooms to decorate, we've compiled an adorable set of winter letter board quotes.
These charming messages are not only perfect for adding a touch of sweetness to your space but are also ideal for creating a warm and inviting atmosphere.
"Have an ice day!"
"You're my favorite snowflake."
"I love you snow much."
"Snowflakes are winter's butterflies."
"I'm up to snow good."
"We're all like snowflakes, all different in our own beautiful way."
"Brrrrring on the snow!"
"Hat, gloves, scarf… check!"
"Ice to meet you!"
"Building snowmen and making memories."
"Freeze the moment."
"Hot chocolate is like a hug from the inside."
"Can I meet the reindeer?"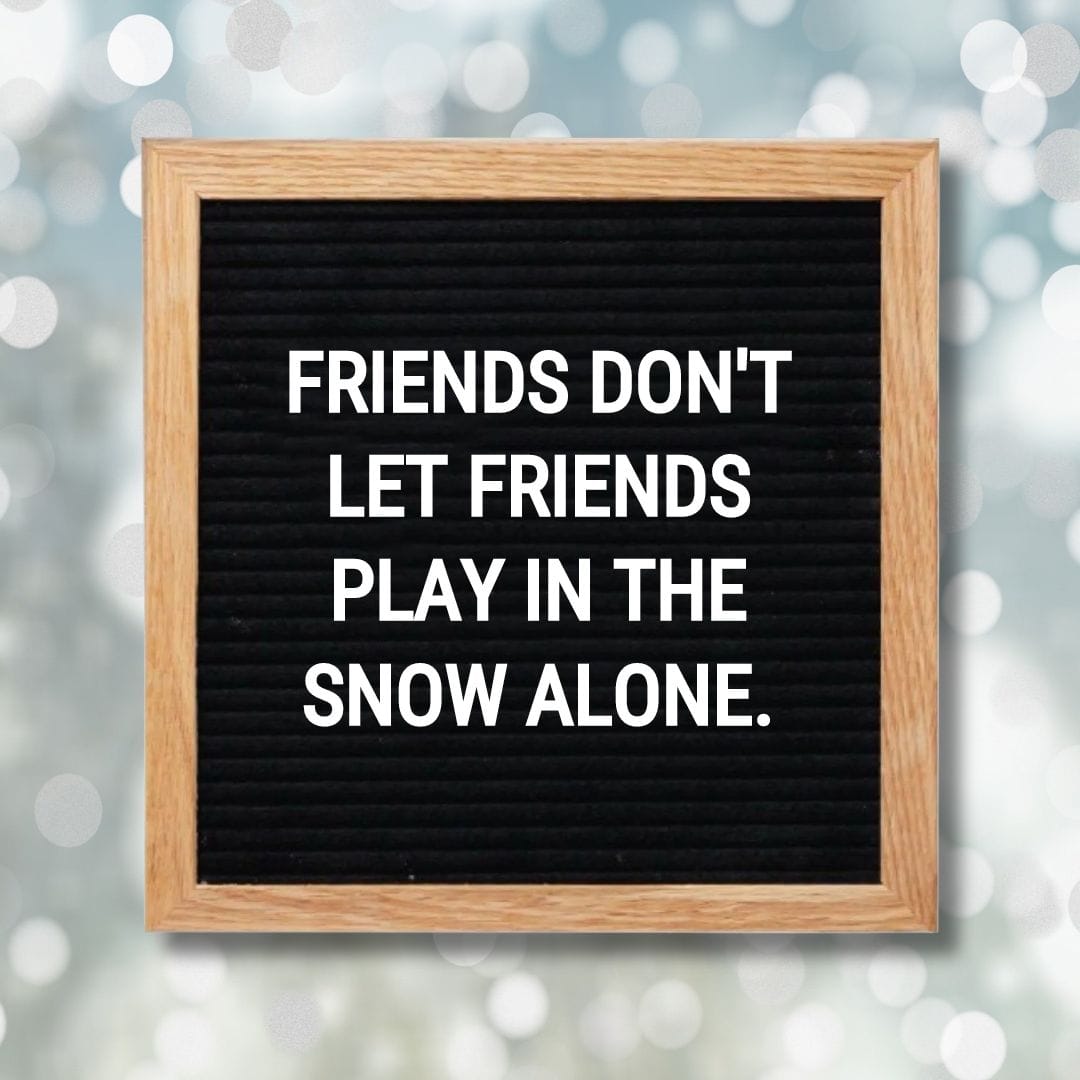 "Friends don't let friends play in the snow alone."
"Frosty mornings and toasty mugs."
"It's hot chocolate weather."
"Catching snowflakes."
"Hot cocoa weather."
"Our love keeps me warm."
"Cute and cozy."
"There's no one I'd rather be frozen with."
"Grab your big scarf, it's cold out there."
"We go together like winter and a sweater."
"You're never too old for a snowball fight."
"It's cold outside, but you warm my heart."
"With a coat this cute, who cares about the cold?"
"Love at frost sight."
"We're all cool kids tonight. Literally."
Sarcastic & Funny Winter Letter Board Quotes
If your humor thrives in the chill of winter, we've got just the collection for you.
Embrace the cold with a hearty laugh by adorning your letter board with our selection of sarcastic and funny winter quotes.
From witty remarks to outright hilarious messages, these quotes are designed for those who prefer to be cozy with a side of humor.
"How much hot chocolate is too much? Asking for a friend."
"Chilling. Literally."
"Hibernation mode: On!"
"I am sorry for what I said in Winter."
"A winter poem. Sh*t it's cold. The end."
"I love when it gets dark at 4 p.m. Said no one ever."
"Does shivering count as exercise?"
"I came out of hibernation for this."
"Went outside today… very cold. There were people. 0 stars. Do not recommend."
"I changed out of sweatpants for this."
"Alexa, play "Cold as Ice."
"Dreaming of iced coffee weather …"
"I am really starting to miss complaining about the heat."
"Apologizing in advance for the things I say this winter."
"I can't get out of bed on days when the temperature is less than my age."
"Just chillin', literally"
"I would walk across legos for you."
"My favorite winter activity is going back inside."
"The weather says… stay indoors."
"I'm giving winter the cold shoulder."
"Not leaving my house until April"
"I'm snow angel, but I try!"
"Ski more and worry less."
"If I hang out with you in the winter, that means I really like you."
"The forecast is un-brrr-lieveable."
"If kisses were snowflakes, I'd send you a blizzard."
"My favorite winter shoes are ice skates."
"If you need me, I'll be inside until April."
"The mittens are coming off!"
"In a world of snowflakes, be a blizzard"
"This may or may not be my 10th hot chocolate this week…"
"It is very 'refreshing' outside!"
"Too cold to be a hot mess."
"It literally feels like January 74th."
"Winter: My new excuse for drinking more coffee."
"It's colder than my soul outside."
Winter Puns & Rhymes for Your Letter Board
Bring a dose of playful humor into your winter decor with our handpicked selection of puns and rhymes.
Whether you're a fan of clever wordplay or simply want to add a touch of whimsy to your space, these quotes are a perfect fit.
From pun-tastic one-liners to catchy rhymes, these messages are bound to bring a grin to your face and a chuckle to anyone who passes by your letter board.
"There is snow place like home."
"Easier sled than done"
"I only have ice for you."
"License to chill."
"Freeze the day!"
"I've used so many tissues, it's snot funny."
"Not much, just chilling. You?"
"Every day I'm shovelin'!"
"It was mitten in the stars."
"Say "freeze!"
"I glove hanging out with you!"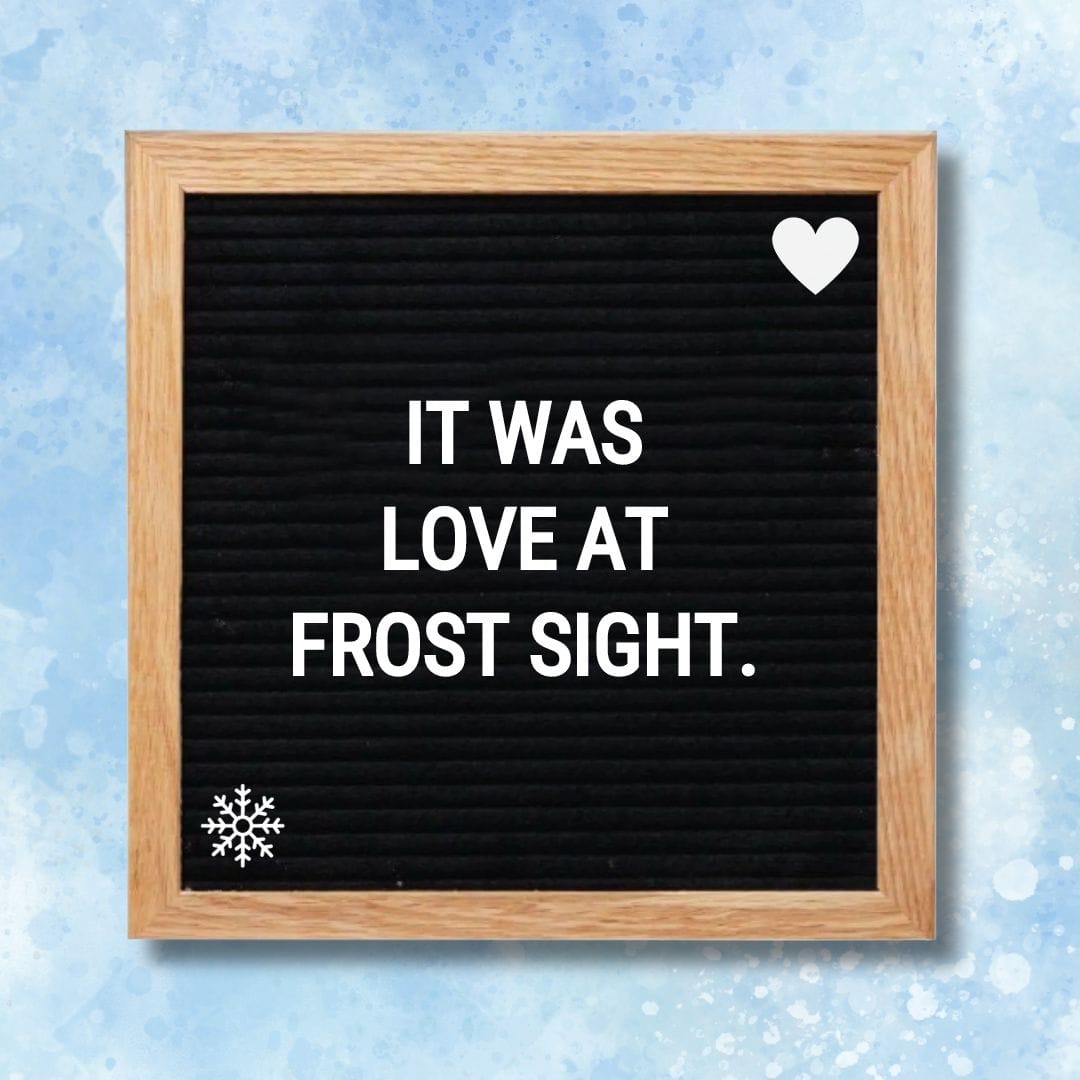 "It was love at frost sight."
"Sleigh all day!"
"It's a winterful life."
"Every morning. Me: I really can't stay. Bed: But baby, it's cold outside."
"Sleigh, queen!"
"It's snow joke outside."
"Feeling frosty."
"It's un-brrr-lievably beautiful here."
"Snow much fun!"
"Flake it 'til you make it."
"Stay cool!"
"How does a Snowman get to work? By icicle."
"The snuggle is real."
"You have me s-mitten."
"Just chilling."
Enjoy adorning your spaces with these delightful messages, and don't forget to spread the seasonal cheer with those around you.
Happy winter, everyone!
PS: Did you manage to choose a quote for your letter board? Let us know in comments below, we'd love to know, which one was THE one for you!