Enjoy the best quotes / moments from The Big Bang Theory's episode 'The Escape Hatch Identification'.
'The Escape Hatch Identification' is the 18th episode of season ten. (s10e18)

In case you don't remember what was this episode about or you're not sure you've seen it, here is summary.
Plot summary
When the gang offers a place for Raj to live, it creates unexpected conflict among everyone and an argument between Amy and Leonard's mother. (IMDb)

Top 12 The Big Bang Theory Quotes from 10×18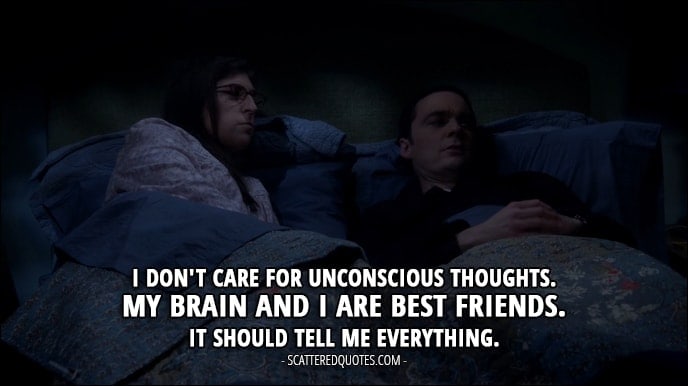 Ordered chronologically as they appear in the episode.
Leonard Hofstadter (to Penny about Raj): He's asking if anyone knows of a cheap place to live. I want to say "India," but it seems mean.
At Wolowitz's house, Howard is giggling…
Bernadette Rostenkowski-Wolowitz (to Howard): What's so funny?
Howard Wolowitz: Raj is looking for a cheap place to live, and I wrote "India."
Sheldon Cooper (to Amy): Well, that's been my room since before I met Leonard, and now someone else is going to be living in it. And that someone else is not me. And you know how I feel about people who aren't me.
Howard Wolowitz: Hey, look at that. You've got a Raj, we've got a Stuart. Maybe we should take them both to the park and let them run around together.
Leonard Hofstadter: I don't know. Yours looks like he has worms.
Sheldon Cooper (to Raj): Well, I know this is a difficult time for you. Y-You're losing your apartment, you're in debt, and you just– you must be humiliated.
Amy Farrah Fowler: Sheldon…
Sheldon Cooper: Oh, good grief. She is such a stickler for citing sources. Those were Amy's words.
Amy Farrah Fowler: Sheldon…
Sheldon Cooper: I know, I know! "Good grief" was originally said by Charlie Brown, geez.
Beverly Hofstadter: Clearly, your old room represents an escape hatch, and without it, you're forced to confront the terrifying reality of being trapped in a relationship with Amy forever.
Sheldon Cooper: I hadn't thought about that.
Amy Farrah Fowler: And don't start thinking about it now!
Beverly Hofstadter: Hello, Amy. Your defensiveness may indicate similar insecurities about your relationship with Sheldon.
Amy Farrah Fowler: That's not true!
Beverly Hofstadter: She said defensively.
Sheldon Cooper (to Raj): Oh, and FYI– if you cry while they're fighting, they'll take you to McDonald's.
Sheldon Cooper (to Amy): I don't care for unconscious thoughts. My brain and I are best friends. It should tell me everything.

Sheldon Cooper: Did you know I figured out in which order I would eat all my friends in the event of an apocalypse?
Amy Farrah Fowler: You need to stop hanging out with your brain so much. It's not a good influence.
Rajesh Koothrappali: Didn't think this is where my life would be.
Stuart: Me, either. I'm in a bedroom and you're on a couch. I'm actually winning.
Sheldon Cooper: Penny would be the entree. Then Leonard's basically a cheese course. And because I love you, you're dessert.
Amy Farrah Fowler: I want to say "aw," but I'm gonna say "ew."
Rajesh Koothrappali: Well, no offense, but I didn't go to art school. I have a PhD in astrophysics.
Stuart: Oh, great, it'll be easier for you to look up at the stars without a roof over your head.

Sheldon Cooper: You know what? I'm proud of us. Yeah, with Penny and Leonard taking in Raj, and Stuart living with Howard and Bernadette, we're the only couple of our social group who doesn't need to fill the holes in their relationship with a third party.
Amy Farrah Fowler: Yup, we're killin' it.
More The Big Bang Theory quotes
» All quotes from The Big Bang Theory
Previous episodes:
» 12 Best The Big Bang Theory Quotes from 'The Comic-Con Conundrum' (10×17)
» 14 Best The Big Bang Theory Quotes from 'The Allowance Evaporation' (10×16)
» 16 Best The Big Bang Theory Quotes from 'The Locomotion Reverberation' (10×15)
» 12 Best The Big Bang Theory Quotes from 'The Emotion Detection Automation' (10×14)
» 16 Best The Big Bang Theory Quotes from 'The Romance Recalibration' (10×13)