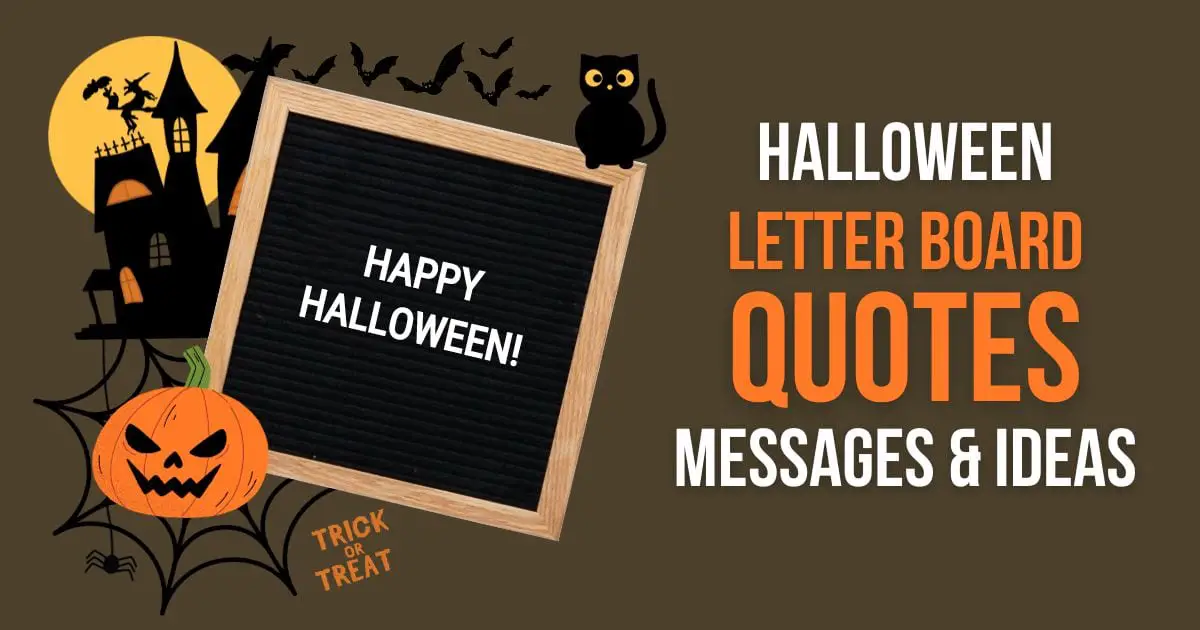 Get your pumpkins letter boards ready, Halloween is here! But what message are we gonna put on it this year?
As Halloween enthusiasts, we understand the importance of capturing the essence of this eerie holiday with the right words.
Whether you're seeking funny, spooky, or famous quotes to adorn your letter board, we've got you covered.
Halloween is all about decorating, costumes, and creating the perfect atmosphere for trick-or-treaters, and what better way to set the mood than with a clever quote or message?
Join us as we dive into a collection of quotes, sayings, and ideas that will make your letter board come alive with the spirit of Halloween.
Whether you're looking for captions to accompany your Instagram posts or simply want to infuse some spooky vibes into your home decor, you'll find inspiration here.
"Trick or treat" is the Halloween mantra, but here's a treat for you: finding the perfect letter board quote is the real magic of the season. Right? 🎃✨
The Perfect Short Halloween Quotes for Your Message Board
Sometimes, less is more. When it comes to Halloween letter boards, you don't need elaborate sayings to make an impact. Short and sweet can be just as eerie and amusing.
From classic pumpkin references to spine-tingling spooky phrases, these short quotes will leave a lasting impression on all who see them.
"Happy Halloween!"
"Eat, drink, and be scary."
"Trick or treat!"
"Spooky vibes only!"
"There is magic in the night."
"Spooky season."
"Halloween is here!"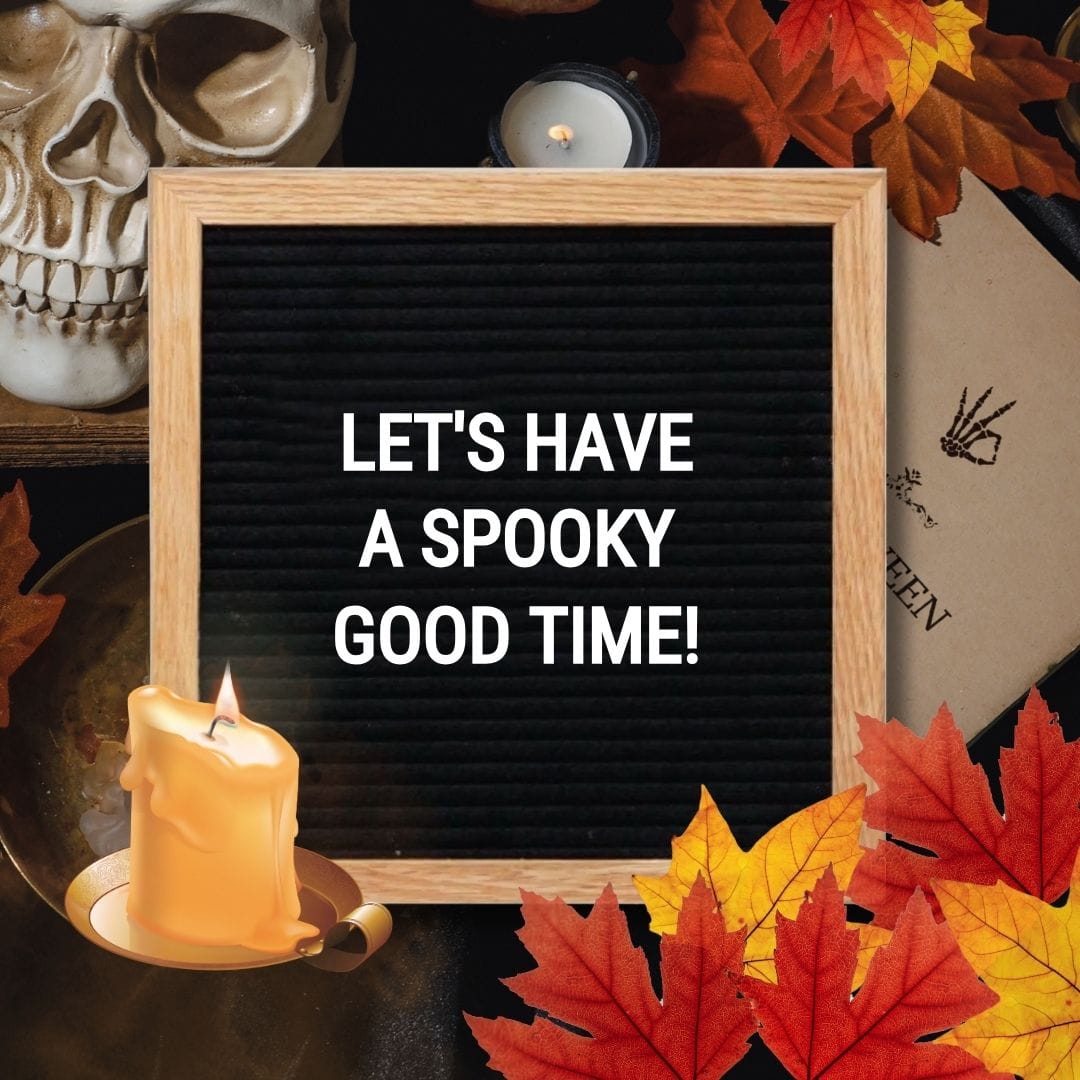 "Let's have a spooky good time!"
"Have a smashing good time!"
"Welcome to our haunted house."
"Keep calm, Halloween's coming!"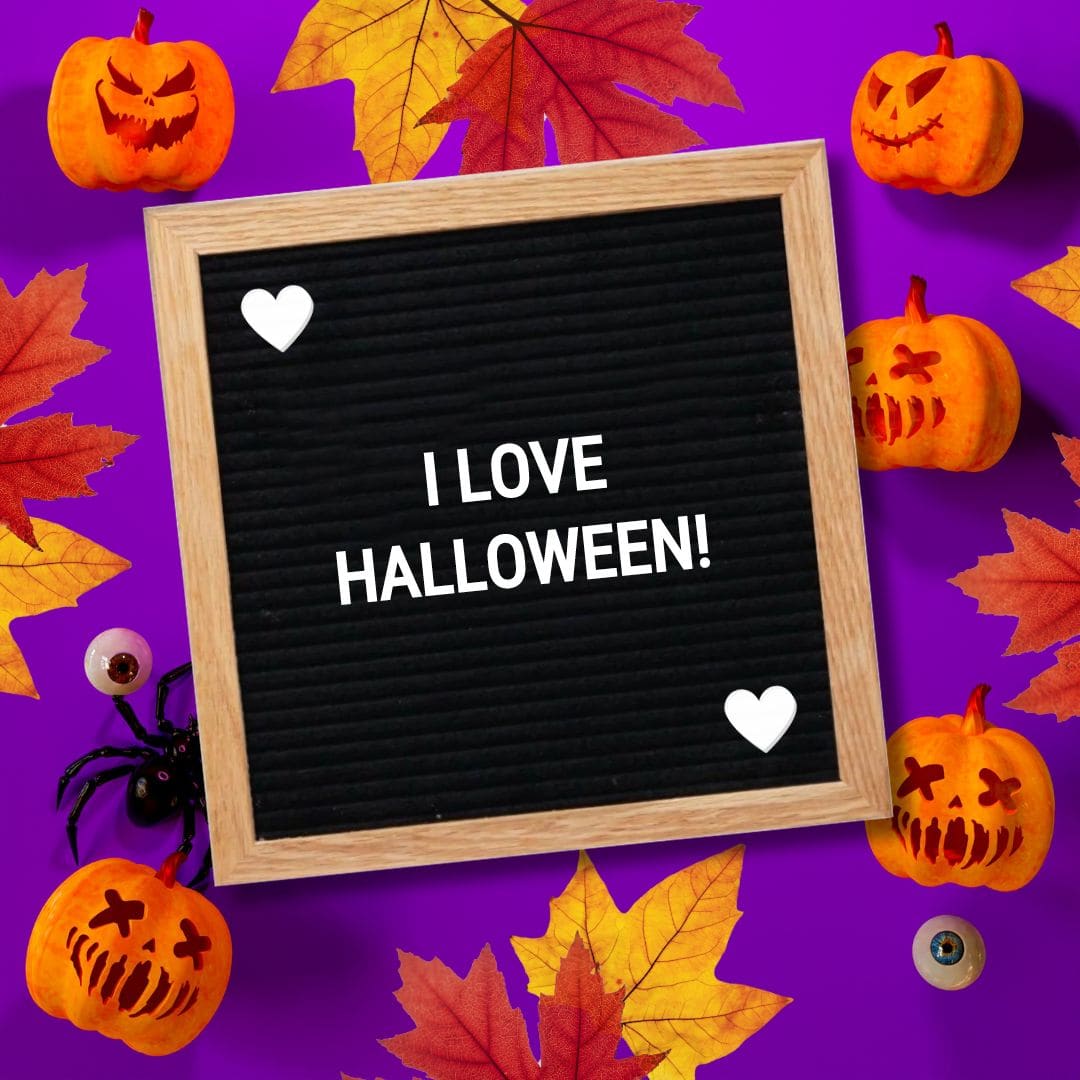 "I love Halloween!"
"Welcome! You found the fright place!"
"Can't wait for Halloween to come!"
"Surely not every witch lives in Salem."
Sarcastic & Funny Halloween Letter Board Quotes
If humor and sarcasm are your go-to weapons for Halloween, then you're in for a treat. Halloween isn't all about scares; it's also a time for laughter and mischief.
In this section, we're sharing a collection of sarcastic and funny Halloween letter board quotes that will have you and your visitors howling with laughter.
These humorous messages and jokes will add a playful twist to your Halloween decor and create an atmosphere that's more hilarious than horrifying.
"Broom parking only. Violators will be toad."
"If the broom fits, fly it."
"My blood type is pumpkin spice."
"Wake me up when it's Halloween!"
"Hocus pocus, I need coffee to focus."
"Have you seen my resting witch face?"
"How about some boos with that booze?"
"The dust and cobwebs around the house just became decorations, thanks Halloween!"
"My broom is bigger than yours."
"Save your candy. I'll take the boos."
"I'm 100% THAT witch."
"Don't drink and fly."
"There's nothing fun about fun-size candy bars."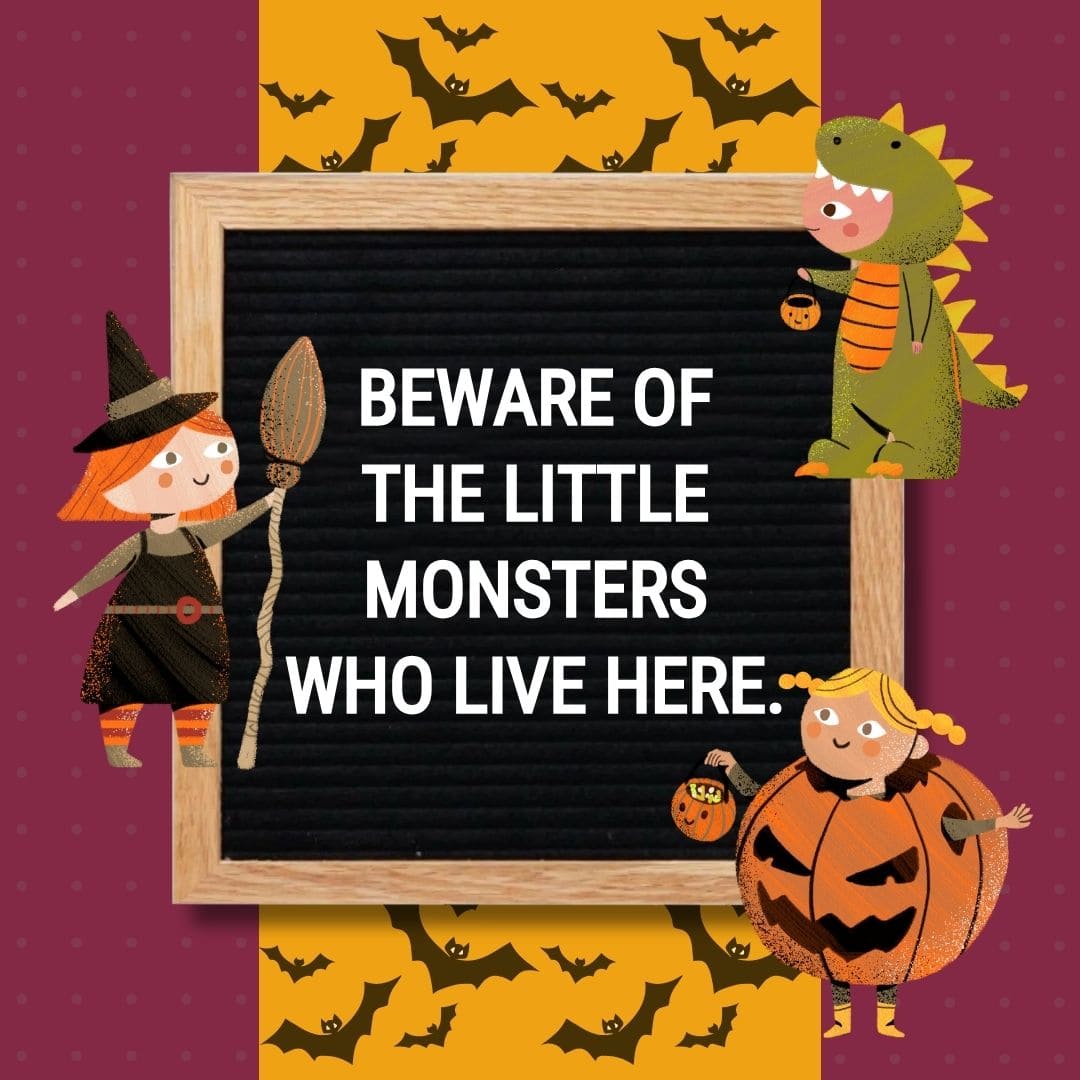 "Beware of the little monsters who live here."
"I don't need Halloween, I ghost people all year round."
Little tip: When it comes to Halloween, the more cobwebs, the merrier. Just don't forget to save some for your letter board – it's all in the spirit of spooktacular decor!
Halloween Puns & Rhymes for Your Letter Board
Wordplay and wit take center stage in this section. Halloween puns and rhymes bring a delightful touch to your letter board, offering a clever way to celebrate the holiday.
Get ready for a dose of humor and creativity as we delve into a selection of puns, rhymes, and witty wordplay.
These messages are sure to tickle your funny bone and charm anyone who lays eyes on your Halloween-themed letter board.
"What's a ghost's favorite dessert? I scream!"
"Don't hex my vibe."
"Trick or treat yo' self."
"Trick or tequila."
"Witching you a happy Halloween!"
"Creepin' it real."
"Share my candy? Hex nah."
"Let's get Halloweird."
"Happy Hallo-wine!"
"Enough with the boo-sheet!"
"Just call me Mummy of the year."
"Oh, Hex Yes!"
"Witch, please."
"Boos or booze? You choose!"
"Bone Appetit!"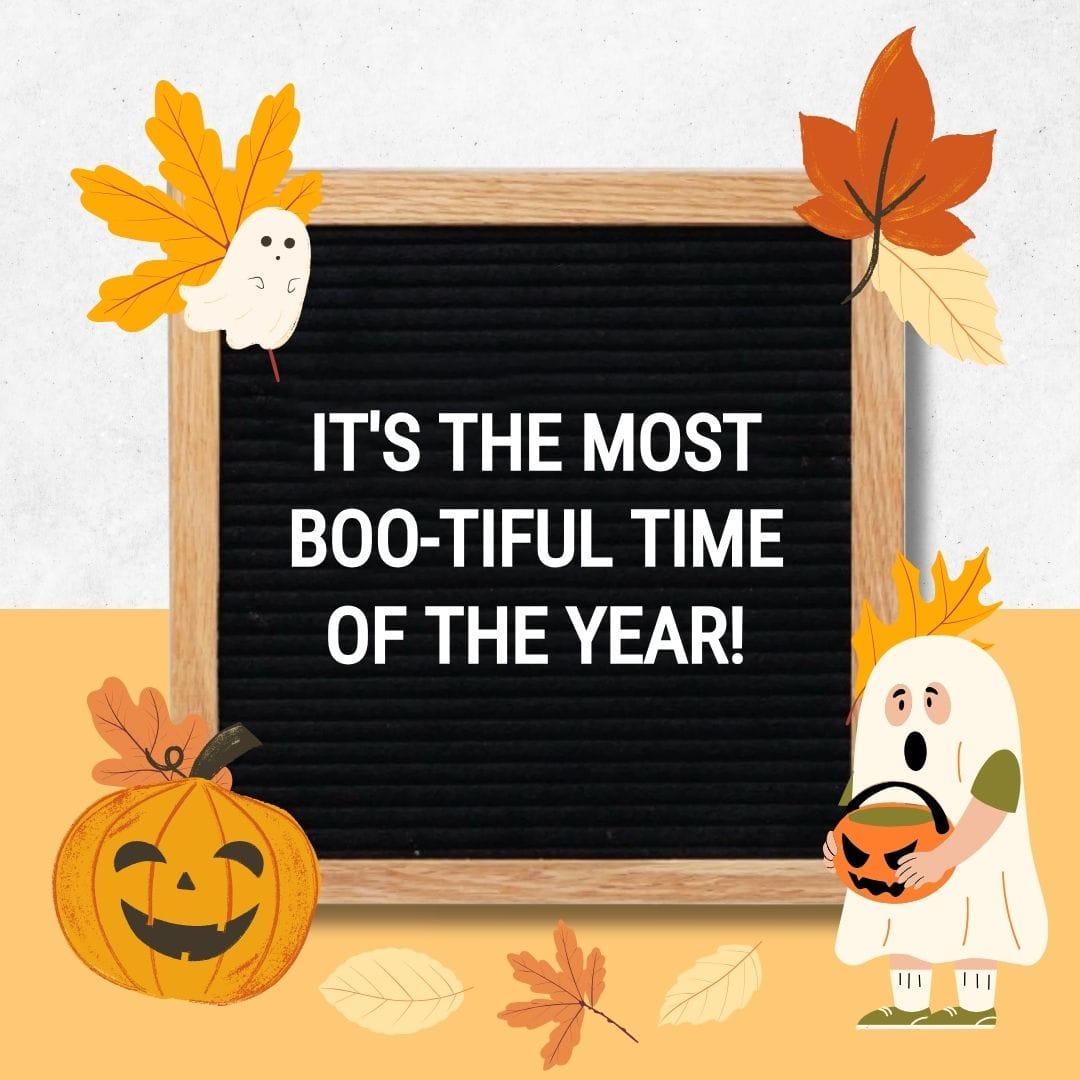 "It's the most boo-tiful time of the year!"
"Here for the Boos."
"Fright this way, folks!"
"Have a fang-tastic time!"
"Too cute to spook."
"I scream, you scream, we all scream for Halloween!"
"A wee bit wicked."
"Witch better have my candy!"
"Double, double, toil and trouble."
Pro tip for your Halloween letter board: The more chocolate stains it accumulates from your candy indulgence, the more authentically spooky it becomes.
Cute Halloween Letter Board Quotes to Put on Your Sign
Halloween isn't all about frights; it's also a time for the little monsters and trick-or-treaters to have some adorable fun.
In this section, we'll share a collection of cute Halloween letter board quotes perfect for kids, classrooms, or anyone who loves a dash of cuteness with their Halloween festivities.
These charming and delightful quotes are the ideal way to create a friendly and inviting atmosphere that captures the whimsy of the season.
"Too cute to spook."
"Hey there, pumpkin!"
"Come in for a spell."
"This witch can be bribed with chocolate."
"Can't wait to hang with our fang gang!"
"Here for the candy."
"Welcome to our web."
"Watch it, boo. I'll put a spell on you."
"Come boo with my crew!"
"Halloween queen."
"Faboolous friends."
"A pumpkin a day keeps the goblins away."
Reminder: Don't forget to taste test at least half of the candy before you'll give it away! You know… for quality assurance purposes… 😉
---
We hope you've found inspiration in our selection of Halloween letter board quotes and messages.
Wishing you a Happy Halloween filled with the joy of decorating, the thrill of costumes, and the delight of sharing the spooky season with friends and family.
Enjoy crafting your own eerie and amusing messages, and don't forget to share the Halloween spirit with others through your creative letter board designs.
Whether you're going for funny, spooky, or simply heartwarming, this is your chance to let your creativity shine.
Happy Halloween, everyone!