March is all about nature. The first flowers bloom as the winter is ending and the first day of spring is approaching. But as it is the beginning of the spring, we still get wind and cold from the dying winter. Quotes go from celebrating and welcoming the spring to the harsh reality of March's weather.
March is unpredictable, just as the theme of the quotes goes for this month. But most of them are embracing the upcoming spring and saying goodbye to winter. So let's not lose the optimism, and let's welcome the spring.
March Quotes and Sayings by famous Authors
Quotes about the month of March by famous authors of many genres like inspirational and motivational.
In march winter is holding back and spring is pulling forward. Something holds and something pulls inside of us too.
– Jean Hersey
It was one of those March days when the sun shines hot and the wind blows cold: when it is summer in the light, and winter in the shade.
– Charles Dickens
Springtime is the land awakening. The March winds are the morning yawn.
– Lewis Grizzard
In March the soft rains continued, and each storm waited courteously until its predecessor sunk beneath the ground.
– John Steinbeck
March is a tomboy with tousled hair, a mischievous smile, mud on her shoes and a laugh in her voice.
– Hal Borland
A windy March is lucky. Every pint of March dust brings a peck of September corn, and a pound of October cotton.
– Julia Peterkin
March came in that winter like the meekest and mildest of lambs, bringing days that were crisp and golden and tingling, each followed by a frosty pink twilight which gradually lost itself in an elfland of moonshine.
– L.M. Montgomery
Spring makes its own statement, so loud and clear that the gardener seems to be only one of his instruments, not the composer.
– Geoffrey Charlesworth
My father was often impatient during March, waiting for winter to end, the cold to ease, the sun to reappear. March was an unpredictable month, when it was never clear what might happen. Warm days raised hopes until ice and grey skies shut over the town again.
– Tracy Chevalier
Indoors or out, no one relaxes in March, that month of wind and taxes, the wind will presently disappear, the taxes last us all the year.
– Ogden Nash
Our life is March weather, savage and serene in one hour.
– Ralph Waldo Emerson
March, when days are getting long, let thy growing hours be strong to set right some wintry wrong.
– Caroline May
March is a month of considerable frustration it is so near spring and yet across a great deal of the country the weather is still so violent and changeable that outdoor activity in our yards seems light years away.
– Thalassa Cruso
Autumn arrives in the early morning, but spring at the close of a winter day.
– Elizabeth Bowen
Short Quotes for the month of March
Short quotes are perfect to use on social media as captions or to spruce up your journals. Bunch of little saying to brighten your days in March.
Hello, March!
I love March!
Hello, March! Surprise me.
Goodbye, February! Hello, March!
Happy March!
March is here!
Welcome March!
March – Chapter 3 of 12
Happy first day of March!
Well hello there, March!
Hello, March! Be kind to me.
Hello, March! Be good to me.
Hello, March! Please be awesome.
Hello, March! Make my dreams come true.
We love March 'cause spring is "almost" in the air!
March, let spring begin.
Keep calm and say hello to March!
Queens are born in March.
Awesome people are born in March.
Special people are born in March.
Genius people are born in March.
Attractive people are born in March.
Legends are born in March.
Intelligent people are born in March.
Someone I love was born in March.
Dare to be different this month. Dare to stand out. Dare to be the one with a voice. Dare to shine! A happy new month!
Poems about March
The stormy March has come at last,
With winds and clouds and changing skies;
I hear the rushing of the blast
That through the snowy valley flies.
– William C. Bryant
Daffodils,
That come before the swallow dares, and take
The winds of March with beauty.
– William Shakespeare (The Winter's Tale)
The stormy March is come at last
With wind, and cloud, and changing skies
I hear the rushing of the blast
That through the snowy valley flies.
– William Cullen Bryant
A light exists in Spring
Not present in the year
at any other period
When March is scarcely here.
– Emily Dickinson
Up from the sea, the wild north wind is blowing
Under the sky's gray arch;
Smiling, I watch the shaken elm-boughs, knowing
It is the wind of March.
– John Greenleaf Whittier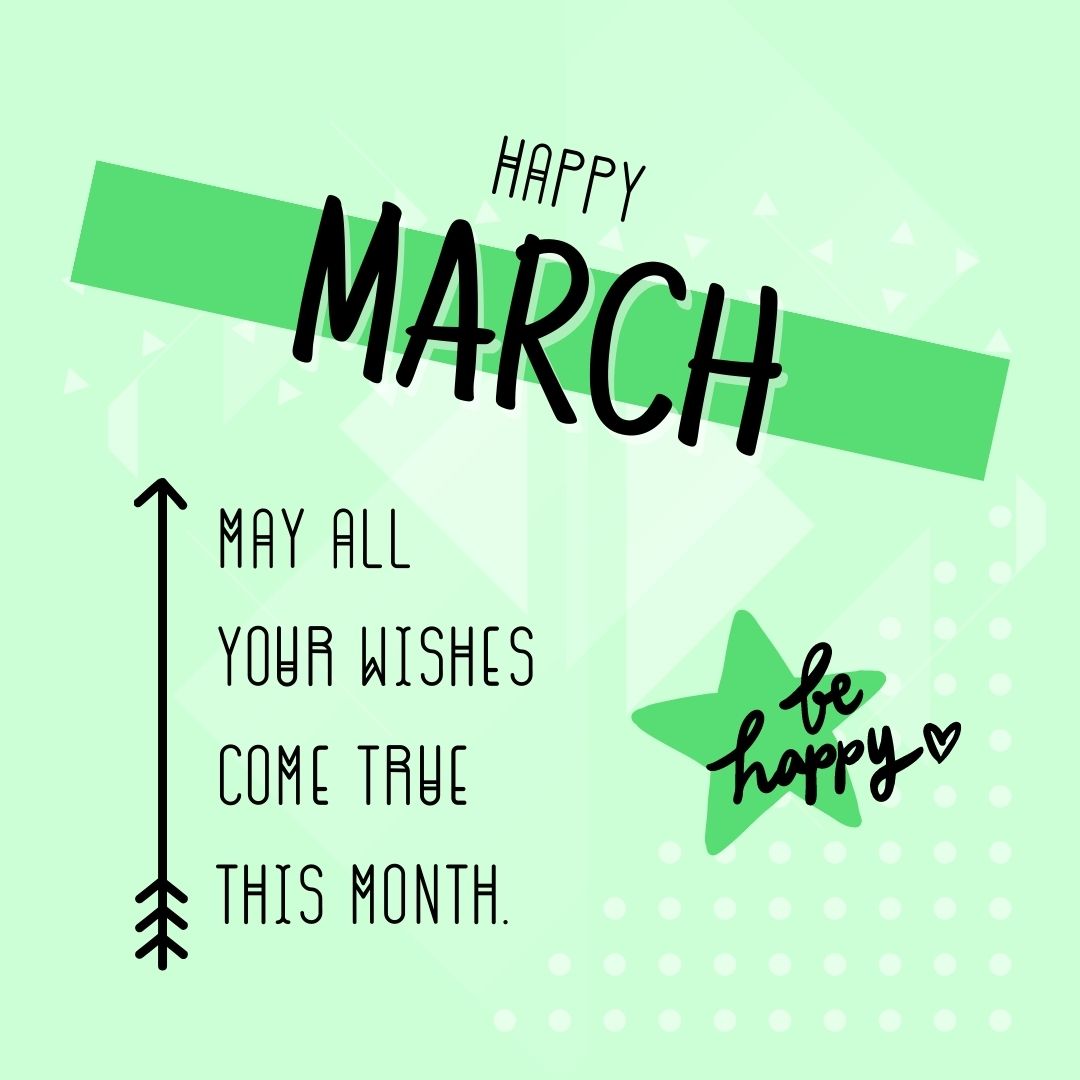 Quotes for Important days in March
You can find even more quotes that relate to March on the website, continue your journey through March quotes:
Related to these important days that are recognized and celebrated in March:
International Women's Day, St. Patrick's Day, International Day of Happiness, 1st Day of Spring