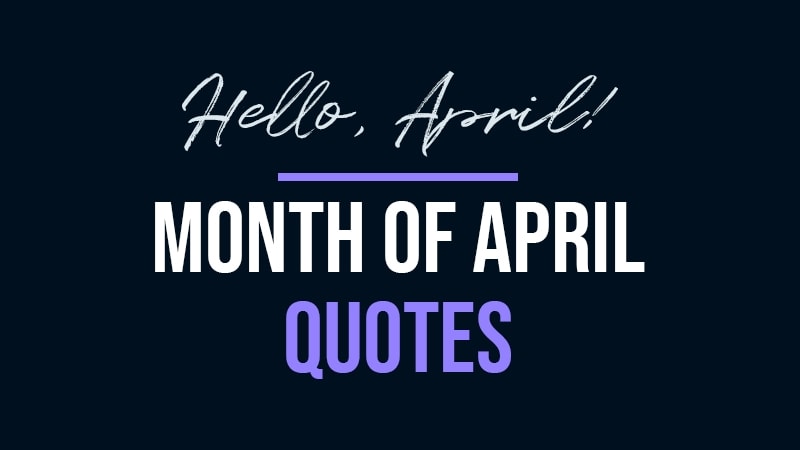 April is here with the spring full in power. The rebirth of nature, April Fool's Day to start and Easter… Surely April isn't a boring month.
Enjoy quotes about the month of April full of nature, flowers and changing weather.
April Quotes and Sayings by famous Authors
Quotes about the month of April by famous authors of many genres like inspirational and motivational.
April is the kindest month. April gets you out of your head and out working in the garden.
– Marty Rubin
Why are people so tired on April 1st? Because they just finished a 31-day March.
– Unknown
The sun was warm but the wind was chill. You know how it is with an April day.
– Robert Frost
April is the cruelest month, breeding lilacs out of the dead land, mixing memory and desire, stirring dull roots with spring rain.
– T.S. Eliot
Some people can't be fooled on April Fool's Day because they were fooled too many times during their entire lifetime.
– Akash B Chandran
April Fools gone past, and you're the biggest fool at last.
– Unknown
April showers bring forth May flowers.
– Proverb
April will not fail to turn out as it should be, and as it generally is, one of the sweetest, dearest, loveliest months of the year.
– Joseph Grimaldi
April is a month of melody. In April, you can hear the warbling of mockingbirds and the chattering or squirrels.
– Ellen Jackson
In April, the first soft, tender, delicate green of spring salutes the eye in every direction.
– Joseph Grimaldi
Rain soaks the earth, prompting growth and preparing the flowers of the season. And we find ourselves shedding our winter coats on the first warm spring day. This is April!
– Sharon Leah
But it is a sort of April-weather life that we lead in this world. A little sunshine is generally the prelude to a storm.
– William Cowper
April is, by universal consent, admitted to be the month of 'fools'.
– Joseph Grimaldi
April showers could bring a cold winter mood when it poured. Then when it was gone, it wasn't warm or cold, but stayed in a residual flavor of both.
– R. Lupi
April mark as the real end of winter. Daffodils pop open and nod their yellow heads. Grass starts to recover from its frozen cover of snow, trees bud, forsythia shows its yellow cloak, tulips display their lips, and the animals–chipmunks, squirrels, rabbits and other animals–wake up from their winter sleep.
– Sharon Leah
April is a promise that May is bound to keep.
– Hal Borland
If April showers should come your way, they bring the flowers that bloom in May.
– Buddy de Sylva
The coming of April heralds the time to plant seeds of magic and fill the heart and home with the joy of light and life.
– Lotuswulf Satyrhorn
April prepares her green traffic light and the world thinks Go.
– Christopher Morley
Yes, April is a lovely, soul-inspiring, life-invigorating month.
– Joseph Grimaldi
We can't possibly have a summer love. So many people have tried that the name's become proverbial. Summer is only the unfulfilled promise of spring, a charlatan in place of the warm balmy nights I dream of in April. It's a sad season of life without growth… It has no day.
– F. Scott Fitzgerald
April comes like an idiot, babbling and stewing flowers.
– Edna St. Vincent Millay
Our spring has come at last with the soft laughter of April suns and shadow of April showers.
– Byron Caldwell Smith
Short Quotes for the month of April
Short quotes are perfect to use on social media as captions or to spruce up your journals. Bunch of little saying to brighten your days in April.
Hello, April!
I love April!
Hello, April! Surprise me.
Goodbye, March! Hello, April!
Happy April!
April is here!
Welcome April!
April – Chapter 4 of 12
Happy first day of April!
Well hello there, April!
Hello, April! Be kind to me.
Hello, April! Be good to me.
Hello, April! Please be awesome.
Hello, April! Make my dreams come true.
Keep calm and say hello to April!
Queens are born in April.
Awesome people are born in April.
Special people are born in April.
Genius people are born in April.
Attractive people are born in April.
Legends are born in April.
Intelligent people are born in April.
Someone I love was born in April.
Dare to be different this month. Dare to stand out. Dare to be the one with a voice. Dare to shine! A happy new month!
Poems about April
A gush of bird-song, a patter of dew,
A cloud, and a rainbow's warning,
Suddenly sunshine and perfect blue–
An April day in the morning.
– Harriet Prescott Spofford
April with its haunting joy, and swift-stinging tears,-
Month of mist and music, and the old moon-madness,
Month of magic fluting, the spirit only hears
– Virna Sheard
The April sun, the April sun,
Glints through the rain in fitful splendor,
And in grey shaw and woodland dun
The little leaves spring forth and tender
– Mathilde Blind
April, pride of woodland ways,
Of glad days,
April, bringing hope of prime,
To the young flowers that beneath
Their bud sheath
Are guarded in their tender time.
– Remy Belleau
Again the blackbirds sings; the streams
Wake, laughing, from their winter dreams,
And tremble in the April showers
The tassels of the maple flowers.
– John Greenleaf Whittier
Daffodil and eglantine,
And woodbine,
Lily, violet, and rose
Plentiful in April fair,
To the air,
Their pretty petals do unclose.
– Remy Belleau
April, all to welcome thee,
Spring sets free
Ancient flames, and with low breath
Wakes the ashes grey and old
That the cold
Chilled within our hearts to death.
– Remy Belleau
When April comes with softly shining eyes,
And daffodils bound in her wind-blown hair,
Oh, she will coax all clouds from out the skies,
And every day will bring some sweet surprise,–
The swallows will come swinging through the air
When April comes!
– Virna Sheard
Sang the sun rise on an amber morn –
Earth, be glad! An April day is born.
Winter's done, and April's in the skies,
Earth, look up with laughter in your eyes!
– Sir Charles George Douglas Roberts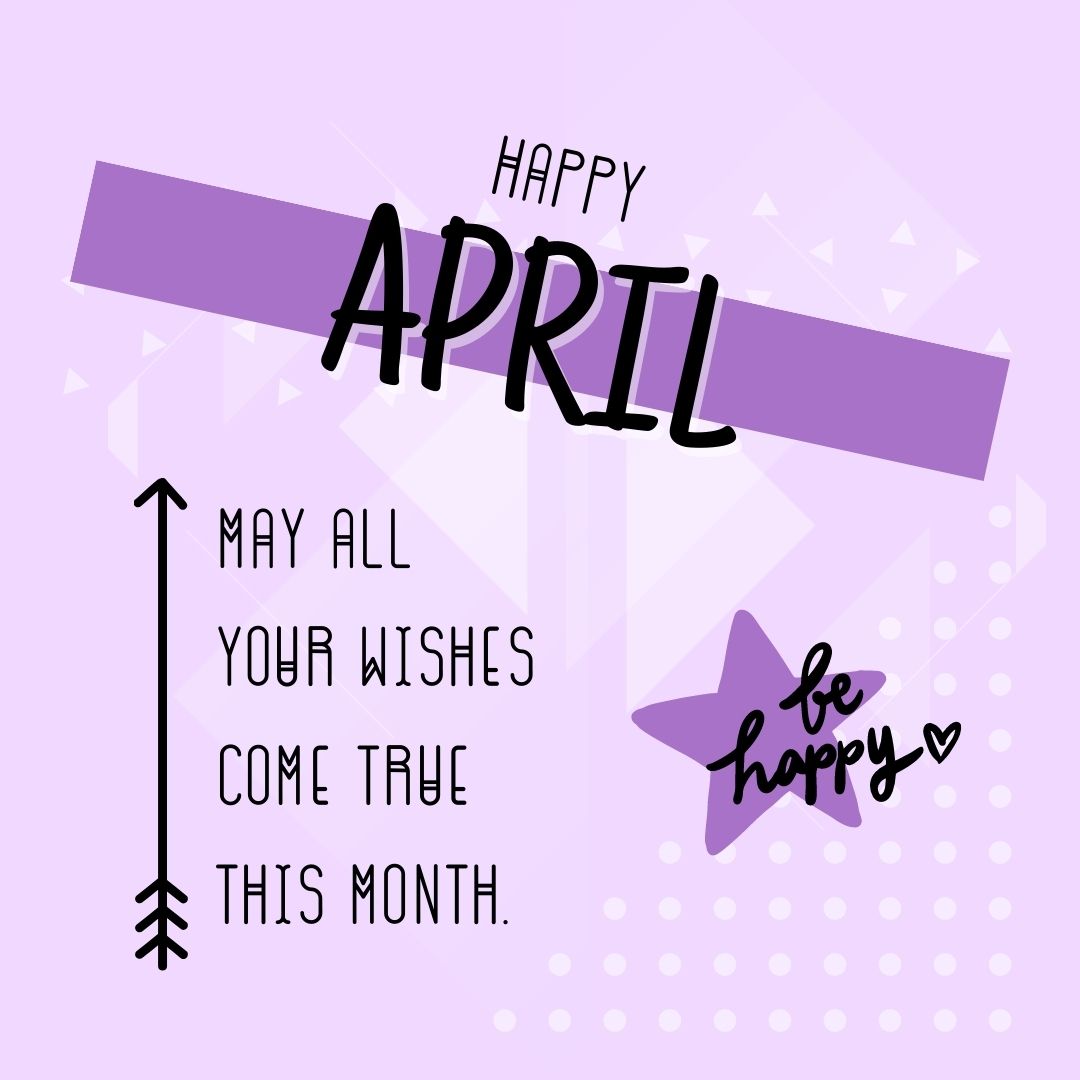 Quotes for Important days in April
You can find even more quotes that relate to April on the website, continue your journey through April quotes:
Related to these important days that are recognized and celebrated in April:
April Fool's Day, Easter, Earth Day, World Book Day