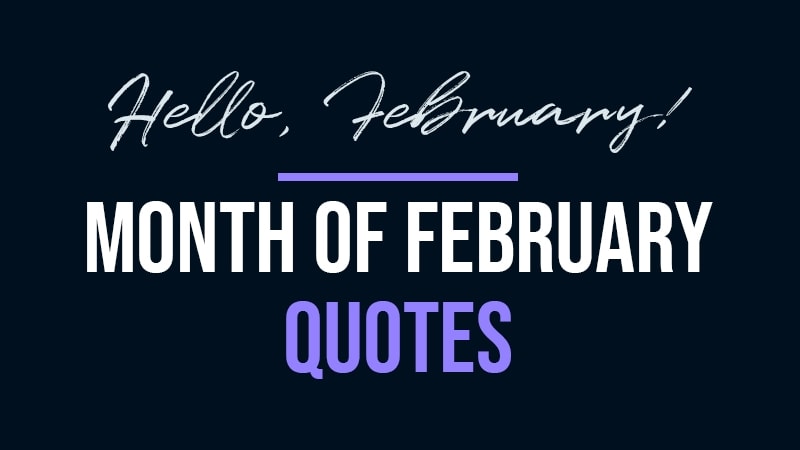 Let's celebrate the month of February with quotes and poems.
The second month of the year being the shortest month of the twelve, isn't the only interesting fact about it. February is best known for Valentine's Day that we celebrate on the 14th. February is also the last month of winter with little hinting of spring coming soon.
It is also the only month having a changing number of days in it – the length goes from 28 to 29 days every four years, during the leap year. That makes it the only month having less than 30 days.
Fun fact: Only three times in history February has had 30 days of length.
Did you know that February is the only month that can pass without a single full moon? It's obvious, if you think about it, but who would think about it, right?
February Quotes and Sayings by famous Authors
Not only famous quotes about the month of February by various authors of many genres like inspirational and motivational.. You might already know some of these.
Why does February feel like one big Tuesday?
– Todd Stocker
February is the shortest month, so if you're having a miserable month, try to schedule it for February.
– Lemony Snickett
Though, February is short, it is filled with lots of love and sweet surprises.
– Charmaine J Forde
I used to try to decide which was the worst month of the year. In the winter I would choose February. The reason God made February short a few days was because he knew that by the time people came to the end of it they would die if they had to stand one more blasted day.
– Katherine Paterson
A strange amazing day that comes only once every four years . . . A day of temporal tune up.
– Vera Nazarian
If you meet 29th February, think of something unique for it is the only day that defines a year as a leap year. It is the only day that makes February truly unique.
– Ernest Agyemang Yeboah
It takes three springs to make one leap year.
– The Comic Almanack
The only bubble in the flat champagne of February is Valentine's Day. It was no accident that our ancestors pinned Valentine's Day on February's shirt: he or she lucky enough to have a lover in frigid, antsy February has cause for celebration, indeed.
– Tom Robbins
Every leap year I like to jump. It's a good way to get my exercise in every four years.
– Jarod Kintz
One of the major dangers of being alone in February is the tendency to dwell on past relationships. Whether you're daydreaming about that 'one that got away,' or you're recalling the fairy tale date you went on last Valentine's Day, romanticizing the past isn't helpful – nor accurate.
– Amy Morin
February is a suitable month for dying. Everything around is dead, the trees black and frozen so that the appearance of green shoots two months hence seems preposterous, the ground hard and cold, the snow dirty, the winter hateful, hanging on too long.
– Anna Quindlen
February is just plain malicious. It knows your defenses are down.
– Katherine Paterson
When God was making the months I think February was a mistake, like a burp. There it was, small, dark, and prickly. It had absolutely no redeeming qualities.
– Shannon Wiersbitzky
Without Valentine's Day, February would be… well, January.
– Jim Gaffigan
February makes a bridge and March breaks it.
– George Hebert
February is merely as long as is needed to pass the time until March.
– J.R. Stockton
February – the month that fills you with overthinking about your love life.
– Unknown
February is the border between winter and spring.
– Terri Guillemets
February is short and very sweet.
– Charmaine J Forde
February days are a marketing gimmick; love happens every day.
– Randeep Hooda
February already, why? I was just buying Christmas gifts and now I have to think of another original gift for Valentine's Day?
– Unknown
February the month of love?!! No wonder the shortest one in the calendar.
– Dinesh Kumar Biran
Can't wait until February 15th – the chocolate will be on sale. Oh bargains, my first love.
– Unknown
Even though February was the shortest month of the year, sometimes it seemed like the longest.
– J.D. Robb
Short Quotes for the month of February
Short quotes perfect to use on social media as captions or to spruse up your journals. Bunch of little saying to brighten your days in February.
Hello, February!
I love February!
Hello, February! Suprise me.
Goodbye, February! Hello, February!
Happy February!
February is here!
Welcome February!
February – Chapter 2 of 12
Happy first day of February!
Well hello there, February!
February – The month of love.
Hello, February! Be kind to me.
Hello, February! Be good to me.
Hello, February! Please be awesome.
Hello, February! Make my dreams come true.
Keep calm and say hello toFebruary!
Queens are born in February
Awesome people are born in February.
Special people are born in February.
Genius people are born in February.
Attractive people are born in February.
Legends are born in February.
Intelligent people are born in February.
Someone I love was born in February.
Dare to be different this month. Dare to stand out. Dare to be the one with a voice. Dare to shine! A happy new month!
Poems about February
Little month of February,
You are small, but worthy—very!
Will you grow up like the others,
Like your sister months and brothers?
Every four years with a bound
With a leap up from the ground,
Trying to grow tall as they—
All you stretch is one small day!
Even then you're not so tall
But just the shortest month of all.
(Leap Year – Annette Wynne)
When February birds do mate,
You wed nor dread your fate . . .
Married in February's sleepy weather,
Life you'll tread in time together."
(New Zealand Proverb)
Though Winter still asserts his right to reign,
He sways his sceptre now with gentler hand;
Nay, sometimes softens to a zephyr bland
The hurrying blast, which erst along the plain
Drove the skin-piercing sleet and pelting rain
In headlong rage; while, ever and anon,
He draws aside his veil of vapours dun,
That the bright sun may smile on us again.
To-day 'twould seem (so soft the west wind's sigh)
That the mild spirit of the infant Spring
Was brooding o'er the spots where hidden lie
Such early flowers as are the first to fling
On earth's green lap their wreaths of various dye—
Flowers, round whose forms sweet hopes and sweeter memories cling.
(February – Rebecca Hey)
Freezing
cold winds,
biting chills, and
white snow fluffed hills
Valentines day, oh how gay!
presidents' day is coming our way.
February, sweet and small, greatest month of all."
(28 Word Poem for February – Eric Lies)
I thought the world was cold in death;
The flowers, the birds, all life was gone,
For January's bitter breath
Had slain the bloom and hushed the song.
And still the earth is cold and white,
And mead and forest yet are bare;
But there's a something in the light
That says the germ of life is there.
(February – Jane Austin)
Wan February with weeping cheer,
Whose cold hand guides the youngling year
Down misty roads of mire and rime,
Before thy pale and fitful face
The shrill wind shifts the clouds apace
Through skies the morning scarce may climb.
Thine eyes are thick with heavy tears,
But lit with hopes that light the year's."
(A Year's Carols: February – Algernon Charles Swinburne)
Quotes for Important days in February
You can find even more quotes that relate to February on the website, continue your journey through February quotes:
Related to these important days that are recognized and celebrated in February:
Valentine's Day, Make a Friend Day