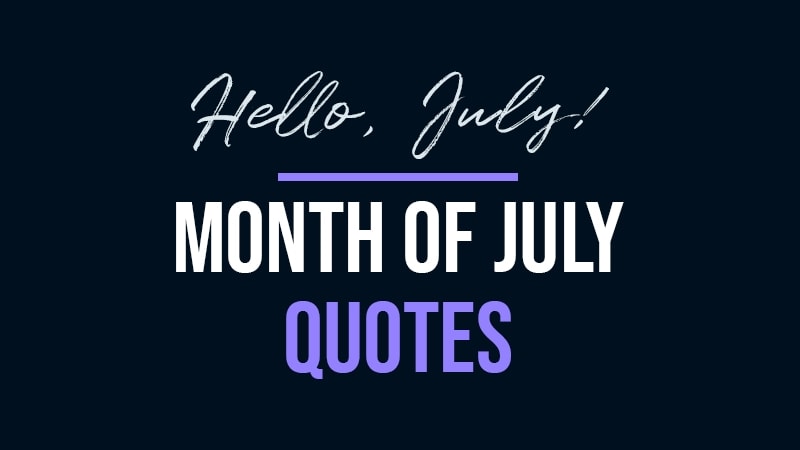 Summer is in a full force, school is out, let the July start! Read through the best quotes about the month of July. July is mostly significant for celebrating 4th of July.
Have a nice summer!
July Quotes and Sayings by famous Authors
Quotes about the month of July by famous authors of many genres like inspirational and motivational.
Thinking back to when it's warm outside. Oh, why couldn't Christmas be in July?
– Haley Mary Artzab
July is hot afternoons and sultry nights and mornings when its joy just to be alive. July is a picnic and a red canoe and a sunburned neck and a softball game and ice tinkling in a tall glass. July is a blind date with summer.
– Hal Borland
My life, I realize suddenly, is July. Childhood is June, and old age is August, but here it is, July, and my life, this year, is July inside of July.
– Rick Bass
You have to love a nation that celebrates its independence every July 4th, not with a parade of guns, tanks, and soldiers who file by the White House in a show of strength and muscle, but with family picnics where kids throw Frisbees, the potato salad gets iffy, and the flies die from happiness. You may think you have overeaten, but it is patriotism.
– Erma Bombeck
If ant hills are high in July, the coming winter will be hard.
– American Folklore
The hype for Christmas in July certainly seems quite widespread across the States . . . and is also a great excuse to party.
– Shelley Roes
July, that lovely hell, all velvet dresses and drapes stuffed into a hot little hole.
– Laura Kasischke
Short Quotes for the month of June
Short quotes perfect to use on social media as captions or to spruse up your journals. Bunch of little saying to brighten your days in July.
Hello, July!
I love July!
Hello, July! Suprise me.
Goodbye, June! Hello, July!
Happy July!
July is here!
Welcome July!
July – Chapter 7 of 12
Happy first day of July!
Well hello there, July!
Hello, July! Be kind to me.
Hello, July! Be good to me.
Hello, July! Please be awesome.
Hello, July! Make my dreams come true.
Keep calm and say hello to July!
Queens are born in July.
Awesome people are born in July.
Special people are born in July.
Genius people are born in July.
Attractive people are born in July.
Legends are born in July.
Intelligent people are born in July.
Someone I love was born in July.
Dare to be different this month. Dare to stand out. Dare to be the one with a voice. Dare to shine! A happy new month!
Poems about July
Loud is the summer's busy song
The smallest breeze can find a tongue,
While insects of each tiny size
Grow teasing with their melodies,
Till noon burns with its blistering breath
Around, and day lies still as death.
– John Clare, July
Those who in July do wed,
Must labour for their daily bread…
Married in July with flowers ablaze,
Bitter-sweet memories in after days.
– New Zealand Proverb
The linden, in the fervors of July,
Hums with a louder concert. When the wind
Sweeps the broad forest in its summer prime,
As when some master-hand exulting sweeps
The keys of some great organ, ye give forth
The music of the woodland depths, a hymn
Of gladness and of thanks.
– William Cullen Bryant, Among the Trees
If the first of July be rainy weather,
It will rain, more of less, for four weeks together.
– John Ray (English Proverbs)
The glowing Ruby should adorn
Those who in warm July are born,
Then will they be exempt and free
From love's doubt and anxiety.
– Unknown
Why do I make no poems? Good my friend
Now is there silence through the summer woods,
In whose green depths and lawny solitudes
The light is dreaming; voicings clear ascend
Now from no hollow where glad rivulets wend,
But murmurings low of inarticulate moods,
Softer than stir of unfledged cushat broods,
Breathe, till o'er drowsed the heavy flower-heads bend.
Now sleep the crystal and heart-charmed waves
Round white, sunstricken rocks the noontide long,
Or 'mid the coolness of dim lighted caves
Sway in a trance of vague deliciousness;
And I,–I am too deep in joy's excess
For the imperfect impulse of a song.
– Edward Dowden, In July
Quotes for Important days in July
You can find even more quotes that relate to July on the website, continue your journey through July quotes:
Related to these important days that are recognized and celebrated in July:
4th of July (Independence Day)
World Emoji Day
International Day of Friendship