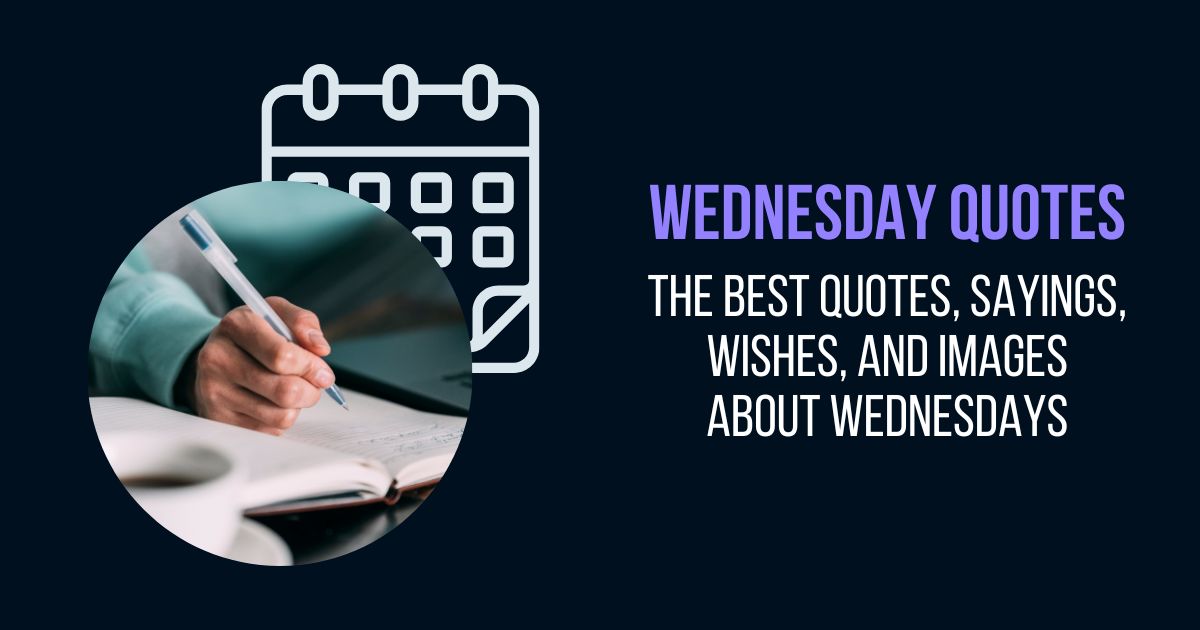 We've finally reached the middle of the week. Let's keep the motivation going and get to the weekend as fast as possible. Do you need inspiration, a funny remark, or something to post on social media? You're at the right place, Wednesday wisdom quotes included.
Hello Wednesday: Short Quotes to Express the Wednesday Vibes
These short but witty quotes can be used as captions on social media or as a way to quickly express your Wednesday feelings.
Hello, Wednesday!
Hello, Wednesday! Surprise me.
Hello, Wednesday! Please be kind to me.
Hello, Wednesday! Please be awesome.
Hello, Wednesday. Let's do this!
Hello, Wednesday! Be good to me.
Well hello there, Wednesday!
Keep calm and say hello to Wednesday!
Goodbye, Tuesday! Hello, Wednesday!
Happy Wednesday!
Happy Wednesday, have a great week.
Happy Wednesday, happy week.
Happy third day of the week!
Be happy, it's Wednesday.
It's Wednesday time to sparkle & shine.
It's Wednesday – don't forget to shine.
It's Wednesday. Don't forget to be awesome.
Okay, Wednesday. Let's do awesome things.
I love Wednesday!
Welcome Wednesday!
Wednesday – Chapter 3 of 7
Wednesday is here!
Hump Day: not as depressing as Monday, not as exciting as Friday.
Keep calm, it's a hump day!
Wednesday: Halfway to the weekend!
Inspirational & Motivational Wednesday Quotes to Keep You Going
Wednesdays aren't in as much need for motivation as Mondays are, so there are not many quotes for motivation. Wednesdays are more about looking forward to the week being halfway over and closer to the weekend – hooray.
"Wednesday will either make you or break you. You are either on the upward trend or the downward slide to the end of the work week. Give it all you got this Wednesday!" ~ Catherine Pulsifer
"The thing that we need the most on Wednesday is a good reserve of inspiration to keep us focused, whenever our mind wanders towards the promises of the weekend. More than inspiration, however, we need to work hard and smart to keep things going." – Unknown
"They didn't want it good, they wanted it Wednesday." – Robert A. Heinlein
"A good day is a day in which we manage to grow even a little bit and to move ahead at least one tiny step. When we stagnate, we lose ourselves and we lose endless chances. That is why a good Wednesday is a day when we did things, and we did them well." – Liza Hawkins
"Happy Wednesday! I think I can see the weekend from here." – Unknown
"Wednesdays are like Mondays in the middle of the week!" – Lee Fox Williams
"Wednesday is half ugly and half beautiful. One side of the coin is you have successfully passed two days of the week. Another side is, you have yet to pass two more days before the weekend arrives." – Unknown
"Keep calm. It's only Wednesday. We still have two more days to go." – Unknown
"The recipe for having a great Wednesday or a great week is making sure we work a job that we love, and which brings us joy and fulfillment. When we do things we love, nothing feels like work, and each day is a delightful journey." – Unknown
More to read:
Happy & Positive Wednesday Quotes to Give You a Needed Boost
Let's be happy and positive this Wednesday. We need it as we are only half way through the week. But the weekend is close!
"Happy Wednesday Fam! Dream big, live courageously, communicate honestly, be mindful, act with kindness, and spread love today and every day!" – Tracey Edmonds
"Worry-free Wednesday! Because worry is like a rocking star: it gives you something to do but never gets you anywhere." – Unknown
"Wednesdays will always bring smiles for the second half of the week." —Anthony T. Hincks
"Even though Wednesday is in the middle of the week, there is no reason why we shouldn't enjoy it to the maximum. Simple things such as a clear blue sky, a few minutes of peace and calm, and an accomplished task can brighten our mood." – Unknown
"Wednesday is a day to help others celebrate life. You and only you are accountable for what you extend and give to others. One smile not only increases your value, but it gives joy to each person you meet." – Byron Pulsifer
"It's Wednesday! I'm breathing. I'm healthy. I'm truly blessed. I'm grateful for this day." – Unknown
"Let Wednesday put a rainbow into your life." – Anthony Hawes
"Wednesday will be amazing so wake up and smile." – Unknown
Funny & Sarcastic Wednesday Quotes to Laugh Away Your Worries
So many funny remarks about Wednesday – who knew? The complaints about it being almost as bad as Mondays seem to be a theme. And a lot of coffee and wine drinkers seem to be writing these…
"I always give 100% at work: 10% Monday, 23% Tuesday, 40% Wednesday, 22% Thursday, and 5% Friday."​ – Unknown
"This must be the Mondayest Wednesday ever." – Unknown
"The only way I can get through Wednesday is by avoiding people who call it Hump Day." – Unknown
"To be honest, I'd rather be drinking coffee on my unicorn than whatever this Wednesday business is." – Kevin Eubanks
"The 'W' in Wednesday stands for wine." – Unknown
"I did Monday and Tuesday. I would like to move straight to Friday now." – Unknown
"Wednesday: it's almost, sorta, kinda, close to, just about nearly the weekend…" – Unknown
"Did you say, it's only Wednesday? Can I have more coffee please?" – Unknown
"Happy Hump Day! At least you're at the top of the hill! Enjoy the roller coaster ride down to Sunday! Then just get back in line!" – Sotero M Lopez II
"Wednesday. Still not Friday." – Unknown
"Always keep a bottle of wine in the fridge for a special occasion. You know, like Wednesday." – Unknown
"Nothing ruins Friday more than realizing that today is Wednesday." – Unknown
"I hate Wednesdays that feel like Mondays when I wish that they were Fridays." – Unknown
Good Morning Wednesday Quotes to Spread the Positivity
Good Morning is wished on every day of the week and the third day can't be missed. These are some of the wishes and images you can use to make someone's day start with a bit more positivity.
"Good morning. Have a wonderful Wednesday! I wish you the best of luck for this week!" – Unknown
"Good Morning! Part of me is thinking 'Wow, it's Wednesday already' and the other part is thinking 'What do you mean, it's only Wednesday?!" – Unknown
"Good morning let's start Wednesday morning out with a smile." – Unknown
"Good morning. Have a beautiful Wednesday!" – Unknown
"Each morning is the open door to a new world—new vistas, new aims, new plans, and new things… Wednesday morning is no less." – Unknown
"Good morning, all you need is love… and a little coffee. Happy Wednesday!" – Unknown
"Rise and shine, it's Wednesday." – Unknown
Wednesday Wisdom – The Day to Share Your Favorite Wisdom Quote
Wednesday is known for sharing wisdom quotes. It has became a tradition long ago to share your wisdom with the hashtag #wednesdaywisdom. Don't have any wisdom to share? It's okay to share your favorite wisdom quote, you can choose from our collection.
"If you don't stand for something you will fall for anything." – Peter Marshall
"It is the mark of an educated mind to be able to entertain a thought without accepting it." – Aristotle
"Mistakes are the portals of discovery." – James Joyce
"Wherever you are – be all there." – Jim Elliot
"It is never too late to be what you might have been." – George Eliot
More quotes to choose from: Wisdom Quotes
Meme: It's Wednesday my dudes
What might have been seen as a TikTok original trend is actually older than TikTok itself. It originated from an image on Tumblr and has since spread to all socials, TikTok included. As a meme it became popular on 9gag, where you can find it in both fresh and trending posts every Wednesday – it's a tradition now to post it. And as with everything it will be forever known as a TikTok trend, as TikTok takes over everything. "It's Wednesday my dudes," can be both a picture meme or a video. The iconic image of the frog and its screech of a voice included.
Wednesday hashtags for social media
You can accompany your messages, captions and image quotes with these most popular Wednesday hashtags:
#wednesdaymotivation #wednesdaymood #wednesdaypost #wednesdayhumor #wednesdayinspiration #wednesdayfun
You might also like: