Read the top iconic lines by Kanan Jarrus from the Star Wars Universe. We can find Kanan in Star Wars Rebels (2014 series) and Star Wars: The Bad Batch (2021 series).
Kanan Jarrus was a padawan of Jedi Order before the Order 66 went into effect and he was forced to go into hiding. He had to change his name from Caleb Dume to Kanan Jarrus. Along the way he met Hera Syndulla and the rest of the Ghost crew. In time he deserved to be become a Jedi Knight and train his own padawan Ezra Bridger.
Kanan Jarrus is voiced by the actor Freddie Prinze Jr.
Quotes are sorted in chronological order as they come up in the series.
1. "How about a little less attitude and a little more altitude?"
"Hera, how about a little less attitude and a little more altitude?"

(Star Wars Rebels – Ep. 1×01)
2. "Everyone's afraid, but admitting it makes you braver than most."
"Everyone's afraid, but admitting it as you just did makes you braver than most, and it's a step forward."

(to Ezra, Star Wars Rebels – Ep. 1×09)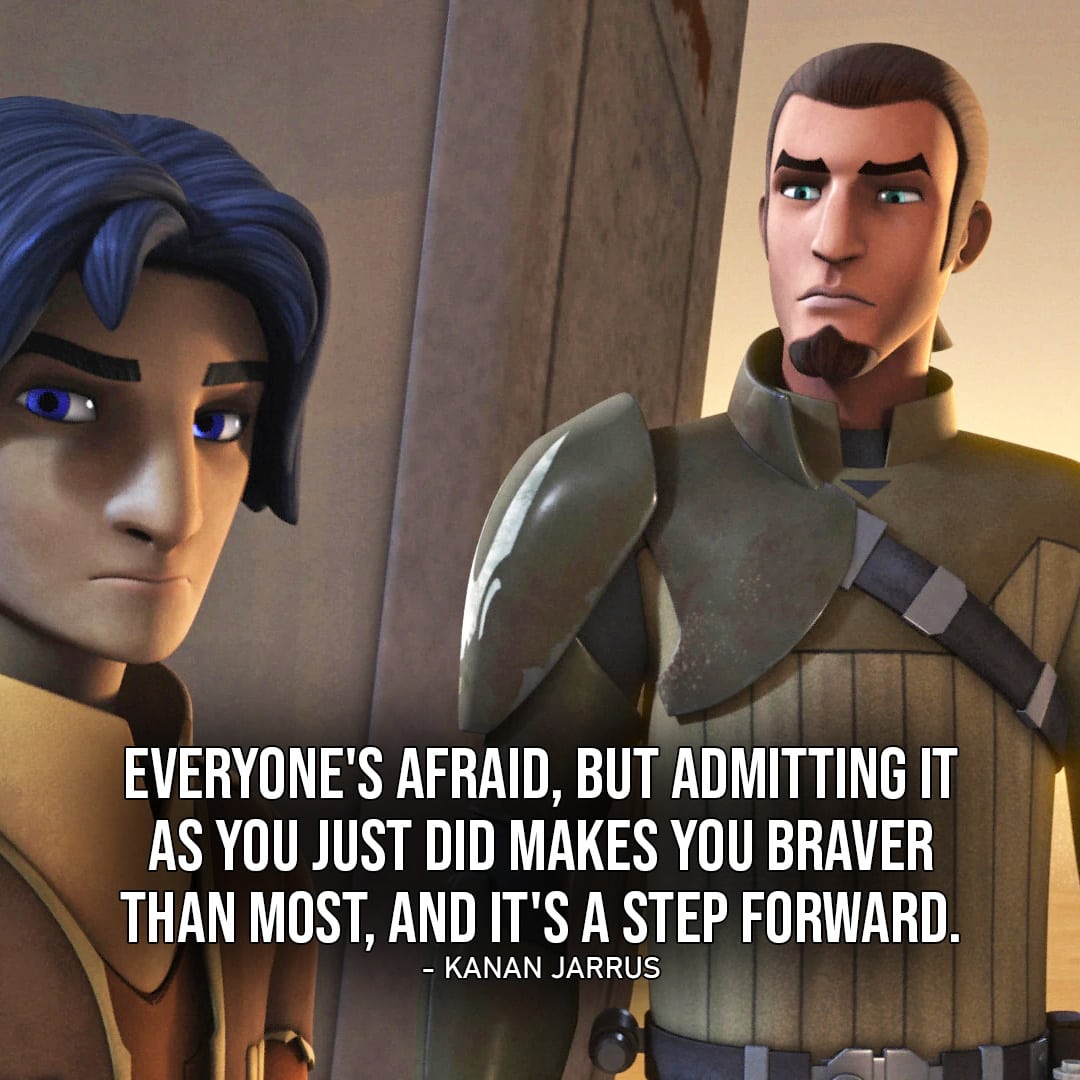 3. "'Rob from the Empire, give to the needy.' A noble cause."
"When you and I started together, it was, 'Rob from the Empire, give to the needy.' A noble cause. Now we're getting drawn into some kind of military thing. I don't like it."

(to Hera, Star Wars Rebels – Ep. 2×01)
4. "I survived one war. I'm not ready for another one."
"I survived one war. I'm not ready for another one. I saw what it did. To everyone."

(to Hera, Star Wars Rebels – Ep. 2×01)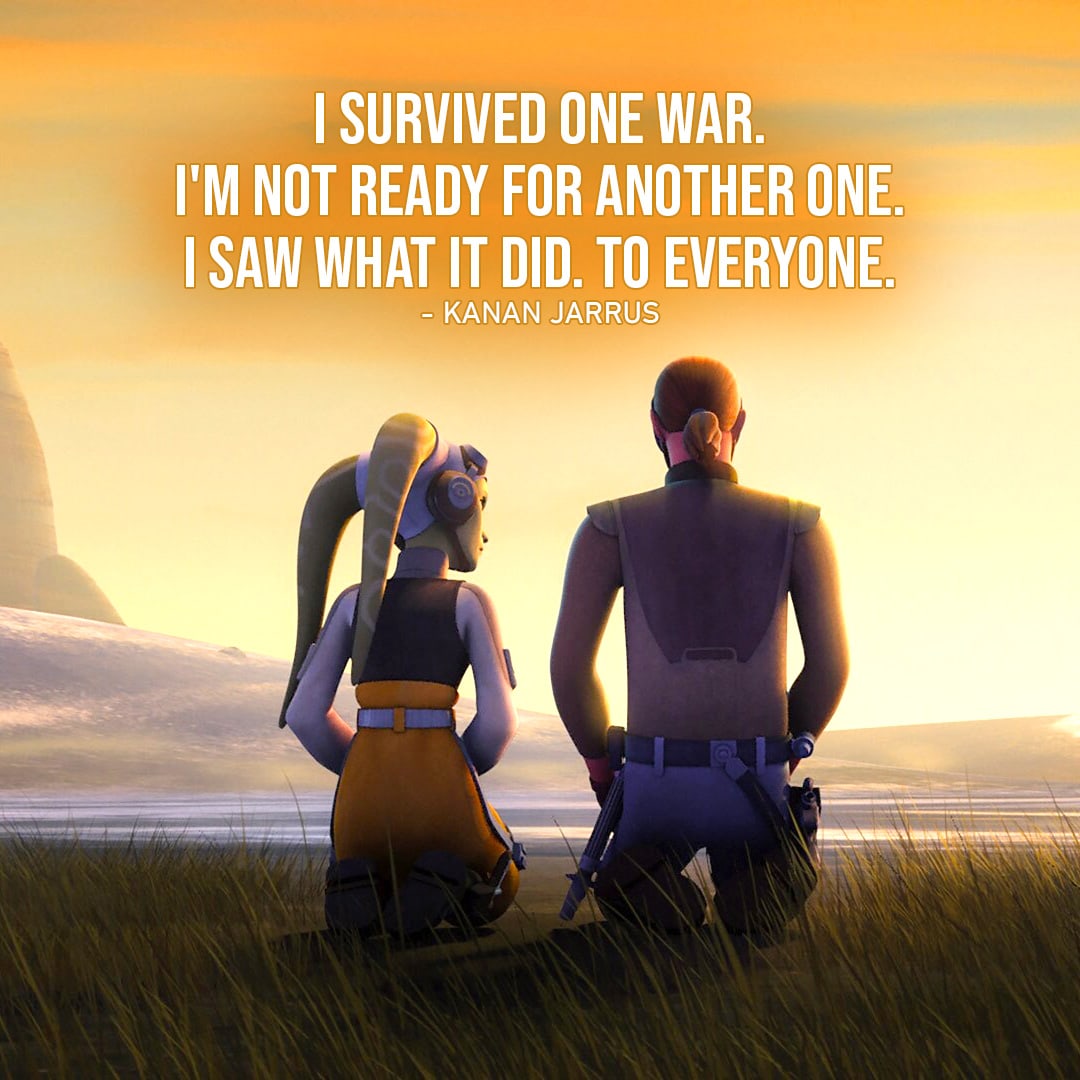 5. "The greater courage is knowing when not to fight."
"We must find the strength to fight, but the greater courage is knowing when not to fight."

Star Wars Rebels – Ep. 2×02)
6. "Acting out of anger offers quick results, but it's a trap!"
"Acting out of anger offers quick results, but it's a trap!"

(to Ezra, Star Wars Rebels – Ep. 3×01)
7. "Battles leave scars, some you can't see."
"Rex has been through a lot. Battles leave scars, some you can't see."

(to Ezra, Star Wars Rebels – Ep. 3×06)
8. "Not all of our allies share the same values."
"Not all of our allies share the same values or even fight the Empire for the same reason we do."

(to Ezra about Saw, Star Wars Rebels – Ep. 3×13)
9. "Some things are worth fighting for."
"'In the middle.' So you keep saying. Look… I tried to live that way once. Told myself the galaxy would go on with or without me. But when I saw innocents harmed and knew I had the power to do something about it, I couldn't just watch it all burn down around me! Some things are worth fighting for."

(to Bendu, Star Wars Rebels – Ep. 3×21)
10. "There's a future for us. But it's up to us to make it happen."
"I understand you feel defeated, but I've learned to see things differently. There's a future for us, one where we're all free. But it's up to us to make it happen."

(to Ezra, Star Wars Rebels – Ep. 3×22)
Continue Reading: