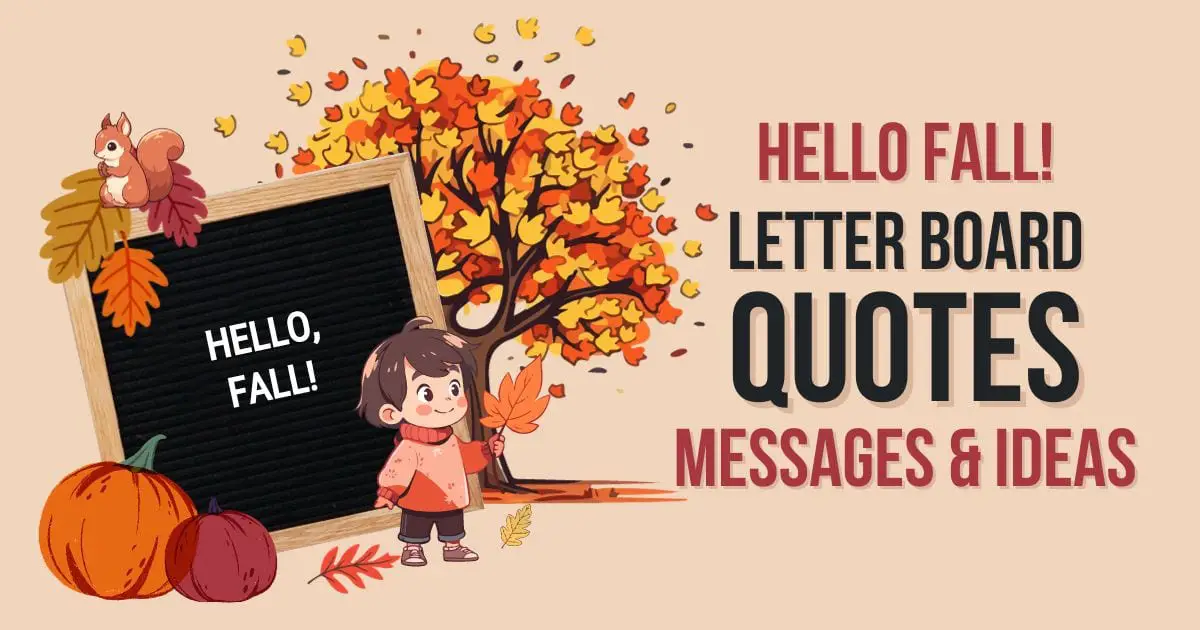 Hello, Fall enthusiasts! As the crisp breeze and warm hues take center stage, we welcome you to our collection of the most charming and captivating fall quotes and sayings.
These quotes aren't only perfect for your letter board; they're also ideal for adding a touch of autumn magic to your Instagram and other social media captions.
So, if you're ready to embrace the beauty of fall, join us on this journey through heartwarming, funny, and downright adorable quotes that capture the essence of this enchanting season.
You can find out what our absolute favorite quotes are, if you check out the illustrational images in this article. We always pick the quotes we think are the best for them.
The Perfect Short Fall Quotes for Your Message Board
Sometimes, a few words can perfectly capture the warmth of fall. In this section, we've curated the most delightful short fall quotes, tailor-made for your message board.
Whether you're looking for a simple "Happy Fall" or something more profound to greet your visitors, these quotes embody the essence of the season.
Embrace the fall aesthetic with these short and sweet messages that will make your letter board a beacon of happiness and warmth.
"Goodbye, Summer! Hello, Fall!"
"Hello Autumn."
"Leaves are falling. Autumn is calling."
"I love fall most of all."
"Happy Fall, Y'all!"
"So long Summer, hello Fall!"
"Be like fall and leave all your worries behind."
"'Tis the season to be fall-y."
"Fall, flannels, football."
"Fall Sweet Fall."
"Fall is in the air."
"Sweater weather."
"Pumpkin spice everything, please!"
"Ready to get our gobble on!"
"Feast Mode: On!"
"Stay Calm & Keep Loving Fall."
"And all at once, summer collapsed into fall." – Oscar Wilde
"Follow the Yellow Leaf Road."
"Falling into the best season."
"Autumn is a season for the soul."
"Another fall, another turned page…" – Wallace Stegner
"Let's do all the Fall things, but first coffee!"
"Football, Family & Flannels = Fall."
"Carving out time for Fall & family."
"Our bellies are full of food. Our hearts are full of gratitude."
"Grateful for friends, food, love & Fall."
"Autumn… the year's last, loveliest smile." – William Cullen Bryant
"Harvest blessings & turkey dressings."
"Hold me tight on these spooky fall nights."
"Life starts all over again when it gets crisp in the fall." – F. Scott Fitzgerald
"Cool hikes and pumpkin spice."
"I'm so glad I live in a world where there are Octobers."
"Pumpkin spice up your life."
"Every leaf speaks bliss to me."– Emily Bronte
"Blessed and pumpkin-obsessed."
"Apple picking and caramel dipping."
"Autumn shows us how beautiful it is to let things go."
🍂 Breaking news: Your letter board just declared itself the official spokesperson for fall. Get ready for an autumnal takeover!
Sarcastic & Funny Fall Letter Board Quotes
Fall isn't just about falling leaves; it's also about falling for the humor the season brings. Join us in exploring the lighter side of autumn with a collection of sarcastic and funny fall letter board quotes.
From witty jokes to playful sarcasm, these quotes are sure to bring a smile to your face and a chuckle to anyone who passes by. Spice up your message board with a touch of hilarity as we dive into the comical side of fall.
"Fall, is my second favorite F-word. Food is my first."
"The next two months will be spent proving that one can live solely on things made with pumpkin."
"It's offically 'wear a sweater in the morning & regret it by afternoon' weather."
"Going to gobble til we wobble!"
"Alexa, tell me this apple pie Is fat-free."
"Sweaters make everybody look better, right?"
"Eating pumpkin EVERYTHING is my self-care."
"Spending the season getting lit, says all the Fall candles"
"Pilates?! I thought you said pie and lattes!"
"Let's get lit! – Me to my Fall candles."
"Oh, look. Another glorious morning. Makes me sick!"
"Alexa, make Thanksgiving dinner!"
"Welcome to stretchy pants season."
"Leaves are falling, pumpkin spice is calling."
"The weather just went from 90 to 55 like it saw a state trooper."
"Baby, it's lukewarm out there."
"If I was a spice girl I'd be pumpkin spice."
"I was addicted to the pumpkin spice now I'm on the pumpkin patch."
"I love you more than Starbucks in the fall, but please don't make me prove it."
"You either love pumpkin season or you're wrong."
"It's the end of September someone wake up that guy from Green Day."
"You are the pumpkin to my spice."
"TGIF: Thank God It's Fall."
"If only Alexa could rake the leaves."
"Fall, the beautiful time of year between heat stroke and frost bite."
"I'm just here for the pumpkin pie."
"What month does every tree dread? Sept-timmmberrr!"
"Apple cider, nothing nicer."
"My blood type is pumpkin spice."
🍁 Your letter board called – it wants a pumpkin spice latte and a cozy scarf. Who knew boards had such high-maintenance fall vibes?
Fall Puns & Rhymes for Your Letter Board
Humor takes a poetic turn in this section as we present fall puns and rhymes for your letter board. Get ready for a symphony of wordplay that celebrates fallen leaves and the quirky charm of autumn.
These puns and rhymes are not just a treat for the eyes but also a delightful feast for the mind.
Add a touch of whimsy to your fall decor and let your letter board become a canvas for the art of linguistic playfulness.
"Oh Fall, please don't ever leaf me again."
"Happy Fallidays!"
"Pumpkin spice & everything nice."
"Oh my gourd, it's Fall!"
"Pumpkin spice, spice baby."
"Hello, gourdeous!"
"Belle of the Butterball."
"Stop, drop & pass the rolls!"
"You're the apple of my pie."
"Bone Appetit!"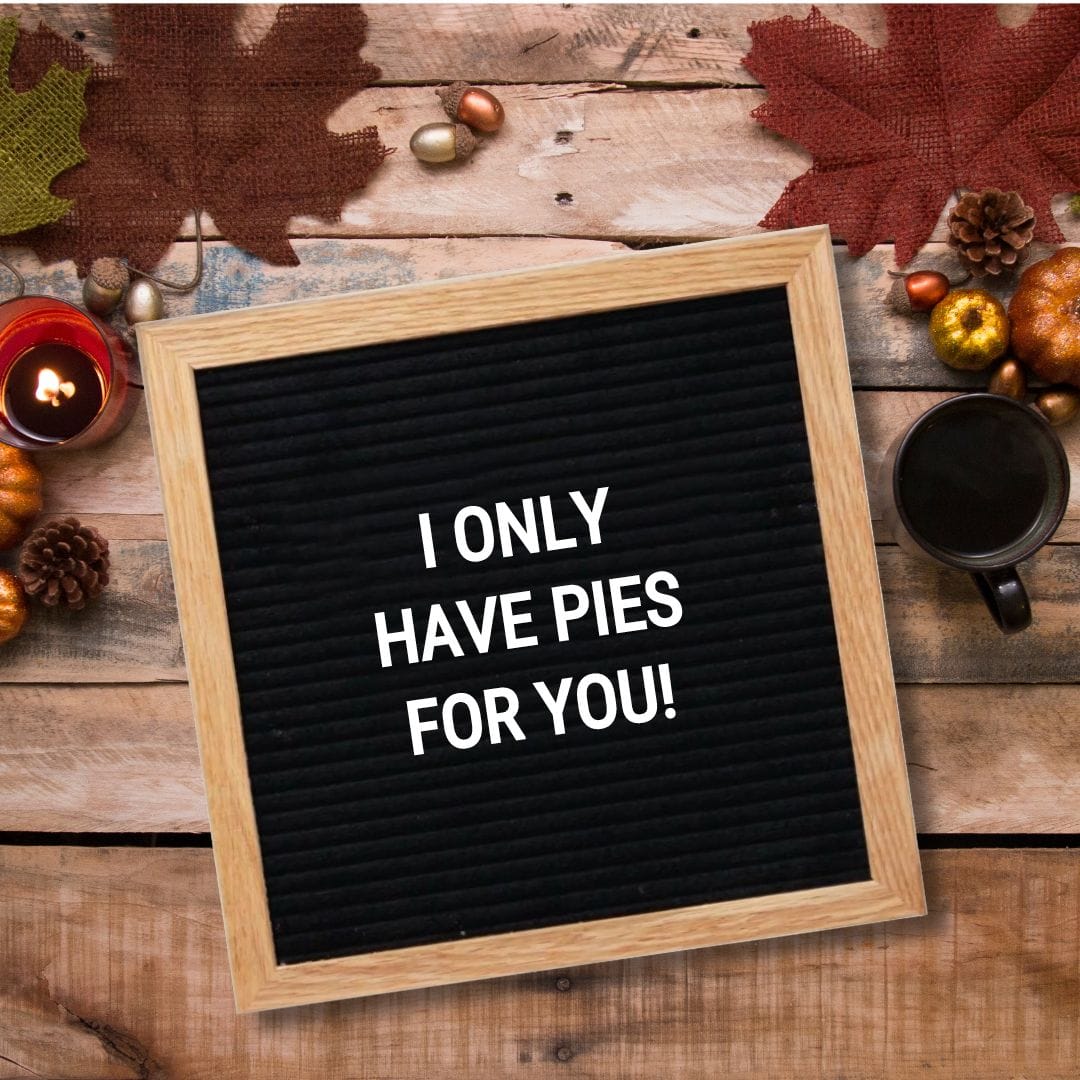 "I only have pies for you!"
"Hello, Gourdgeous!"
"Ringing in the Fallidays."
"My gourd, it's that time of year again!"
"Turkin' 9 to 5!"
"Spice, Spice, Baby!"
"Are you Fall real?"
"Let's give them pumpkin to talk about."
"Can't be-leaf this crew is all mine."
"I'm acorn-y person."
"Oh autumn, please don't ever leaf me again."
"Don't stop be-leafing."
"Leaves are falling & coffee is calling."
Cute Fall Letter Board Quotes to Put on Your Sign
Fall is the season of cozy sweaters, hot cocoa, and heartwarming moments. In this section, we bring you a collection of cute fall letter board quotes that capture the adorable side of autumn.
Whether you're looking for quotes to adorn your home or create a charming welcome sign, these messages exude the beauty of fall in the most endearing way.
Embrace the chill in the air and the beauty of fall with these utterly cute and charming quotes.
"My favorite color is Fall."
"What did one leaf say to the other? I'm falling for you."
"Alexa, turn on Fall please."
"Pumpkin kisses and harvest wishes."
"Pie for breakfast, lunch and dinner."
"Living apple-y ever after."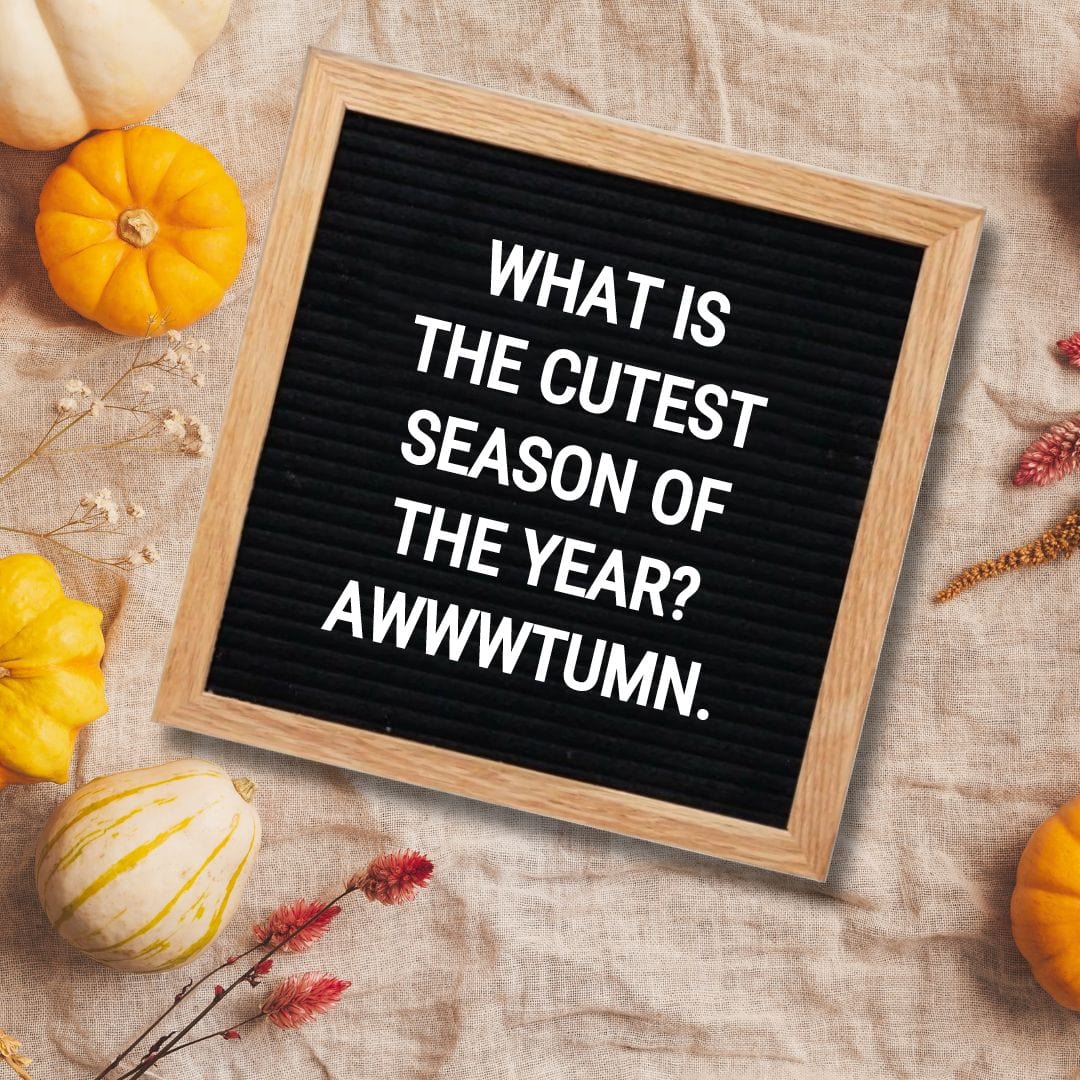 "What is the cutest season of the year? Awwwtumn."
"Autumn is a second spring when every leaf is a flower." – Albert Camus
"Channel the flannel."
"Woodness gracious."
"…And they lived apple-y ever after!"
"Let's get cozy!"
As the leaves change and the air turns crisp, we wish you a happy fall filled with moments of joy and inspiration.
Enjoy the season, share the warmth, and let these quotes be a reminder of the beauty that surrounds us during this magical time of the year.
Wishing you a season filled with cozy moments, pumpkin spice everything, and the simple pleasures that fall brings. Happy Fall! 🍂
PS: Did you manage to choose a quote for your letter board? Let us know in comments below, we'd love to know, which one was THE one for you!