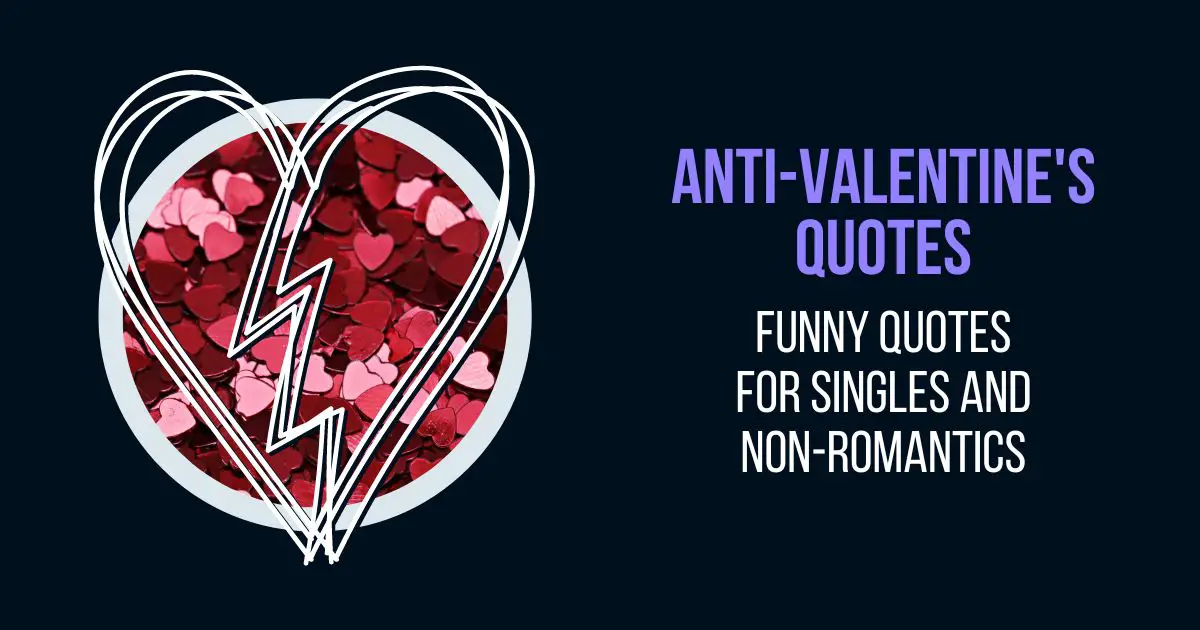 Not fond of celebrating Valentine's Day? You're definitely not alone. This holiday brings in mixed feelings, some might be preassured to buy gifts and celebrate, showing their love in some extravagant way… And let's be honest, who would like it, the pressure to show love…
What if you're not romantic? Or what if you don't want your love be squeezed into one commercial day? That's is why we have Anti-Valentine's Day. Let's fight the romantic atmosphere and look for a way to fight it with fun and sarcasm. One way could be to sprouse up your social media captions with some witty anti-Valentine's messages.
Whether you're in relationship, single, or somewhere in between, these snarkly quotes are a great way to let others know, you hate this holiday. So let's go ahead and let our sarcasm fly in this season of love!
Short Funny and Sarcastic Anti-Valentine's Day Quotes
First, we have here a list of short quotes about Valentine's Day with a funny and sarcastic twist for all the non-romantics. Let's show your feelings for the holiday, in a more subtle way than screaming "I hate Valentine's Day!"
These lines provide a twist on the usual sappy Valentine's Day wishes and sentiments, and they will make a perfect caption for social media posts. You can even use the images below to make them stand out even more – you're welcome to share them anywhere. Happy Anti-Valentine's Day to all the non-romantics out there!
"Love is in the air – try not to breathe! Happy Anti-Valentine's Day!"
"Instead of celebrating Valentine's Day this year, I'm celebrating Discount Chocolate the day after."
"You don't have to wait until Valetine's Day to tell someone how much they mean to you."
"Happy phony, romanticized, overly commercial, sucks to be single, pretend that it's love, day!"
"Let's replace Valentine's Day with a second Halloween."
"You make me weak in the knees. Just kidding… yesterday was leg day."
"Valentine's Day is when a lot of married men are reminded what a poor shot Cupid really is."
"If you're sad about being alone on Valentine's Day, just remember… Nobody loves you on the other days of the year either."
"Forget love, I'd rather fall into chocolate."
"Forget love, I'd rather fall into wine."
"Forget love, I'd rather fall into beer."
"Team No Valentine."
"Happy Valentine's Day to the person my ex is currently disappointing."
"Be my… drinking buddy!"
"I hope Cupid dies a horrible death."
"V is for Vodka, Not Valentine."
"R is for Rum, Not Romance."
"I like my chocolate dark, just like my heart."
"Roses are red, blah blah blah – WINE!"
"February 14th is just another day."
"Valentine's Day – I loathe you!"
"I'm not yours, you're not mine. Wanna be my anti-valentine?"
Funny Quotes about Valentine's Day by Famous Authors
There are also a few famous quotes about the antipathies towards the celebration of Valentine's Day. By the number of Anti-Valentine's Day quotes we were able to find, we noticed there seem to be more authors who love Valentine's Day than those who don't, but that doesn't mean the latter should be overlooked. It's possible that authors might be a bit hesitant to express their true feelings for the fear of angering the romantics…
If you're not a fan of Valentine's Day, don't be afraid to let your feeling be known – can you put it in a quote? Drop it in the comments, we would love to read them.
"Today is Valentine's Day. Or, as men like to call it, extortion day." – Jay Leno
"I wanted to make it really special on Valentine's Day, so I tied my boyfriend up. And for three solid hours, I watched whatever I wanted on TV." – Tracy Smith
"You're never alone on Valentine's Day if you're near a lake and have bread." – Mike Primavera
"Valentine's Day: the holiday that reminds you that if you don't have a special someone, you're alone." – Lewis Black
"The thing about Valentine's day is that people discover who are single and who to feel jealous of." — Faye Morgan
"Oh here's an idea: let's make pictures of our internal organs and give them to other people we love on Valentine's Day. That's not weird at all." – Jimmy Fallon
Quotes about Being Single for Valentine's Day and Singles Awarness Day
Did you know there is a important day or sort of holiday a day after Valentine's Day? It's Singles Awareness Day (also known as Singles Appreciation Day)! It is celebrated on 15th of February every year. It has started as a counter to Valentine's Day for singles and people who despise the commercial aspect of Valentine's Day.
The idea behind it is to prove that being single is not a bad thing, and you can be celebrated just as much as the people in realtion ship. So let's shove it to all the romantics, and let them know that singles too have a whole day dedicated to celebrate and appreciate the single life!
"Valentine's Day is for couples. Us singles have the other 364 days of the year to enjoy ourselves!"
"Yes, I'm single. No, I'm not available. Happy Singles Awareness Day!"
"Why fall in love when you can fall asleep?"
"Love disappoints. Tacos don't."
"Single and loving it. Happy Singles Awareness Day!"
"Single? Dumped? Dejected? Have a happy Anti-Valentine's Day!
"Yep, still single. Nope, still not interested."
"Single and not available."
"We're single and fabulous. Happy Singles Awareness Day, my friend!"
"Error 404: Love not found."
"Where have you been all my life? And can you please go back there? Thanks."
We hope that there sarcastic and funny quotes about Anti-Valentine's Day have brought a smile to your face and you found the one line perfectly describing your feelings. There are plenty of people who surely feel the same way, and these sayings are a great way to connect with them. So go ahead and share these quotes with your friends.
Do you have any other great quote fitting our anti-romantic and sarcastic athmosphere here? Drop it in the comments, we'd love to read some.
Happy Anti-Valentine's Day!