Enjoy the best quotes / moments from The Walking Dead' episode 'Wrath'.
'Wrath' is the 16th and finale episode of season 8. (s08e16)

If you're in need of refreshing your memory before jumping in the quotes, here is a short summary of the plot.
Plot summary
The communities join forces in the last stand against the Saviors as all-out war unfolds. (
IMDb
)
Top 10 The Walking Dead Quotes from 8×16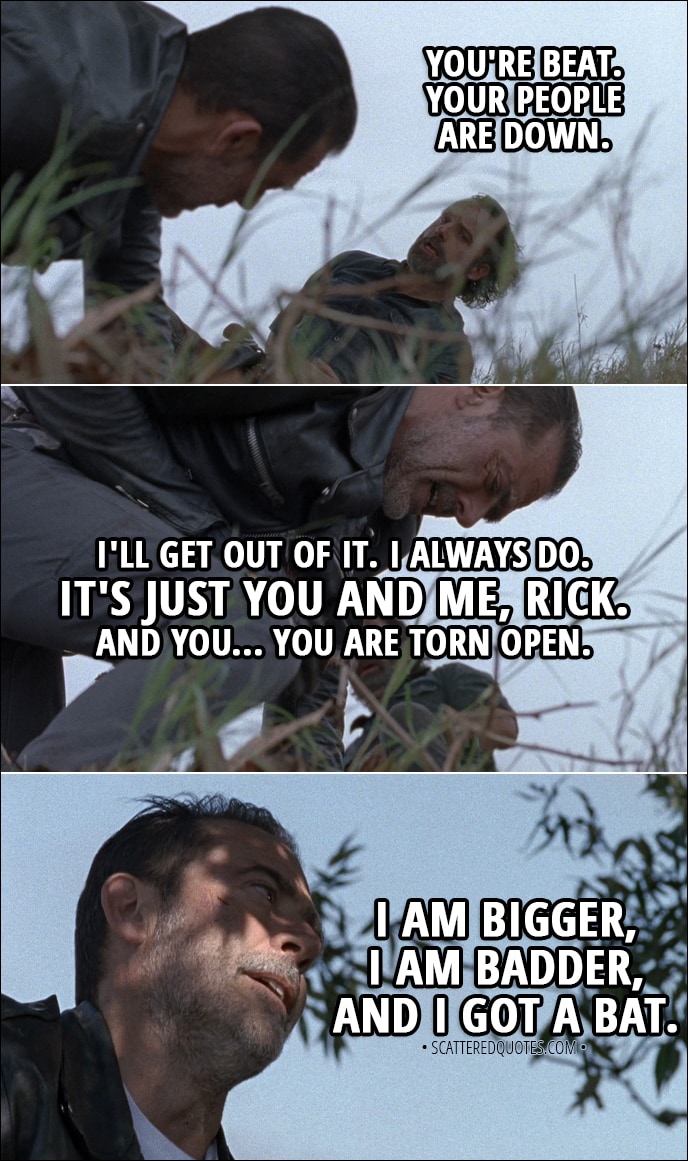 Sorted chronologically as quotes appear in the episode.
Negan (to Rick): Just so you know, eenie meenie miney moe, that was bullsh*t. I made a choice. I just didn't want to kill a kid's dad in front of him. Turns out that would've been the best thing I could've done. Had I done it, that kid might still be alive. 
Rick: You're beat. Your people are down.
Negan: I'll get out of it. I always do. It's just you and me, Rick. And you… You are torn open. I am bigger, I am badder, and I got a bat. 

Rick: We can have a future.
Negan: I know I will.
Rick: Just give me… Give me 10 seconds so I can… I can tell you how.
Negan: No.
Rick: Just give me 10 seconds for Carl.
Negan: Ten… nine…
Rick: Carl said it doesn't have to be… It doesn't have to be a fight anymore.
Negan: He was wrong. Eight…
Rick: No, no. He was right.
(Rick slits Negan throat with a piece of glass)
Negan: Look what you did. Carl didn't know a damn thing…
(Negan collapses on the ground, Rick is walking away)
Rick (to Siddiq): Save him.
Maggie: No!
Michonne: Maggie! Maggie! (Michonne stops her from going after Negan)
Maggie: No, he can't! No! No, he killed Glenn!
Rick: We have to. 

Rick: What happened, what we did… what we lost… there's gotta be something after. The ones who have 'em up, put your hands down. We're all gonna go home now. Negan's alive. But his way of doing things is over. And anyone who can't live with that will pay the price, I promise you that. And any person here who would live in peace and fairness… who would find common ground… this world is yours, by right. We are life. That's death! And it's coming for us. Unless we stand together! So go home. Then the work begins. The new world begins. All this… All this is just what was. There's gotta be somethin' after. 
Rosita: What happened to their guns? Was that you?
Eugene: It was. I introduced a sabotaging aspect to the manufacturing process unbeknownst to my colleagues, inspired by Gabriel's purposeful ineptitude. And a few things you imparted to me before I vomited on you. Ergo, I created a modicum of phooey for a full kablooey.
(Rosita punches Eugene)
Rosita: That's for the puke.
Eugene: Fair play. 
Rick: My mercy… prevails… over my wrath. 
Dwight: I know why I'm here. I know what I did to Denise. To you. To other people. And it doesn't matter why. I knew I'd have to face it… to pay, and I should. I'm ready. I got to see Negan taken down, and that's enough. Me? I'm a piece of sh*t. There's no going back to how things were. I'm sorry. Look, I'm so sorry. Please. Please.
Daryl: Shut up. You go, and you keep going. Don't you ever come back here again. If I ever see your face around here again, I'll kill you. You go out there, and you make it right. Find her. 

Maggie: Rick was right about not killing all the Saviors.
Jesus: He was right.
Maggie: He was. Not about Negan.
Jesus: So what does that mean, Maggie?
Maggie: We have a lot to do. We have to build this place up, make it work better than before, make it thrive for the people who live here. We need our strength, the ability to defend ourselves better. We have to have that.
Jesus: We will.
Maggie: But Rick and Michonne… Rick was wrong to do what he did. Michonne, too. So we're gonna bide our time, wait for our moment… and then we're gonna show him.
Daryl: Yeah. We will. 
Michonne: We're gonna make you watch what happens.
Rick: And this isn't about who you killed. No, we've… We killed people. No, this is about what you did to us, what you did to so many people. How you made people live for you, how you put people under your boot.
Negan: I saved people!
Rick: Carl pictured something better. All of us working together for something bigger than all of us. And you'll have a job, too.
Michonne: Yeah. You get to be a part of it. You'll be an example of what this will be.
Rick: We're not gonna kill you. We're not gonna hurt you. You're gonna rot in a cell.
Michonne: For the rest of your life, day after day.
Rick: You're gonna be evidence that we're makin' a civilization, something like what we had, something we're gonna get back.
Michonne: And you get to watch it happen. And you get to see how wrong you were about what people can be, about what life can be.
Rick: You, alive, is gonna help show people that things have changed, that keepin' you breathing earns another way, a better way. That's the part you'll play.
Michonne: So after all this… maybe you're good for something. 

Rick: Dear Carl. I remember. I forgot who I was. You made me remember. I remember that feeling, walking with you that day. Like I finally knew who I was for the first time in my life. Thing is, we were walking side-by-side, but you were bringin' me somewhere. Bringin' me here. Bringin' all of us to the new world, Carl. You showed me the new world. You made it real. I see it. I remember. Dad.
See all quotes from the series:
Your turn
• What did you think about this episode? And the whole season 8?
• What is your favorite quote from this list?
If you enjoyed this list, please consider sharing it. I'd appreciate it, thank you!