Enjoy the best quotes / moments from The Walking Dead' episode 'Honor'.
'Honor' is the 9th episode of season 8. (s08e09)

If you're in need of refreshing your memory before jumping in the quotes, here is a short summary of the plot.
Plot summary
While in the sewer with the survivors from Alexandria, Carl recalls the moment when he was bitten by a walker while bringing Siddiq to Alexandria; the time he spent with his sister Judith and the letters he wrote to his father and friends. When the Saviors leave the spot, Daryl leads the survivors to Hilltop while Rick and Michonne stay with Carl during his last moments. Meanwhile Carol meets Morgan outside Hilltop and they break in to save Ezekiel that is imprisoned of Gavin and the Saviors. (
IMDb
)
Top 10 The Walking Dead Quotes from 8×09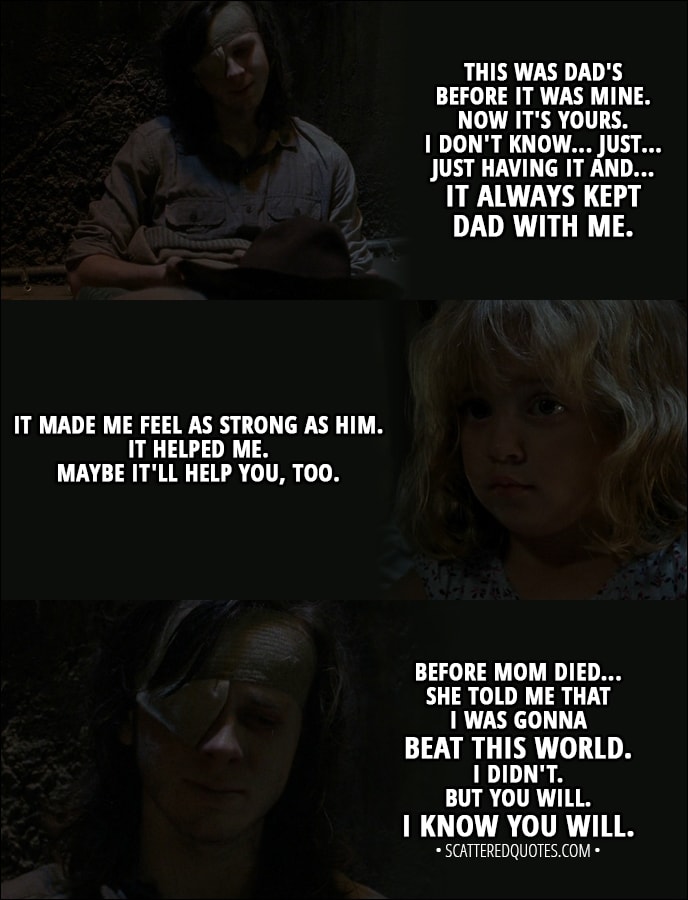 Sorted chronologically as quotes appear in the episode.
Nabila: You versus all of them?
Carol: Yeah.
Nabila: They don't stand a chance. 
Dwight: You sure going to Hilltop's the best plan?
Rosita Espinosa: You got a better one?
Dwight: All of you in one place, together…
Daryl Dixon: All of us together… We'll be their worst damn nightmare. 
Carl Grimes (to Judith): You be good, okay? For Michonne. For Dad. You gotta honor him. Listen when he tells you stuff. You don't have to always. Sometimes, kids got to show their parents the way. This was Dad's before it was mine. Now it's yours. I don't know… Just… Just having it and… It always kept Dad with me. It made me feel as strong as him. It helped me. Maybe it'll help you, too. Before Mom died… she told me that I was gonna beat this world. I didn't. But you will. I know you will. 
Daryl Dixon (to Carl): These people. You saved them all. That's all you, man. 
Gavin: This is it! It is too late. I'm the "author," you're the dead man, and that's how it's gonna be. You think I can be someone else? This is who I am. I live, you die… This is what this is!
Ezekiel: The petty compromises I made to avoid conflict were always done in the name of saving my people's lives. Now I realize… I was saving yours. No more. 
Carl Grimes: I don't want you to be sad after this.
Michonne: Carl…
Carl Grimes: Or angry. You're gonna have to be strong. For my dad. For Judith. For yourself.
Michonne: I will.
Carl Grimes: Don't carry this. Not this part. You're my best friend, Michonne.
Michonne: You're mine, too. You're mine. 
Carl Grimes: Back at the prison… when we got attacked… there was a kid, a little older than me. He had a gun. He was… He was starting to put it down, and I-I s… I shot him. He was… He was giving it up, and I… I just… I shot him. I think about him. What I did to him and how… How easy it was to just… kill him.
Rick Grimes: Carl, no. No. What happened… what you'd lost… All those things you had to… All those thing you had to do… You… You… You… You were just… You were just a boy.
Carl Grimes: And you saw it. What it did. How… How easy it got. That's why you changed… why you brought those people from Woodbury in… You brought them in, and we all lived together. We were enemies. You put away your gun. You did it so I could change, so I could be who I am now. What you did then… How you… How you stopped fighting… it was right. It still is. It can be like that again. You can still be like that again. 
Rick Grimes: I can't be who I was. It's different now.
Carl Grimes: You can't kill all of 'em, Dad. There's gotta be something after. For you… and for them. There's gotta be something after. I know… you can't see it yet… how it could be. But I have… You have a beard. It's… It's bigger… and grayer… Michonne's happy… Judith is older, and she's listening to the songs that I used to before… Alexandria's bigger. There's… There's new houses… crops… and people working. Everybody living… helping everybody else live. If you can still be who you were… that's how it could be. It could.
Rick Grimes: Carl. It was all for you. Right from the start. Back in Atlanta, the farm… Everything I did, it was for you. Then, at the prison, it was for you and Judith. It still is. It's gonna be. And nothing… Nothing is gonna change that.
Carl Grimes: I want this for you, Dad.
Rick Grimes: I'm gonna make it real, Carl. I promise. I'm gonna make it real. 
Rick Grimes: Carl… I'm sorry. I'm sorry I couldn't protect you. A father's job is to protect his son.
Carl Grimes: Love. It's just to love.
(Carl reaches for his gun)
Rick Grimes: No. No.
Michonne: Carl… It… It… It… It should be…
Carl Grimes: I know. I know. Somebody you love. When you can't do it yourself. But I still can. I grew up. I have to do this. Me. I love you.
Michonne: I love you, too.
Carl Grimes: I love you, Dad.
Rick Grimes: I love you, Carl. I love you so much. I'll make it real. I will. I will. 

Judith Grimes: Good morning.
Negan: Well, good morning to you, darlin'.
See all quotes from the series:
Your turn
• What did you think about this episode?
• What is your favorite quote from it?
If you enjoyed this list, please consider sharing it. We'd appreciate it, thank you!