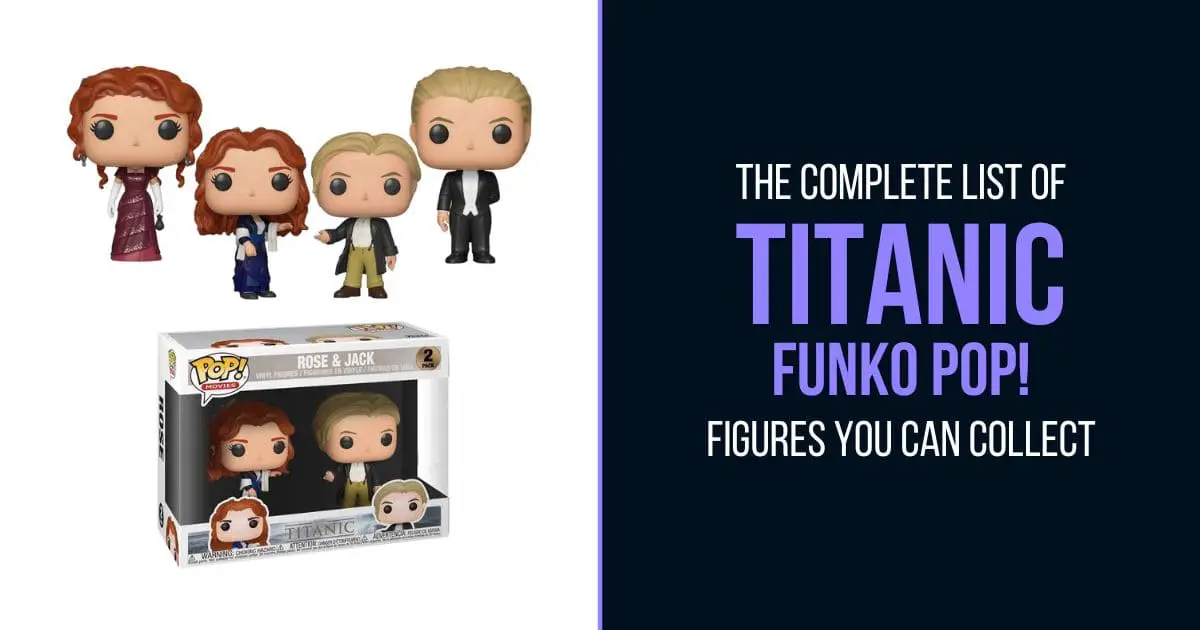 We have brought you the list of all Movies Funko Pop! figures released for one of the most popular movie – Titanic. With this list, which you can also use as a shopping guide, you can be sure you won't miss out on any figures. It can help you complete the whole collection of Titanic Funko Pops.
This guide includes all types of figures and other items released by Funko Movies. From their classic vinyl figures to packs and limited editions. As of now you can choose between two versions of both main characters – Jack Dawson and Rose DeWitt Bukater.
Copypasta of the complete list of Titanic's Funko collectibles can be found at the end of this page. You can use the quick navigation below to get there faster.
* Please note some of the links on this page are affiliate (your purchase might result in a small commission for us). For more information check our Affiliate Disclaimer. *
POP! Movies: Titanic List of Figures
From the famous movie Titanic Funko has brought us 2 standalone figures of Jack and Rose and one exclusive 2-pack on Jack and Rose in the evening attire. That makes together 4 figures you can collect from the Titanic Pop! Movies series.
Pocket POP!: Titanic
No Funko keychains from Titanic have been released yet, nor they've been announced.
POP! Mystery Minis: Titanic
No Funko Mystery Minis from Titanic has been released yet, nor they've been announced.
List of all Titanic Funko Pop! Figures (Full Checklist)
The list is sorted from the oldest to the newest figure released and put in their categories. The numbers represent the reference number for the figure in the POP! series.
Text list you can copy/paste anywhere:
Pop! Movies
705 Rose
706 Jack
2-Pack Rose & Jack
If you'd prefer a image checklist we've got you covered:
FAQ about TitanicFunko Pops
What stores carry Titanic Funko Pop!  figures?
You can find Titanic Funko Pops! in various shops that carry fandom-related items. Official Funko store: Funko.com. Stores that get the figures first or have often exclusives released: GameStop, Hot Topic, Entertainment Earth. For resellers, the most common would be Amazon. And for older Titanic figures or limited/special editions that are no longer on sale is the go-to site: eBay, where you can buy the figures from other collectors.
How many Titanic Funko Pops are there?
As of now, there are 2 Funko Pop! figures (Rose and Jack) for the Titanic movie and one 2-pack (Rose & Jack in one box).
Do you have any of these Funko Pops? Which one are you planning on buying next?
Don't forget to check the best of Titanic Quotes.