Summer is here, and it's time to soak up the sun and enjoy the warm weather.
Decorating your letter board with summer quotes is a great way to add a touch of the season to your home or office.
Whether you prefer short and sweet sayings or witty puns and rhymes, we've got you covered.
From funny and sarcastic to cute and inspiring, these quotes will add some summertime flair to your letter board.
So, let's dive in and explore the best quotes to use on your summer letter board!
The Perfect Short Summer Quotes for Your Message Board
First let's look at some of the short quotes about summer.
Whether you're looking for some basic short quotes or sweet phrases to display on your message board, we've got you covered.
Let the summer vibes flow through your letter board!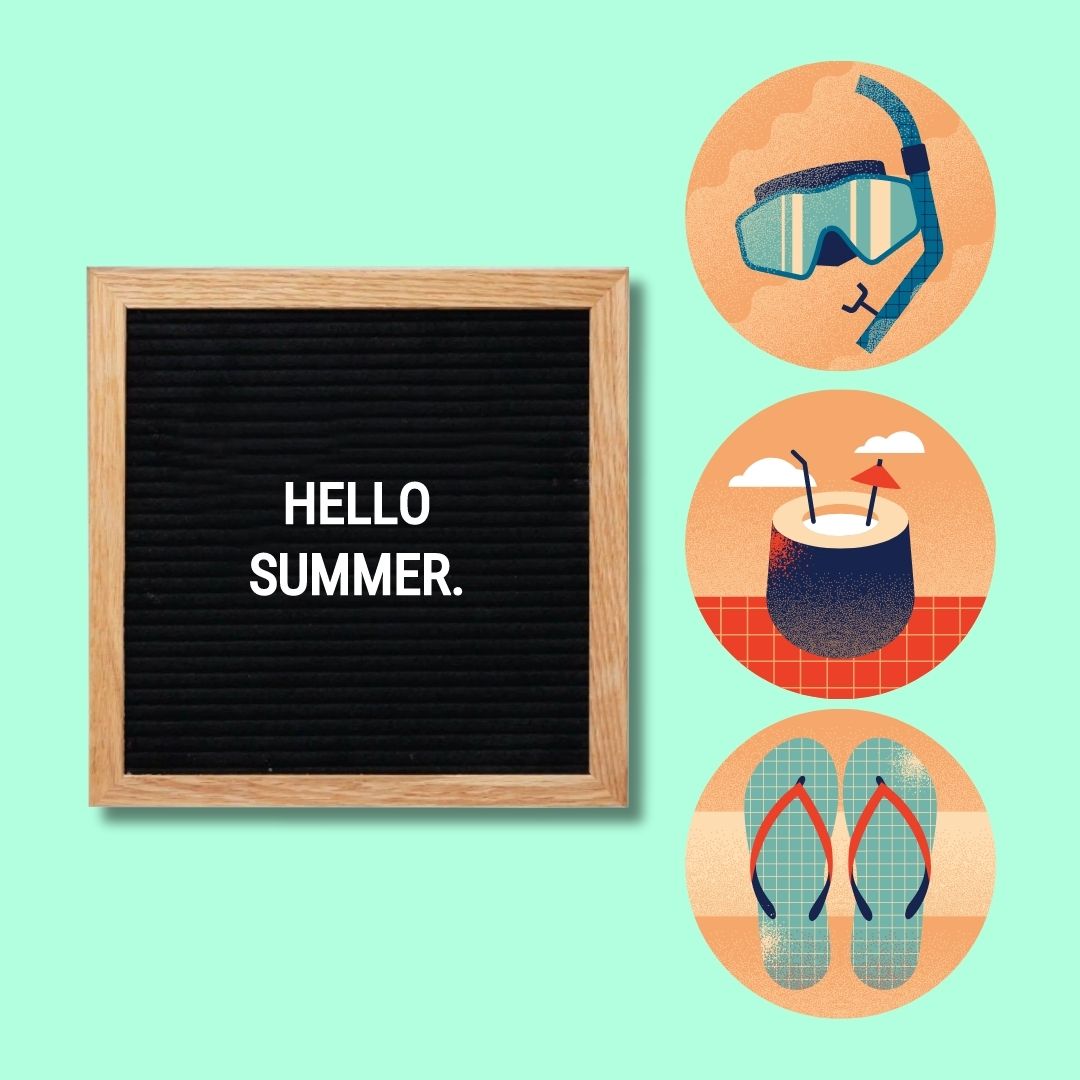 "Hello Summer."
"Happy Summer!"
"Summer is here!"
"Summer is finally here!"
"Welcome Summer"
"Summer vibes."
"Summer vibes only."
"Hello sunshine."
"Hello there sunshine."
"It's summer y'all!"
"Sunshine is the best medicine."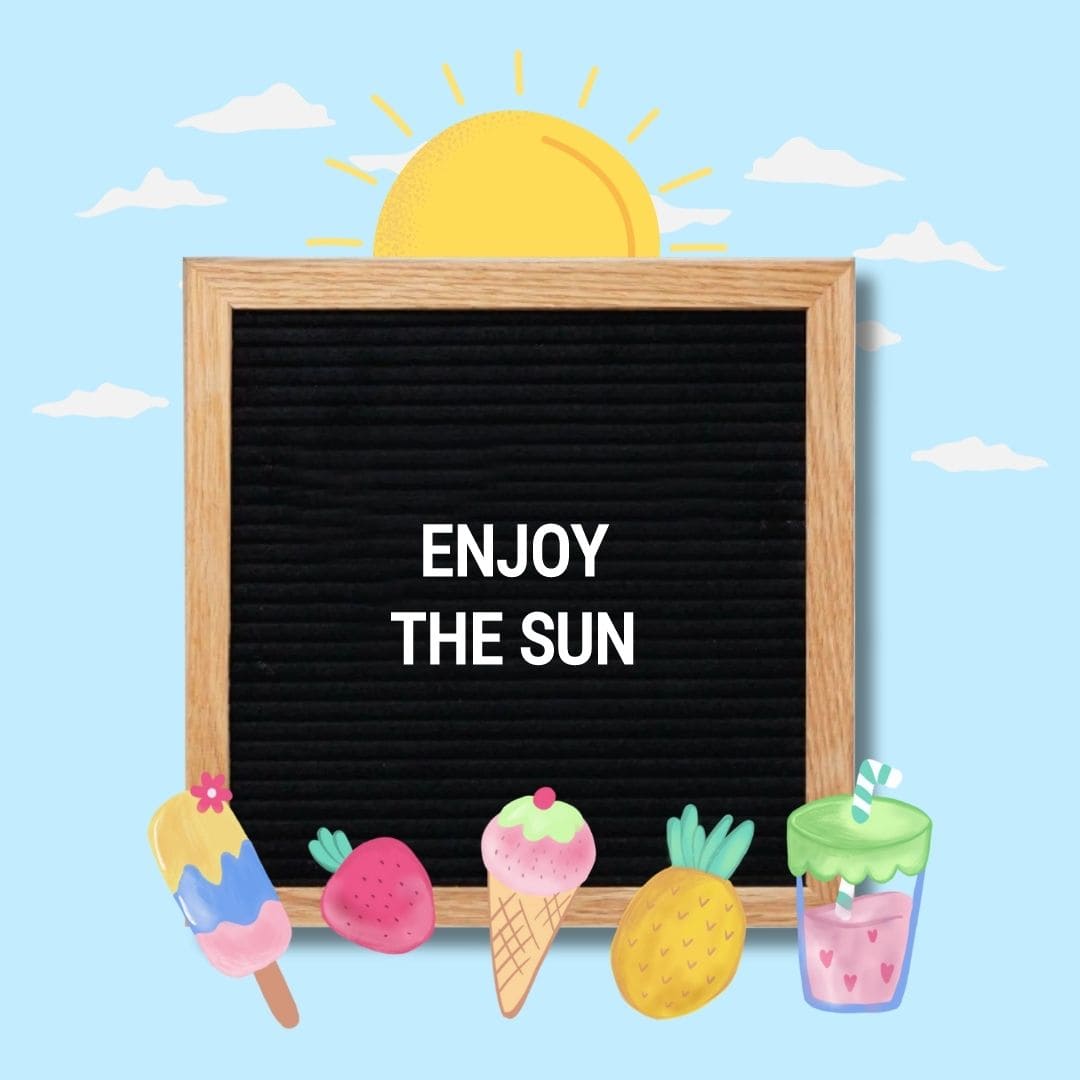 "Enjoy the sun."
"Summer is my favorite."
"Eat. Beach. Sleep. Repeat."
"Every summer has a story."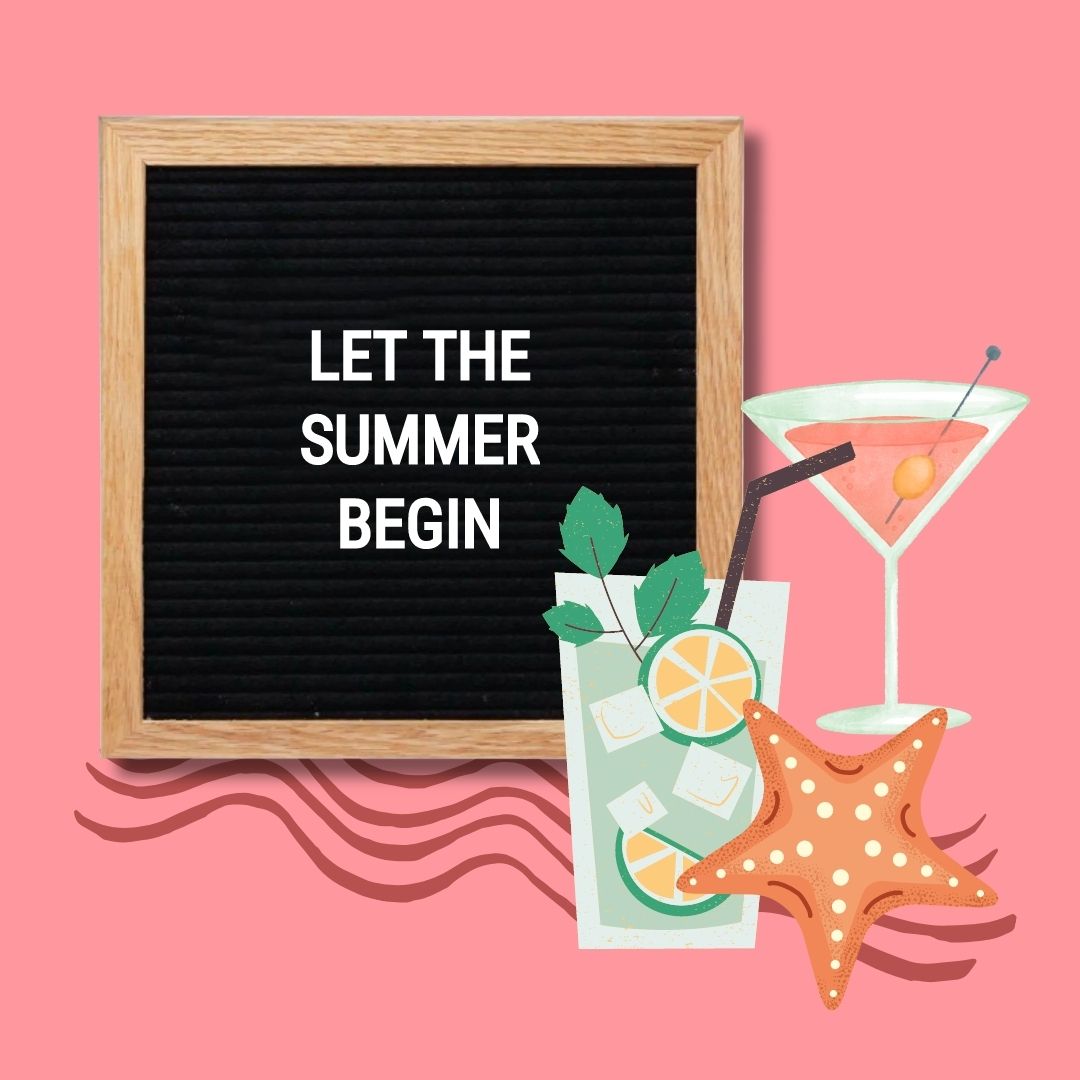 "Let the summer begin."
"Food. Friends. Sunshine."
"Summer is a state of mind."
"Let the Summer fun begin."
"Life is just right with the beach in sight."
"Sunrise, sunburn, sunset, repeat."
"Life is better in Summer."
"Sand and sun, summer has begun!"
Sarcastic & Funny Summer Letter Board Quotes
Let's inject some humor into our letter board messages. What are some funny quotes for summer, you ask?
Look no further than our selection of sarcastic and funny summer quotes. These messages are perfect for those who love to poke fun at the season and all of its quirks.
Whether you're enjoying the sun or just trying to beat the heat, these quotes will put a smile on your face.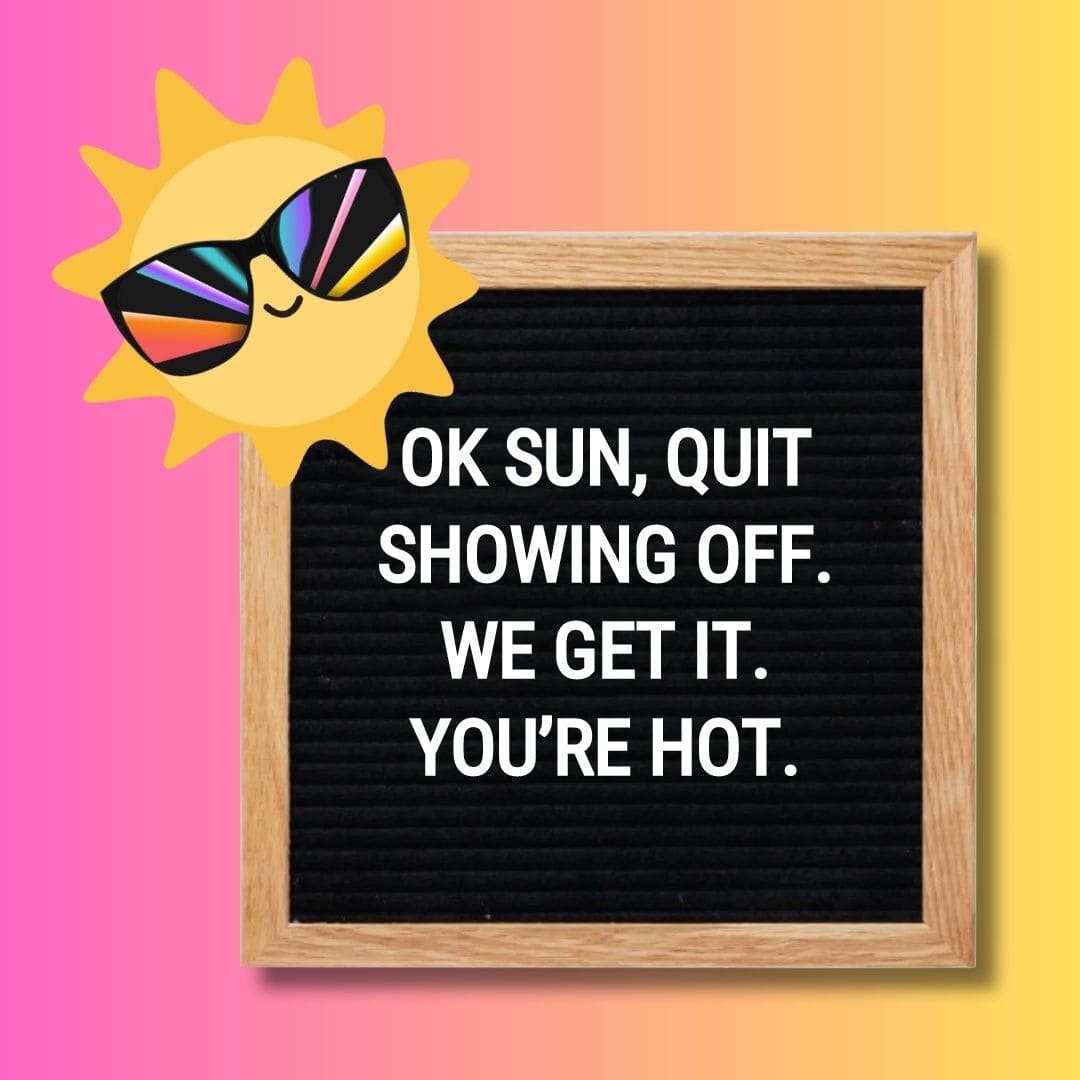 "Ok sun, quit showing off. We get it. You're hot."
"Tropical state of mind."
"Vacation mode."
"Be a flamingo in a flock of pigeons."
"Grillin' and chillin'"
"Sun's out, buns out."
"Good vibes and tan lines."
"Pool hair, don't care."
"If it requires a bikini, my answer is yes!"
"If you're not barefoot, you're overdressed."
"Life is better in a bikini."
"Alexa, skip to summer break."
"Today I googled: how to stop sweating."
"A balanced diet is an ice cream in each hand."
"It's unstick your thighs from plastic chairs season."
"On vacation, calories don't count."
"I'm a better person when I'm tan."
"Gone to the beach, be back never."
"If travelling was free, BYE."
"This señorita needs a margarita."
"Work hard, beach harder."
"Vacation calories don't count."
"You can't trust people who avoid the sun, they're shady."
"Done adulting. Let's be mermaids."
Summer Puns & Rhymes for Your Letter Board
If you love a good pun or rhyme, you'll love our collection of summer letter board quotes.
These messages are a fun way to add some humor to your home or office decor.
From witty puns about the beach to playful rhymes about the summer season, these quotes are sure to shine in your house.
"I need some vitamin sea."
"Feeling sunny."
"It's Summer? That's sun-believable!"
"Easy peasy Summer breezy."
"Please excuse my resting beach face."
"This Summer's going to be one in a melon."
"Is it Summer, or are Julying to me?"
"Girls just want to have sun."
"Tis the sea-sun to be jolly."
"Surf's up!"
"In summer, anything is popsicle."
"Licensed to grill."
"Tropic like it's hot."
"Make a wish upon a starfish."
"Beach, please."
"To infinity pool, and beyond!"
"One lucky sun of a beach."
"Sorry… I have resting beach face."
"Life's a beach so enjoy the waves."
"Aloha beaches!"
"Salt in the air, sand in my hair."
"Orange you glad it's summer?"
"A pineapple a day keeps the worries away."
"No one likes a shady beach."
"Summer lovin' had me a blast."
"Summer, you crazy sun of a beach!"
Cute Summer Letter Board Quotes to Put on Your Sign
For those who prefer a more cute and adorable aesthetic, we've gathered some of the most charming summer quotes for your letter board.
These quotes are perfect for adding a touch of summer fun to your classroom, kids' room, or any other space that needs a little extra sweetness.
From whimsical messages about the beach to inspirational quotes about the sun, these cute quotes are sure to bring a smile to your face.
Happy summer!
"Summer is in the air!"
"I was made for sunny days."
"I got sunshine in my pocket."
"Sunny days are here again."
"Find me under the palms."
"Rise and shine!"
"Kissed by the sun."
"Sandy kisses & seashell wishes."
"Love you to the beach and back."
"Sunshine on my mind."
"Take me to the beach."
"The best memories are made in flipflops."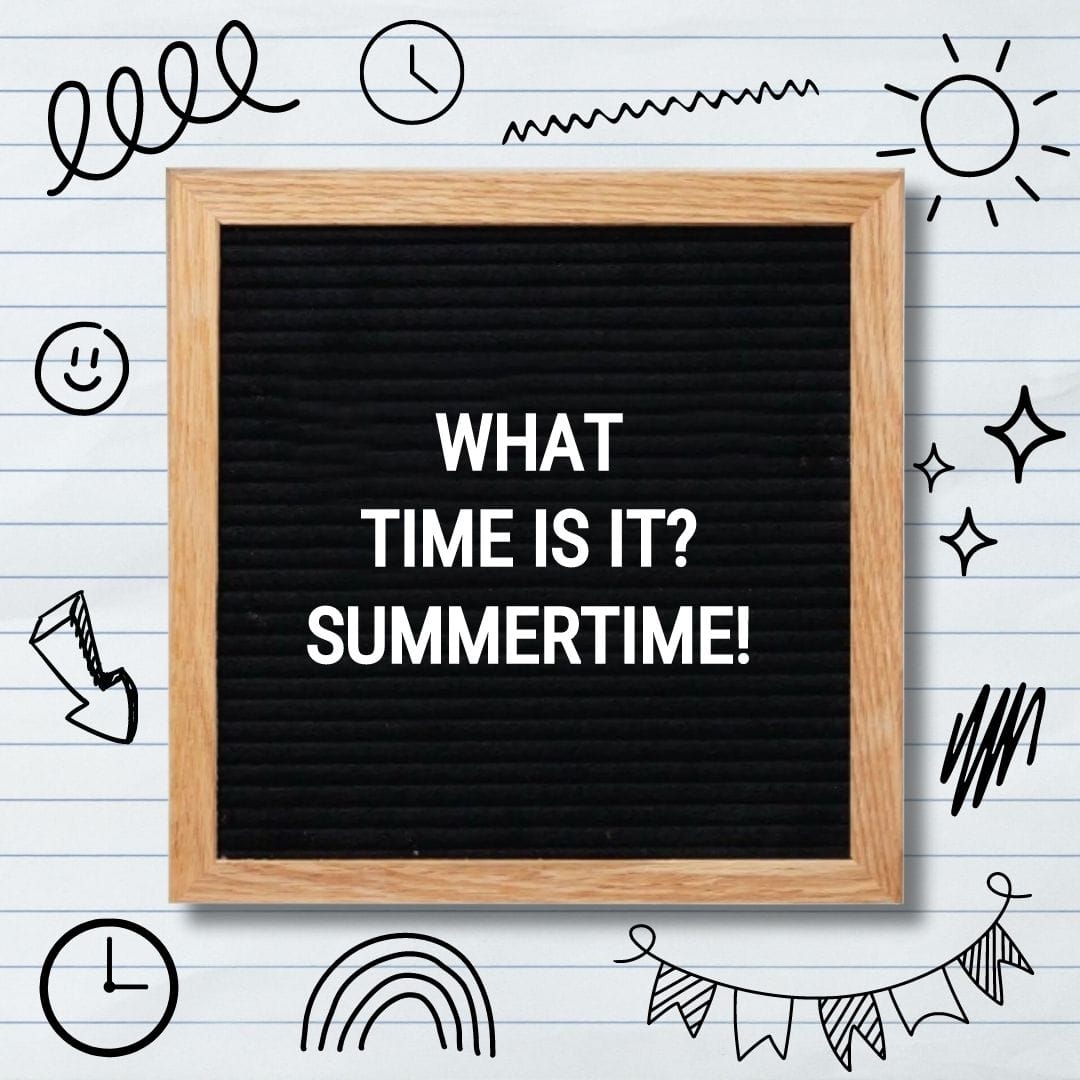 "What time is it? Summertime!"
"Sunsets are proof that endings can be beautiful."
"It's Summer time and we're feelin' fine."
"Sandy toes and a sunkissed nose."
"Good times & tan lines."
"Happiness is Summer."
End of Summer Quotes: Ready for Season Change
As summer comes to an end, it's time to start thinking about the transition to fall.
But before we say goodbye to the sunshine and warm weather, let's celebrate the season with some end-of-summer quotes for your letter board.
These messages are perfect for reflecting on all of the fun and memories of the summer season, and getting ready for the changes that come with fall.
Whether you're looking forward to the cooler weather or wishing summer would never end, these quotes will help you say goodbye to the season in style.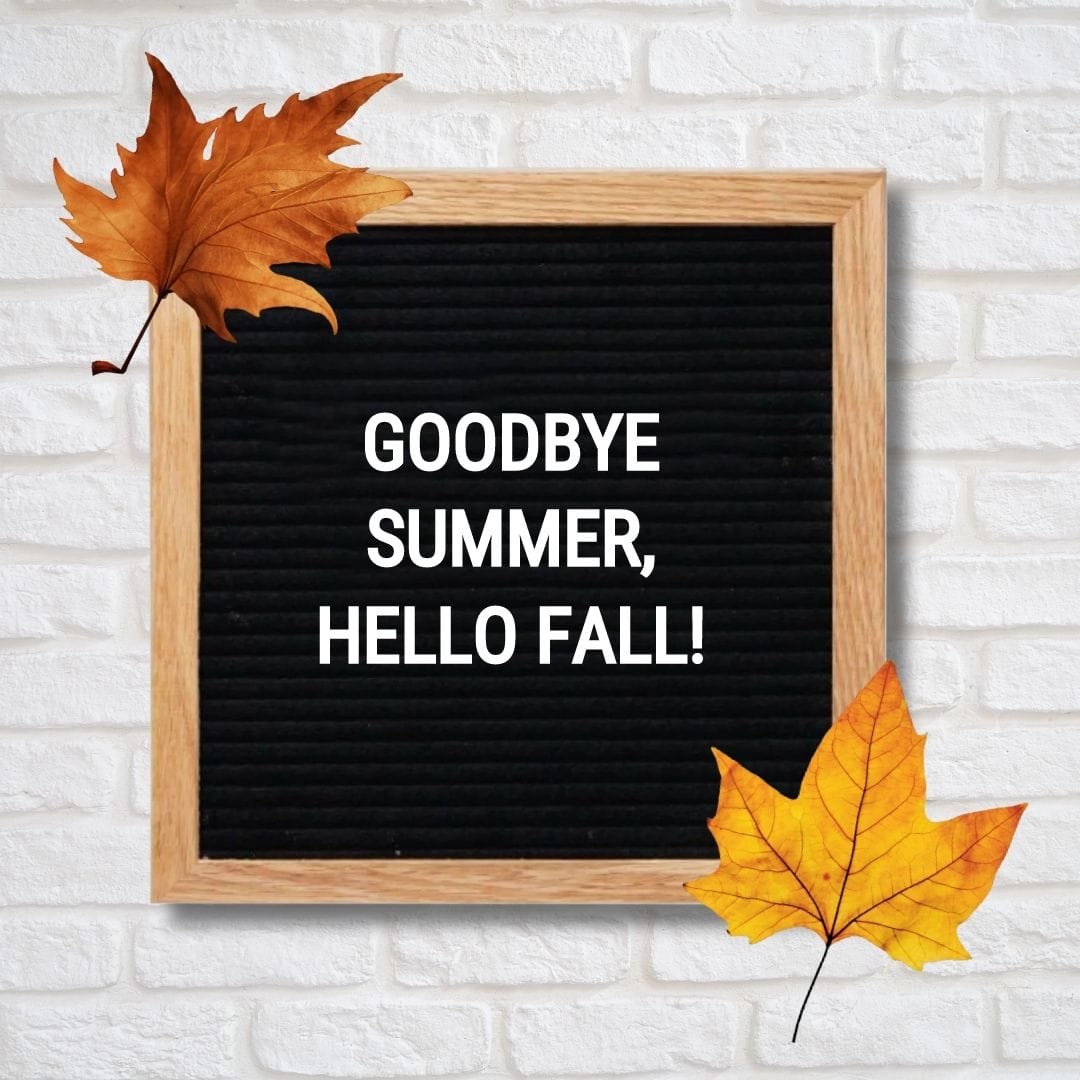 "Goodbye summer, hello fall!"
"August is like the Sunday of Summer."
"Summer is ending ALREADY?"
"I dream of a never ending summer."
"The end of summer, but not the end of fun."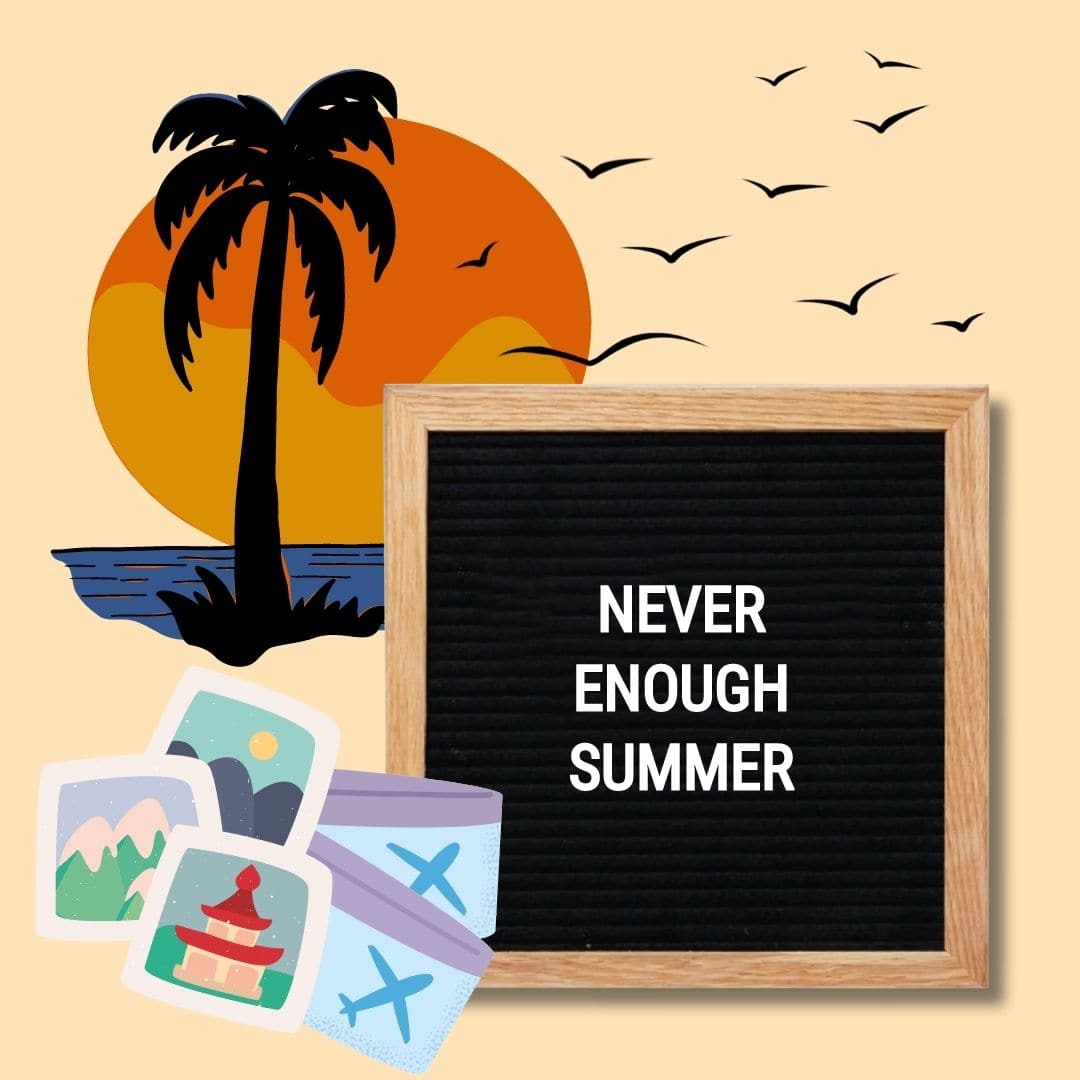 "Never enough summer."
"Please summer don't go!"
"Summer should get a speeding ticket"
"I can't believe it's the end of summer."
"Summer please don't end yet!"
"I didn't have enough summer!"
"Summer, come back! Now!"
"Summer, where are you?"
"Dear summer, I'll miss you!"
"Summer, it's been a blast. See you next year!"
We hope these summer quotes have inspired you to get creative and decorate your letter board with a fun and festive message.
Whether you opt for a short and sweet saying or a funny and sarcastic quote, your message board is sure to bring a smile to your face all summer long. So which quote did you pick?
We'd love to hear from you – share your favorite saying or any other quote about summer below!