The Best Harry Potter Quotes of All Time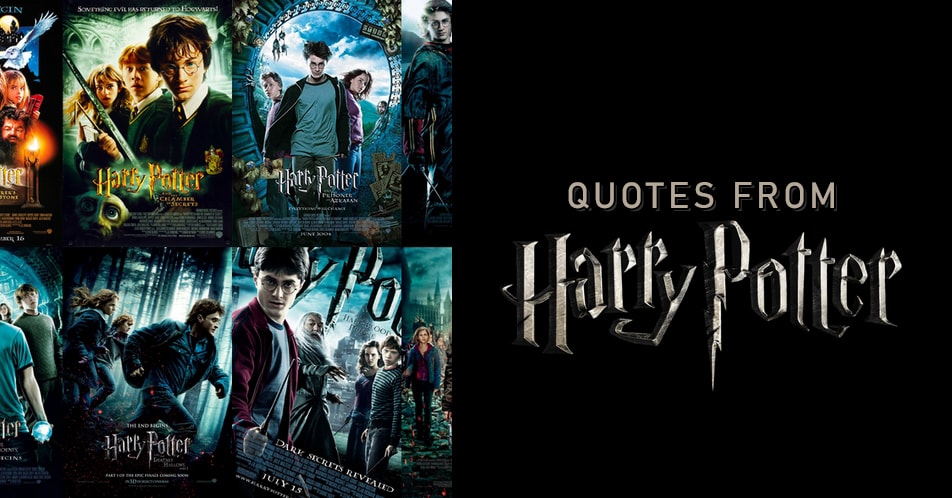 Looking for the best quotes from the Harry Potter Universe to sum up the series?
Seven books, eight movies that is the Harry Potter saga, but the Wizarding World is so much more than that. It was recently expanded by the Fantastic Beasts and our fun in the Harry Potter Universe is not gonna end any time soon.
Even though the quotes are spoken by the wizards, they are relatable and applicable to our lives in the Muggle world. Maybe that is why the saga became a cultural phenomenon, it is for anyone to enjoy even when set in the fantasy world.
Some of the classic lines will always stay with us. They teach us about life, acceptance, love, death, bravery, and friendship. No matter if we're reading the quotes for the first or thousandth time, they speak to something inside of us. They challenge us to be courageous and to value love and friendship above all in this world.
10 Most Iconic Quotes from the Wizarding World
For this shortlist, we've picked ten most recognized quotes from the Wizarding World. When it comes to the inspirational quotes, Albus Percival Wulfric Brian Dumbledore is a winner. The list could easily be only the quotes by him and no one would argue against it.
"Yer a wizard, Harry." – Rubeus Hagrid
"Always." – Severus Snape
"We've all got both light and dark inside us. What matters is the part we choose to act on. That's who we really are." – Sirius Black
"It takes a great deal of bravery to stand up to our enemies, but just as much to stand up to our friends." – Albus Dumbledore
"If you want to know what a man's like, take a good look at how he treats his inferiors, not his equals." – Sirius Black
"Do not pity the dead, Harry. Pity the living, and, above all those who live without love." – Albus Dumbledore
"I am what I am, an' I'm not ashamed. 'Never be ashamed,' my ol' dad used ter say, 'there's some who'll hold it against you, but they're not worth botherin' with." – Rubeus Hagrid
"It does not do to dwell on dreams and forget to live." – Albus Dumbledore
"Things we lose have a way of coming back to us in the end, if not always in the way we expect." – Luna Lovegood
"Numbing the pain for a while will make it worse when you finally feel it." – Albus Dumbledore
Not enough quotes for you? Continue your exploration of the word of Harry Potter quotes and see if you can find your favorite ones.
Harry Potter Movie Quotes
There are eight Harry Potter movies based on seven books. They were just unable to let go of the series and had to add one more movie. And they caused the "one book two movies" craze that was later adopted by many more production companies. But we got a bonus movie, so we're not gonna complain about it. It might have been frustrating back when the movies came out, but for the marathons now it doesn't matter anymore.
The movies are sorted by the release order. After clicking on the movie title you'll be brought to a page with the best quotes from the particular movie.
Harry Potter and the Deathly Hallows: Part 1

Harry Potter and the Deathly Hallows: Part 2
Fantastic Beasts Movie Quotes
Harry Potter Book Quotes
Harry Potter and the Sorcerer's Stone

Harry Potter and the Chamber of Secrets

Harry Potter and the Prisoner of Azkaban

Harry Potter and the Goblet of Fire

Harry Potter and the Order of the Phoenix

Harry Potter and the Half-Blood Prince

Harry Potter and the Deathly Hallows
Harry Potter Universe Characters
All Harry Potter characters on this list have a number of quotes on this site. The character usually has to have more than five quotes to be searchable. Characters are sorted alphabetically by the first name. Clicking the name of character will bring up the best quotes every said by him/her.
A-Z List of Characters