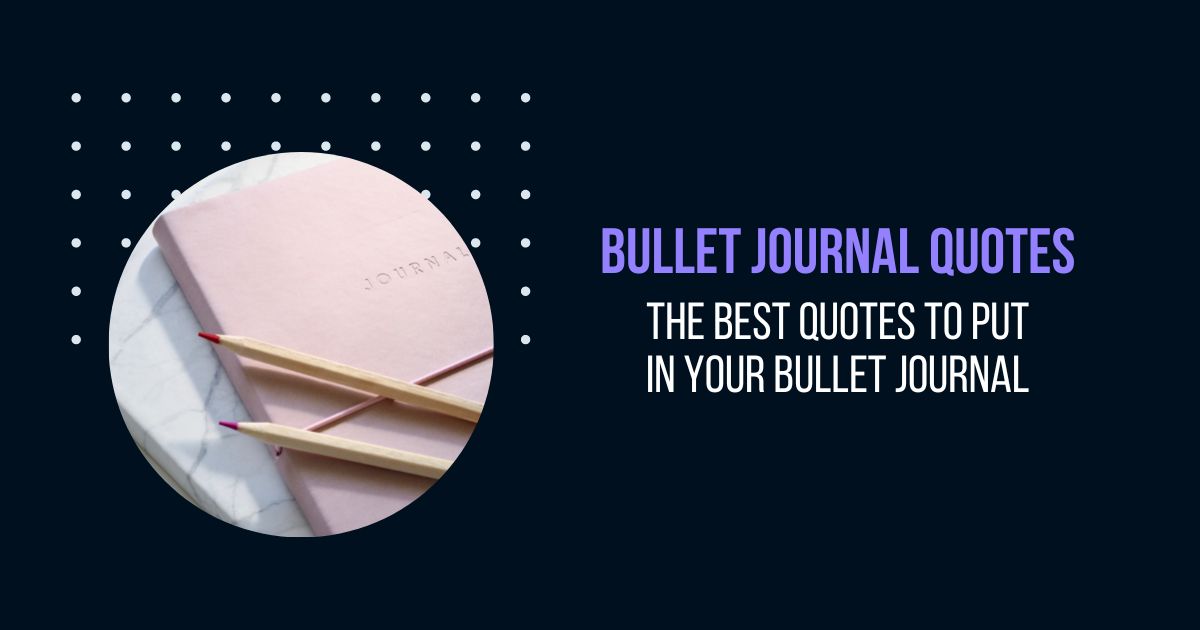 Make your own bullet journal page or sprinkle the quotes in your bullet journal whenever you need inspiration or motivation. Enjoy handlettering the quotes to make them unique and your own. It could a be great way to relax to build your own page of quotes. You can look back anytime to the page to get inspired or motivated.
Best Inspirational Quotes for Bullet Journal
Need ideas and inspiration? Try these quotes for your bujo.
"It's the possibility of having a dream come true that makes life interesting."
– Paulo Coelho
"Believe you can and you're halfway there."
– Theodore Roosevelt
"Always believe that something wonderful is about to happen."
– Unknown
"You can't use up creativity. The more you use, the more you have."
– Maya Angelou
"Whatever the mind of man can conceive and believe, it can achieve."
– Napoleon Hill
"Sometimes you win, sometimes you learn."
– John C. Maxwell
"You must learn a new way to think before you can master a new way to be."
– Marianne Williamson
"Keep your eyes on the stars, and your feet on the ground."
– Theodore Roosevelt
"Stay patient, and trust your journey."
– Unknown
"Too many of us are not living our dreams, because we are living our fears."
– Les Brown
"Magic is believing in yourself, if you can do that, you can make anything happen."
– Goethe
"Imperfection is a form of freedom."
– Anh Ngo
"There are no limits to what you can accomplish, except the limits you place on your own thinking."
– Brian Tracy
"The most effective way to do it, is to do it."
– Amelia Earhart
Read more: Inspirational Quotes
Best Motivational Quotes for Bullet Journal
Need help motivate yourself to work on your tasks and goals? Try these motivational quotes.
"You can, you should, and if you're brave enough to start, you will."
– Stephen King
"Dream big. Start small. Act now."
– Robin S. Sharma
"Be stubborn about your goals. Be flexible about your methods."
– Unknown
"The habit of persistence is the habit of victory."
– Herbert Kaufman
"Life is short. Let's do this."
– Unknown
"Mistakes are proof that you are trying."
– Unknown
"Setting goals is the first step in turning the invisible into the visible."
– Tony Robbins
"Push yourself, because no one else is going to do it for you."
– Unknown
"Done is better than perfect."
– Sheryl Sandberg
"Dreams don't work unless you do."
– Unknown
"Happiness is found when we stop comparing ourselves to other people."
– Unknown
"Doing the best at this moment puts you in the best place for the next moment."
– Oprah Winfrey
"Work hard & stay humble."
– Unknown
"Stay committed to your decisions, but stay flexible in your approach."
– Tony Robbins
"There will be haters and doubters, and there will be you, proving them wrong."
– Unknown
"Very little is needed to make a happy life; it is all within yourself, in your way of thinking."
– Marcus Aurelius
"Don't let someone who gave up on their dreams talk you out of going after yours."
– Zig Ziglar
"You are doing a freaking great job."
– Unknown
"If you cannot do great things, do small things in a great way."
– Napoleon Hill
"Sometimes later becomes never. Do it now."
– Unknown
"What you do today can improve all your tomorrows."
– Ralph Marston
"It always seems impossible until it's done."
– Nelson Mandela
"I have not failed I just found 10,000 ways that won't work."
– Thomas Edison
"Work hard, be kind, and amazing things will happen."
– Conan O'Brien
Read more: Motivational Quotes
Best Bullet Journal Quotes for any occassion
"Hello, month!"
– used on a monthly page, just add the actual month, e.g. Hello, January!
"Positive mind. Positive vibes. Positive life."
"New Day. New Beginning."
"You are some kind of wonderful."
"Stars can't shine without darkness."
"Create the life you always wanted."
"There are ups and downs in life."
"Do what makes your heart happy."
"Everything happens for a reason."
"Trust the magic of new beginnings."
"Stop worrying about things you can't control."
Read more: Quotes about months
Why add quotes to your bullet journal?
Relaxing time with the handlettering the quotes
Motivation and inspirational from reading the quotes
Decoration – quotes make your bullet journal prettier
Where to put quotes in your bullet journal?
Quote page: Multiple Quotes on one page – separate page for quotes. You can fill the whole page at once, on write your favorite quotes one by one as you find them.
Cover page: One Quote on the page – It can be the first page, where you usually don't know what to put. It can be a month's cover page, or be used as a divider between projects or months.
Sprinkle them everywhere – One quote a day to motivate you next to your todo list, under the calendar, one on a daily page (or weekly, or monthly). You can put them anywhere, even on the cover of the notebook.
How to use quotes in your bullet journal?
Handlettering – If you a creative or artistic person, you'll have a fun with handlettering.
Print them and glue them in
Turn them into stickers
Write them on a post it note or washi tape
What is your favorite quote you've put in your bullet journal?