Info
| | |
| --- | --- |
| Title: | The Witcher |
| Format: | TV Series |
| Genres: | Action, Adventure, Drama, Fantasy, Horror, Mystery |
| Produced by: | Netflix |
| Release Date: | 20 December 2019 |
Synopsis / Summary
The Witcher is an American fantasy drama web television series created by Lauren Schmidt Hissrich for Netflix. It is based on the book series of the same name by Polish writer Andrzej Sapkowski. The Witcher follows the story of Geralt of Rivia, a solitary monster hunter, who struggles to find his place in a world where people often prove more wicked than monsters and beasts. But when destiny hurtles him toward a powerful sorceress, and a young princess with a special gift, the three must learn to navigate independently the increasingly volatile Continent. (IMDb)
*Some of the links on this page are affiliate, that means they may result in a small commission for purchases, full details in our Affiliate disclaimer.*
Characters / Cast
Choose character to show quotes by her/him.
A-Z List of Characters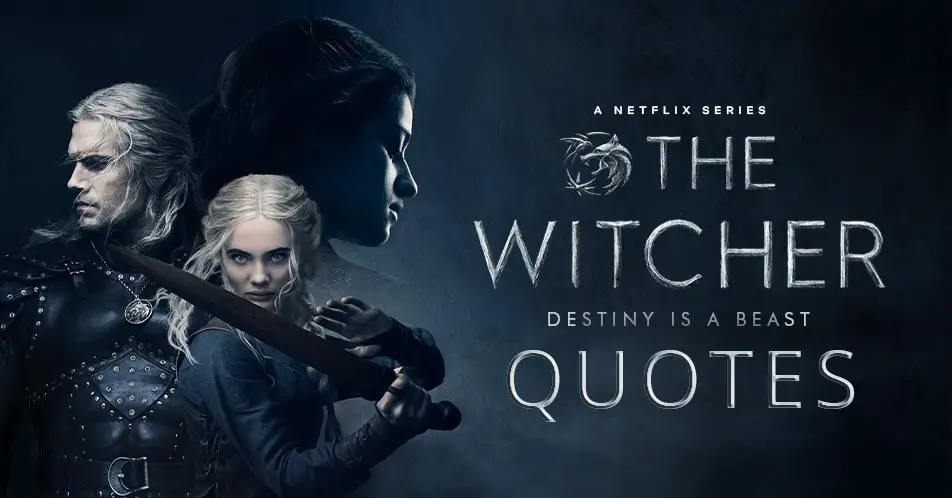 Top 10 Quotes from The Witcher: Season 1
Geralt of Rivia: Evil is evil, Stregobor. Lesser, greater, middling… it's all the same. I'm not judging you. I haven't only done good in my life either. But now, if I have to choose between one evil and another, then I prefer not to choose at all.
Jaskier: Respect doesn't make history.
Jaskier: Toss a coin to your witcher; O Valley of Plenty; O Valley of Plenty, oh-oh-oh; Toss a coin to your witcher; A friend of humanity
Jaskier (to Geralt): You never get involved. Except you actually do, all of the time.
Yennefer: Let's face it, you're a girl. Your mother was right about one thing. We're just vessels. And even when we're told we're special, as I was, as you would've been, we're still just vessels for them to take and take… until we're empty and alone. So, count yourself lucky. You've cheated the game and won without even knowing it. Sleep well.
Eithné (to Ciri): The burden of power… can be painful. Be vigilant. Always ask the right questions. Your destiny is in your own hands and no one else's.
Cahir: The time of the sword and the ax is nigh.
Ciri: I should've traded that ring for food. You're right, Clop. Or are you Clip? Gods, what kind of crazy person talks to a horse?
Tissaia (to Yennefer): It's your turn… to save these people, this Continent. This… is your legacy. Everything you have ever felt, everything you've buried… Mm… Forget the bottle. Let your chaos explode.
Geralt: People linked by destiny will always find each other.
Top 10 Quotes from The Witcher: Season 2
Geralt (to Ciri): Fear is an illness. If you catch it and you leave it untreated, it can consume you. You face it. Facing your fear is not easy. But I am here for you. I won't let anything happen to you.
Geralt: Witchers watch for answers.
Yennefer: You're born helpless so you find strength. Then that's all they want you for, to use you. And you find love, but it isn't real. It's… it's a wish someone made once, before they even knew who you were. And you… you find power, and it turns to ash in your hands!
Yennefer: The most important thing they teach you at Aretuza isn't magic! It's to make people in power believe anything you want them to. Do anything you want them to!
Jaskier: It's my job to put myself in other people's shoes. Even if they are, in your case, large, clunky, and, I don't know, probably full of snakes or something. I'm scared too. I'm scared that one day, the muses will stop speaking to me. Because who are we… When we can no longer do the one thing we were put on this Continent to do?
Geralt (to Ciri): Neither you nor I can just forget who we are. We can't kill our feelings. Our best chance is to kill the hatred that we may hold onto… And move on.
Jaskier (to Geralt): Last time we saw each other, you basically told me to f**k off. Remember? And you left me on a mountain. Have you seen these boots? I mean, I pretty much just slid all the way down that hill back to Caingorn.
Ciri (about Geralt): He's the father I never had. When I'm with him, I don't feel alone anymore.
Yennefer (to Ciri): When you have power like this, never apologize.
Ciri: Every time I think I can move forward, there's this force bringing me back into darkness.
More about The Witcher
» The Witcher Funko Pop: All Figures You Can Collect [Checklist]