Info
| | |
| --- | --- |
| Title: | The Great |
| Format: | TV Series |
| Genres: | Drama, Comedy, History, Biography |
| Produced by: | Hulu |
| Release Date: | 15 May 2020 |
Synopsis / Summary
"The Great – An Occasionally true story." A royal woman living in rural Prussia during the 18th century is forced to choose between her own personal happiness and the future of Russia, when she marries an Emperor. (IMDb)
Characters / Cast
Choose character to show quotes by her/him.
A-Z List of Characters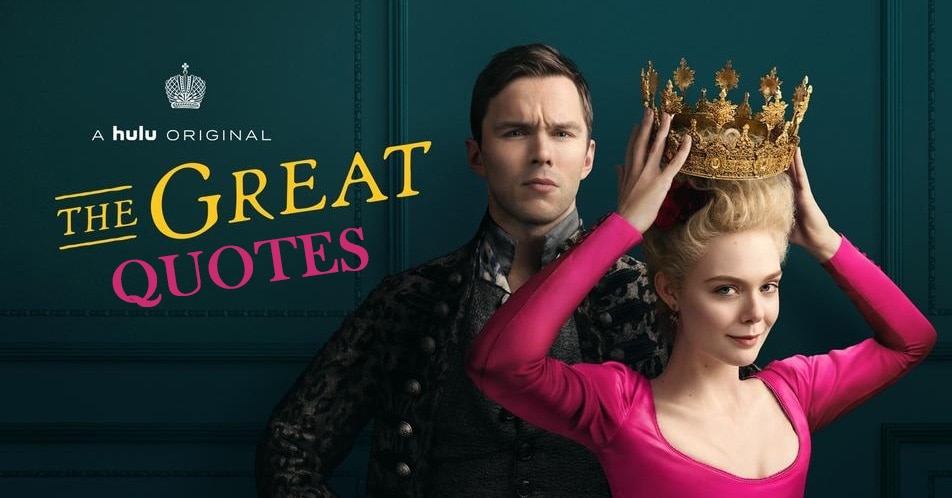 Top 10 Quotes from The Great series
She gave me a twig. She's not another inbred, is she? – Peter (to Archie – Ep. 1×01)
No, you don't talk, my love. – Peter (to Catherine – Ep. 1×01)
I think if God really loved women, we'd lay eggs. – Catherine (about pregnancy – Ep. 2×01)
Toosh. Eh. I always forget the "eh." – Peter (Ep. 2×01)
Let it go. It is a storm. They will never stop coming, but pass through and away. They always will. – Elizabeth (to Catherine – Ep. 2×02)
God would not constrain our hearts, and nor shall I do Him the insult of doing it. I will not constrain people's love for a deity, for it traps their hearts in fear and I will not lead a land such as this. – Catherine (Ep. 2×02)
When you get to France, close your legs and open a book. – Catherine (to Georgina – Ep. 2×03)
I forgot something in the State Room. If you'll excuse me before I have to make up what it is. – Marial (Ep. 2×04)
This is Russia. We hope for the best, expect the worst, and don't get too exercised about either eventuality. – Elizabeth (Ep. 2×08)
Huzzah! – Everyone (repeated in many episodes)
What does "Huzzah" mean? (definition)
"Huzzah!" We can hear this exclamation a lot in this series, we can say this is the quote for the show. It gets said a lot. When drinking, celebrating, or just being happy. But what is the definition and where it comes from?
"Huzzah" or "Huzza" is used as an exclamation. It expresses approval or delight. The most common varieties of this phrase are "Hurrah" and "Hooray".
There is also a question of whenever is this phase historically accurate and the answer is somewhat. In this article they compare it to the exclamation "Ura!" that Russians do say. And this might have been changed to "Huzzah" so it fitted the show better.