Enjoy going through the collection of the best quotes from The Vampire Diaries' episode 'Pilot'.
'Pilot' is the first episode of season 1. (s01e01)
If you're in need of refreshing your memory before jumping in the quotes, here is a short summary of the plot.
Plot summary
In the small town of Mystic Falls, teenager Elena Gilbert and her younger brother, Jeremy, struggle to come to terms with the recent death of their parents. Elena is popular amongst her peers and the perfect straight-A student. However, she has difficulties hiding her grief from the world. Meanwhile, Jeremy treads on a dangerous path of using drugs to ease his pain. The arrival of new student Stefan Salvatore, makes Elena think about romantic possibilities. Elena is unaware about Stefan's mysterious origins as well as his brother Damon. (IMDb)
Top 10 'The Vampire Diaries' Quotes from 1×01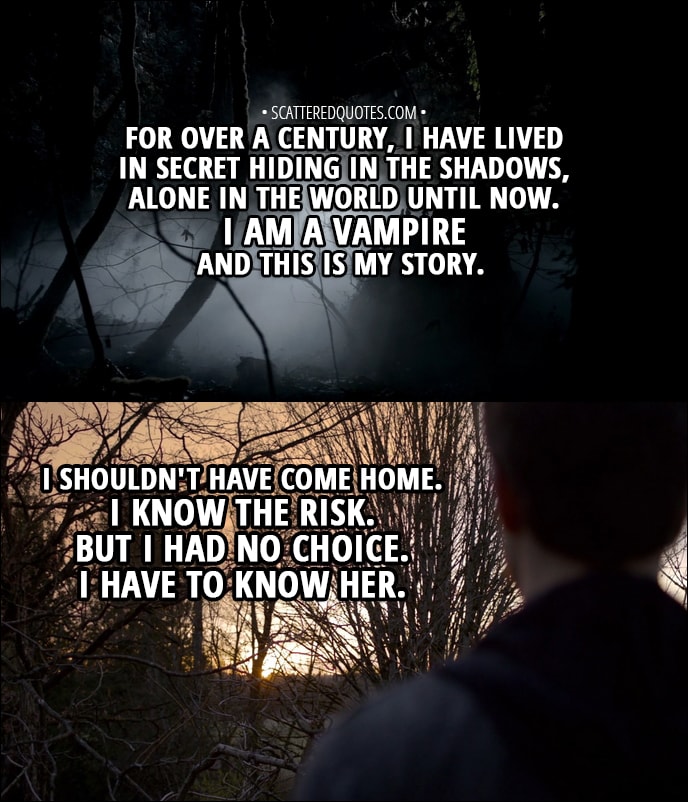 Sorted chronologically as the quotes appear in the episode.
Stefan Salvatore (narration): For over a century, I have lived in secret hiding in the shadows, alone in the world until now. I am a vampire and this is my story.
I shouldn't have come home. I know the risk. But I had no choice. I have to know her. 
Elena Gilbert (narration): Dear diary, today will be different. It has to be. I will smile, and it will be believable. My smile will say: "I'm fine, thank you. Yes, I feel much better." I will no longer be the sad little girl who lost her parents. I will start fresh, be someone new. It's the only way I'll make it through. 
Bonnie Bennett (to Elena): I predict this year is going to be kick-ass. And I predict all the sad and dark times are over. And you are going to be beyond happy. 

Elena Gilbert (narration): Dear diary, I made it through the day. I must have said, "I'm fine, thanks," at least 37 times. And I didn't mean it once. But no one noticed. When someone asks, "How are you?" They really don't want an answer. 
Elena Gilbert: You keep a journal?
Stefan Salvatore: Yeah, if I don't write it down, I forget it. Memories are too important. 
Bonnie Bennett: Elena, there's no way I'm psychic. I know that. But whatever I saw, or I think I saw… I have this feeling… That it's just the beginning. 
Damon Salvatore (to Stefan): I was impressed. I give it a six. You missed on style, but I was pleasantly surprised. Very good with the whole face… (growls) Thing. It was good. 

Stefan Salvatore: After all these years, can't we just give it a rest?
Damon Salvatore: I promised you an eternity of misery, so I'm just keeping my word. 
Caroline Forbes: How come the guys that I want never want me?
Bonnie Bennett: I'm not touching that.
Caroline Forbes: I'm inappropriate. I always say the wrong thing. And Elena always says the right thing. Ugh. She doesn't even try. And he just picks her. And she's always the one that everyone picks… for everything. And I try so hard and I'm never the one that…
Bonnie Bennett: It's not a competition, Caroline.
Caroline Forbes: Yeah, it is. 
Elena Gilbert (narration): Dear diary… I couldn't have been more wrong. I thought that I could smile and nod my way through it. Pretend like it would all be okay.
Stefan Salvatore (narration): I had a plan. I wanted to change who I was. Create a life as someone new. Someone without the past.
Elena: Without the pain.
Both: Someone alive.
Elena: But it's not that easy. The bad things stay with you.
Stefan: They follow you. You can't escape them… as much as you want to.
Elena: All you can do is be ready for the good… so when it comes, you invite it in because you need it. I need it.
See all quotes from the series:
Your turn
• What did you think about this episode?
• What is your favorite quote?
If you enjoyed this list, please consider sharing it. We'd appreciate it, thank you!