Enjoy going through the collection of best quotes from Thor: Ragnarok (2017).
Thor: Ragnarok is a movie set in Marvel Universe and it is the third Thor movie.
If you're in need of refreshing your memory before jumping in the quotes, here is a short summary of the plot.
Plot summary
Thor is imprisoned on the other side of the universe and finds himself in a race against time to get back to Asgard to stop Ragnarok, the destruction of his homeworld and the end of Asgardian civilization, at the hands of an all-powerful new threat, the ruthless Hela. (IMDb)
Top 30 Quotes from 'Thor: Ragnarok' (2017)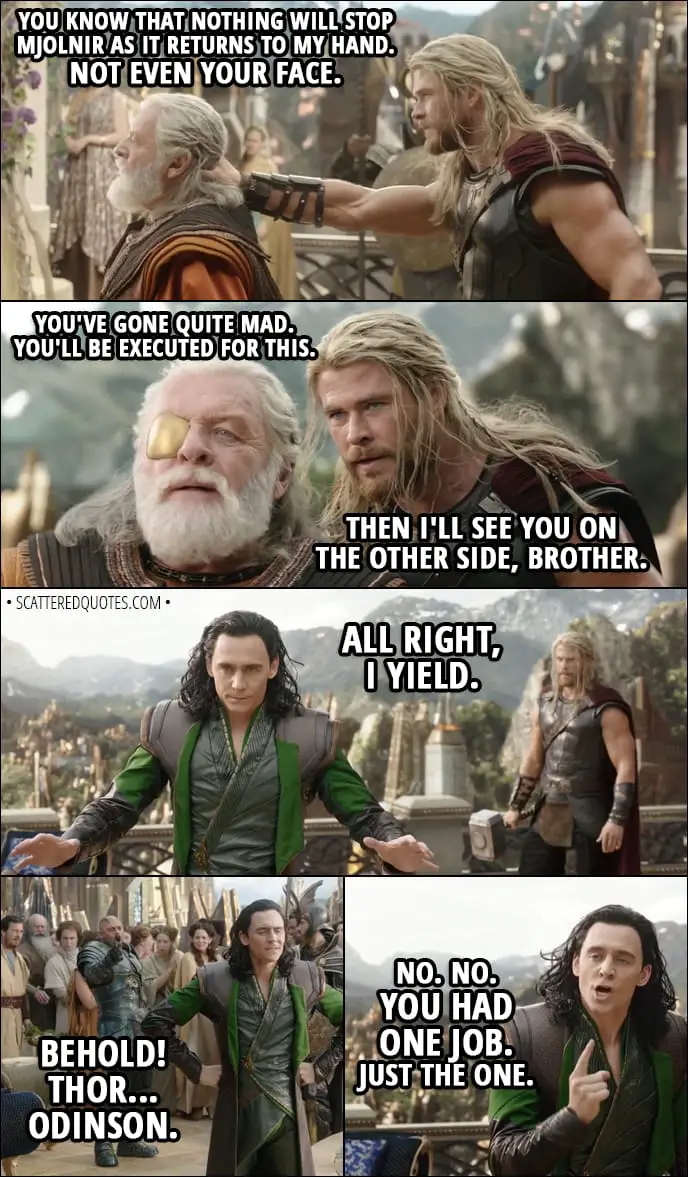 Sorted chronologically as quotes appear in the movie.
Thor: I've been having these terrible dreams of late. Asgard up in flames, falling to ruins. And you, Surtur, are at the center of all of them.
Surtur: Then you have seen Ragnarok, the fall of Asgard. The great prophecy…
Thor: (starts rotating) Hang on. Hang on. I'll be back around shortly. I really feel like we were connecting there. Okay, so Ragnarok. Tell me about that. Walk me through it.
Surtur: My time has come. When my crown is reunited with the Eternal Flame, I shall be restored to my full might. I will tower over the mountains, and bury my sword deep in Asgard's…
Thor: (starts rotating again) Hang on. Give it a second. I swear, I'm not even moving. It's just doing this on its own. I'm really sorry.
Thor: Where is it? This crown?
Surtur: This is my crown, the source of my power.
Thor: Oh, that's a crown. I thought it was a big eyebrow.
Surtur: It's a crown. 
Surtur: You have made a grave mistake, Odinson.
Thor: I make grave mistakes all the time. Everything seems to work out. 
(Loki pretends to be Odin)
Thor: You're really gonna make me do it?
Loki: Do what?
Thor: You know that nothing will stop Mjolnir as it returns to my hand. Not even your face.
Loki: You've gone quite mad. You'll be executed for this.
Thor: Then I'll see you on the other side, brother.
Loki: All right, I yield. (changes back to himself)
Executioner: Behold! Thor… Odinson.
Loki: No. No. You had one job. Just the one. 
Loki: How was I supposed to know? Can't see into the future. I'm not a witch.
Thor: No? Then why do you dress like one?
Loki: Hey. 
Fan (to Thor): Sorry to hear that Jane dumped you.
Thor (to Loki): She didn't dump me, you know. I dumped her. It was a mutual dumping.
Thor: If you knew where he was, why didn't you call me?
Doctor Strange: I have to tell you, he was adamant that he not be disturbed. Your father said he had chosen to remain in exile. And you don't have a phone.
Thor: No, I don't have a phone, but you could have sent an electronic letter. It's called an email.
Doctor Strange: Yeah, do you have a computer?
Thor: No. What for? 
Thor: I suppose I'll need my brother back.
Doctor Strange: Oh. Yeah. Right.
Loki: I have been falling for 30 minutes! 
Thor: You'll pay for this.
Valkyrie: No, I got paid for this. 
Grandmaster: Who are you?
Thor: I am the God of Thunder!
Grandmaster: Wow. Wow… I didn't hear any thunder, but out of your fingers, was that like… sparkles? 
Thor: How'd you end up in here?
Korg: Well, I tried to start a revolution, but didn't print enough pamphlets. So hardly anyone turned up, except for my mum and her boyfriend, who I hate. As punishment, I was forced to be in here and become a gladiator. Bit of a promotional disaster, that one. But I'm actually organizing another revolution. I don't know if you'd be interested in something like that. Do you reckon you'd be interested? 
Korg (to Thor): The only thing that does make sense is that nothing makes sense. 
Thor: Every time I threw it, it would always come back to me.
Korg: Sounds like you had a pretty special and intimate relationship with this hammer and that losing it was almost comparable to losing a loved one.
Thor: That's a nice way of putting it. 
Thor (to Valkyrie): My God, you're a Valkyrie. I used to wanna be a Valkyrie when I was younger, until I found out that you were all women.
Thor (to Hulk): Loki's alive. Can you believe it? He's up there. Loki! Look who it is!
Thor: We're the same, you and I. We're just a couple of hot-headed fools.
Hulk: Yeah, same. Hulk like fire, Thor like water.
Thor: We're kind of both like fire.
Hulk: But Hulk like real fire. Hulk like raging fire. Thor like smoldering fire. 
Thor (to Valkyrie): Keep drinking, keep hiding. But me… I choose to run toward my problems and not away from them. Because that's what… Because that's what heroes do. 
Bruce Banner: What happened to your hair?
Thor: Some creepy old man cut it off.
Bruce Banner: It looks good.
Thor: Oh, thanks. 
Thor: You and I had a fight recently.
Bruce Banner: Did I win?
Thor: No, I won. Easily.
Bruce Banner: Doesn't sound right. 
Thor: I'm saying that I wanna be on the team.
Valkyrie: Has it got a name?
Thor: Yeah, it's called the Revengers.
Valkyrie: Revengers?
Thor: Because I'm getting revenge. You're getting revenge…
Thor: There was one time when we were children, he transformed himself into a snake, and he knows that I love snakes. So, I went to pick up the snake to admire it, and he transformed back into himself and he was like, "Yeah, it's me!" And he stabbed me. We were eight at the time. 
Topaz: The arena's mainframe for the Obedience Disks have been deactivated and the slaves have armed themselves.
Grandmaster: I don't like that word.
Topaz: Which? Mainframe?
Grandmaster: No. Why would I not like "mainframe"? No, the "S" word.
Topaz: Sorry, the prisoners with jobs have armed themselves. 
Thor: This place is perfect for you. It's savage, chaotic, lawless… Brother, you're gonna do great here.
Loki: Do you truly think so little of me?
Thor: Loki, I thought the world of you. I thought we were gonna fight side by side forever. But at the end of the day, you're you and I'm me. I don't know, maybe there's still good in you. But let's be honest, our paths diverged a long time ago.
Loki: Yeah. It's probably for the best that we never see each other again.
Thor: It's what you always wanted.
Thor: Hey, let's do "Get Help." Come on, you love it.
Loki: I hate it.
Thor: It's great. It works every time.
Loki: It's humiliating.
Thor: We're doing it.
Loki: We are not doing "Get Help."
Thor: (draging Loki) Get help! Please! My brother, he's dying. Get help! Help him! (thows Loki against them) Classic.
Loki: Still hate it. It's humiliating.
Thor: Not for me, it's not. 
Thor (to Loki): Dear brother, you're becoming predictable. I trust you, you betray me. Round and round in circles we go. See, Loki, life is about… It's about growth. It's about change. But you seem to just wanna stay the same. I guess what I'm trying to say is that you'll always be the God of Mischief, but you could be more. 
Bruce Banner: I don't know how to fly one of these.
Thor: You're a scientist. Use one of your PhDs.
Bruce Banner: None of them are for flying alien spaceships! 
Thor: She's too strong. Without my hammer, I can't.
Odin: Are you Thor, the God of Hammers? 
Odin: Asgard is where our people stand. Even now, right now, those people need your help.
Thor: I'm not as strong as you.
Odin: No… You're stronger.
Korg: The damage is not too bad. As long as the foundations are still strong, we can rebuild this place. It will become a haven for all peoples and aliens of the universe. (Asgard blows up) Now those foundations are gone. Sorry. 
Heimdall: Where to?
Thor: I'm not sure. Any suggestions? Miek, where are you from?
Korg: Miek's dead. Yeah, no, I accidentally stomped on him on the bridge. I've just felt so guilty, I've been carrying him around all day. (Miek wakes up) Miek, you're alive! He's alive, guys. What was your question again, bro?
Thor: Earth it is.
See all quotes from the movie:
Your turn
• What did you think about Thor: Ragnarok?
• What is your favorite quote from the movies?
If you enjoyed this list, please consider sharing it. We'd appreciate it, thank you!