Enjoy the best quotes / moments from the movie Fantastic Beasts and Where to Find Them (2016).

In case you're not sure you've seen it, here is summary.
Plot summary
"Fantastic Beasts and Where to Find Them" opens in 1926 as Newt Scamander has just completed a global excursion to find and document an extraordinary array of magical creatures. Arriving in New York for a brief stopover, he might have come and gone without incident… were it not for a No-Maj (American for Muggle) named Jacob, a misplaced magical case, and the escape of some of Newt's fantastic beasts, which could spell trouble for both the wizarding and No-Maj worlds. (Wikia)

Top 22 Quotes from Fantastic Beasts and Where to Find Them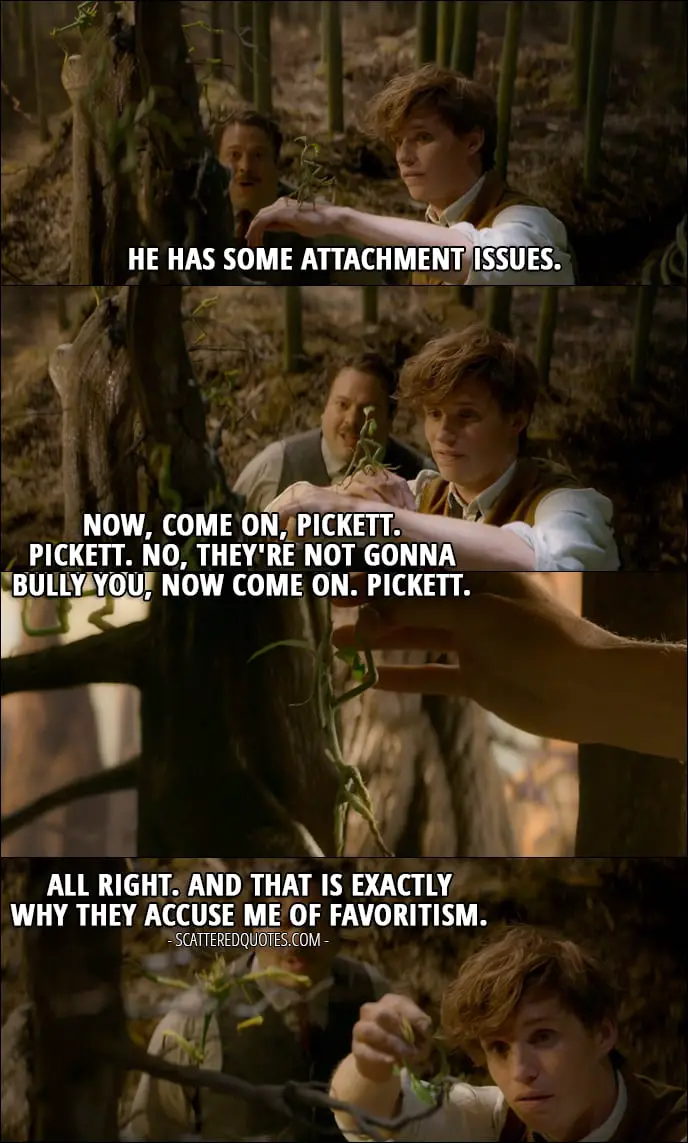 Ordered chronologically as they appear in the movie.
Newt Scamander: I'm writing a book about magical creatures.
Tina Goldstein: Like an extermination guide?
Newt Scamander: No, a guide to help people understand why we should be protecting these creatures instead of killing them.
Tina Goldstein: Mr. Scamander, do you know anything about the wizarding community in America?
Newt Scamander: I do know a few things, actually. I know that you have rather backwards laws about relations with Non-Magic people. That you're not meant to befriend them. That you can't marry them, which seems mildly absurd to me.
Tina Goldstein (about Jacob): Who's gonna marry him?

Newt Scamander: You're a Legilimens?
Queenie Goldstein: Mmm. Yeah. But I always have trouble with your kind. Brits. It's the accent.
Jacob Kowalski: You know how to read minds?
Queenie Goldstein: Oh, don't worry, honey. Most guys think what you was thinking first time they see me.
Newt Scamander (to Jacob): He has some attachment issues. (to Pickett): Now, come on, Pickett. Pickett. No, they're not gonna bully you, now come on. Pickett. All right. And that is exactly why they accuse me of favoritism.
Jacob Kowalski: Newt. I don't think I'm dreaming.
Newt Scamander: What gave it away?
Jacob Kowalski: I ain't got the brains to make this up.
Jacob Kowalski (to himself): What did you do today, Jacob? I was inside a suitcase.
Newt Scamander (to Jacob about the escaped beasts): They're currently in alien terrain surrounded by millions of the most vicious creatures on the planet. Humans.
Jacob Kowalski: Well, I'm sure people like you, too, huh?
Newt Scamander: Not really, no. I annoy people.
Newt Scamander: You fought in the war?
Jacob Kowalski: Of course I fought in the war. Everyone fought in the war. You didn't fight in the war?
Newt Scamander: I worked mostly with dragons. Ukrainian Ironbellies. Eastern Front.

Jacob Kowalski: They went that way, officer.
Newt Scamander: Put this on. (hands him a helmet)
Jacob Kowalski: But why would I have to wear something like this?
Newt Scamander: Because your skull is susceptible to breakage under immense force.

Jacob Kowalski: Tell me, has anyone ever believed you when you told them not to worry?
Newt Scamander: Well, my philosophy is that worrying means you suffer twice.
Newt Scamander: Don't hurt those creatures. Nothing in there is dangerous. Please don't hurt my creatures. They aren't dangerous! Please! They're not dangerous!
Percival Graves: You were thrown out of Hogwarts for endangering human life.
Newt Scamander: That was an accident.
Percival Graves: With a beast. Yet one of your teachers argued strongly against your expulsion. Now, what makes Albus Dumbledore so fond of you?
Newt Scamander: I really couldn't say.
Newt Scamander: Dougal, my Demiguise.
Tina Goldstein: Dougal?
Newt Scamander: Slight problem is that, um, he's invisible.
Tina Goldstein: Invisible?
Newt Scamander: Yes. Most of the time. He does, um…
Tina Goldstein: How do you catch something…
Newt Scamander: With immense difficulty.

Newt Scamander (to Pickett): I think we need to talk. I wouldn't have let him keep you, Pickett. Think I would rather chop off my hand than get rid of you after everything that you've done for me. Now, come on. Think we've talked about the sulking before, haven't we? Pickett? Come on, give me a smile. Pickett, give me a… (Pickett sticks his tongue out) All right. Now that is beneath you.

Jacob Kowalski: Is there a school? A wizardry school here in, uh, America?
Queenie Goldstein: Of course. Ilvermorny. It's only the best wizard school in the whole world.
Newt Scamander: I think you'll find that the best wizarding school in the world is Hogwarts.
Queenie Goldstein: Hogwash.
Percival Graves (to Credence): To survive so long with this inside you, Credence, is a miracle. You are a miracle. Come with me. Think of what we could achieve together.

Serephina Picquery (talking about Credence): He has broken one of our most sacred laws.
Percival Graves: A law that has us scuttling like rats in the gutter. A law that demands that we conceal our true nature. A law that directs those under its dominion to cower in fear, lest we risk discovery. I ask you, Madam President, I ask all of you… Who does this law protect? Us? Or them? I refuse to bow down any longer.
Newt Scamander (at Mr. Graves): Revelio.
Gellert Grindelwald: Do you think you can hold me?
Serephina Picquery: We'll do our best, Mr. Grindelwald.

Jacob Kowalski: I was never even supposed to be here. I was never supposed to know any of this. Everybody knows Newt only kept me around because… Hey, Newt, why did you keep me around?
Newt Scamander: Because I like you. Because you're my friend. And I'll never forget how you helped me, Jacob.
Newt Scamander: I can't think of anyone that I'd rather have investigating me.
Tina Goldstein: Try not to need investigating for a bit.
Newt Scamander: I will. A quiet life for me from now on. Back to the Ministry. Deliver my manuscript.
What is your favorite quote or moment from Fantastic Beasts and Where to Find Them?
What do you think about the start of the new movie saga?