Enjoy going through the collection of best quotes from The Greatest Showman (2017).
If you're in need of refreshing your memory before jumping in the quotes, here is a short summary of the plot.
Plot summary
Orphaned, disrespected yet brilliant. This is P.T. Barnum, a showman on a mission for fame. But when he gambles his circus, his wife and daughters and all his money on the Swedish opera star Jenny Lind, things become treacherous for Barnum. Will he leave everything he's got behind? Celebrates the birth of show business, and tells of a visionary who rose from nothing to create a spectacle that became a worldwide sensation. (IMDb)
Top 20 Quotes from 'The Greatest Showman' (2017)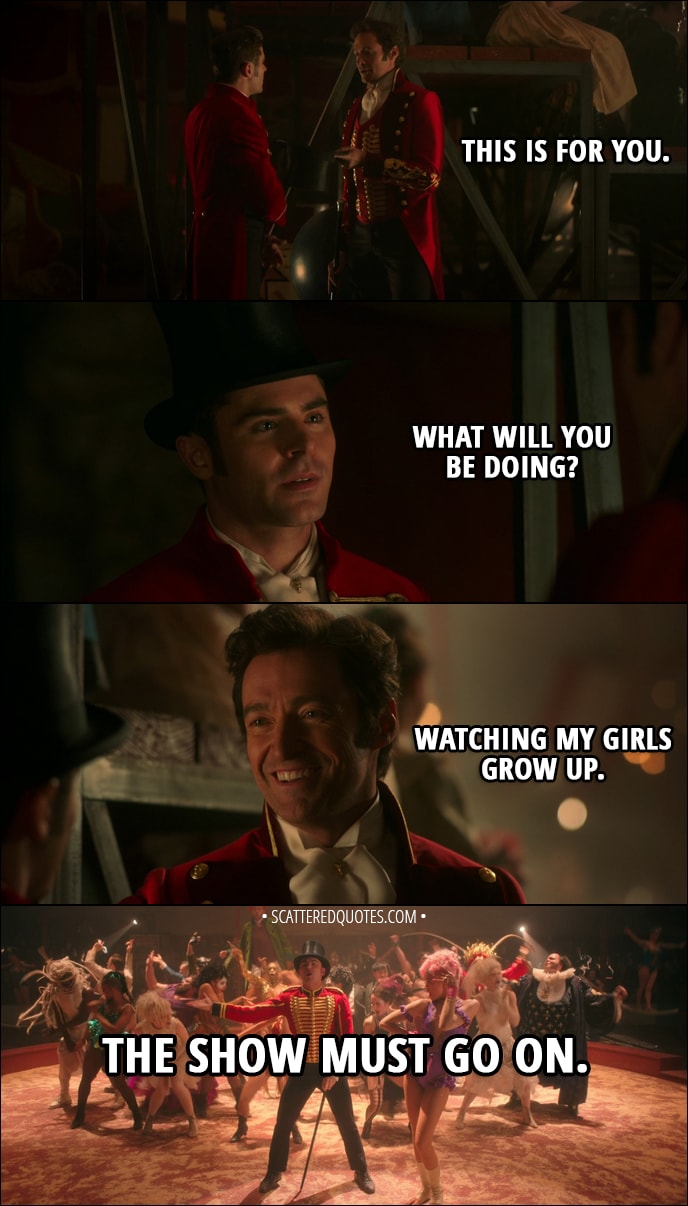 Sorted chronologically as quotes appear in the movie.
P. T. Barnum: Sir, I… I know I don't come from much, but I will take care of your daughter and I will give her a life as grand as this one.
Mr. Hallet: She'll be back. Sooner or later, she'll tire of your life… of having nothing, and she'll come running back home. 
Helen Barnum: I think you have too many dead things in your museum, Daddy.
Caroline Barnum: You need something alive. Something sensational.
P. T. Barnum: That's a big word.
Caroline Barnum: It's your word.

P. T. Barnum: I am putting together a show and I need a star.
Charles Stratton: You want people to laugh at me.
P. T. Barnum: Well, they're laughing anyway, kid, so might as well get paid. (Charles leaves the room) I see a soldier, no, a general riding across the stage with a sword and a gun, and… and… and the most beautiful uniform ever made. People will come from all over the world, and when they see him, they won't laugh. (Charles opens the door) They'll salute. 
P. T. Barnum: You are so talented, blessed… (he sees Lettie's face) Extraordinary. Unique. I would even say beautiful. (People laugh)
Lettie Lutz: Sir. Please leave me alone.
P. T. Barnum: They don't understand, but they will. 
P. T. Barnum: Caroline, you were the best dancer on that stage. What? You think I can't spot talent?
Caroline Barnum: Ballet takes years of hard work. It's not like the circus. You can't just fake it. 
Phillip Carlyle: Do you understand that just associating with you could cost me my inheritance?
P. T. Barnum: Oh, it could cost you more than that. You'd be risking everything. But, on the other hand, well, you just might find yourself a free man.
Jenny Lind: May I ask you something, Mr. Barnum?
P. T. Barnum: Anything.
Jenny Lind: Why me?
P. T. Barnum: People come to my show for the pleasure of being hoodwinked. Just once, I'd love to give them something real. 

Lettie Lutz:
I am brave, I am bruised
I am who I'm meant to be, this is me
Phillip's Father: Phillip, have you no shame? Associating yourself with that Barnum business is one thing… but parading around with the help?
(Anne runs away)
Phillip Carlyle: How dare you speak to her like that?
Phillip's Mother: You forget your place, Phillip.
Phillip Carlyle: My place? Mother, if this is my place, then I don't want any part of it.

Phillip Carlyle and Anne Wheeler:
Why don't we rewrite the stars?
Changing the world to be ours 
P. T. Barnum: You don't understand. How could you? My father was treated like dirt. I was treated like dirt, and my children will not be.
Charity Barnum: You don't need everyone to love you, Phin. Just a few good people. 
Jenny Lind: When you're careless with other people, Mr. Barnum… you bring ruin upon yourself.
P. T. Barnum: I have risked everything.
Jenny Lind: Well, so did I. And it seems we both lost.

Critic: I never liked your show. But I always thought the people did.
P. T. Barnum: They did. They do.
Critic: Mind you, I wouldn't call it art.
P. T. Barnum: Of course not.
Critic: But… putting folks of all kinds on stage with you… all colors, shapes, sizes… presenting them as equals… Why, another critic might have even called it "a celebration of humanity."
P. T. Barnum: I would've liked that. 
P. T. Barnum: Folks, if you've come to get paid, the money is gone. All of it. Nothing left to give you.
Lettie Lutz: Shut up, Barnum. You just don't get it. Our own mothers were ashamed of us. Hid us our whole lives. Then you pull us out of the shadows. And now you're giving up on us, too. Maybe you are a fraud. Maybe it was just about making a buck. But you gave us a real family.
W. D. Wheeler: And the circus… that was our home. We want our home back. 
P. T. Barnum: I brought hardship on you and our family. You warned me… and I wouldn't listen. I just… I wanted to be more than I was.
Charity Barnum: I never wanted anything but the man I fell in love with. 
P. T. Barnum: I'm really sorry to disappoint you all.
Charles Stratton: Don't worry, Barnum. We've gotten used to it by now. 
Phillip Carlyle: You know, Barnum… when I first met you… I had an inheritance, acclaim, an invitation to every party in town. And now, thanks to you, all that's gone. All that's left is friendship, love, and work that I adore. You brought joy into my life.
Lettie Lutz: Into all our lives. 
Phillip Carlyle: I own 10% of the show. Knowing who I was working for… I had the good sense to take my cut weekly.
P. T. Barnum: Phillip, I can't let you gamble it on me. I…
Anne Wheeler: Sure you can.
Lettie Lutz: Don't turn sensible on us now.
Phillip Carlyle: Partners. 50-50.
P. T. Barnum: Partners.
P. T. Barnum: This is for you.
Phillip Carlyle: What will you be doing?
P. T. Barnum: Watching my girls grow up. The show must go on.

P. T. Barnum:
It's ev'rything you ever want
It's ev'rything you ever need
And it's here right in front of you
See all quotes from the movie:
Your turn
• What did you think about The Greatest Showman?
• What is your favorite quote from the movie?
If you enjoyed this list, please consider sharing it. I'd appreciate it, thank you!