Enjoy going through the collection of best quotes from 'Twice Upon a Time'.
'Twice Upon a Time' is a special Christmas episode of Doctor Who, also titled as s11e00 (11×00).
If you're in need of refreshing your memory before jumping in the quotes, here is a short summary of the plot.
Plot summary
The magical final chapter of the Twelfth Doctor's (Peter Capaldi) journey sees the Time Lord team up with his former self, the first ever Doctor (David Bradley)'and a returning Bill Potts (Pearl Mackie), for one last adventure. The two Doctors find each other in an Arctic snowscape, refusing to face regeneration. Enchanted glass-like entities, who stealing their victims from frozen time, and a World War I captain destined to die on the battlefield, but taken from the trenches to play his part in the Doctor's story. A tale about the power of hope in humanity's darkest hours, Twice Upon A Time marks the end of an era. But as the Doctor must face his past to decide his future, his journey is only just beginning. (IMDb)
Top 20 Quotes from 'Doctor Who' Christmas Special (2017)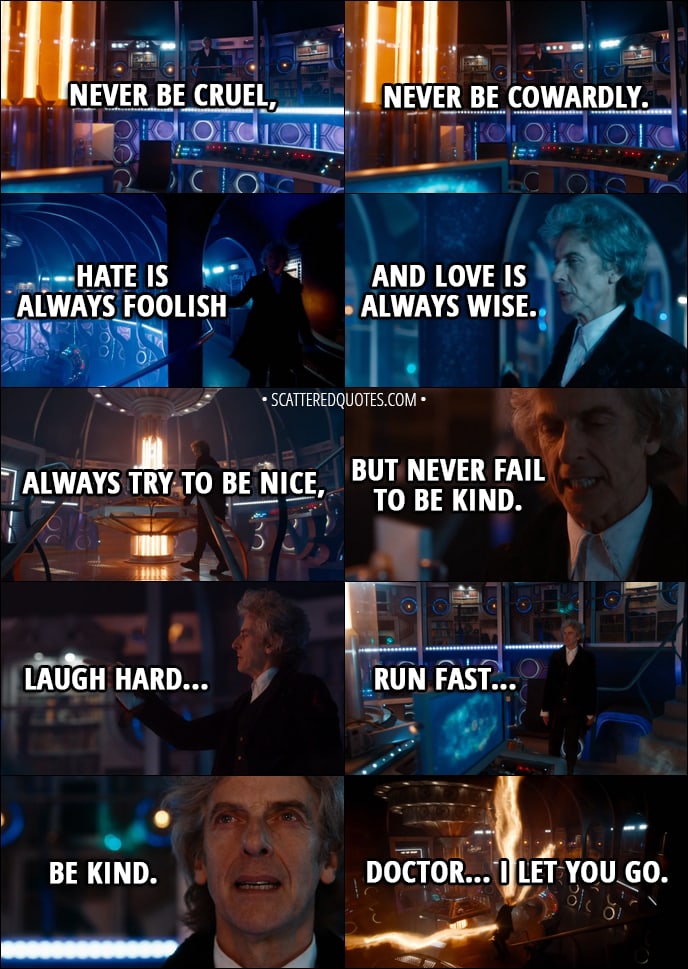 Sorted chronologically as quotes appear in the episode.
First Doctor: I can't go through with it. I will fight it. I will not change. 

First Doctor: What have you done to it?
Twelfth Doctor: Nothing.
First Doctor: The windows… they're the wrong size! The colour… I'm sure it's changed! Look at it. It seems to have… expanded!
Twelfth Doctor: Well, it's all those years of bigger on the inside – you try sucking your tummy in that long. 
First Doctor: This place is, or ought to be, my TARDIS.
Twelfth Doctor: Technically, that is your TARDIS. It's about 70 feet that way, see? Always remember where you parked, it's going to come up a lot. 
First Doctor: But I thought…
Twelfth Doctor: What?
First Doctor: Well. I assumed, I'd get… younger.
Twelfth Doctor: I am younger! 
Twelfth Doctor: You're absolutely right. I should have noticed that.
First Doctor: Well, it might help if you could see properly! (takes 12th's sonic sunglasses of) 
The Testimony: He is the Doctor of War.
First Doctor: What… What was that?
Twelfth Doctor: To be fair, they cut out all the jokes. 
Bill Potts (to 12th): You're an arse. Do you know that? You're a… You're a stupid bloody arse.
First Doctor: If I hear any more language like that from you, young lady, you're in for a jolly good smacked bottom.
Twelfth Doctor: Can we just pretend that that never happened?
Bill Potts: I'm a broad-minded girl – I mean, I know we have this whole professor/student thing going on…
Twelfth Doctor: Can we never, ever talk about this again?
Bill Potts: I hope we talk about it loads. I hope we spend years laughing about it. 
First Doctor: There is good and there is evil. I left Gallifrey to answer a question of my own. By any analysis, evil should always win. Good is not a practical survival strategy – it requires loyalty, self-sacrifice and love. So, why does good prevail? What keeps the balance between good and evil in this appalling universe? Is there some kind of logic? Some mysterious force?
Bill Potts: Perhaps there's just some bloke, wandering around, putting everything right when it goes wrong? 

Bill Potts: You dash around the universe trying to figure out what's holding it all together, and you really, really don't know?
First Doctor: You know me in the future, do I ever understand?
Bill Potts: No… I really don't think you do. Everyone who's ever met you does. You're amazing, Doctor. Never forget that. Never, ever. 
First Doctor: What's so important about one captain?
Twelfth Doctor: Everybody's important to somebody, somewhere. 
Captain: One thing you could possibly do for me, if you were very kind?
First Doctor: Oh, anything. Name it.
Captain: My family. Perhaps you could look in on them, from time to time?
First Doctor: We should be delighted. What's the name?
Captain: Lethbridge-Stewart. Captain Archibald Hamish Lethbridge-Stewart.
First Doctor: I shall make it my business.
Twelfth Doctor: You can trust him on that. 
Twelfth Doctor: It never happened again. Any war, anywhere… but for one day, one Christmas, a very long time ago… everyone just put down their weapons, and started to sing. Everybody just stopped. Everyone was just kind. 
First Doctor: You've saved him!
Twelfth Doctor: Both of them. Never hurts – a couple fewer dead people on the battlefield.
First Doctor: So that's what it means to be a doctor of war.
Twelfth Doctor: You were right, you know. The universe generally fails to be a fairy tale… but that's where we come in! 

Bill Potts: Do you know what the hardest thing about knowing you was?
Twelfth Doctor: My superior intelligence. My dazzling charisma. Oh! My impeccable dress sense.
Bill Potts: Letting you go. Letting go of the Doctor is so, so hard. 

Clara Oswald: Merry Christmas, Doctor.
Twelfth Doctor: Clara!
Clara Oswald: Hello, you stupid old man.
Twelfth Doctor: You're back! You're in my head. All my memories… are back.
Clara Oswald: And don't go forgetting me again, because… quite frankly, that was offensive.
Bill Potts: Memories – important, right? 

Nardole: They got my hair a bit wrong, though, didn't they?
Bill Potts: You don't have any hair!
Nardole: I have invisible hair. 
Nardole: Don't die. Because if you do, I think everybody in the universe might just go cold.
Twelfth Doctor: Can't I ever have peace? Can't I rest?
Bill Potts: Of course you can.
Nardole: It's your choice.
Bill Potts: Only yours. 

Twelfth Doctor: A life this long – do you understand what it is? It's a battlefield, like this one… and it's empty. Because everyone else has fallen. 
Twelfth Doctor: The silly old universe. The more I save it, the more it needs saving. It's a treadmill. Yes, yes, I know. They'll get it all wrong without me. I suppose one more lifetime wouldn't kill anyone. Well, except me. You wait a moment, Doctor. Let's get it right. I've got a few things to say to you. Basic stuff first. Never be cruel, never be cowardly… and never, ever eat pears! Remember… hate is always foolish… and love is always wise. Always try to be nice, but never fail to be kind. Oh, and you mustn't tell anyone your name. No-one would understand it, anyway. Except… Except children. Children can hear it… sometimes… if their hearts are in the right place, and the stars are, too. Children can hear your name. But nobody else. Nobody else, ever. Laugh hard… run fast… be kind. Doctor… I let you go. 

Thirteenth Doctor: Oh, brilliant!
More Doctor Who Quotes: