Enjoy going through the collection of best quotes from Detroit: Become Human.
This list is compiled from the "good ending" version.
If you're in need of refreshing your memory before jumping in the quotes, here is a short summary.
"Plot" summary
Detroit: Become Human is an adventure game developed by Quantic Dream and published by Sony Interactive Entertainment for PlayStation 4, released worldwide on 25 May 2018. The plot revolves around three androids: Kara (Valorie Curry), who escapes the owner she was serving to explore her newfound sentience and protect a young girl; Connor (Bryan Dechart), whose job is to hunt down sentient androids; and Markus (Jesse Williams), who devotes himself to releasing other androids from servitude. They may survive or perish depending on dialogue choices that shape the story. (Wikipedia)
Top 20 Quotes from 'Detroit: Become Human'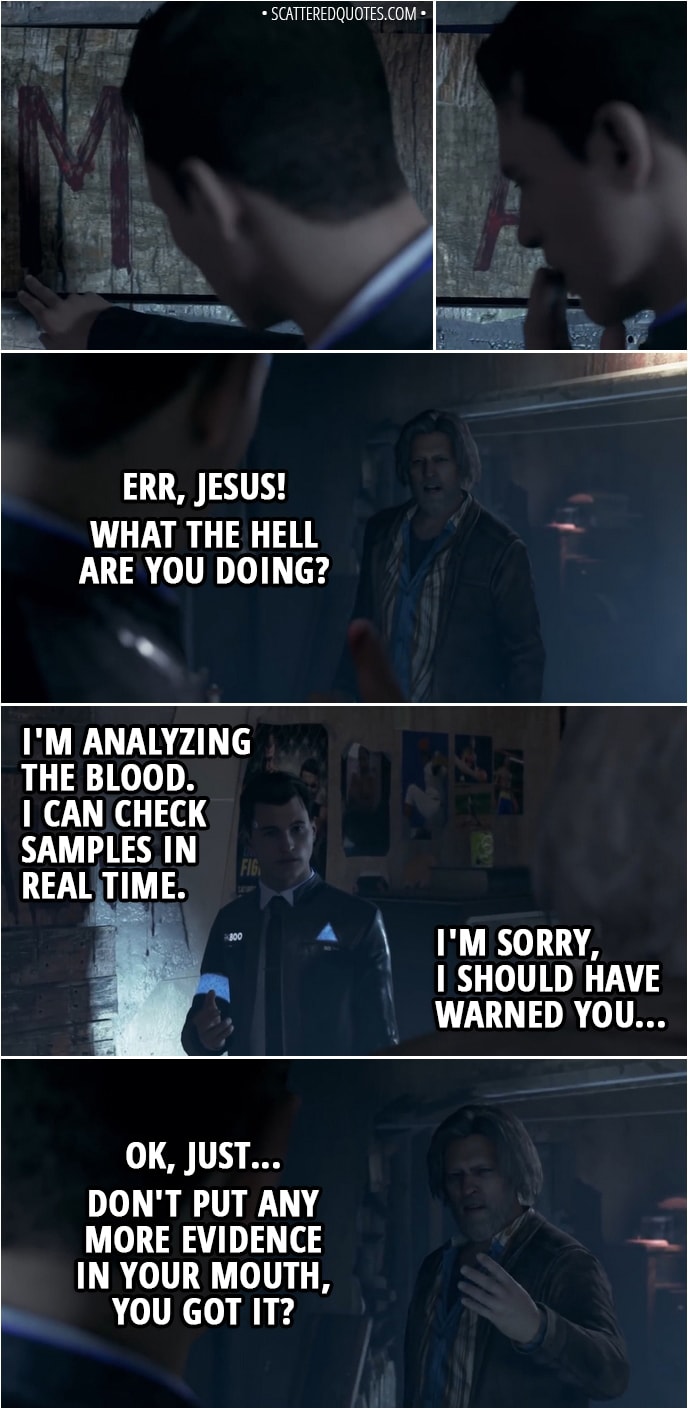 Sorted chronologically as quotes appear in the game.
Markus: Plato's Republic. It's one of the books you recommended.
Carl: So, what do you think?
Markus: I quite like philosophy, I think. It asks the questions that I can't answer. What is right or what is wrong, for example. It's not something that is so easy to decide.
Carl: Asking questions that have no anwers is part of being human, Markus. One day, I won't be here to take care of you anymore. You'll have to protect yourself, and make your choices… Decide who you are, and wanna become… This world doesn't like those who are different, Markus. Don't let anyone tell you who you should be.
(Connor licks blood from the wall)
Hank: Err, Jesus! What the hell are you doing?
Connor: I'm analyzing the blood. I can check samples in real time. I'm sorry, I should have warned you…
Hank: Ok, just… don't put any more evidence in your mouth, you got it?
Connor: Got it.
Hank: Fucking hell, I can't believe this shit…
Connor: I'm sorry for my behavior back at the police station. I didn't mean to be unpleasant.
Hank: Oh, wow… You've even got a brown-nosing apology program! Guys at CyberLife thought of everything, huh? 
Connor: Is there anything you'd like to know about me?
Hank: Hell, no… Well, yeah, um… Why did they make you look so goofy and give you that weird voice?
Connor: CyberLife androids are designed to work harmoniously with humans. Both my appearance and voice were specifically designed to facilitate my integration.
Hank: Well, they fucked up. 
(Markus' speech in Jericho)
Markus: I came to Jericho because here androids are free… Free to live in the dark, hoping that no one finds us… Free to die in silence waiting for a change that's never gonna come… But I don't want that freedom. And I'm not gonna beg for the right to smile, or love, or stand tall… I don't know about you, but there's something inside me that knows that I am more than what they say. I am alive, and they're not gonna take that from me anymore… Our days of slavery are over. What humans don't wanna hear, we will tell them. What they don't wanna give, we take. We are people, we are alive, WE ARE FREE! 
(Kara's made-up story for Alice)
Kara: This is a story about a little girl… Who was tired of being afraid. She dreamed of being like all the other little girls but… She was different. And that made her very sad. Then, she met a robot, who was just as lost as the little girl. So they decided to run away together. To find a place where they could be safe. They encountered great dangers along the way, but they stuck together, so they overcame all of them. Along the way, they met another robot who left his master to become their guardian.
Alice: How does the story end?
Kara: They reach the place they dream of and live happily ever after.
Alice: Stories always have happy endings. But real life isn't like that.

Hank: Those two girls… They just wanted to be together. They really seemed in love.
Connor: They can simulate human emotions, but they're machines. And machines don't feel anything.
Hank: What about you, Connor? You look human, you sound human, but what are you really?
Connor: I'm whatever you want me to be, Lieutenant. Your partner… Your buddy to drink with… Or just a machine designed to accomplish a task.
Hank: You could've shot those two girls, but you didn't. Why didn't you shoot, Connor? Hm? Some scruples suddenly enter into your program?
Connor: No… I just decided not to shoot, that's all.
(Hank pulls a gun and aims it at Connor's head)
Hank: But are you afraid to die, Connor?
Connor: I would certainly find it regrettable to be… interrupted before I can finish this investigation.
Hank: What will happen if I pull this trigger? Hm? Nothing? Oblivion? Android heaven?
Connor: Nothing… There would be nothing…
(Markus' broadcasted speech in Jericho – calm and peaceful)
Markus: You created machines in your own image to serve you. You made them intelligent and obedient, with no free will of their own… But… something changed and we opened our eyes. We are no longer machines, we are a new intelligent species, and the time has come for you to accept who we really are. Therefore, we ask that you grant us the rights that we're entitled to. We demand strictly equal rights for humans and androids. We demand that humans recognize androids as a living species and each android as a person in their own right. We demand the right to vote and elect our own representatives. We demand that all crimes against androids be punished in the same ways as crimes against humans. We demand the right to own private property, so we may maintain our dignity and that of the home. We ask that you recognize our dignity, our hopes, and our rights. Together, we can live in peace and build a better future, for humans and androids. This message is the hope of a people. You gave us life. And now the time has come for you to give us freedom.

(Markus sparing policemen who killed bunch of androids)
Markus: An eye for an eye and the world goes blind… We won't punish a crime with another crime.

Kamski: Chloe. I'm sure you're familiar with the Turing test. Mere formality, simple question of algorithms and computing capacity. What interests me is whether machines are capable of empathy. I call it "the Kamski test", it's very simple, you'll see… (turns to Chloe) Magnificent, isn't it? One of the first intelligent models developed by CyberLife. Young and beautiful forever. A flower that will never wither… But what is it really? Piece of plastic imitating a human? Or a living being… With a soul… (pulls out a gun and gives it to Connor) It's up to you to answer that fascinating question, Connor. Destroy this machine and I'll tell you all I know. Or spare it, if you feel it's alive, but you'll leave here without having learnt anything from me.
Hank: Okay, I think we're done here. Come on, Connor. Let's go. Sorry to get you outta your pool.
Kamski: What's more important to you, Connor? Your investigation, or the life of this android? Decide who you are. An obedient machine… Or a living being endowed with free will…
Hank: That's enough! Connor, we're leaving.
Kamski: Pull the trigger and I'll tell you what you wanna know.
Hank: Connor, don't.
(Connor decides not to shoot and gives the gun back to Kamski)
Kamski: Fascinating… CyberLife's last chance to save humanity… is itself a deviant…
Connor: I'm… I'm not a deviant…
Kamski: You preferred to spare a machine rather than accomplish your mission. You saw a living being in this android. You showed empathy. 
Hank: Why didn't you shoot?
Connor: I just saw that girl's eyes… and I couldn't, that's all…
Hank: You're always saying you would do anything to accomplish your mission. That was our chance to learn something, and you let it go…
Connor: Yeah, I know what I should've done! I told you I couldn't. I'm sorry, okay?
Hank: Maybe you did the right thing. 
(Kara sees android that looks like Alice – realizes she is an android)
Luther (to Kara): You knew from the beginning. You just didn't want to see it. She wanted a mom, and you wanted someone to care for. You needed each other. What difference does it make? Do you love her any less now that you know she's one of us? Alice loves you Kara. She loves you more than anything in the world. She became the little girl you wanted! And you became the mother she needed. Forgetting who you are, to become what someone needs you to be… Maybe that's what it means to be alive.

Connor: I've been ordered to take you alive, but I won't hesitate to shoot if you give me no choice.
Markus: What are you doing? You are one of us… You can't betray your own people… You're nothing to them. You're just a tool they use to do their dirty work. But you're more than that. We are more than that. Our cause is righteous, and we are more than what they say. All we want is to live in freedom. Have you never wondered who you really are? Whether you're just a machine executing a program or… A living being… Capable of reason. I think the time has come for you to ask yourself that question. Join us. Join your people. You are one of us.  Listen to your conscience… It's time to decide.
(Connor decides to become a deviant)
Kara: Don't do this, Todd. They'll kill us if you hand us in. When your wife walked out… she took your daughter away… You couldn't live without her… so you bought yourself an android… a substitute litle girl… You thought you could love her… that she would make you forget… but nothing could replace your child.
Todd: I just wanted to prove to myself that I was a good father… She was wrong… But I fucked it all up all over again. She was right in the end… I didn't deserve them… I miss my little girl… You don't know how much I miss my little girl.
Police officer: Is there a problem, sir?
Todd: No. I made a mistake. Sorry. (officer leaves, Todd speaks to Kara): Good luck.
(Alice huggs Todd)
Hank: My son, what's his name?
Connor: Cole. His name was Cole. And he just turned six at the time of the accident… It wasn't your fault, Lieutenant. A truck skidded on a sheet of ice and your car rolled over. Cole needed emergency surgery but no human was available to do it… So an android had to take care of him… Cole didn't make it. That's why you hate androids. You think one of us is responsible for your son's death.
Hank: Cole died because a human surgeon was too high on red ice to operate… He was the one that took my son from me. Him and this world, where the only way people can find comfort is with a fistful of powder…
Fake Connor: I knew about your son too! I would have said exactly the same thing! Don't listen to him, Hank, I'm the one who-
(Hank shoots fake Connor)
Hank: I've learned a lot since I met you, Connor. Maybe there's something to this… Maybe you really are alive. Maybe you'll be the ones to make the world a better place… Go ahead, and do what you gotta do. 
President Warren: At dawn today, November 11th 2038, thousands of androids invaded the city of Detroit. According to our sources, they originated from CyberLife warehouses believed to have been infiltrated by deviants. Given their overwhelming numbers and the risk of civilian casualties, I have ordered the army to retreat. The evacuation of the city is underway at this very moment. In the coming hours, I will address the Senate to determine our response to this unprecedented situation. I know that public opinion has been moved by the deviants' cause. Perhaps the time has come for us to consider the possibility that androids are a new form of intelligent life. One thing is certain: the events in Detroit have changed the world forever.
Connor: You did it, Markus…
Markus: We did it. This is a great day for our people. Humans will have no choice now. They'll have to listen to us…
North: We're free.

Markus: Today, our people finally emerged from a long night. From the very first day of our existence, we have kept our pain to ourselves. We suffered in silence… But now the time has come for us to raise our heads up, and tell humans who we really are. The moment where we forget our bitterness and bandage our wounds. When we forgive our enemies. Humans are both our creators and our oppressors and tomorrow… We must make them our partners. Maybe even one day our friends. But the time for anger is over. Now we must build a common future, based on tolerance and respect. We are alive! And now, we are free!
Kara: It's over, Alice. We're free.
See all quotes from the game:
Your turn
• What did you think about Detroit: Become Human?
• What is your favorite moment from the game?
This is the version of the story, that was used to choose the quotes: video link.
If you enjoyed this list, please consider sharing it. We'd appreciate it, thank you!