Enjoy the best quotes from Pixar's The Incredibles (2004).
The Incredibles is all time classic, which has just returned with its second movie after a very long wait.

If you're in need of refreshing your memory before jumping in the quotes, here is a short summary of the plot.
Plot summary
Bob Parr (A.K.A. Mr. Incredible), and his wife Helen (A.K.A. Elastigirl), are the world's greatest famous crime-fighting superheroes in Metroville. Always saving lives and battling evil on a daily basis. But fifteen years later, they have been forced to adopt civilian identities and retreat to the suburbs where they have no choice but to retire as superheroes to live a "normal life" with their three children Violet, Dash and Jack-Jack (who were secretly born with superpowers). Itching to get back into action, Bob gets his chance when a mysterious communication summons him to a remote island for a top secret assignment. He soon discovers that it will take a super family effort to rescue the world from total destruction. (IMDb) 
Top 20 Quotes from The Incredibles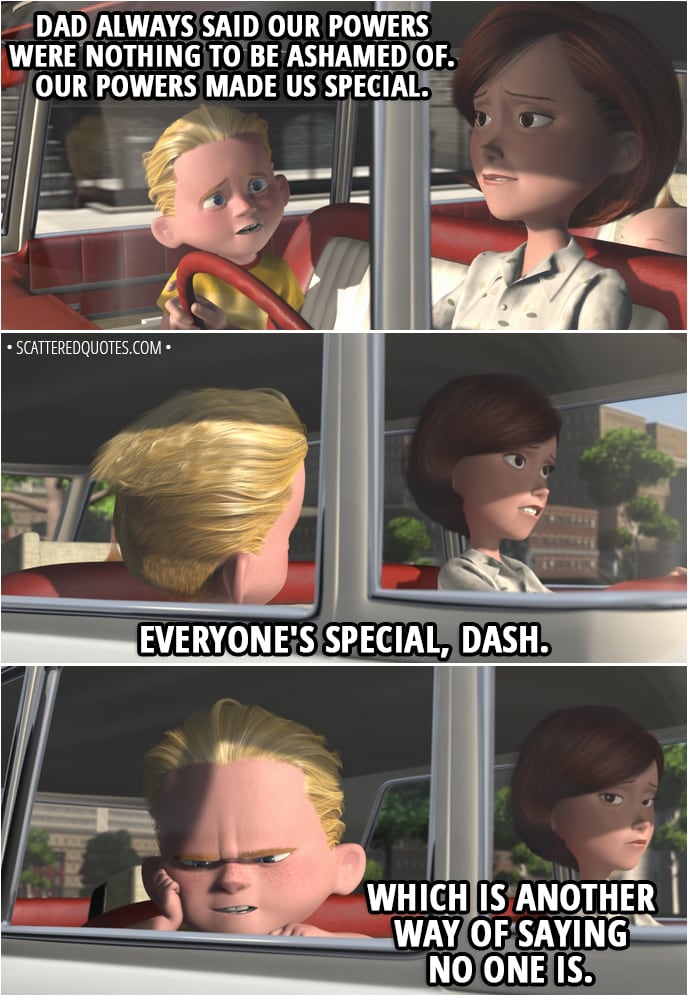 Sorted chronologically as quotes appear in the episode.
Mr. Incredible: No matter how many times you save the world, it always manages to get back in jeopardy again. I mean… Sometimes I just want it to stay saved, you know? For a little bit. I feel like the maid. "I just cleaned up this mess. Can we keep it clean? For ten minutes?" Sometimes I think I'd just like the simple life, you know? Relax a little and raise a family. 
Helen Parr: You're late. When you asked if I was doing anything later, I didn't realize you'd forgotten. I thought it was playful banter.
Bob Parr: It was playful banter.
Helen Parr: Cutting it close, don't you think?
Bob Parr: You need to be more… flexible.
Helen Parr: I love you, but if we're gonna make this work, you've gotta be more than Mr. Incredible. You know that. Don't you? As long as we both shall live. No matter what happens.
Bob Parr: Hey, come on. We're superheroes. What could happen?
Narrator/News: In a stunning turn of events, a superhero is being sued for saving someone who, apparently, didn't want to be saved. The plaintiff, Oliver SANSWEET, who was foiled in his attempted suicide by Mr. Incredible, has filed suit against the famed superhero in Superior Court.
Attorney: Mr. SANSWEET didn't ask to be saved. He didn't want to be saved. The injury received from Mr. Incredible's "actions," causes him daily pain.
Mr. Incredible: Hey! I saved your life!
Mr. Sansweet: You didn't save my life! You ruined my death. 
Dash Parr: You always say, "Do your best." But you don't really mean it. Why can't I do the best that I can do?
Helen Parr: Right now, honey, the world just wants us to fit in, and to fit in, we just gotta be like everybody else.
Dash Parr: But Dad always said our powers were nothing to be ashamed of. Our powers made us special.
Helen Parr: Everyone's special, Dash.
Dash Parr: Which is another way of saying no one is. 
Helen Parr: Now, it's perfectly normal…
Violet Parr: Normal? What do you know about normal? What does anyone in this family know about normal?
Helen Parr: Now, wait a minute, young lady…
Violet Parr: We act normal. I wanna be normal. The only normal one is Jack-Jack, and he's not even toilet trained.
Dash Parr: Lucky. (Violet and Helen give him a look) I meant about being normal.
Bob Parr: What are you waiting for?
Tricycle kid: I don't know. Something amazing, I guess.
Bob Parr: Me, too, kid. 
Edna Mode (to Bob through doorbell camera): What is it? Who are you? What do you want? (she recognizes him) My God, you've gotten fat. Come in. Come, come.

Edna Mode: This is a hobo suit, darling. You can't be seen in this. I won't allow it! Fifteen years ago, maybe, but now?
Bob Parr: What do you mean? You designed it.
Edna Mode: I never look back, darling. It distracts from the now. You need a new suit. That much is certain.
Bob Parr: A new suit? Where the heck am I gonna get a new suit?
Edna Mode: You can't! It's impossible! I'm far too busy. So ask me now, before I again become sane.
Bob Parr: Wait. You want to make me a suit?
Edna Mode: You push too hard, darling! But I accept. 
Bob Parr: Something classic, like Dynaguy!Oh! He had a great look! Oh, the cape and the boots…
Edna Mode: No capes!
Bob Parr: Isn't that my decision?
Edna Mode: Do you remember Thunderhead? Tall, storm powers. Nice man. Good with kids.
Bob Parr: Listen, E…
Edna Mode: November 15th of '58. All was well, another day saved when his cape snagged on a missile fin.
Bob Parr: Thunderhead was not the brightest bulb…
Edna Mode: Stratogale! April 23rd, '57. Cape caught in a jet turbine.
Bob Parr: You can't generalize about these things.
Edna Mode: Meta-Man. Express elevator. Dynaguy, snag on takeoff. Splashdown, sucked into a vortex. No capes! 
Edna Mode: I cut it a little roomy for the free movement. The fabric is comfortable for sensitive skin, And can also withstand a temperature of over 1000 degrees. Completely bulletproof. And machine washable, darling. That's a new feature.
Helen Parr: What on earth do you think the baby will be doing!?
Edna Mode: Well, I'm sure I don't know, darling. Luck favors the prepared. I didn't know the baby's powers, so I covered the basics.
Helen Parr: Jack-Jack doesn't have any powers.
Edna Mode: No? Well, he'll look fabulous anyway.

Dash Parr: We're dead! We're dead! We survived but we're dead! 
Violet Parr: Mom, what happened on the plane. I'm sorry. I wanted to help. When you asked me to… I'm sorry.
Helen Parr: Shh. It isn't your fault. It wasn't fair for me to suddenly ask so much of you. But things are different now. And doubt is a luxury we can't afford anymore, sweetie. You have more power than you realize. Don't think. And don't worry. If the time comes, you'll know what to do. It's in your blood. 

Dash Parr: Well, not that this isn't fun, but I'm gonna go look around.
Violet Parr: What do you think is going on here? You think we're on vacation? Mom and Dad's lives could be in jeopardy. Or worse, their marriage.
Dash Parr: Their marriage? So, the bad guys are trying to wreck Mom and Dad's marriage. 
Syndrome: The robot will emerge dramatically, do some damage. Throngs of screaming people! And just when all hope is lost, Syndrome will save the day! I'll be a bigger hero than you ever were!
Bob Parr: You mean you killed off real heroes so that you could pretend to be one?
Syndrome: Oh, I'm real. Real enough to defeat you! And I did it without your precious gifts, your oh-so-special powers. I'll give them heroics. I'll give them the most spectacular heroics anyone's ever seen! And when I'm old and I've had my fun, I'll sell my inventions so that everyone can be superheroes. Everyone can be super. And when everyone's super no one will be. 
Bob Parr: I'm sorry. This is my fault. I've been a lousy father. Blind to what I have. So obsessed with being undervalued that I undervalued all of you.
(Violet makes a force field but no one but Dash notices)
Dash Parr: Dad?
Helen Parr: Shh. Don't interrupt.
Bob Parr: So caught up in the past that I… You are my greatest adventure. And I almost missed it. I swear, I'm gonna get us out of this safely if I…
Violet Parr: Well… I think Dad has made some excellent progress today but I think it's time we wind down now.

(Frozone's supersuit isn't in the secret closet display)
Lucius Best: Honey?
Honey: What?
Lucius Best: Where is my supersuit?
Honey: What?
Lucius Best: Where is my supersuit?
Honey: I put it away.
Lucius Best: Where?
Honey: Why do you need to know?
Lucius Best: I need it!
Honey: Don't you think about running off doing no derrin'-do. We've been planning this dinner for two months!
Lucius Best: The public is in danger!
Honey: My evening's in danger!
Lucius Best: Tell me where my suit is, woman! We are talking about the greater good!
Honey: "Greater good"? I am your wife! I'm the greatest good you are ever gonna get! 
(The car stops after crashing/rolling…)
Bob Parr: Is everybody okay back there?
Violet Parr: Super-duper, Dad!
Dash Parr: Let's do that again. 
Bob Parr: I have to do this alone.
Helen Parr: What is this to you? Playtime?
Bob Parr: No.
Helen Parr: So you can be Mr. Incredible again?
Bob Parr: No!
Helen Parr: Then what? What is it?
Bob Parr: I'm not…
Helen Parr: Not what?
Bob Parr: I'm not strong enough.
Helen Parr: Strong enough? And this will make you stronger?
Bob Parr: Yes. No!
Helen Parr: That's what this is? Some sort of workout?
Bob Parr: I can't lose you again! I can't. Not again. I'm not strong enough.
(They kiss)
Helen Parr: If we work together, you won't have to be. 
Dash Parr: That was cool when you threw that car!
Bob Parr: Not as cool as you running on water.
Dash Parr: Hey, Mom! That was sweet when you snagged that bad guy with your arm and whiplashed him into the other guy… (he keeps talking in the background for a bit) …aced those guys that tried to kill us! That was the best vacation ever! I love our family. 
Underminer: Behold the Underminer! I am always beneath you, but nothing is beneath me! I hereby declare war on peace and happiness! Soon all will tremble before me!
Your turn
• What did you think about The Incredibles? Have you already seen the second one?
• What is your favorite quote?
If you enjoyed this list, please consider sharing it. We'd appreciate it, thank you!