Enjoy going through the collection of best quotes from The Avengers (2012).
The Avengers is a movie set in Marvel Universe and sometimes called Marvel's The Avengers.
If you're in need of refreshing your memory before jumping in the quotes, here is a short summary of the plot.
Plot summary
When the mysterious and unpredictable power source called the Tesseract is stolen by Loki from S.H.I.E.L.D. agents to rule the entire world the Avengers have to unite and stop Loki and his infinite wrath. The S.H.I.E.L.D. head named Nick Fury tries to gather these mighty heroes and prepares them for a mighty battle.
When Loki returns and threatens to steal the Tesseract and use it to take over the world, Nick Fury must form a team of elite agents and superheros – featuring Iron Man, Captain America, Thor, the Hulk, Agent Natasha Romanoff and Agent Barton – to save New York. (IMDb)
Top 20 Quotes from 'The Avengers' (2012)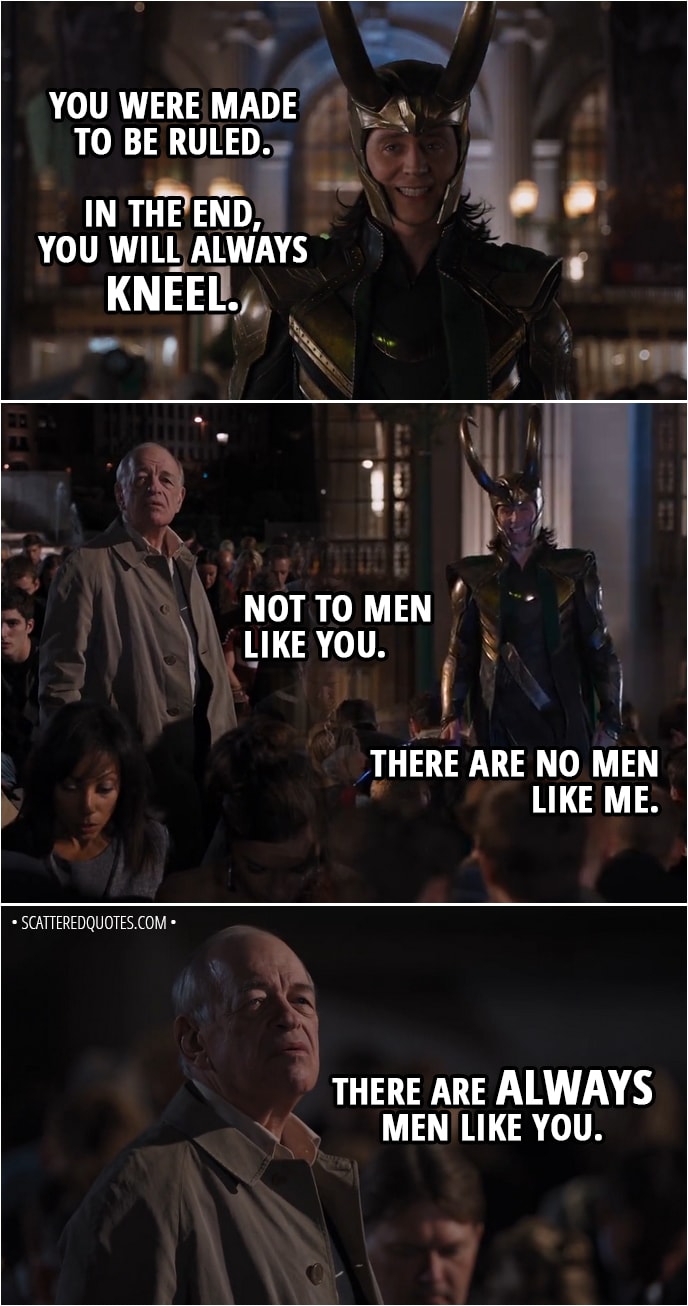 Sorted chronologically as quotes appear in the movie.
The Other: The Tesseract has awakened. It is on a little world, a human world. They would wield its power, but our ally knows its workings as they never will. He is ready to lead and our force, our Chitauri, will follow. A world will be his. The universe, yours. And the humans, what can they do but burn? 
Nick Fury: Is there anything you can tell us about the Tesseract that we ought to know now?
Steve Rogers: You should have left it in the ocean. 
J.A.R.V.I.S.: Sir, the telephone. I'm afraid my protocols are being overridden.
Phil Coulson: Mr Stark, we need to talk.
Tony Stark: You have reached the life model decoy of Tony Stark. Please leave a message.
Phil Coulson: This is urgent.
Tony Stark: Then leave it urgently. 

Pepper Potts: Is this about the Avengers? Which I know nothing about.
Tony Stark: The Avengers Initiative was scrapped, I thought. And I didn't even qualify.
Pepper Potts: I didn't know that either.
Tony Stark: Apparently I'm volatile, self-obsessed, don't play well with others.
Pepper Potts: That I did know. 
Loki: Kneel before me. I said kneel! Is not this simpler? Is this not your natural state? It's the unspoken truth of humanity, that you crave subjugation. The bright lure of freedom diminishes your life's joy in a mad scramble for power, for identity. You were made to be ruled. In the end, you will always kneel.
Man: Not to men like you.
Loki: There are no men like me.
Man: There are always men like you. 
Steve Rogers: What's the matter? Are you scared of a little lightning?
Loki: I'm not overly fond of what follows.
Thor: You listen well, brother.
(Iron Man flies in and takes Thor with him)
Loki: I'm listening. 
Thor: Do not touch me again.
Tony Stark: Then don't take my stuff.
Thor: You have no idea what you're dealing with.
Tony Stark: Shakespeare in the Park? Doth Mother know you wear-eth her drapes?
Thor: This is beyond you, metal man.

Thor: Have care how you speak. Loki is beyond reason, but he is of Asgard. And he is my brother.
Natasha Romanoff: He killed 80 people in two days.
Thor: He's adopted. 
Tony Stark: Raise the mizzenmast. Jib the topsails. That man is playing Galaga. He thought we wouldn't notice, but we did. (covers one of his eyes) How does Fury even see these?
Maria Hill: He turns.
Tony Stark: Sounds exhausting.
Tony Stark: The only major component he still needs is a power source of high-energy density. Something to kick-start the Cube.
Maria Hill: When did you become an expert in thermonuclear astrophysics?
Tony Stark: Last night.
Steve Rogers: You think Fury's hiding something?
Tony Stark: He's a spy. Captain, he's "the" spy. His secrets have secrets. 
Tony Stark: You're a laboratory experiment, Rogers. Everything special about you came out of a bottle.
(A moment later…)
Steve Rogers: Big man in a suit of armor. Take that off, what are you?
Tony Stark: Genius, billionaire, playboy, philanthropist. 
Guard: Are you an alien?
Bruce Banner: What?
Guard: From outer space, an alien.
Bruce Banner: No.
Guard: Well, then, son, you've got a condition. 
Clint Barton: Why am I back? How did you get him out?
Natasha Romanoff: Cognitive recalibration. I hit you really hard on the head.
Clint Barton: Thanks. 
Tony Stark: Would you like a drink?
Loki: Stalling me won't change anything.
Tony Stark: No, no. Threatening. No drink? Are you sure? I'm having one.
Loki: The Chitauri are coming. Nothing will change that. What have I to fear?
Tony Stark: The Avengers. That's what we call ourselves. We're sort of like a team. "Earth's mightiest heroes"-type thing.
Loki: Yes, I've met them.
Tony Stark: Yeah. It takes us a while to get any traction, I'll give you that one. But let's do a head count, here. Your brother, the demigod, a super soldier, a living legend who kind of lives up to the legend. A man with breathtaking anger-management issues, a couple of master assassins, and you, big fella, you've managed to piss off every single one of them.
Loki: That was the plan.
Tony Stark: Not a great plan. When they come, and they will, they'll come for you.
Loki: I have an army.
Tony Stark: We have a Hulk.

Tony Stark (to Loki): Maybe your army comes and maybe it's too much for us, but it's all on you. Because if we can't protect the Earth, you can be damn well sure we'll avenge it.
Loki: How will your friends have time for me when they are so busy fighting you? (he touches him with sceptre and nothing happens) This usually works.
Tony Stark: Well, performance issues, it's not uncommon. One out of five… 

(All the Avengers are ready to fight Loki)
Loki: If it's all the same to you, I'll have that drink now. 
The World Security Council: I don't think you understand what you've started, letting the Avengers loose on this world. They're dangerous.
Nick Fury: They surely are, and the whole world knows it. Every world knows it.
The World Security Council: Was that the point of all this? A statement?
Nick Fury: A promise. 
See all quotes from the movie:
Your turn
• What did you think about The Avengers?
• And as always: What is your favorite quote from the movie?
If you enjoyed this list, please consider sharing it. We'd appreciate it, thank you!