Enjoy the best quotes / moments from Shadowhunters' episode 'The Powers That Be'.
'The Powers That Be' is the second episode of season 3. (s03e02)

If you're in need of refreshing your memory before jumping in the quotes, here is a short summary of the plot.
Plot summary
With the institute under siege by a greater demon, tensions between shadowhunters and warlocks are higher than ever as Alec tries to remain in control of the situation. (
IMDb
)
Top 20 Shadowhunters Quotes from 3×02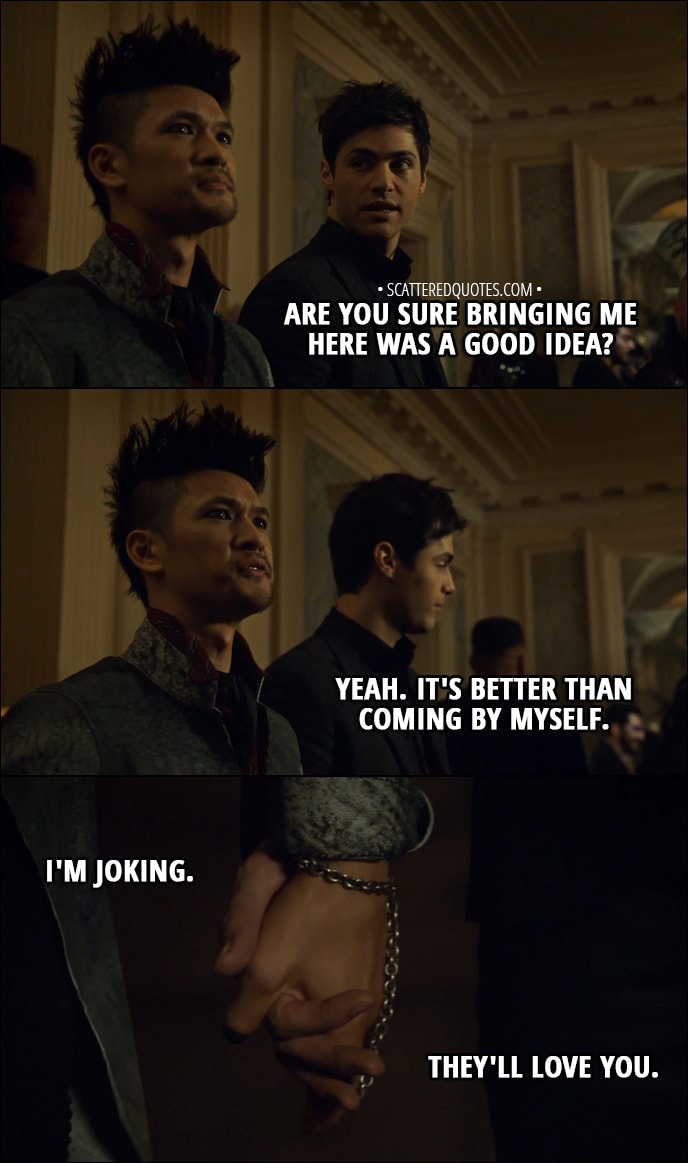 Sorted chronologically as quotes appear in the episode.
Alec Lightwood: Are you sure bringing me here was a good idea?
Magnus Bane: Yeah. It's better than coming by myself. I'm joking. They'll love you. 
Magnus Bane: Oh, just because you're the only Shadowhunter at a party full of warlocks doesn't mean you can't have fun.
Alec Lightwood: Yeah, well, that's easy for you to say. You've known these people for centuries.
Magnus Bane: And you think that's a good thing? Trust me, I don't want to be here any longer than I have to… 
Lorenzo Rey (to Alec): I'm here to serve the warlocks, not portal you around like some glorified shuttle service. 

Madzie: Alec!
Alec Lightwood: Madzie! Hey! My favourite little sorceress!
Catarina Loss: I can't believe you brought him just to piss Lorenzo off.
Magnus Bane: No. I brought him because he's my boyfriend.
Catarina Loss: Well, he's good with kids, I'll give you that… 
Maia Roberts: Now you're just stealing moves from Indiana Jones.
Simon Lewis: Well, I did learn from the best. 
Jace Herondale: I actually was hoping you could give me a dinner recommendation.
Izzy Lightwood: Well, you're asking the wrong Lightwood. Alec and Magnus have been to every restaurant in New York. 
Jace Herondale: What are you talking about? I've been on tons of dates.
Izzy Lightwood: With who? Your… book club?
Jace Herondale: Yeah. Among others… But never with a girl you actually care about. 
Magnus Bane: Asmodeus is my father. Look, I'm sorry I never told you. I was ashamed.
Alec Lightwood: I knew every warlock had a demon parent, it's just… Asmodeus? 

Simon Lewis: Hello?
Jace Herondale: Hi.
Simon Lewis: Jace?
Jace Herondale: Do you know any really good mundane restaurants?
Simon Lewis: How did you get my number? 
Lorenzo Rey: Magnus Bane is the only warlock I know capable of conjuring that type of demonic magic.
Alec Lightwood: Well, I assure you… if Magnus is behind this, I will turn him over to the Clave myself.
Lorenzo Rey: Spoken like a true Shadowhunter. The law is hard, but it is the law. 
Simon Lewis: Clary hates crab.
Jace Herondale: Thank you.
Simon Lewis: Lobster, shrimp… crawfish.
Clary Fairchild: That is not true. I'm OK as long as there's no… shells or claws involved.
Jace Herondale: Got it. Um… OK, then. The flatbread?
Simon Lewis (whispers): Burrata salad.
Jace Herondale: Burrata salad? Let's do a burrata salad.
Clary Fairchild: My favourite. 
Jace Herondale: Oh, ketchup on fish? That's disgusting.
Simon Lewis: It is not ketchup.
Jace Herondale (to Clary): That's more disgusting. Right?
Simon Lewis: It's gotta go down some way, chief. 
Maia Roberts: I don't know that I'd want my whole body covered in tattoos.
Jace Herondale: Says the girl with the butterfly tattoo.
Clary Fairchild: Butterfly tattoo?
Simon Lewis: How do you know about that? It's pretty well hidden.
Clary Fairchild: You saw it after one of her transformations? Or…
Jace Herondale: Not exactly. No.
Maia Roberts: Yeah… 
Maia Roberts: Simon, about the tattoo…
Simon Lewis: Look, you don't have to apologize.
Maia Roberts: I wasn't going to. I was single at the time.
Simon Lewis: I know, and I just assume that pretty much everyone's slept with Jace at this point. It's only a matter of time before I sleep with him myself, I guess. 

Maia Roberts (to Simon): It doesn't matter who we've been with in the past. What's important is who we're with now. And I… want to be with you. 
Jace Herondale: I've never felt about anyone… the way I feel about you, Clary. When I met you I… I thought I knew everything, but you've shown me that there is so much more to being a Shadowhunter than just killing demons.
Clary Fairchild: Come on, you still think you know everything.
Jace Herondale: Well, except restaurants… apparently. 
Jace Herondale (to Clary): You're special. Everything about you. Like how you scrunch your face when you're thinking. Like how you always double knot your shoes before you train. Like how you always have a piece of charcoal in your pocket. But more than that, it's how you always see the best in people. In me. And I am scared that if we take things too quickly… that you're gonna see something in me that you don't like. I just don't want to ruin this. 
Magnus Bane: I could try it on my own. It'd be far more difficult, but at least you'll be safe.
Alec Lightwood: And let you hog all the glory?
Magnus Bane: Maybe.
Alec Lightwood: As long as you're here, I'm not going anywhere. 

Alec Lightwood: I did it.
Magnus Bane: You did it?
Alec Lightwood: Yeah! Well, maybe… Maybe I got a little help.
Magnus Bane: Huh. 

Magnus Bane: Alexander… about my father. I hope you don't think less of me.
Alec Lightwood: Are you kidding? I don't care who your dad is! I care who you are. And you're the furthest thing from a greater demon.
See all quotes from the series:
Your turn
• What did you think about this episode?
• What is your favorite quote from it?
If you enjoyed this list, please consider sharing it. I'd appreciate it, thank you!