Enjoy going through the collection of best quotes from Fifty Shades Freed (2018).
Fifty Shades Freed is the third movie from the Fifty Shades trilogy.
If you're in need of refreshing your memory before jumping in the quotes, here is a short summary of the plot.
Plot summary
Believing they have left behind shadowy figures from their past, newlyweds Christian and Ana fully embrace an inextricable connection and shared life of luxury. But just as she steps into her role as Mrs. Grey and he relaxes into an unfamiliar stability, new threats could jeopardize their happy ending before it even begins. (IMDb)
Top 20 Quotes from 'Fifty Shades Freed' (2018)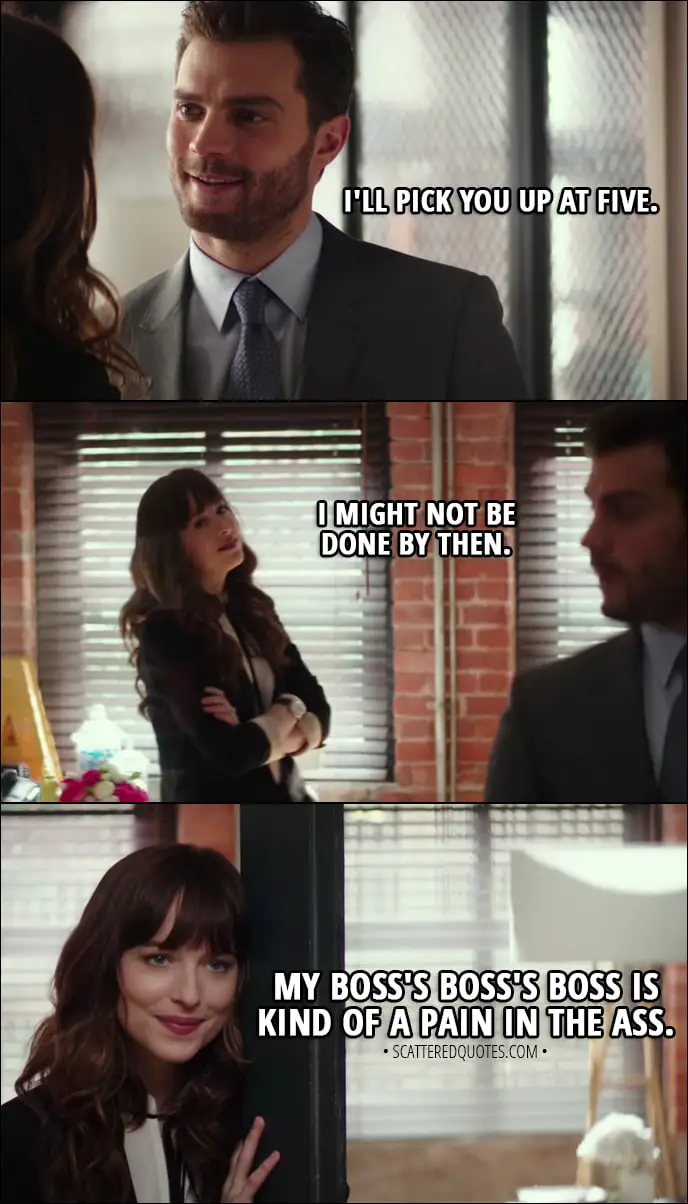 Sorted chronologically as quotes appear in the movie.
Christian Grey: Anastasia, I vow to love you faithfully forsaking all others. I promise to love, to trust and to respect you. To comfort you in times of need and keep you safe. All that I have is now yours. Fifty shades freed. I give you my hand to my heart. For as long as we both shall live.
Anastasia Steele: Christian, I vow to be your faithful partner in sickness and health, I promise to love you unconditionally. To honor and respect you. To bring you solace in times of need. I promise to cherish you as long as we both shall live. 
Anastasia Grey: Christian, look around. There is nothing but boobs for as far as I can see. Boobs in boob land. Nobody cares about mine.
Christian Grey: They will when they are on the cover of some sleazy tabloid. 
Christian Grey: You insist on defying me Mrs. Grey. What should I do about that?
Anastasia Grey: Learn to live with it.
Christian Grey: It's not my style. 

Anastasia Grey: Do you not wanna have kids?
Christian Grey: Of course. One day, just, not now. I'm not ready to share you… with anyone. 
Christian Grey: I'll pick you up at five.
Anastasia Grey: I might not be done by then. My boss's boss's boss is kind of a pain in the ass. 

Gia Matteo: Anna. I have designed many prestige projects.
Anastasia Grey: You may call me Mrs. Grey. And this is not a prestige project, this is gonna be our home. So, if you want this job, I suggest you stop making eyes at my husband and keep your hands to yourself. Or you can go and climb back into your shit color car and drive back to Seattle. It's up to you.
Gia Matteo: Look, I'm sorry Mrs. Grey but I would never… It won't happen again. 
(After Ana vs. Gia confrontation…)
Christian Grey (to Ana): I am paying for extra security and you are scarier than any of them. 
Kate Kavanagh: He is working on this Eco project with that architect Gia Matteo.
Anastasia Grey: One with the the really big…
Kate Kavanagh: Plans. Yeah, huge plans, and boy, does Elliott like to look at those plans. 
Luke Sawyer: Better restrain him.
Belinda Prescott: I don't have anything.
Anastasia Grey: We do… I.. I mean… I can find something. 
(Christian is playing the piano and singing)
Elliot Grey: No way.
Anastasia Grey: You guys must have heard him play before.
Mia Grey: We have never heard him sing
Elliot Grey: Ever. 
Elliot Grey: At a certain point the idea, of spending the rest of my life with one person seemed unimaginable. And then I met Kate. And I fell head over heels in love. I fell in love with your beauty, your grace, your wisdom, with everything that you are. Now the only thing I can't imagine is… being without you. Ever, so… marry me? Please?
Kate Kavanagh: Yes, yes, yes, yes! 
Anastasia Grey: I'm pregnant. Six or seven weeks.
Christian Grey: You forgot your shot. Gosh.
Anastasia Grey: I'm sorry. I know it's not good timing.
Christian Grey: I had plans for us! I wanted to give you the world! Do you really think that I'm ready to be a father?
Anastasia Grey: No. I don't. And I'm not ready to be a mother either but we'll just figure it out.
Christian Grey: I'm not ready to figure it out. 
Christian Grey: Hey! You look mighty fine, Mrs. Gray.
Anastasia Grey: Wow, you look mighty drunk. Where have you been? Alright, let's go to bed.
Christian Grey: Now you're talking.
Anastasia Grey: OK, big guy. Come on, lean on me.
Christian Grey: You are so beautiful.
Anastasia Grey: Oh yeah, both of me? 
Anastasia Grey: Okay, time for sleep.
Christian Grey: This is where it starts.
Anastasia Grey: Where what starts?
Christian Grey: Babies mean no sex.
Anastasia Grey: That can't be true, there would be no siblings. 
Christian Grey: Hello. We have an intruder. You're gonna take her from me, aren't you? You'll see. You'll choose him over me.
Anastasia Grey: Nobody's choosing anybody. And he might be a she.
Christian Grey: Oh Jesus. 
Anastasia Grey: I am angry with you Christian, you left me! You left me when I needed you! You fucked up!
Christian Grey: Yes, I fucked up and I'm sorry! I am standing here telling you I'm sorry! Okay? She doesn't… She doesn't mean anything to me. I don't need her. I need you.
Anastasia Grey: Would have been good if you felt that way yesterday. 
Christian Grey: I thought she was leaving me.
Grace Trevelyan Grey: Not this one. She is tenacious. Especially about things that she loves. And she does love you, Christian. You know that, don't you?
Christian Grey: Yeah, yeah I do.
Grace Trevelyan Grey: Good. 
Anastasia Grey (to Christian): I know you think you're gonna be a really shitty dad. But you are not. This baby is gonna love you. Unconditionally. Just like you loved your mother. You just have to forgive her. 
Christian Grey: If I'd been left in the system… who knows how I'd have turned out? That could be me, maybe that should've been me.
Anastasia Grey: Hey, no. You are nothing like him. You were given a life with advantages, yes… but look what you made of it. You're a man of honor. And you treat people well. You care. No one could ever say that about a man like Hyde. No matter who raised him.
Christian Grey: I love you.
Anastasia Grey: Yeah, if you could only cook, you'd be perfect.
Christian Grey: Oh God, okay… Fuck it, let's get take out. 

Anastasia Grey (via text): Sir, I await your pleasure.
Christian Grey: So you wanna play?
Anastasia Grey: Yes, sir.
Christian Grey: You're tapping from the bottom, Mrs. Gray. But I can live with that.
See all quotes from the movie:
Your turn
• What did you think about this movie?
• What is your favorite quote from it?
If you enjoyed this list, please consider sharing it. I'd appreciate it, thank you!