Enjoy going through the collection of best quotes from Black Panther (2018).
Black Panther is a movie set in Marvel Universe following the events of Captain America: Civil War.
If you're in need of refreshing your memory before jumping in the quotes, here is a short summary of the plot.
Plot summary
King T'Challa returns home to the reclusive, technologically advanced African nation of Wakanda to serve as his country's new leader. However, T'Challa soon finds that he is challenged for the throne from factions within his own country. When two foes conspire to destroy Wakanda, the hero known as Black Panther must team up with C.I.A. agent Everett K. Ross and members of the Dora Milaje, Wakandan special forces, to prevent Wakanda from being dragged into a world war. (IMDb)
Top 20 Quotes from 'Black Panther' (2018)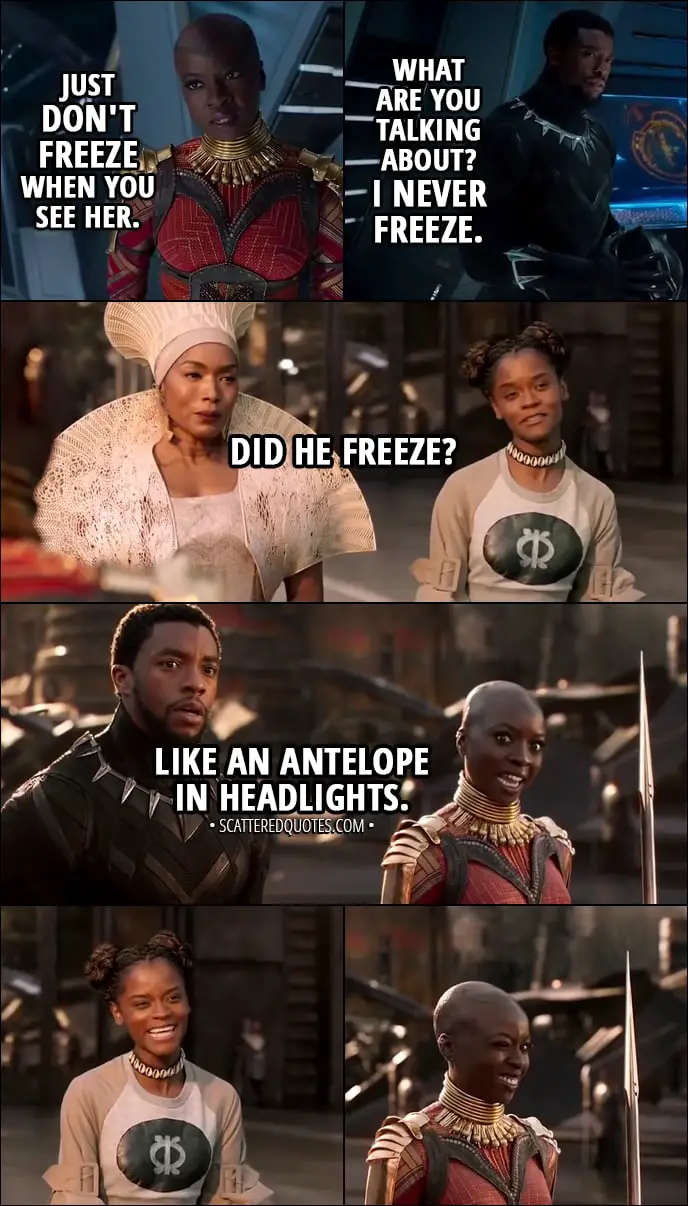 Sorted chronologically as quotes appear in the movie.
N'Jobu (prologue): Millions of years ago a meteorite made of vibranium the strongest substance in the universe struck the continent of Africa affecting the plant life around it. And when the time of men came, five tribes settled on it and called it Wakanda. The tribes lived in constant war with each other until a warrior shaman received a vision from the panther goddess Bast who led him to the heart-shaped herb. A plant that granted him superhuman strength, speed and instincts. The warrior became king… and the first Black Panther. The protector of Wakanda. Four tribes agreed to live under the king's rule. But the Jabari Tribe isolated themselves in the mountains. The Wakandans used vibranium to develop technology more advanced than any other nation. But as Wakanda thrived, the world around it descended further into chaos. To keep vibranium safe, the Wakandans vowed to hide in plain sight… keeping the truth of their power from the outside world.
Okoye: Just don't freeze when you see her. (means Nakia)
T'Challa: What are you talking about? I never freeze.
(Later…)
Shuri: Did he freeze?
Okoye: Like an antelope in headlights. 
Ulysses Klaue: You can go, but just don't tell anyone, all right?
(Says to a guy… lets him run and shoots him after few steps)
Erik Killmonger: Bro, why you ain't just shoot him right here?
Ulysses Klaue: Because it's better to leave the crime scene more spread out. Makes it look like amateurs.

T'Challa: Tell me how to best protect Wakanda. I want to be a great king, Baba. Just like you.
T'Chaka: You're going to struggle. So you'll need to surround yourself with people you trust. You're a good man with a good heart. And it's hard for a good man to be king. 
Shuri: What are those?! Why do you have your toes out in my lab?
T'Challa: What? You don't like my royal sandals? I wanted to go old school for my first day.
Shuri: Yeah, I bet the elders loved it. 
Shuri (about new shoes): Fully automated. Like the old American movie Baba used to watch. And I made them completely sound absorbent.
T'Challa: Interesting.
Shuri: Guess what I call them. Sneakers. Because you… Never mind.
Shuri: Exhibit A. (Black Panther suit)
T'Challa: My design.
Shuri: Old tech.
T'Challa: Old?
Shuri: Functional, but old. "Hey, people are shooting me. Wait, let me put on my helmet." 
Shuri: The nanites absorb the kinetic energy and hold it in place for redistribution. (new Black Panther suit)
T'Challa: Very nice.
Shuri: Strike it again in the same spot.
T'Challa: You're recording?
Shuri: For research purposes.
(T'Challa punches the suit and it throws him back across the room, Shuri is laughing)
T'Challa: Delete that footage. 

(Agent Ross touches T'Challa)
Okoye (to T'Challa): If he touches you again, I'm going to impale him to this desk.
Everett Ross (to T'Challa): Does she speak English?
Okoye: When she wants to. 
T'Challa: My uncle N'Jobu betrayed us, but my father… He may have created something even worse.
Nakia: Hey. Look at me. You can't let your father's mistakes define who you are. You get to decide what kind of king you are going to be. 
Okoye: I'm not a spy who can come and go as they so choose. I am loyal to that throne, no matter who sits upon it. What are you loyal to?
Nakia: I loved him. I love my country, too.
Okoye: Then you serve your country.
Nakia: No. I save my country. 

M'Baku (to Agent Ross): You cannot talk! One more word and I will feed you to my children. I'm kidding. We are vegetarians. 
T'Challa (to T'Chaka): You were wrong! All of you were wrong! To turn your backs on the rest of the world! We let the fear of discovery stop us from doing what is right. No more! I cannot stay here with you. I cannot rest while he sits on the throne. He is a monster of our own making. I must take the mantle back. I must! I must right these wrongs. 
Ramonda: T'Challa, we will not leave Wakanda.
T'Challa: It is my duty to keep you safe.
Shuri: If he gets control of our technology, nowhere will be safe. The Black Panther lives. And when he fights for the fate of Wakanda, I will be right there beside him.
Nakia: As will I.
Everett Ross: I'm in too. What? You're gonna need all the help you can get.
M'Baku: (yawns) Are you're done? A-Are you-are you- are you done? 
T'Challa: Please allow my mother to stay here.
M'Baku: No harm will come to her. I give you my word.
T'Challa: You know, I could use an army as well.
M'Baku: I bet you could. But no. 
Shuri: Don't worry, I'll guide you through it. It's just like riding a hoverbike.
Everett Ross: What? You guys have hoverbikes? 
W'Kabi: Would you kill me, my love?
Okoye: For Wakanda? Without question. 
Shuri (to T'Challa): When you said you would take me to California for the first time, I thought you meant Coachella or Disneyland.

T'Challa: My name is King T'Challa. Son of King T'Chaka. I am the sovereign ruler of the Nation of Wakanda. And for the first time in our history, we will be sharing our knowledge and resources with the outside world. Wakanda will no longer watch from the shadows. We cannot. We must not. We will work to be an example of how we as brothers and sisters on this Earth should treat each other. Now more than ever… the illusions of division threaten our very existence. We all know the truth. More connects us than separates us. But in times of crisis, the wise build bridges while foolish build barriers. We must find a way to look after one another as if we were one single tribe.
A UN delegate: With all due respect, King T'Challa, what can a nation of farmers have to offer the rest of the world?
Wakanda forever!
– Traditional Wakanda salute, said by multiple characters
See all quotes from the movie:
Your turn
• What did you think about Black Panther? What did you like and dislike about the movie?
• What is your favorite quote from the movie?
If you enjoyed this list, please consider sharing it. We'd appreciate it, thank you!