Enjoy the best quotes / moments from 13 Reasons Why's episode 'Tape 7, Side A'.
'Tape 7, Side A' is the 13th episode of season one. (s01e13)

In case you don't remember what was this episode about or you're not sure you've seen it, here is summary.
Plot summary
Hannah seeks help from Mr. Porter, the school counselor. Clay plays the new tape for Tony and weighs what to do next. (IMDb)

Top 20 '13 Reasons Why' Quotes from 1×13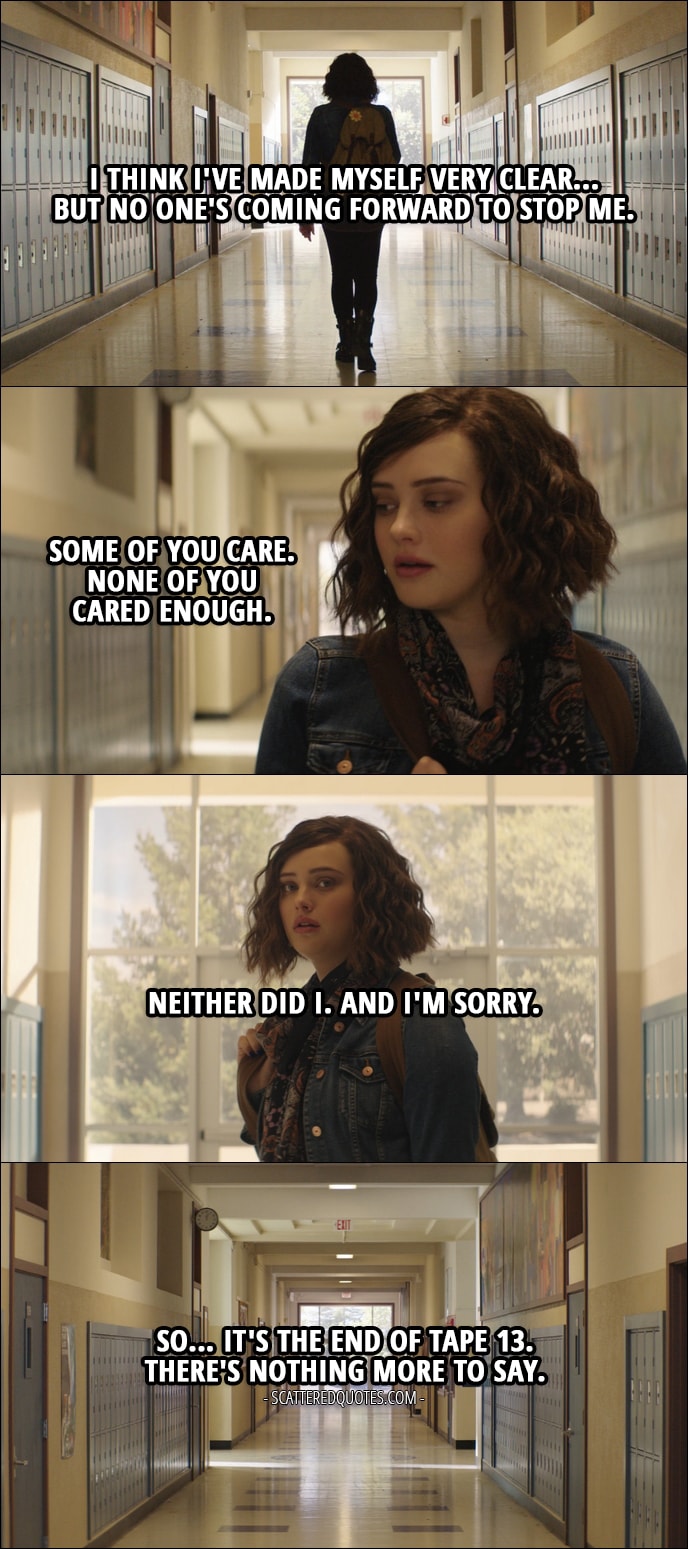 Ordered chronologically as they appear in the episode.
Hannah Baker (from the tape): I recorded 12 tapes. I started with Justin. Then Jessica. Who each broke my heart. Alex, Tyler, Courtney, Marcus, who each helped destroy my reputation. On through Zach and Ryan… who broke my spirit. Through tape number 12… Bryce Walker… who broke my soul. But a funny thing happened as I finished number 12. I felt something… shift. I had poured it all out… and for a minute… just a minute… I felt like maybe I could beat this. I decided to give life one more chance. But this time, I was asking for help… because I know I can't do it alone. I know that now. Of course, if you're listening to this, I failed. Or he failed, and my fate is sealed. 
Olivia Baker (to Andrew): Those kids hurt our daughter. I want to find out what they know. 
Clay Jensen (to Tony): It's time we stop thinking about what Hannah wanted and start thinking about what she needs. 
Clay Jensen: Thanks for talking to me about this. And I guess let me know if there's anything… if there's anything.
Jessica Davis: Clay. Don't burn the tapes. 
Kat: You try going to school with a bunch of Neanderthals who are told they are the only thing of value at school, and that the rest of us are merely there to cheer them on and provide them with whatever support they need. 
Kat: If I hadn't moved away… if I hadn't let her start dating Justin… if I'd been around to help her through it… she'd still be alive today. 
Justin Foley: Tell me what you want me to do, and I'll do it. I'll fucking go to the school. I'll talk to the cops. I'll kill Bryce. If you want, I'll kill him with my bare hands and pay the price. Just please tell me what you want.
Jessica Davis: What I want… is never to see you again in my life. 
Clay Jensen: I wanted to talk about Hannah Baker. She pushed me away. I was thinking about how hurt I was, and I didn't even for a minute stop to think that… she was hurting too. 

Hannah Baker: I need it to stop.
Kevin Porter: You need what to stop?
Hannah Baker: I need everything to stop. Just… People. Life. 
Kevin Porter: You know, it's natural to blame yourself, but… we all do the best we can.
Clay Jensen: I think that's bullshit. I think we should blame ourselves. I think we all could do better. 
Kevin Porter: I'm not trying to be blunt here, Hannah, but… you can move on.
Hannah Baker: You mean… do nothing.
Kevin Porter: Is he in your class?
Hannah Baker: He's a senior.
Kevin Porter: That means he'll be gone in a few months.
Hannah Baker: Are you fucking kidding me? 
Clay Jensen (to Mr. Porter): But wouldn't you like to know what happened after Hannah left that day? She walked out of this office… and she hoped you would come after her. But you didn't. You let her walk away. We all let her walk away. She walked out of school… went home… and put some things in order. She returned her uniform to the Crestmont, where I worked with her. She didn't say anything. She dropped it on the counter and walked away. She dropped a package off with a friend, then took another to the post office. 
Hannah Baker: I think I've made myself very clear… but no one's coming forward to stop me. Some of you care. None of you cared enough. Neither did I. And I'm sorry. So… it's the end of tape 13. There's nothing more to say. 

Clay Jensen (to Mr. Porter): Then she went back home… put on some old clothes. She went into the bathroom… filled the tub… opened the box of razor blades she took from her parents' store that morning… She got into the tub… still with her clothes on… slit her wrists… and bled to death. And she died alone. And you could have stopped it. And I could have. Justin Foley could have. And a dozen other people, at least. But we didn't. 
Clay Jensen: I cost a girl her life because I was afraid to love her.
Kevin Porter: You can't love someone back to life.
Clay Jensen: You can try. 
Kevin Porter: Clay… we don't know what was in her mind or in her heart. There's no way to know why she did what she did.
Clay Jensen: Actually, there is a way. Before she died… Hannah recorded 13 reasons why she killed herself. And you're number 13. And everyone who comes before you on these tapes knows what you did and didn't do. And they always will. And they'll know what they did. You're the last person to get the tapes. Hannah didn't leave any instructions on what happens after you… so you get to decide. And I added tape number 14… which I hope will help you make that decision.
Kevin Porter: How do you have these tapes?
Clay Jensen: I'm number 11. 

Clay Jensen: It has to get better. The way we treat each other and… look out for each other. It has to get better somehow. 
Skye Miller: Are you okay?
Clay Jensen: No. Is that all right?
Skye Miller: Yeah. That's fine. 
Tony Padilla: I have to apologize for not telling you everything. Hannah asked me to keep secrets for her. I wanted to honor that. But I've come to believe I need to share something with you. There are 14 audio files on there. You should listen to them in order. I have the original tapes, and for reasons you'll come to understand, I have them hidden somewhere very safe. But if you need those, I will bring them to you too.
Olivia Baker: What's on here? What kind of files?
Tony Padilla: I… I really think you should just listen. What happened to Hannah… I wish that would never happen to any other kid, ever. And if giving you this helps that, then… I'm sorry. I thought I was doing the right thing. 
Tony Padilla: Should I put a tape on?
Clay Jensen: How about we just listen to the radio?
Tony Padilla: That's a great idea.
See all quotes from the series: