Enjoy the best quotes / moments from Game of Thrones' episode 'Eastwatch'.
'Eastwatch' is the 5th episode of season seven. (s07e05)

In case you don't remember what was this episode about or you're not sure you've seen it, here is summary.
Plot summary
Daenerys demands loyalty from the surviving Lannister soldiers; Jon heeds Bran's warning about White Walkers on the move; Cersei vows to vanquish anyone or anything that stands in her way. (IMDb)

Top 19 Game of Thrones Quotes from 7×05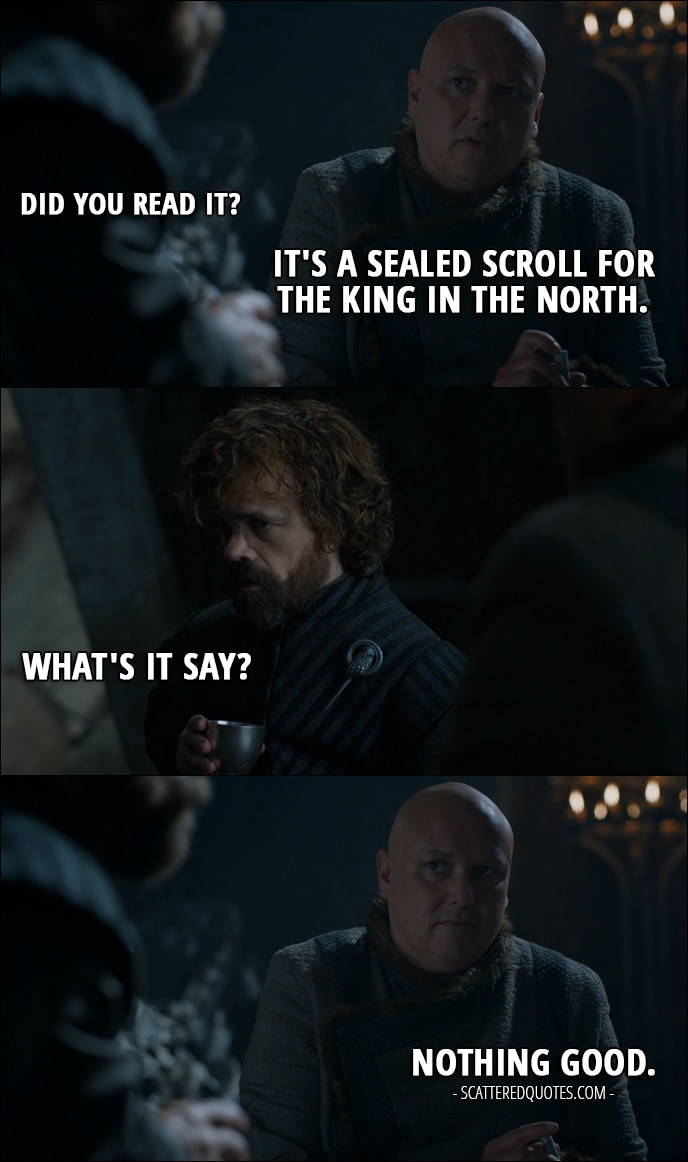 Ordered chronologically as they appear in the episode.
Bronn (to Jaime): Till I get what I'm owed, a dragon doesn't get to kill you, you don't get to kill you, only I get to kill you. 
Bronn: You're fucked.
Jaime Lannister: Don't you mean we're fucked?
Bronn: No, I do not. Dragons are where our partnership ends. I'm not gonna be around when those things start spitting fire on King's Landing. 
Daenerys Targaryen (to Lannister soldiers): I know what Cersei has told you. That I've come to destroy your cities, burn down your homes, murder you, and orphan your children. That's Cersei Lannister, not me. I'm not here to murder, and all I want to destroy is the wheel that has rolled over rich and poor to the benefit of no one but the Cersei Lannisters of the world. I offer you a choice… bend the knee and join me. Together, we will leave the world a better place than we found it. Or refuse… and die. 
Daenerys Targaryen (to Jon): We both want to help people. We can only help them from a position of strength. Sometimes strength is terrible. 
Daenerys Targaryen: You look strong. You found a cure?
Jorah Mormont: I wouldn't be here if I hadn't. I return to your service, my queen, if you'll have me.
Daenerys Targaryen: It would be my honor. 
Varys (to Tyrion): I found the traitors, but I wasn't the one burning them alive. I was only a purveyor of information. It's what I told myself when I watched them beg for mercy… I'm not the one doing it. When the pitch of their screams rose higher… I'm not the one doing it. When their hair caught fire and the smell of their burning flesh filled the throne room… I'm not the one doing it. 
Tyrion Lannister: Did you read it?
Varys: It's a sealed scroll for the King in the North.
Tyrion Lannister: What's it say?
Varys: Nothing good. 

Daenerys Targaryen: I haven't given you permission to leave.
Jon Snow: With respect, Your Grace, I don't need your permission. I am a king. 
Jon Snow (to Daenerys): I put my trust in you, a stranger, because I knew it was the best chance for my people, for all our people. Now I'm asking you to trust in a stranger… because it's our best chance. 

Davos Seaworth (to Gendry): I wasn't sure I'd find you. Thought you might still be rowing. 
Jaime Lannister: Who will you say is the father?
Cersei Lannister: You.
Jaime Lannister: People won't like that.
Cersei Lannister: Do you remember what Father used to say about people?
Jaime Lannister: The lion does not concern himself with the opinions of the sheep. 
Davos Seaworth: As my father used to say, "It's better to be a coward for a minute, than dead for the rest of your life." 
Tyrion Lannister (to Jorah): You may not believe it, but I've missed you, Mormont. Nobody glowers quite like you. Not even Grey Worm. 
Gilly (to Sam): Maynard says here that he issued an annulment for a Prince "Ragger" and remarried him to someone else at the same time in a secret ceremony in Dorne. Is that a common thing in the south or…? 
Samwell Tarly: These maesters… they set me to the task of preserving that man's window counting and annulments and bowel movements for all eternity, while the secret to defeating the Night King's probably sitting on some dusty shelf somewhere, completely ignored. But that's all right, isn't it? We can all become slavering, murderous imbeciles in thrall to evil incarnate as long as we can have access to the full records of High Septon Maynard's 15,782 shits!
Gilly: Steps. That number was the steps. 
Samwell Tarly: I'm tired of reading about the achievements of better men. 
Tormund: Isn't it your job to talk him out of stupid fucking ideas like this?
Davos Seaworth: I've been failing at that job of late. 
Tormund: How many queens are there now?
Jon Snow: Two.
Tormund: And you need to convince the one with the dragons or the one who fucks her brother?
Jon Snow: Both. 

Jon Snow: We're all on the same side.
Gendry: How can we be?
Jon Snow: We're all breathing.
More quotes from Game of Thrones:
» All quotes from Game of Thrones
Previous list:
» 16 Best Game of Thrones Quotes from 'The Spoils of War' (7×04)
» 26 Best Game of Thrones Quotes from 'The Queen's Justice' (7×03)
» 16 Best Game of Thrones Quotes from 'Stormborn' (7×02)
» 19 Best Game of Thrones Quotes from 'Dragonstone' (7×01)
» 14 Best Game of Thrones Quotes from 'The Wolf and the Lion' (1×05)