Enjoy the best quotes / moments from Supernatural's episode 'Stuck in the Middle (With You)'.
'Stuck in the Middle (With You)' is the 12th episode of season twelve. (s12e12)

In case you don't remember what was this episode about or you're not sure you've seen it, here is summary.
Plot summary
Mary (guest star Samantha Smith) asks Sam (Jared Padalecki), Dean (Jensen Ackles) and Castiel (Misha Collins) for help on a case she's working but neglects to mention the British Men of Letters are involved. When Mary is double crossed, everything is revealed.
(Fangirlish)
Top 18 Supernatural Quotes from 12×12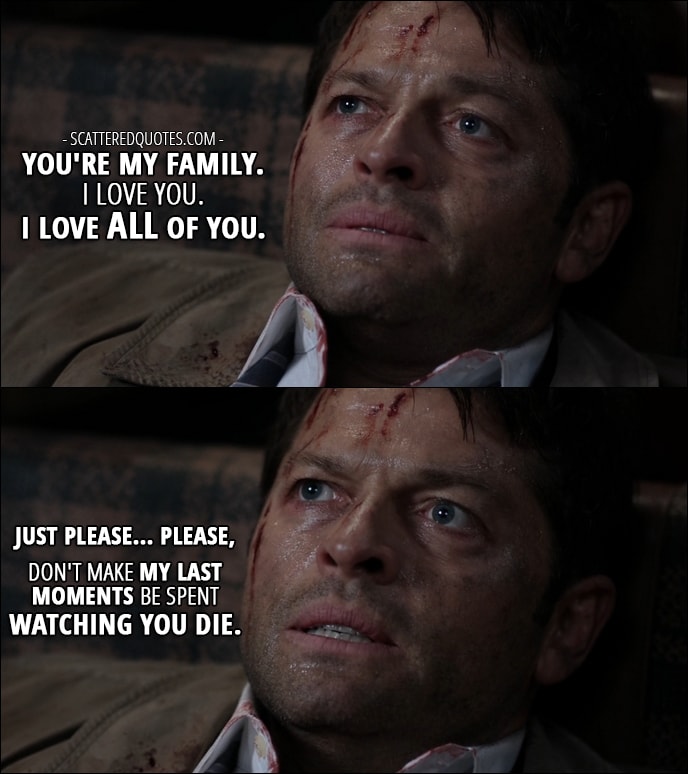 Ordered chronologically as they appear in the episode.
Dean Winchester (to Castiel): Dude, she is into you.
Mary Winchester: Dean…
Dean Winchester: No, this is good. We've been looking for teachable moments.
Dean Winchester: My shy but devastatingly handsome friend (Castiel) here was, just wondering, when do you get off?
Mandy: Whenever I can.
Dean Winchester: Hey-O!
Castiel (to Dean): I can't heal myself. I think the… I think the demon's s-spear was poisoned. I don't… I-I think I'm dying.
Crowley (to Winchesters and Castiel): You idiots! You're all going to die.
Mary Winchester: You're him? The King of Hell?
Crowley: You must be Mother Winchester. Pleasure. I've heard so much. (wants to shake hands with her)
Mary Winchester: Touch me and I'll kill you.
Ramiel (about the Lance of Michael): This beauty, she kills the bad ones fast and the good ones slow and painful.
Crowley: Ironic, seeing as it was made by an angel.
Ramiel: There's only one angel Michael wanted to kill, and he wanted that son of a bitch to suffer.
Crowley: Still, the crown is yours if you want it.
Ramiel: I don't. You take it.
Crowley: I… Pardon?
Ramiel: You seem ambitious enough, conniving enough, slimy enough. So take it! Go for the glory, kid.
Crowley (about the Lance of Michael): Nasty bit of business. Kills everything it touches. If you're a demon, you go up in a puff of smoke. If you're an angel, you just… rot away. Sorry, Castiel.
Sam Winchester: We took down the Darkness and the Devil.
Crowley: It took you years to defeat Lucifer, and the power of God to stop the Darkness. Maybe if you had more time, you could manage Ramiel. But right now, in this barn… Hey, I was growing fond of the choir boy, too.
Dean Winchester: We don't have time, okay, for your… for you. So either help us or get the hell out of here!

Ramiel: Allies. Is that what you call three humans with one good liver between them and a busted up angel?
Crowley: I admit, they don't sound like much. But every Armageddon, every bloody "this is the end of all things," a Winchester stopped it. Like it or not, they're an asset we can't afford to lose.
Castiel: Knowing you, it… it's been the best part of my life. And the things that… the things we've shared together, they have changed me.
Castiel: You're my family. I love you. I love all of you. Just please… please, don't make my last moments be spent watching you die.

Castiel: You need to keep fighting.
Sam Winchester: We are fighting. We're fighting for you, Cass.
Dean Winchester: And like you said, you're family. And we don't leave family behind.

Crowley (after saving Castiel): The magic's in the craftsmanship. You're welcome.
Mary Winchester (to Mr. Ketch): I lost a friend. I almost lost one of my boys.

Mary Winchester: Anything like that happens again… anything… And I will burn you down. All of you.
Arthur Ketch: Is that a threat?
Mary Winchester: It's a promise.
Lucifer: I know that look. Sam and Dean have got you down. Well, I still can't believe that you're working for the Dukes of Haphazard. Do you really think they care about you? I mean, think about it, Crowley. They kill your kind. It's in their blood. And you know… you know… it's only a matter of time before they come… for you.
Crowley: Shut your mouth, dog.
More Supernatural Quotes:
Previous episodes:
» 30 Best Supernatural Quotes from 'Regarding Dean' (12×11)
» 12 Best Supernatural Quotes from 'Lily Sunder Has Some Regrets' (12×10)
» 12 Best Supernatural Quotes from 'First Blood' (12×09)
» 14 Best Supernatural Quotes from 'LOTUS' (12×08)
» 12 Best Supernatural Quotes from 'Rock Never Dies' (12×07)