Enjoy the best quotes / moments from Shadowhunters' episode 'By the Light of Dawn'.
'By the Light of Dawn' is the 10th episode of season 2. (s02e10)

In case you don't remember what was this episode about or you're not sure you've seen it, here is summary.
Plot summary
The New York Institute is under attack as Valentine's plan for The Soul Sword is getting dangerously close to coming to fruition. The Shadowhunters must act fast to save their loved ones and the rest of the Downworld. Meanwhile, some of the Downworlders have their own plan to stop Valentine and their target is Clary. (
TVShow Time
)
Top 16 Shadowhunters Quotes from 2×10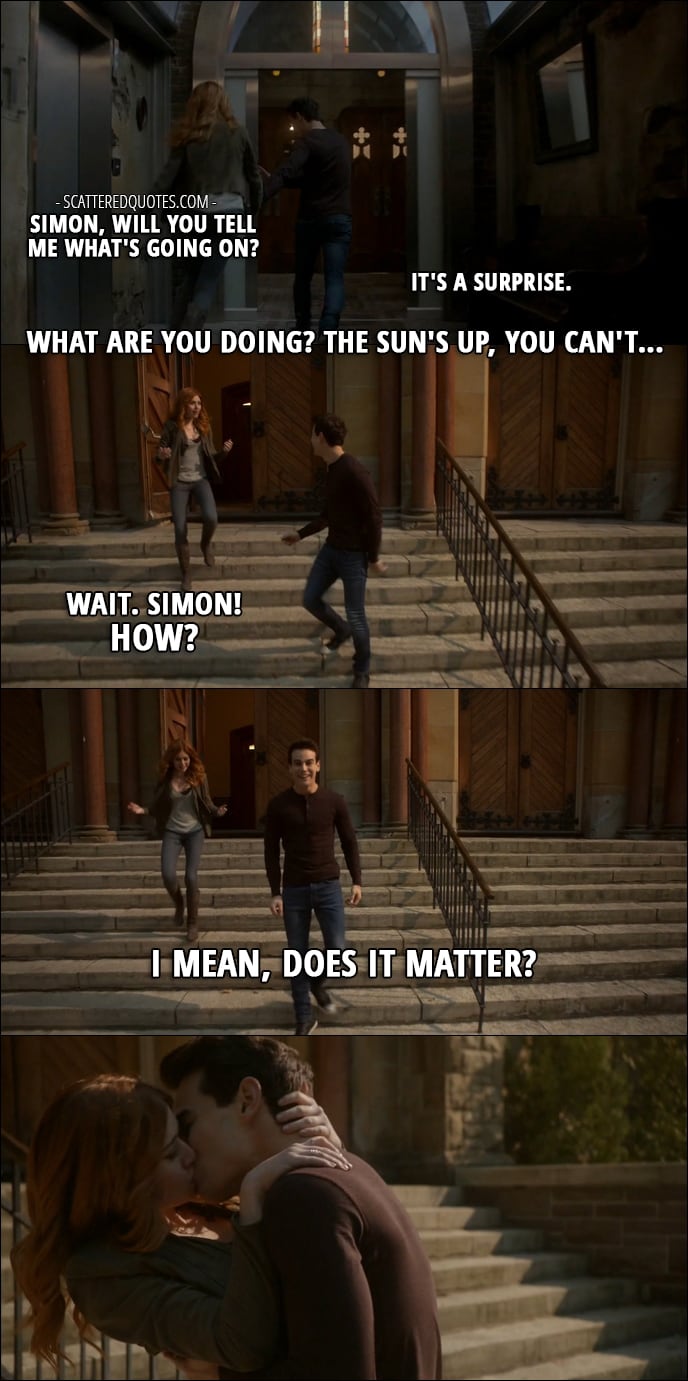 Ordered chronologically as they appear in the episode.
Clary Fray (to Jace): Simon is innocent, in all of this. The only reason Valentine took him captive is because I care about him.
Raphael Santiago: I'm… not like that. I'm just not interested in sex.
Isabelle Lightwood: Being a vampire made you this way?
Raphael Santiago: No. I've always been like this.
Simon Lewis (to Valentine): What she needs is a real father. Look, I've been best friends with Clary forever. And the one thing she's always wished is to be able to know her real dad. And she's had that chance. And she found a homicidal maniac. She wants nothing to do with you. She hates you. Doesn't that bother you? Doesn't it make you wanna change? For her?
Jace Wayland: I… I just… I have to get to Alec.
Luke Garroway: I know what you're going through. I had a parabatai once.
Jace Wayland: When Valentine turned on you, that must've been unbearable.
Luke Garroway: It was. I felt like my life was over. But, over time, I got past it. Alec's gonna be okay.
Simon Lewis: Clary. She'll know it's a trap.
Valentine Morgenstern: Even the sly mouse will walk into a trap if it wants the cheese badly enough. And you, my friend, you're the cheese.
Victor Aldertree: I discovered Eva hiding in the basement. She was in shock, driven mad by grief. She couldn't control herself, so she transformed. And attacked me. She would have killed me if I hadn't used my seraph blade. Eva died in my arms.
Alec Lightwood: You killed her?
Victor Aldertree: I had no choice. Eva couldn't control herself. That was her nature. Her wolf nature. That's when I realized a Shadowhunter could never be with a Downworlder, no matter how strong our feelings might be.
Valentine Morgenstern: I would never willingly let a vampire taste my blood. Do you have any idea what you've done?
Jace Wayland: I saved a life.
Valentine Morgenstern: A monster's life.

Simon Lewis: Once I started feeding, I couldn't stop. I'm really sorry.
Jace Wayland: Don't apologize.
Simon Lewis: I would have killed you.
Jace Wayland: I would have let you.
Simon Lewis: You, like, rescued me from actual death, so thanks. A lot.
Jace Wayland: Hey, you know how you can thank me? Shut up.
Simon Lewis: Right.
Jace Wayland: You know how to use that?
Simon Lewis: Yeah, just point and stab, right?
Valentine Morgenstern (to Clary): I am doing this for you, and for your brother, and for the rest of humanity. Clarissa, this planet is under siege by demon-blooded creatures, intent on death and destruction. Once I wield that sword, the Downworld will no longer be part of our world. And the lives of my children… will be that much safer.
Jace Wayland: I don't understand. How did I activate the sword?
Clary Fray: Only someone with pure angel blood could have done it. You don't have demon blood, Jace.
Alec Lightwood (to Clary): You did this. You activated the sword?
Clary Fray: No.
Jace Wayland: I did it. I thought I was destroying it, Alec, but…
Alec Lightwood: Where's Magnus? He wasn't here, was he?
Jace Wayland: I… I don't know.
Clary Fray: We portaled in upstairs. We split up.
Alec Lightwood: Oh, God.
Jace Wayland: You didn't inject me with demon blood. It was angel blood.
Valentine Morgenstern: You are my greatest achievement, Jace.
Jace Wayland: I'm not your achievement. I'm your son.
Valentine Morgenstern: No, you are not my son. I'm not your father. Jocelyn is not your mother. And Clary… Clary is not your sister.

Alec Lightwood: Look… Magnus, on every mission I've ever been on, I've never felt that type of fear, ever. Not knowing if you were alive or dead. I… I was terrified.
Magnus Bane: So was I.
Alec Lightwood: Magnus, I… I love you.
Magnus Bane: I love you, too.
Alec Lightwood: Clary's not your sister?
Jace Wayland: No, she never was.
Alec Lightwood: What are you gonna do?
Jace Wayland: I'm gonna tell her.
Clary Fray: Simon, will you tell me what's going on?
Simon Lewis: It's a surprise.
Clary Fray: What are you doing? The sun's up, you can't… Wait. Simon! How?
Simon Lewis: I mean, does it matter?
More Shadowhunters Quotes:
» All quotes from Shadowhunters
Previous episodes:
» 10 Best Shadowhunters Quotes from 'Bound by Blood' (2×09)
» 10 Best Shadowhunters Quotes from 'Love Is a Devil' (2×08)
» 12 Best Shadowhunters Quotes from 'How Are Thou Fallen' (2×07)
» 14 Best Shadowhunters Quotes from 'Iron Sisters' (2×06)
» 10 Best Shadowhunters Quotes from 'Dust and Shadows' (2×05)