Enjoy the best quotes / moments from Game of Thrones' episode 'The Spoils of War'.
'The Spoils of War' is the 4th episode of season seven. (s07e04)

In case you don't remember what was this episode about or you're not sure you've seen it, here is summary.
Plot summary
Daenerys seeks advice from Jon and Tyrion to win the war. Theon returns to Dragonstone asking his queen for help rescue his sister. Jaime faces an unexpected encounter while transporting the Red Keep's gold. Arya returns home to Winterfell. (IMDb)

Top 16 Game of Thrones Quotes from 7×04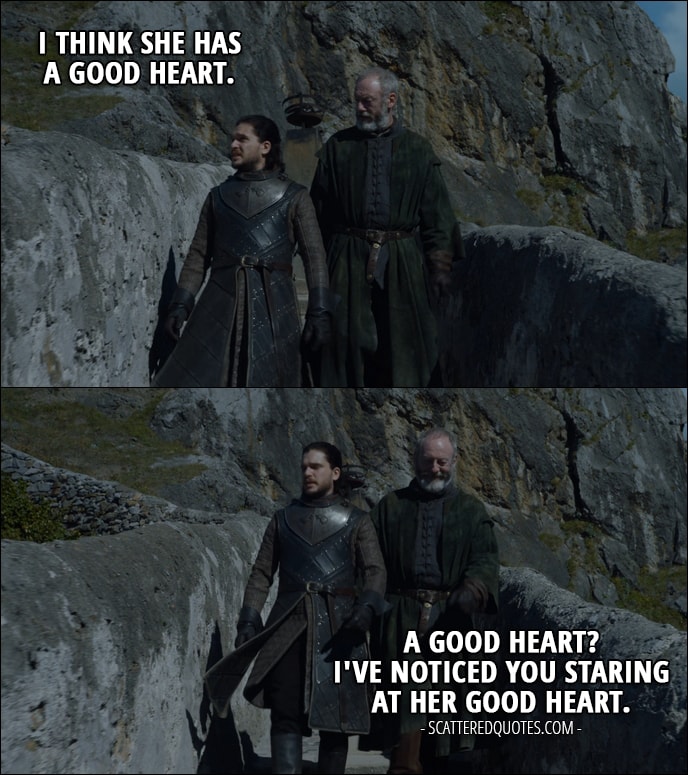 Ordered chronologically as they appear in the episode.
Jaime Lannister: The more you own, the more it weighs you down.
Bronn: Oh, is that why you're so fucking glum, eh? All your new riches weighing you down? 
Petyr Baelish: Forced from your home, driven out to the wilds beyond the Wall. I imagine you've seen things most men wouldn't believe. To go through all of that and make your way home again only to find such chaos in the world, I can only imagine…
Bran Stark: Chaos is a ladder. 
Meera Reed: Bran…
Bran Stark: I'm not, really. Not anymore. I remember what it felt like to be Brandon Stark, but I remember so much else now.
Meera Reed: You died in that cave. 

Arya Stark (to Sansa): Do I have to call you Lady Stark now? 
Sansa Stark: How did you get back to Winterfell?
Arya Stark: It's a long story. I imagine yours is, too.
Sansa Stark: Yes. Not a very pleasant one.
Arya Stark: Mine neither. But our stories aren't over yet.
Sansa Stark: No, they're not. 
Podrick Payne: Catelyn Stark would be proud. You kept your vow.
Brienne of Tarth: I did next to nothing. 
Daenerys Targaryen (about Grey Worm): He will come back to you.
Missandei: He'd better.
Daenerys Targaryen: What happened?
Missandei: Many things.
Daenerys Targaryen: Many things? 
Jon Snow: They were here together, the children and the First Men.
Daenerys Targaryen: Doing what? Fighting each other?
Jon Snow: They fought together against their common enemy. Despite their differences, despite their suspicions. Together. We need to do the same if we're going to survive. Because the enemy is real. It's always been real. 

Daenerys Targaryen (to Jon): I will fight for you. I will fight for the North. When you bend the knee. 
Jon Snow: My people… won't accept a southern ruler. Not after everything they've suffered.
Daenerys Targaryen: They will if their king does. They chose you to lead them. They chose you to protect them. Isn't their survival more important than your pride? 
Daenerys Targaryen: Enough with the clever plans. 
Daenerys Targaryen: What do you think I should do?
Jon Snow: I never thought that dragons would exist again. No one did. The people who follow you know that you made something impossible happen. Maybe that helps them believe that you can make other impossible things happen. Build a world that's different from the shit one they've always known. But if you use them to melt castles and burn cities, you're not different. You're just more of the same. 
Brienne of Tarth: Who taught you how to do that?
Arya Stark: No one. 
Jon Snow (about Daenerys): I think she has a good heart.
Davos Seaworth: A good heart? I've noticed you staring at her good heart. 
Jon Snow: I saw the Night King, Davos. I looked into his eyes. How many men do we have in the North to fight him? 10,000? Less?
Davos Seaworth: Fewer.
Jon Snow: What? 
Missandei: All of us who came with her from Essos, we believe in her. She's not our queen because she's the daughter of some king we never knew. She's the queen we chose.
Davos Seaworth (to Jon): Will you forgive me if I switch sides?
More quotes from Game of Thrones:
» All quotes from Game of Thrones
Previous list:
» 26 Best Game of Thrones Quotes from 'The Queen's Justice' (7×03)
» 16 Best Game of Thrones Quotes from 'Stormborn' (7×02)
» 19 Best Game of Thrones Quotes from 'Dragonstone' (7×01)
» 14 Best Game of Thrones Quotes from 'The Wolf and the Lion' (1×05)
» 14 Best Game of Thrones Quotes from 'Winter Is Coming' (1×01)